Stock market and crypto exchanges have many differences that may not be noticeable to a layman. While a stock has the same price on all platforms, crypto exchanges can have different prices for the same coin or token. Due to this phenomenon, a common question asked by many is why there is price difference between WazirX and CoinDCX or other exchanges. This article will clear all such doubts and make other comparisons between the two platforms.
About WazirX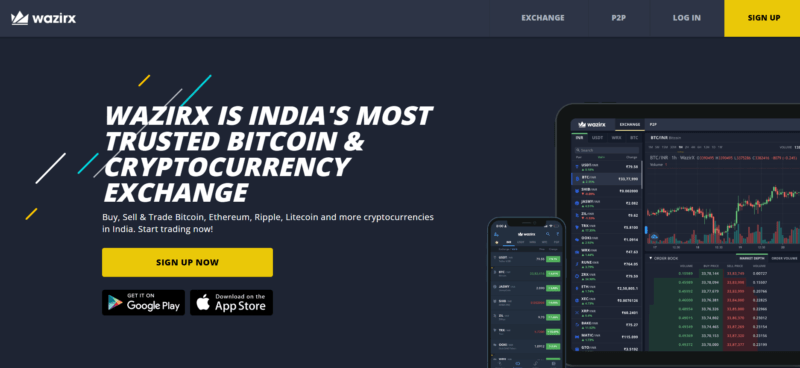 Founded by Nischal Shetty, Sameer Mhatre and Siddharth Menon in 2018, WazirX is an Indian crypto exchange where buying and selling of crypto takes place. It is also India's biggest NFT marketplace and it is one of the biggest crypto exchanges in India. WazirX has its WRX token which has a maximum supply of 1 billion coins. WazirX also is supposedly owned or rather acquired by Bitcoin a matter which remains to have reached its conclusion.
About CoinDCX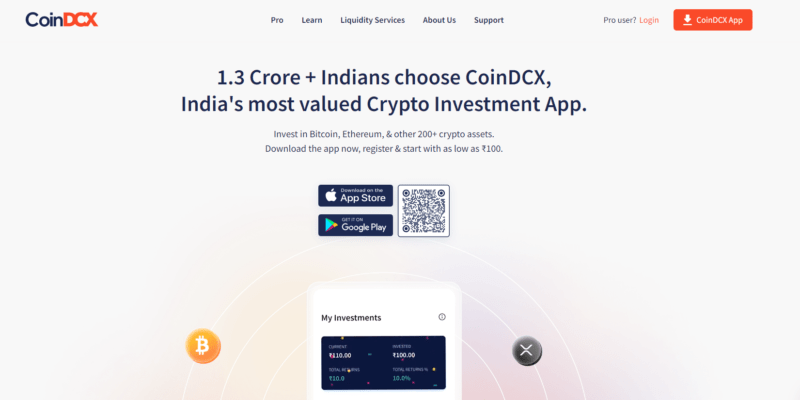 Founded by Sumit Gupta and Neeraj Khandelwal in 2018, CoinDCX is yet another Indian crypto exchange. This company is valued at 1.1 billion dollars and has an International ISO certificate. Facebook co-founder Eduardo Saverin is one of the high-profile investors to have invested in this company. Less than 2 years back this company raised 90 million dollars in Series C funding which was three times more than what it raised in the Series A round of funding.
Why There is Price Difference between WazirX and CoinDCX?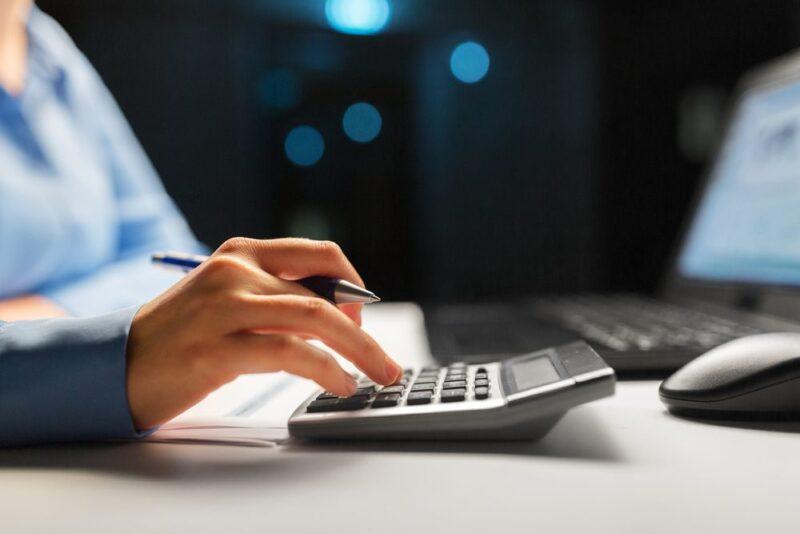 Unlike the stock, market crypto is an unregulated space and also they don't necessarily belong to a company and usually are not even backed by an asset which is what has been a criticism for those that look to make a case against crypto.
Countries usually have not more than one or two stock exchanges but with crypto the case might be different which brings us to the question – why there is price difference between WazirX and CoinDCX or as a matter of fact between any two exchanges?
The reason for this is simple. First of all the exchanges aren't synchronized with each other so that is why expecting one common price would be unreasonable.
Apart from that most coins and tokens are available on more than one platform and they can have different demands and supply quantities on different platforms which should explain to us why the price difference exists. Another reason for these price differences can be linked to the trading volume which is again affected by demand and supply.
Other factors like fees, taxes, margins, and other such things also contribute to different exchanges having different rates. It should be noted that the prices of these cryptos are an estimated average and not a conclusive figure which is calculated using a way that can't be said to be the most reliable one around and so these discrepancies occur.
CoinDCX vs WazirX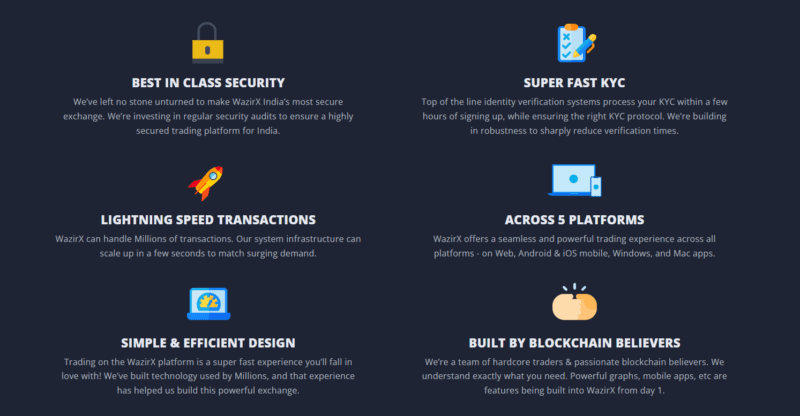 Now that we know why the prices on CoinDCX and WazirX are different and why no two exchanges show the same price for any crypto we shift our focus to the CoinDCX vs WazirX comparison as we now look to find out which of the two is a better platform for the users based on various parameters that they can be compared on.
1. Security
Be it CoinDCX or WazirX both of these platforms support a 2-factor authentication system in place. Also, both of them keep your funds stored in cold wallets which are not accessible via the internet and so this keeps the threat of hackers and hacking away. However, all the cryptos traded on CoinDCX are insured by BitGo the digital asset insurance company which is a provision that is not available to WazirX users and so the former comes forth as the better platform in this segment.
2. Backing/Associates
Coinbase, Base Capital Ventures, Bitmex, Poly Chain, and a few more such reputed companies are investors in CoinDCX whereas WazirX has reportedly been acquired by Bitcoin which is a claim that continues to remain disputed.
If Bitcoin has indeed acquired WazirX and the companies can agree to it then it comes as the better platform of the two in this segment otherwise yet again it is CoinDCX that poses as the better platform.
3. Charges
WazirX has a deposit fee charge on UPI, RTGS, NEFT, and IMPS whereas CoinDCX doesn't. WazirX won't allow you to withdraw your money if the KYC is pending whereas CoinDCX will allow you to withdraw up to 10,000 rupees till the KYC has been done.
The maker and taker fee of 0.2% is incurred by WazirX users while a charge of anywhere between 0.11 to 0.001% can be incurred by CoinDCX users based on their 45-day cumulative trading volume.
4. Options
WazirX has options of 4 basic trading pairs while CoinDCX has 11. WazirX has 70 coins paired with INR while CoinDCX has only 32 of those. So make of it what you will as it is a subjective call but for us, WazirX performs better in this segment.
CoinDCX vs WazirX Deposit and Withdrawal
We now know why there is price difference between WazirX and CoinDCX as we understood above. Demand and supply on each platform can play an important part in being the main reason for these discrepancies. However, taxes, charges, and other such factors also play an important part in this and so for that reason let's take a look at some figures related to both platforms.
| Parameters | WazirX | CoinDCX |
| --- | --- | --- |
| Channel | NEFT, RTGS, UPI, IMPS | NEFT, RTGS, UPI, IMPS |
| Apps | Mobikwik | Mobikwik |
| Deposit fees | 4 rupees per UPI transfer, 5.9 per transfer for remaining options | 0 rupees |
| Time | Max 72 hours | Max 72 hours |
| Min. Amt. | 100 rupees | 750 rupees |
| Max. Amt. | No limit | Up to 51 lakhs as per KYC status |
So, as you see CoinDCX is a better platform for not taking any sort of deposit fees while WazirX is a better platform for having no upper limit when it comes to depositing money. So, it is more or less a tie when we break down CoinDCX vs WazirX deposit & withdrawal fees as both outperform the other in different categories.
CoinDCX vs WazirX Trading Fees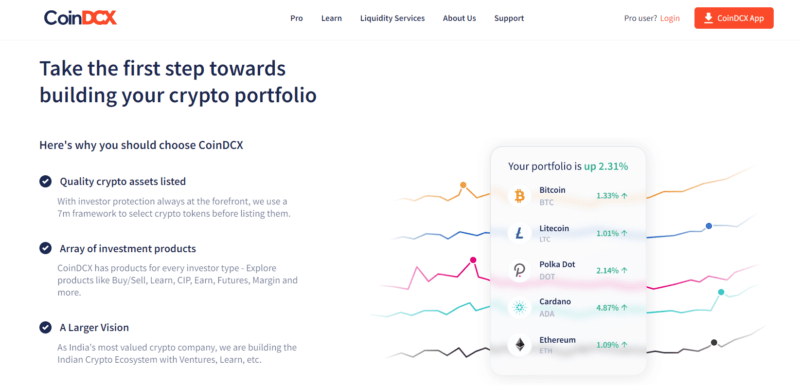 Since both these exchanges are Indian crypto exchanges, they are both developed keeping in mind ease of usability, especially for Indians and so there are not many knockout punches in the comparison as both platforms outperform each other in different-different categories and so to try to separate them we will now look at CoinDCX vs WazirX trading fees.
Trading Fees
The maximum maker and taker fee on both platforms is 0.2%, however, for CoinDCX the minimum maker and taker fee is higher than that of WazirX.
Credit and debit purchase fees are 0 for CoinDCX and WazirX doesn't support this option. CoinDCX also has the same charges for future trading while WazirX again doesn't support this feature.
Non-Trading Fees
Both platforms don't ask for any account fee, or a deposit feem as long as you are depositing fiat money on WazirX. CoinDCX doesn't support bank transfer withdrawal or debit and credit withdrawal while for both of these WazirX charges 10 rupees.
CoinDCX has a BTC withdrawal fee of 0.0005 BTC while WazirX doesn't have any such thing. No inactivity fee is charged on either platform.
So again, it is numbers like these which is why there is price difference between WazirX and CoinDCX, however, yet again the comparison has no sure-shot conclusive answer to provide.
Also Read: Why Indian Crypto Exchanges have Different Prices?
CoinDCX vs WazirX Ease of Trading
Cryptocurrency is still pretty much a new thing for people in India and so they might find it hard to wrap their heads around it. With the situation already so tough the ease of trading on either platform might be a significant factor in helping a user decide which one to go for. And so as a last resort, we now compare the apps based on their ease of use.
CoinDCX, with its appearance like FX trading platform, is more suitable for an investor who has previous experience in this or any other market whereas WazirX is an app with a simpler interface as more important functions can easily be located on its app.
Even the order window of CoinDCX is tougher to grasp as compared to that of WazirX. However, more orders can be examined on the CoinDCX order dashboard as compared to that of WazirX.
So, all said and done, WazirX emerges as the easier platform to trade on among the two, however, this alone is not substantial enough to get it declared the overall better platform among the two.
The price difference between WazirX and CoinDCX may arise due to varying factors such as market liquidity, trading volume, and platform-specific dynamics. These distinctions contribute to the divergence in cryptocurrency prices between the two exchanges, reflecting the complexities of the digital asset market.