Crypto has garnered significant attention from the time it came into existence. Be it due to its explosive entrance, benefits or legality – it has always made headlines. Now, research has pointed out the growing interest of the Gen Z investors towards cryptocurrencies and answers the question – why Gen Z prefers crypto over other assets or investment options. According to a latest survey, Gen Z invests most of their income and savings in cryptocurrencies, compared to other age groups and other forms of assets.
According to research conducted by the CFA Institute and FINRA, Gen Z is considered the most investment-savvy generation compared to millennials and Gen X. The study surveyed over 2,800 respondents from Gen Z, millennial, and Gen X age groups across the U.S., China, Canada, and the U.K.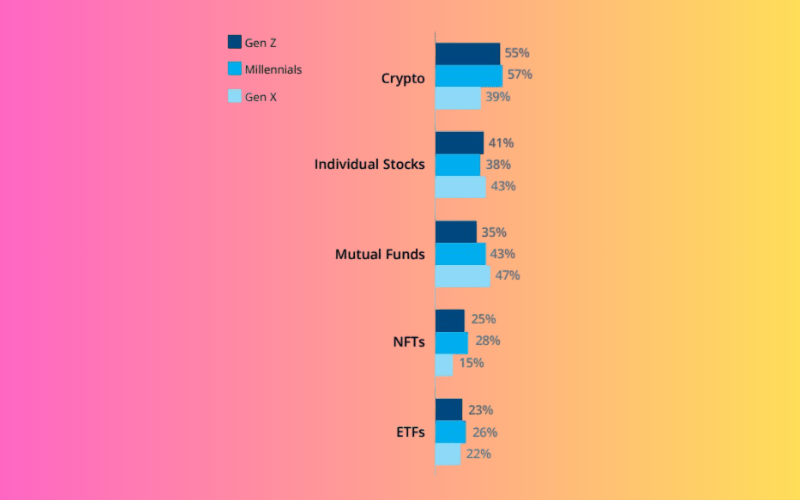 55% of Gen Z investors are currently involved in cryptocurrency investments.
The second most popular investment choice among this group is individual stocks, with 41% of investors holding them
This is followed by mutual funds (35%), nonfungible tokens (25%), and exchange-traded funds (23%).
In contrast, mutual funds were the most prevalent investment option for Gen X investors, who were born between 1965 and 1980.
Among this cohort, 47% held mutual funds, followed by individual stocks (43%), and cryptocurrency (39%).
The findings also revealed that a significant portion of Gen Z investors in the U.S., Canada, and the U.K. started investing at a young age, with 25%, 24%, and 22% respectively beginning before the age of 18.
The report attributes this trend to several factors specific to Gen Z, including easy access to financial information through social media and the availability of investment apps and cryptocurrencies.
Compared to millennials and Gen X, Gen Z is more likely to trade and manage their investment portfolios on apps rather than relying on traditional methods or professional assistance. Cryptocurrencies have become a popular entry point for Gen Z investors, with nearly half of U.S. Gen Z investors starting their investment journey with crypto. In Canada and the U.K., crypto remains the top investment choice for Gen Z.
In China, however, Gen Z investors exhibit a more traditional approach. They are inclined to seek financial information from professionals and are more likely to invest in mutual funds, wealth management products issued by commercial banks, and individual stocks.
Despite being slower to adopt investing practices, Chinese Gen Z invests more than their counterparts in other countries, with a median investment of ¥120,000 (about $18,000), compared to $4,000 in the U.S. They also display higher confidence in their future and ability to achieve their financial goals.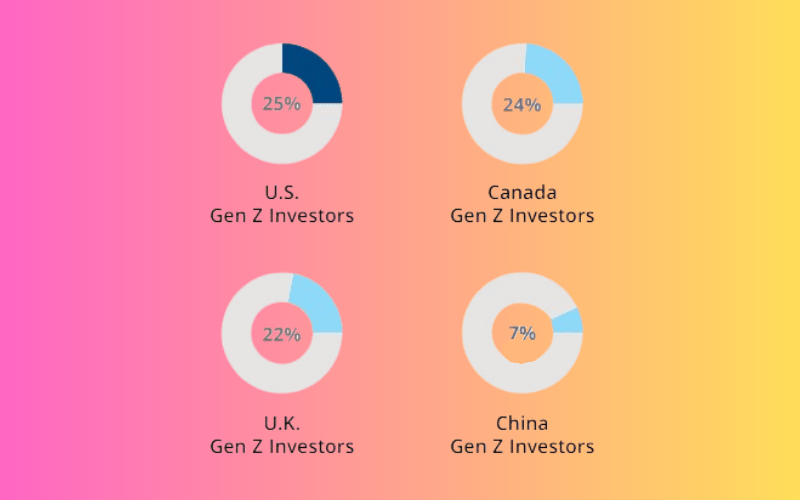 Factors Influencing Investment Decisions of Gen Z
1. Born between 1996 and 2012, Gen Z is the youngest generation to enter the workforce and has access to investment platforms and educational resources that were not available to previous generations at a comparable age. Consequently, it is not surprising that they are engaging in investing at a younger age. Social media, particularly YouTube, is cited as the primary source of financial advice for Gen Z investors in the U.S., Canada, and the U.K.
2. Interestingly, the fear of missing out (FOMO) also plays a significant role in Gen Z's early investment activities. Approximately 50% of Gen Z investors in the U.S., 46% in Canada, 55% in the U.K., and a significant 66% in China have made investment decisions driven by FOMO. In China, FOMO was the primary motivation for almost two-thirds of Gen Z investors to start investing. This indicates that the desire to not miss out on investment opportunities pursued by their peers strongly influences Gen Z's investment behavior.
3. Gen Z is changing the landscape of investing by embracing new avenues and leveraging technology. Traditionally, investing was reserved for the wealthy with access to financial advisors. However, with the rise of investing apps and cryptocurrencies, Gen Z now has lower barriers to entry and can start investing small amounts of money from their smartphones.
4. Additionally, confidence of Gen Z investors in the growth of technology and the digital economy has contributed to their enthusiasm for crypto. They are assured about better investment opportunities and methods to earn more money with advent of newer and better gadgets and online methods.
5. Gen Z investors have a significantly higher probability, more than double, of having parents who are also investors compared to non-investors (68% versus 30%).
Some Other Characteristics of Gen Z Investors
Male individuals were more prevalent among Gen Z investors, who tended to have slightly higher wealth and hold a college degree compared to non-investors.
However, there were no significant differences observed among various racial and ethnic groups.
Among Gen Z individuals, a majority of 62% stated that their primary investment goal was to accumulate funds for travel and vacations.
Approximately 55% emphasized the importance of saving for expenses.
51% expressed a desire to achieve financial comfort during retirement.
Regarding the main obstacles to reaching their financial goals:
68% of Gen Z investors cited the cost of living and inflation
43% mentioned the state of the economy and market conditions
38% highlighted their employment situation and income.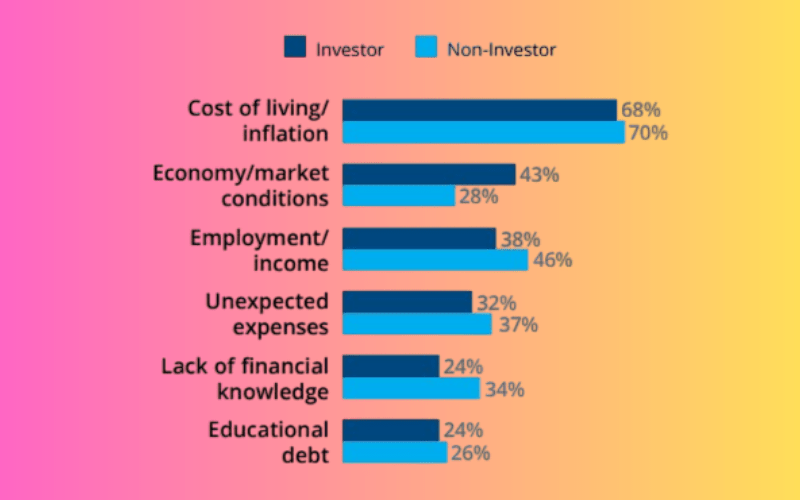 For Gen Z non-investors, their reasons for not investing included:
A lack of savings (65%)
Living paycheck to paycheck (64%)
Feeling insufficiently knowledgeable to invest with confidence (56%)
Gen Z and their Reluctance of Taking Professional Financial Advice
According to recent findings, Generation Z, encompassing individuals born between 1997 and 2012, are less inclined to seek investment advice from advisors or brokers. Instead, they prefer turning to sources such as social media, websites, and their friends and family for investing tips.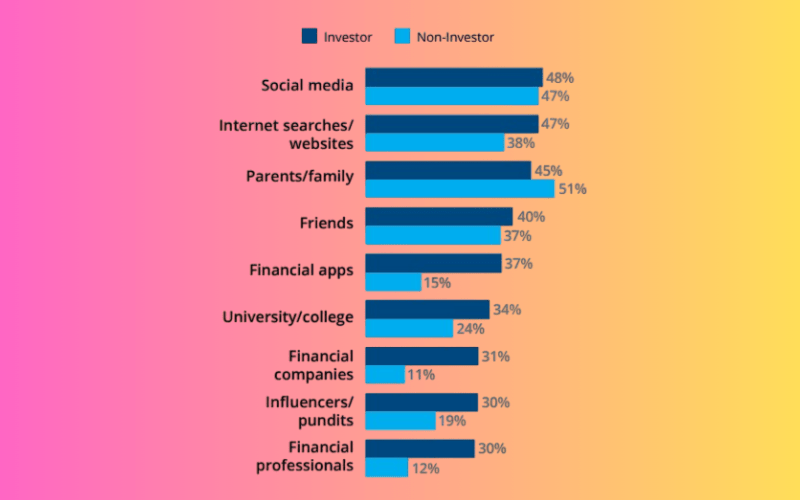 Only around 30% of Gen Z investors seek advice from financial planners.
Approximately 48% rely on social media.
47% take help from internet searches and websites.
45% listen to their parents and family.
40% take advice from their friends.
Millennials and Gen X individuals are more likely to seek assistance from financial professionals, with approximately 35% in each group expressing willingness to do so.
Technology not only influences how young investors learn about investing but also how they engage in the investment process. The survey reveals that 65% of Gen Z respondents and 55% of millennials use investing apps, while only 38% of Gen Xers do the same.
Jack Heintzelman, a certified financial planner at Boston Wealth Strategies, suggests that advisors bear some responsibility for the limited reliance on professional advice among young investors.
Heintzelman explains that Gen Z individuals and millennials tend to initially seek information on new topics from the internet. However, there is a lack of financial planners active on platforms like Twitter, Reddit, and TikTok, providing reliable advice.
Heintzelman, who straddles the border between Gen Z and millennials at age 26, notes that many younger clients prefer not to consult the same wealth managers their parents use. This reluctance stems from the expectation that these older professionals should be equally comfortable and familiar with technology.
However, not everything is so gloomy in the report regarding financial planning of Gen Z.
24% of respondents identified advisors as one of their top three most reliable sources of investment information. This finding was only surpassed by the 27% of Gen Z participants who considered parents and family as their most trusted sources.
The study revealed that nearly 69% of Gen Z investors are inclined to trust individuals who can explain financial concepts clearly.
Additionally, 53% value information that is relevant to their own circumstances.
52% trust advisors who disclose details about their personal financial performance.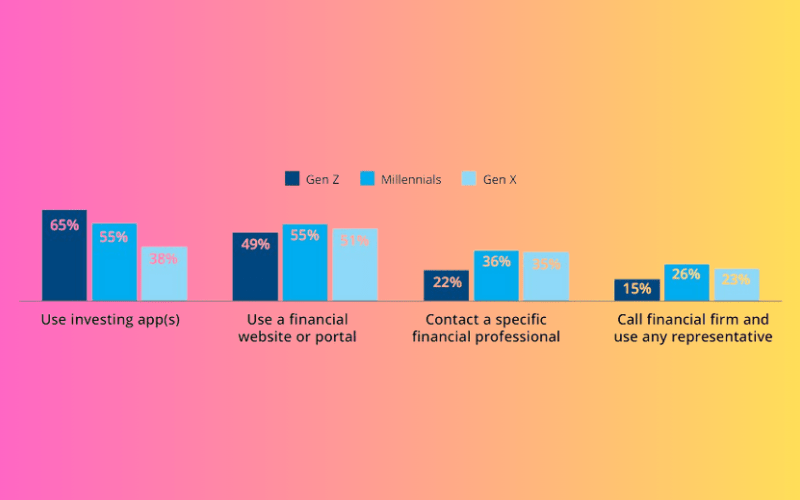 Gerri Walsh, the President of the FINRA Foundation, pointed out that although Gen Z individuals often seek information from social media, it does not mean they trust the content they find there. In fact, they are twice as likely to consider financial professionals as the most trustworthy source of financial information compared to social media.
Walsh emphasized that Gen Z investors rank financial professionals second in terms of trust, with parents and family members being their top choice. He emphasized the need to address the educational gap in order to reduce barriers to market participation.
Popular Cryptocurrencies among Gen Z
Listed as COIN, this has emerged as one of the most popular stocks among Gen Z investors in 2023. As the largest cryptocurrency exchange service in the United States in terms of volume, Coinbase's prominence in the crypto industry has made it a natural choice for young investors seeking exposure to digital assets.
With its user-friendly interface and wide range of supported cryptocurrencies, Coinbase has garnered a reputation as a trusted platform, attracting a significant number of Gen Z investors looking to participate in the crypto market.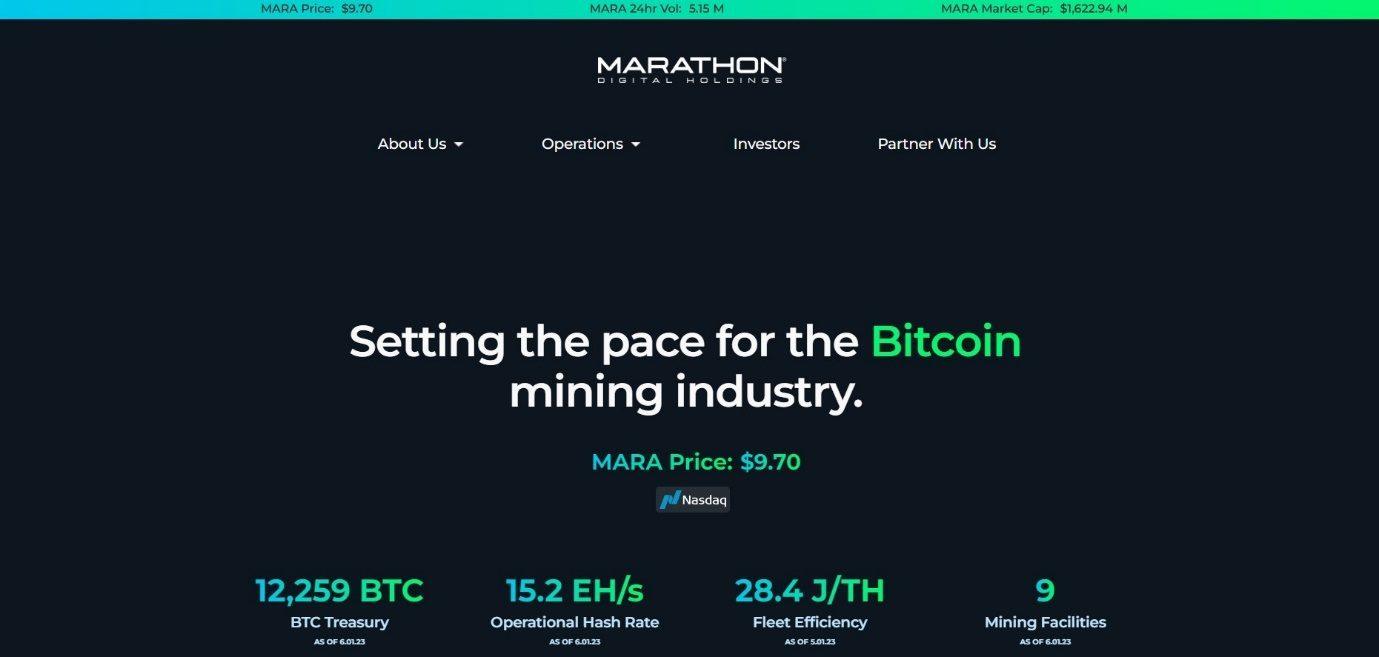 Another trending stock for Gen Z investors is MARA, which stands for Marathon Digital Holdings. Specializing in the mining of cryptocurrencies, MARA operates within the Bitcoin ecosystem. With the increasing mainstream acceptance of Bitcoin and other cryptocurrencies, mining operations have become crucial for maintaining and validating blockchain networks.
As a result, Marathon Digital Holdings has captured the attention of Gen Z investors who recognize the potential profitability of cryptocurrency mining and wish to capitalize on the industry's growth.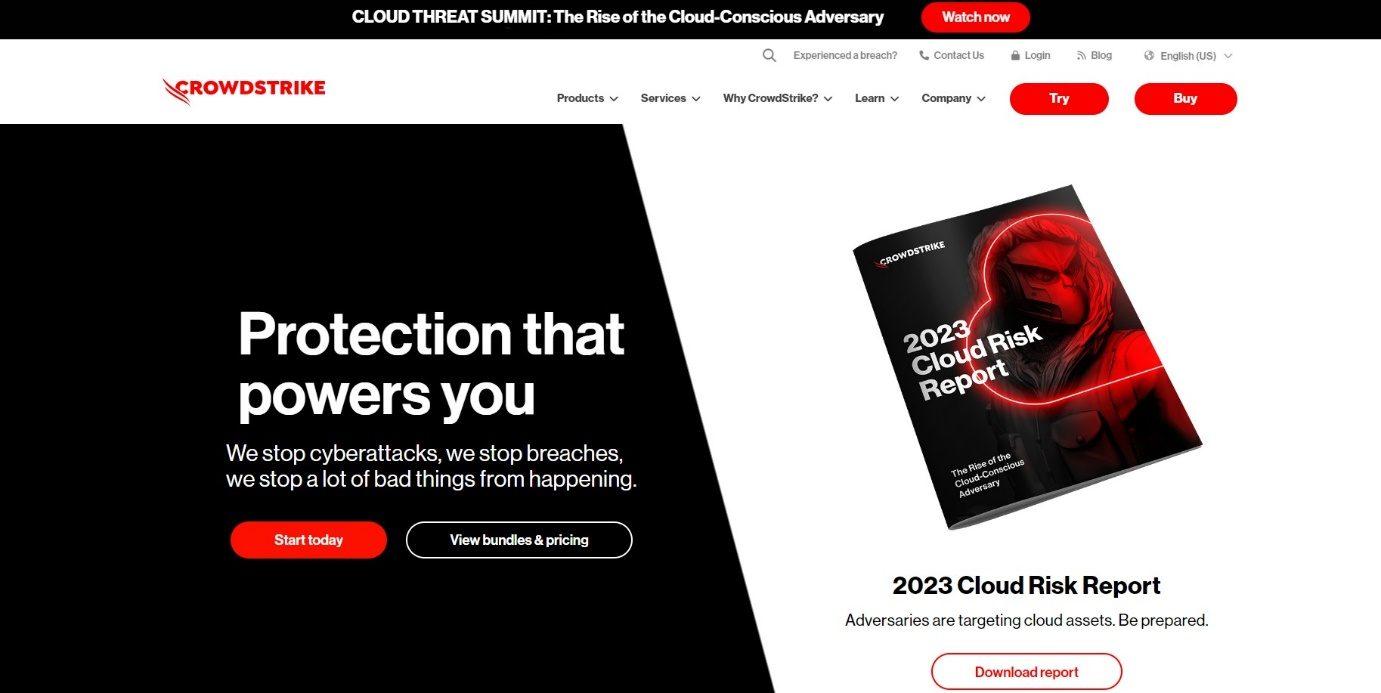 Gen Z investors are also showing interest in CRWD, or CrowdStrike Holdings, an American cybersecurity technology company. As cyber threats continue to pose significant risks in today's digital landscape, the demand for robust cybersecurity solutions has skyrocketed. CrowdStrike's expertise in providing advanced cybersecurity services has garnered attention from Gen Z investors. The company's ability to adapt and address emerging threats positions it as a valuable asset in combating cybercrime, making it an attractive investment opportunity for young investors.
The popularity of these stocks among Gen Z investors can be attributed to several factors.
Firstly, the rise of cryptocurrencies has captured the imagination of this tech-savvy generation, fueling their interest in companies like Coinbase and Marathon Digital Holdings, which facilitate crypto transactions and mining operations, respectively.
Secondly, the increasing reliance on digital technologies and the internet has amplified the need for robust cybersecurity measures, leading to the recognition of companies like CrowdStrike as critical players in protecting against cyber threats.
Why Investing in Cryptocurrency can be Dangerous?
Experts have expressed concern over the high concentration of Gen Z investors in cryptocurrencies and individual stocks.
Walsh points out that while mutual funds and ETFs offer diversity and risk sharing, the same cannot be said for cryptocurrencies and individual stocks. Ted Jenkin, a certified financial planner, supports this view and recommends that crypto should only constitute a small portion of an investment portfolio due to lack of diversification opportunities.
Additionally, crypto assets are highly volatile and speculative, as exemplified by Bitcoin's significant drop in value since its peak in November 2021.
The report reveals that Gen Z investors in the US perceive themselves as risk-takers, with a significant portion making investments out of the peer pressure and FOMO, without carefully assessing the associated risks. This is risky and pose serious threat to financial security of Gen Z investors.
The recent legal actions taken by the Securities and Exchange Commission (SEC) against Coinbase and Binance are focused on distinguishing between registered and unregistered exchanges. Unregistered exchanges lack the investor protections offered by registered ones, such as the New York Stock Exchange. Binance expressed disappointment in the SEC action and claimed to have cooperated with their investigations. Coinbase's chief legal officer highlighted the lack of clear rules for the digital asset industry, which can negatively impact compliant companies like Coinbase.
According to studies, it becomes evident that cryptocurrency investors do not exhibit rational behavior in their investment decisions, as they are influenced by other individuals and tend to oversimplify available information.
Furthermore, research implies that the prices established in the cryptocurrency market are not based on intrinsic value, indicating an inefficient market due to the presence of non-rational investors, commonly referred to as noise traders.
Jenkin suggests that while crypto can play a role in investors' portfolios, it should generally be limited to 1% to 3% of the total portfolio. The joint report by Finra and the CFA Institute does not specify the average allocation of Gen Z investors to crypto.
Jenkin also advises considering crypto as a long-term investment to be held for at least 10 years. It is important for regulatory bodies overseeing the cryptocurrency market to acknowledge the reality and focus on educating investors to make more informed and logical investment choices.
Now you know why Gen Z prefers crypto over other assets or investment options. As Gen Z continues to make its mark on the investment landscape, it is not surprising to see their interests gravitate towards forward-thinking industries like cryptocurrency and cybersecurity. These trends reflect their affinity for technology, their entrepreneurial spirit, and their awareness of the importance of safeguarding digital assets and privacy.
Source: Gen Z and Investing