Comenity Capital Bank is a financial institution that plays a significant role in the banking industry. It offers a wide range of financial services and products to individuals and businesses alike. With a commitment to delivering quality solutions, Comenity Capital strives to meet the diverse needs of its customers. Through its expertise and innovation, the bank aims to provide secure and efficient banking experiences for its clients. This article will highlight some of its financial services, products and customer service, so that you can get a comprehensive idea about this bank before availing the amenities offered by it.
What is Comenity Capital Bank?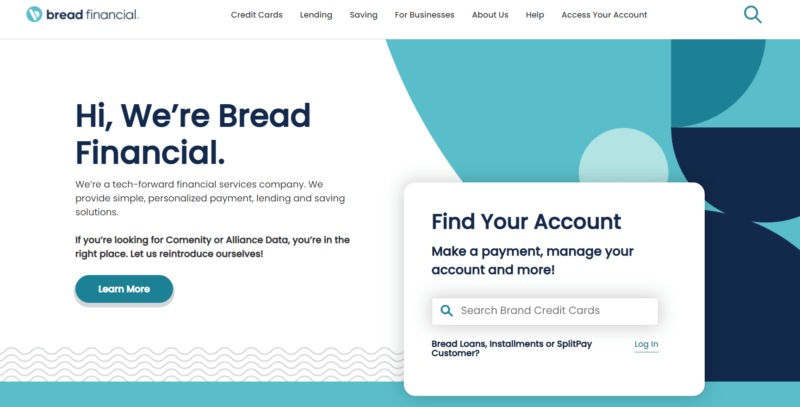 Founded in 1989, Comenity Capital Bank was first formed as the World Financial Network National bank. The aim behind this change was to be able to provide private-label credit cards to retailers. The name change took place in 2012 but the products remained the same. Comenity Capital is a subsidiary of a financial services company known as Bread Financial, which also changed its name to Bread Savings.
As of today, the bank has more than 50 million credit card holders. The bank has partnered with various companies like Bed Bath & Beyond, Ikea, Overstock, New York & Company, and more. To be precise the number of its partner brands exceeds 135 retailers. It's not just the private-label cards that the company offers you, but they also offer co-branded credit cards. Private-label cards are also known as store cards which belong to a particular retailer and are only usable at their store. These cards are given away by the bank on the behalf of these stores.
Comenity Capital Bank is a name that you won't easily find on the web as well because the website of Bread Financial pops up and those that don't know that the two share a connection may find themselves lost.
Most cards offered by this bank come with various perks and benefits like discounts, reward programs, and more. You can sign up for a close-looped credit card or an open-looped credit card.
If you want to sign up for one of the co-branded credit cards of this bank, then you might need a good credit score. The APR of these cards may or may not be as high depending on what card you sign up for. You can head to their website and check their long list of offerings as to what credit cards they offer and which of those suits your requirements and then sign up for that card. Comenity Capital Bank customer service is also good.
Comenity Capital Bank Credit Cards
As we saw above, Comenity Capital Bank has partnered up with so many retailers and offers store cards as well as co-branded credit cards. This means that the number of credit cards offered by Comenity bank goes well above 100 and that puts us in a tough spot since we can't go around writing about all of those cards. However, we will mention a few of their credit cards and look at their offerings while the rest can be checked by you when you are out shopping for a credit card.
1. Victoria's Secret Mastercard Credit Card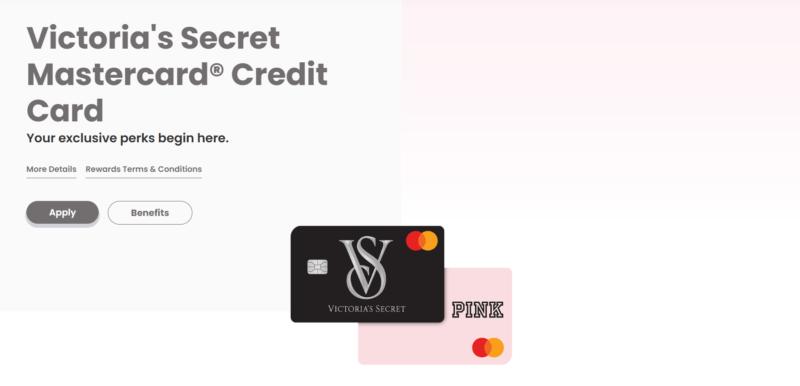 The name gives away which partner this card supports and works at. If you are someone who is a regular at Victoria's Secret store, then you might want to get this card for yourself. Victoria's Secret Mastercard Credit Card comes with a reward program which makes it an even better choice.
The gifts start coming your way right from the first purchase when you get 25 dollars off on your purchase from Victoria's Secret or Pink. Any purchases made at the mentioned stores get you 5% back while dining, traveling, and spending on streaming services qualify for 2% back and all other purchases get you 1% back.
There is also free shipping for you on orders worth more than 50 dollars. For every 2,000 points earned using this card, you get 10 dollars. You get 10 points for every 1 dollar spent in the 5% category, 4 points for every 1 dollar spent in the 2% category, and 2 points for 1 dollar spent in the 1% category. And lastly, you get three times the points on bra purchases.
If you spend more than 250 dollars in a year at VS then you enter Silver status and spending more than 500 dollars a year sends you to Gold status. Here you can get up to 7.5% back and even more perks await you than before when you get this Comenity Capital Bank card and reach higher status.
2. BJ's Perks Elite Mastercard Credit Card
If you find yourself frequenting BJ's wholesale club, then getting this card might be a good decision for you since it gets you quick cash back. The card gets you 5% back on most BJ's purchases be it in-store or online. For a 2% back, you need to head to dine out or to a non-BJ's gas station and use the card there. And lastly, wherever Mastercard is accepted you get 1% back.
If you use BJ's gas station, then you get 10 cents off for every gallon. Again, this card encourages you to spend not just at their stores but at other places as well which makes them very useful.
3. Ikea Visa Credit Card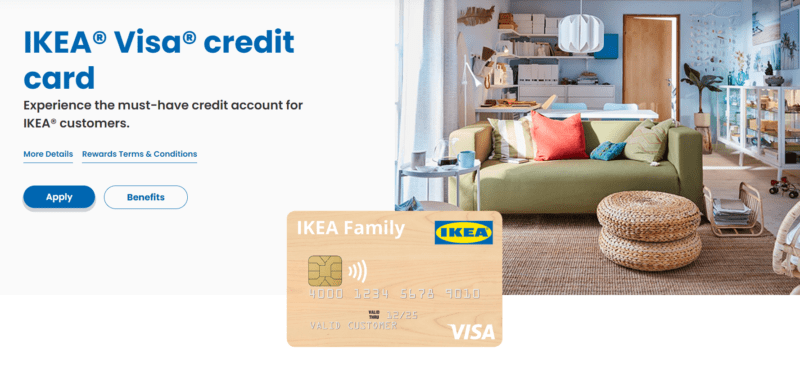 Are you a frequent Ikea customer? Can't keep yourself from visiting them and shopping there? Then this is the card that you need to have in your wallet. Ikea Visa Credit Card is one of the best Comenity Capital Bank credit cards and after hearing about its offerings you might know why. Ikea purchases qualify for a 5% back, but apart from that money spent in grocery stores, utility purchases, and dining using this card qualify for 3% back. All other spendings qualify for 1% back.
If you use the card outside of Ikea, Traemand, and TaskRabbit and the amount crosses the 500-dollar mark then a 25 dollars Ikea bonus reward awaits you. But this needs to occur within 90 days of getting the card. Also, for every 15-dollar reward that you get, you receive a 15-dollar Ikea reward certificate. So, you see that the card not only pushes you to spend at their stores but even at other places for rewards and that is what is unique to this and a few other cards like it.
4. Worldwide Vacation and Travel Mastercard Credit Card
If you are a traveler or find yourself vacationing every year, then you should look at this credit card offered by the CC bank. This card gives you 3 points for each dollar that you spend on Worldwide vacation and travel purchases. For every dollar spent at restaurants or gas stations, you get 2 points while at all Mastercard-accepting locations, you get one point per dollar spent.
After getting this card when you are done spending 500 dollars on daily essentials like groceries or gas within 90 days of getting the card then you are rewarded with 5,000 points. That's not all that's there as various other perks and benefits await you if you go ahead and get this card.
And so after seeing the offerings shared by credit cards mentioned above, we can't help but say go and get yourself a card. Let us now learn about Comenity Capital Bank customer service.
Also Read: Is Credit Karma or Credit Sesame more accurate?

Comenity Capital Bank Customer Service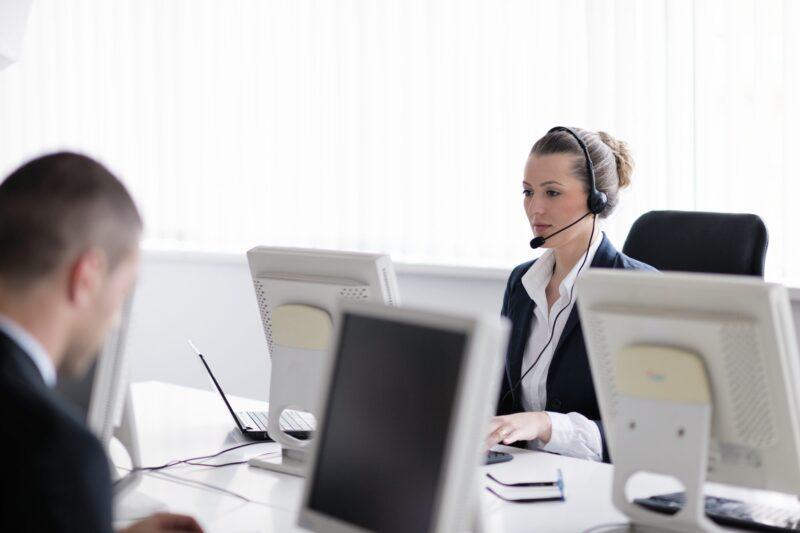 There is no denouncing the importance of customer service executives for any business today. A business survives merely on the fact that they offer good products and services and then backs them with good support teams that are willing to help the customers with any issues that they may face. And since this is a bank we are talking about it becomes even more important that they have a good and helpful customer service team.
Comenity bank indeed has a customer service team that is available to help its customers, their duty is on from Monday to Friday from 8 am to 8 pm Eastern Time. You can call them on this toll-free number +18557969632, however, this is not the only way to get in touch with them as you can also contact them via social media, mail, email, and chat options as well as long as you contact them by keeping their office hours and days in your mind.
When calling on the toll-free number you get to pick from a range of options the problem you are facing so that you can be assigned to the respective helper. If you have a problem with a store credit card then you need to press 1, if you need to talk about a Comenity Mastercard credit card then you need to press 2, if you want to talk about personal Bread Savings or a CD account then press 3 or if it's a call about Bread loan then press 4.
Comenity Capital Bank customer service team can also be reached via the number +18883324728 or +18772875012. If you need a TDD or TTY facility then contact +18006951788. Bread Payment Accounts Customer Care Team can be contacted at 1-844-992-7323, Bread Savings Accounts Customer Care Team can be contacted at 1-833-755-4354, Servicemembers Civil Relief Act (SCRA) Information can be contacted at 1-855-463-0222, Servicemembers Civil Relief Act (SCRA) Information Fax Line can be contacted on 1-614-729-3417 and Privacy Inquiries can be contacted on 1-866-423-1097.
Other ways to contact Comenity Capital Bank would be to visit their website, log on to your account, and go to the account center and complain there. You can also download the app and use it to get your problems solved. If you prefer to send an email then send it to support@breadpayments.com address. And if you plan on complaining via social media then you must know that the company has handles on Twitter, Facebook, LinkedIn, and Instagram so prefer using these channels only if you want to get a response. This was all about Comenity Capital Bank customer service.
Comenity Capital Bank App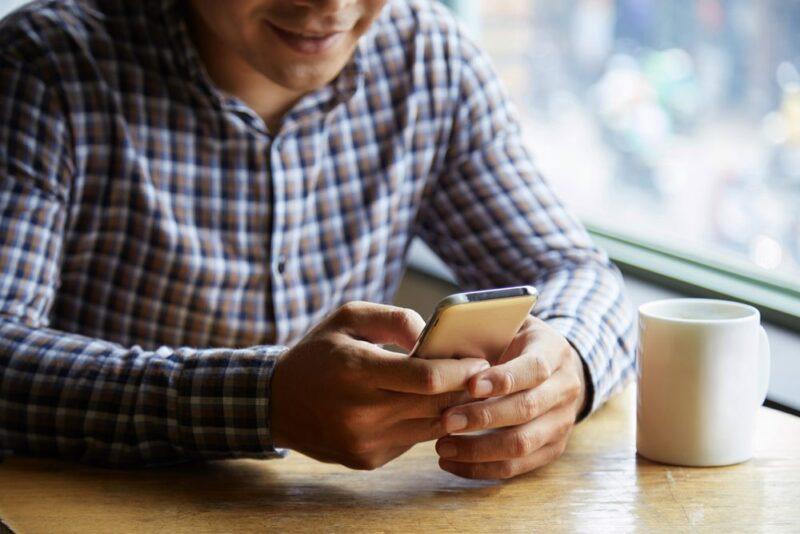 Comenity bank comes with an app for Android as well as iOS devices. The name of the app is the Comenity Direct app. Since the bank's first credit card, they have charmed out credit cards one after the other and today boasts more than 130 credit cards that people can choose from. These include store credit cards and other co-branded credit cards. They also offer high-yield savings accounts and CDs. However, we have spoken enough about the bank. It is now time to focus on the Comenity Capital Bank app.
The app makes your life easy by keeping track of all your activities which means that all your account balances and transactions can be found in one place. The app allows you to capture a pic of the check through the phone camera to make a deposit. You can also use the app to make one-time or recurring transfers to other linked bank accounts. This is not all of it, there's more.
You can use this app to quickly access your CD or savings account and you can also safeguard them by setting up a PIN or Touch ID authentication. The app allows you to pay in-store, by mail, by phone, or even online making life easier for you. In case you lose a card then you can acquire a new one quickly without having to pay a charge for it. It is hard to look past all this but to make it tougher the app has even more features to offer to you.
With Comenity Capital Bank when you use their app and place an order for a replacement card you get one for free as mentioned above but the fact that it arrives in less than 48 hours makes it even better. Also, the app helps you put a hold on your account to avoid fraudulent activities. If you have the app then you can use your mobile, tab, or even computer to pay the bills, look at statements and do more.
The app also allows you to customize your interface which makes it possible to personalize the app for yourself. And lastly, having the app makes it much simpler to contact the customer service team who are now just a press of a button away from you.
Comenity Capital Bank Ulta
We have made multiple mentions of Comenity bank having a partnership with no less than 100 brands and more. One of those brands is named Ulta Beauty. In partnership with Comenity, the beauty brand has come up with more than one credit card which we will talk about shortly before taking a small detour and introducing you to the brand Ulta.
What is Ulta Beauty?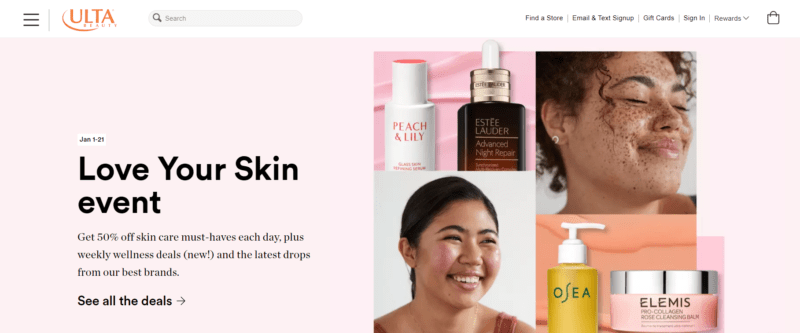 Earlier known as Ulta Salon Cosmetics & Fragrance Inc. and Ulta3 this company was founded in 1990 and is today known as Ulta Beauty, Inc. It is a public company and is listed on the stock market. It is a US-based chain of beauty stores and is headquartered in Bolingbrook, Illinois. They have a range of beauty products which include fragrances, nail products, baths, cosmetics, and more from both high-end and low-end ranges.
Terry Hanson and Dick George founded this company and by 2019 they already had stores in 1,200 locations. By 2021 the company had 37,000 employees. Dave Kimbell is the CEO of this company and the company had revenue of $4.8 billion in 2016. In 2022 the company collaborated with Allure and had products from various big brands.
So now that we know a bit about Ulta, we shift our focus back to their collab with Comenity.
Ultamate Rewards MasterCard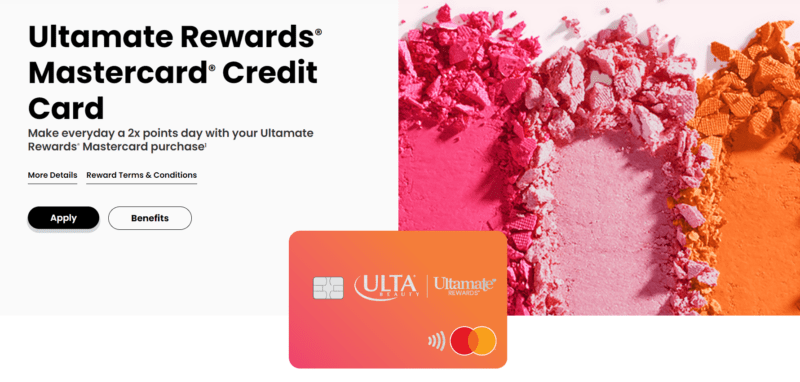 One of the two Comenity Capital Bank Ulta cards is this credit card that carries the Mastercard name on it. There are a lot of reasons to sign up for this card and if you are someone who finds themselves shopping for and using beauty products regularly then it is definitely for you.
For every 1 dollar spent on beauty product purchases from Ulta, you get 2 points and if you use the card at places outside Ulta where Mastercard is accepted then you get 1 point for every 3 dollars that you spend.
The card also has no annual fee which makes it even better. Ultamate Rewards MasterCard provided by Comenity Capital Bank also gets you 500 points when you spend 500 dollars on purchases outside of Ulta in the first 90 days. So that should surely settle any doubts that you may have about this card's usability.
Ultamate Rewards Credit Card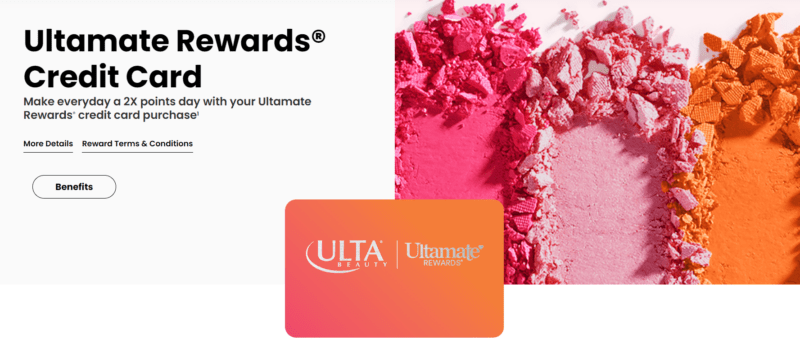 Of the Comenity Capital Bank credit cards, the second one is Ultamate Rewards Credit Card which is yet another great offering from the company. If you have beauty needs and are constantly ordering beauty products then this is kike a must-have credit card for you as it gets you 2 points for every dollar spent on Ulta Beauty products. Not only are you making double the points but also your beauty care product needs are being taken care of.
The second benefit of the card is that it comes with no annual fee which helps you save money on the fee that you would usually pay to acquire a card.
So with the benefits that these cards have to offer to you or to anyone that signs up for them, you can see why we have mentioned them and why you should have one for yourself.
Is Comenity Capital Bank good for you?
We have seen all the important points that one needs to consider when looking at a bank or other service provider. We saw the details of the app, learned about the bank, and saw a few of its credit cards. However, this still leaves us with reviews that we didn't pay heed to until now. And so our last parameter or obstacle to look at in the article will be the ratings and reviews of this bank.
On Trustpilot, Comenity bank has received a dismal 1.2-star rating. Only 2% of its ratings are 5-star ratings while 96% of ratings are 1-star ratings. There are no 4-star ratings given to the bank while 2 and 3-star ratings each make up the remaining 2% of ratings. The written reviews from the users paint the bank to be the worst bank as well as a horrible service provider. From receiving several phone calls and messages from the company to not being helped with their issues by the customer service team, the bank is making its customers face all kinds of issues.
Customers have been charged to pay more than they think they should be and for reasons like this, some people think that Comenity Capital Bank may not be around for long. People have called the bank a scam and have labeled their services terrible while also bad-mouthing their credit cards.
Nonetheless, till date, Comenity Capital Bank continues to offer a range of products and solutions to meet the diverse financial needs of its customers. With a commitment to excellence, it strives to deliver reliable and convenient banking experiences.