Amazon has changed the lives of people by revolutionizing shopping and making it available on their fingertips. The platform introduces new features almost daily for the benefit of its customers. Amazon Pay Later is one such new feature. But before trying it out, you must be asking – what is Amazon Pay Later? What are its characteristics? Today's article will clear all your doubts and help you know more about the platform.
What is Amazon Pay Later? Full Guide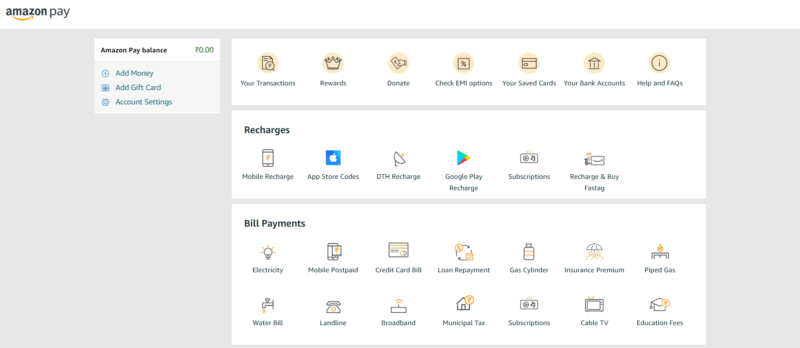 A lot of people either live paycheck to paycheck or have a rolling system going on where the money comes and goes away like dust. The credit lifestyle has been picked up by a lot of people out there who regularly need or give away money to those in need. Such a system may lead to times when you want money urgently but may not have it, however, life doesn't stop here. This is where Amazon Pay Later cones in.
What is Amazon Pay Later? It is a way devised by Amazon that allows you to buy products from their platform on an EMI basis or a completely pay-later basis. Because of this feature, you don't have to delay your purchase as you can simply get instant credit through a digital process where you just have to go through a one-time setup process after which Amazon's third-party lending partner will take care of stuff for you.
Is Amazon Pay Later Interest Free?
The next natural question after learning about Amazon Pay Later has to be is Amazon Pay Later interest free. You have got such a wonderful feature looking out for you devised by a billion-dollar company which pushes you to think that will the cost of such a feature be borne from your pocket and it is understandable because most companies provide you with various benefits only to charge you for them indirectly.
However, the case is different with Amazon. We saw – what is Amazon Pay Later, and we can agree that it is a beneficial customer-oriented feature made available for the customer and so it would be wrong to charge them extra for it.
For this reason, the Amazon buy now pay next month feature comes with no interest, however, if you go ahead and choose the EMI option then be ready to be charged interest on your monthly installments.
The details about these charges will be provided to every user on the payment page. While there is no cost EMI offers on certain products now and then, generally, you will be charged interest on the EMI option.
Is Amazon Pay Later for Everyone?
Wouldn't it be good if everyone was equal and there were no inequalities? Some like to think so and on that note, our focus now shifts to the question, is Amazon Pay Later for everyone or are there requirements and eligibility criteria to be met to be able to avail of the feature?
Well as it appears there are some basic requirements like having an active Amazon account that has a verified phone number linked to it. Apart from this you also need a valid PAN card, an active bank account with one of the banks mentioned in their T&C, a valid proof of your address, and must be 23 years of age or older. If you meet all these requirements then you can proceed with the KYC to start using the Amazon Pay Later feature.
However, know that the lending partner of Amazon has the right to reject your request for using the Pay Later feature and the requirements might change from time to time while your credit history or related stuff might also be checked to make sure that you can repay the borrowed sum. So if you can meet these conditions and eligibility requirements and everything mentioned in their T&C related to Pay Later feature then yes it is available for you.
Amazon Pay Later Eligibility
As mentioned above, Amazon Pay Later eligibility requires you to have an active Amazon account with a verified phone number, a PAN card, an address proof, and an active bank account with one of the mentioned ones while being 23 years old or more.
Apart from that you just need to make sure to go through their T&C and read the fine print to understand everything in detail before you proceed with your KYC and end up getting rejected for reasons unknown to you.
Amazon Pay Later Review
Depending on who you ask what is Amazon Pay Later and if it has benefited them you might come across a range of different answers. There are no hidden charges and also no interest rates charged if you go for the buy now pay next month option but the EMI options come with an interest charge.
For products whose amount is lower than 200 there are also no late payment fees but as you move above the late interest fee increases as you are charged a certain amount plus 18% GST on it.
Amazon Pay Later gives customers convenience, flexibility, ease of use, and a lot more benefits but on the flip side, you have credit checks, late fees, and other such issues to deal with. And so depending on the person you talk to and ask for Amazon Pay Later review the verdict may change.
A person who isn't punctual in paying back dues may find the facility a cheating money-charging feature while those that are more careful might find this feature to be a lifesaver.
How Amazon Pay Later Works?
One common and expected question that the readers may have is how Amazon Pay Later works and the answer to that is very simple. You can either directly register for the feature or you can go about your shopping and then when the time for payment comes choose the Pay Later option.
Now you will have to go through the KYC process which has been mentioned above. Once the KYC is done you can now start to wait for your product while the payment date is pushed back by a month or so. If you sign up for EMI then be ready to pay interest on the original sum.
Also Read: Amazon Pay Later Benefits, Eligibility, Charges
Amazon Pay Later Charges
As mentioned multiple times in the article titled what is Amazon Pay Later there are no charges for availing the feature Amazon Pay Later nor for going through the KYC process and also no transaction fee is asked of you for the same. However, there are charges for proceeding with the EMI option. These charges are included in your monthly sum rather than being asked upfront.
So Amazon Pay Later charges are not something that formally exists although you can be charged for any payment that takes place Later than it was supposed to.
Amazon Pay Later offers customers a convenient and flexible payment solution, allowing them to make purchases and pay later. With its seamless integration into the Amazon ecosystem, it enhances the overall shopping experience while providing financial flexibility to users.