Today we are going to see how you can make the best use of HDFC Bank Diners Club Black Credit Card.
Those who want their life finer and full of subtle things, then HDFC Diners Credit Card Black, is the right choice for them. If you spend Rs. 1 lakh from your account within 90 days, then your first year's fee, i.e., Rs. 10,000 will be waived off up to Rs. 5000. Rs. 5000 is charged from the second year as the annual fee. This fee is waived off only when, in 12 months, you spend a minimum of Rs. 5 lakh. This is one of the best credit cards in India and helps you obtain the maximum reward points. It helps you to save around 33% with no upper limit on their partner brands.
Use HDFC Diners Club Black Credit Card for Maximum Reward points
You receive 10,000 reward points as a welcome gift. You will also receive 5,000 reward points every time you renew the card. The 10X reward point is the most amazing and prime thing on this card. The shortlisted tie-ups of the Diners Club team are worth it. It has tie-ups with the companies satisfying our day to day needs and giving maximum points for those transactions.
Its various tie-ups with companies like Zoomcar, Swiggy, BookMyShow, Flipkart, Myntra, etc. cover up 80% of your monthly expenses. Every four months, these 10X reward points are updated. Through SmartBuy, flights and tickets can be booked with no convenience fee.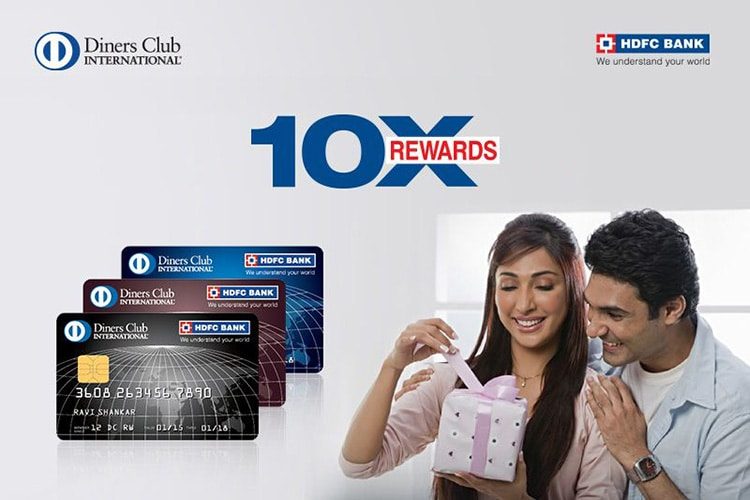 If you are a constant customer of these 10X reward point partners, then you can earn 5000 points monthly and also 1 lakh reward points in a year. These points are sufficient for any of your international trips. The partners of the HDFC Diners Club credit card are updated every month, which can be seen on the bank's website.
Fees and Charges:
Type of Fees and Charges
Amount
Joining fee
Rs.10,000
Renewal fee
Rs.5,000
Interest rate
1.99% per month
Cash withdrawal fee
2.5% of the withdrawn amount (Minimum Rs.500)
Rewards redemption fee
NIL
Add-on cards charges
NIL
Foreign currency mark-up fee
2%
Late payment charges

Less than Rs.100 – None
Rs.100 to Rs.500 – Rs.100
Rs.501 to Rs.5,000 – Rs.500
Rs.5,001 to Rs.10,000 – Rs.600
Rs.10,001 and 25,000 – Rs.800
For more than Rs.25,000 – Rs.950

Over limit charges
2.5% of the over the limit amount (Min. of Rs.500)
Cash processing fee
Rs.100 per transaction
Card re-issuance charges
Rs.100 per instance
Eligibility Criteria:
For salaried people, the eligibility of age is between 21 years to 60 years.
For self-employed people, the eligibility of age is between 21 years to 65 years. For salaried applicants, the net monthly income should be above 1.75 lakhs, and for self-employed applicants, the annual Income Tax returns should be around Rs 21 lakhs.
Features and Benefits:
Receive 10,000 reward points as a welcome gift. You will also receive 5,000 reward points every time you renew the card.
If you spend Rs.5 lakh in a period of 12 months using the card, your renewal fee for the next year will be waived off.
Get 6 complimentary golf course reservation every quarter across 40 international golf courses and 20 golf domestic courses.
Earn 5 Reward Points per Rs. 150 spent on retail. 1 Reward Point= Re. 1.
Cardholder will get air accident coverage of Rs. 2 crore, emergency medical expenses coverage of Rs. 50 lakh, credit liability coverage of Rs. 9 lakh, and travel coverage on baggage delay is Rs. 55,000.
For more information about HDFC Diners Club Black Credit Card refer to the bank website.
Apply for HDFC Diners Club Black Credit Card
What are the best use of HDFC Bank Diners Club Black Credit Card?
You can use this card for various purposes, such as:
Hospital bill
Even if you pay your hospital dues through your HDFC credit card, the reward points obtained by the payment is very useful. For example, reward points earned from paying for surgery can help you book an air ticket.
Insurance
Even insurance premium paid on a yearly basis can earn you many reward points. You can make all your insurance payments via this credit card.
Car down payment
By using your credit card for paying your car down payment will earn you reward points, which you can use for buying car accessories through online merchants.
Rent
Even paying rent, which is a monthly expense, helps you earn many reward points.
Recommended: 12 Best Stock Market Trading Apps In India
Avoid using credit cards in the below situations
EMIs
In the case of shopping through EMIs, it is advisable not to use this card as it can reverse the reward points on your card for any kind of online or offline EMI shopping.
E-Wallets
If you think that adding money to your wallets like Paytm will help you earn reward points, then you are completely wrong, so avoid this. Instead, try to spend money directly from the credit card.
Fuel
Reward points cannot be earned from a fuel station, so you don't receive any point, try using your other credit card for this payment.
How to Apply for HDFC Diners Club Black Credit Card online?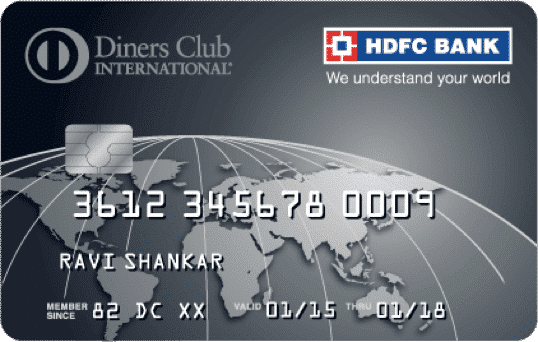 First, you have to go on the website of HDFC Diners Club Credit Card, then follow the given steps below:
On the HDFC Diners Club Black Credit Card page, you can check your eligibility for the card by using the "Check Eligibility" button provided on the website.
If your eligibility level is cleared, then you will be redirected to the application form page.
Fill out the form with your necessary details and click "Submit."
In the final step, you will complete the form submission by uploading the necessary documents.
Once all your documents and details are submitted online without any error, then you will be given a tracking ID through which you can track the status of your application.
Important Points
If you are an HDFC Diner credit card user then you have to keep these few things in your mind:
If you are making any payment to a partner website, make sure you use your credit card directly instead of using online money wallets.
If the payment is directly made through HDFC credit card, then only it will be considered either in online or offline mode.
Try to use this card in every possible way to spend Rs. 5 lakh to waive off the renewal fees of next year and also earn many reward points.
150 is the minimum amount which has to be paid in order to avail reward points as these reward points are also calculated in multiples of 150.
For instance, If your Swiggy bill is Rs. 119, then you won't be getting any reward points, but if your shopping bill of Myntra is Rs 299, then you will get 50 reward points as your amount needs to be multiple of 150 to get 100 points.
How to check reward points?
HDFC makes it very difficult to check your valid reward points, but there are four steps through which you can find it easily:
By logging in to HDFC net banking and navigate to Cards > Credit Card > Enquire > Redeem Reward Points.
When your statement is generated, then you can view your reward points at the bottom of your statement.
24/7 customer care telephone lines can be very helpful to know your reward points.
Whenever you book your flights or hotels, using the HDFC Diners Club website, you can use your reward points before generating any voucher.
Recommended: Difference between Long term investment vs Short term investment
How to redeem your HDFC reward points?
Below are some steps to redeem your reward points as cash:
The first step includes logging into HDFC Netbanking.
Go to Cards > Enquire > Redeem reward Points> choose card & proceed
Now a Redemption Portal appears on your screen.
Go to Redeem Reward Points > Cash Redemption
Further, enter your details and proceed.
Cash credit will be generated in up to 7 working days.
Remember that, your minimum transaction should be of Rs. 500/-, or else you'll have to pay a convenience fee of Rs. 99/, just like in SBI cards.
If you use your Diners Club Black card only on the 10X reward partners, then you will get the best of this credit card. Though it is not sure for how long this policy might continue, until then, this is the best credit card available in the market.
Frequently Asked Questions
What is the validity of reward points on Diners Club Black Credit Card?
After the accumulation date, the reward points are valid for up to three years.
Where can I get details about the golf courses that I can visit using my HDFC Diners Club Black Credit Card?
These details can be easily availed on the HDFC Diners Club Credit Card website.
Where can I get more details about HDFC Diners Club Black Credit Card?
In order to know more about the details of the HDFC Diners Club Black Credit Card, you can visit the HDFC Bank website. You can also contact HDFC's customer care at 1800 266 4332 to get information related to the card.
Does the Diners Club Black Card offer accelerated rewards on international spends?
This card used to offer 10X points on international spends, but this policy was discontinued from 30th September 2018.
So what do you think of this cool article using which you can use the HDFC Diners Club Black Credit Card for Maximum Reward points & benefits.