Though American economy is going through recessionary conditions since the previous year, economists finally witnessed a ray of hope. According to the latest report by the Commerce Department, United States experienced stronger economic growth in the early months of this year than previously speculated.
Economists of the Bureau of Economic Analysis view the new data as a reason for genuine optimism. Strong numbers are leading to legitimate doubts about whether the long-predicted recession is truly unavoidable.
The gross domestic product (GDP), adjusted for inflation, expanded at an annual rate of 2% in the first quarter, a significant upward revision from the initial estimate of 1.1% released in April. A more recent revision had shown a slightly stronger growth rate of 1.3%.
The first-quarter GDP experienced a 6.1% increase at an annual rate, equivalent to a growth of $391.8 billion, reaching a total of $26.53 trillion. This reflects an upward revision of $43.5 billion from the previous estimate.
The price index for gross domestic purchases remained unchanged from the previous estimate, showing a 3.8% increase during the first quarter.
The personal consumption expenditures (PCE) price index underwent a revision, indicating a 4.1% increase in the first quarter, which is slightly lower by 0.1% from the initial estimate.
Disposable personal income witnessed a significant rise of $587.9 billion, equivalent to a 12.9% increase during the first quarter. This represents an upward revision of $26.4 billion from the previous estimate. Furthermore, real disposable personal income experienced an 8.5% increase, which was revised upward by 0.7%.
Personal saving during the first quarter amounted to $840.9 billion, reflecting an upward revision of $11.6 billion from the previous estimate.
The recovery is being driven by consumer spending, which saw a significant increase of 4.2% in the first quarter. This growth rate is higher than the 1% rate recorded in late 2022 and surpasses the initial estimate of 3.7% reported in April.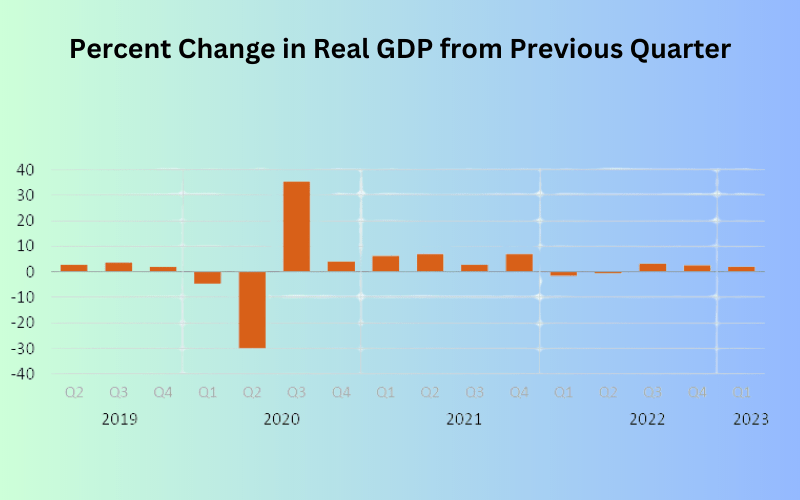 The report highlights the surprising resilience of the U.S. economic recovery, which has remained steady despite challenges such as high inflation, rapidly increasing interest rates, and repeated predictions of a forthcoming recession by many experts on Wall Street. Strong employment conditions and rising wages have fueled consumer spending, compensating for declines in other sectors like business investment and housing.
Economic Growth by Different Sectors
The report provides insights into the estimated value added or real GDP of various industries. During the first quarter, private services-producing industries witnessed a growth of 2.6% in their contribution to GDP.
Government-related industries experienced a 2.7% increase. However, private goods-producing industries saw a decline of 0.7%.
Out of the 22 industry groups examined, 15 made positive contributions to the overall increase in real GDP during this period.
The private services sector experienced growth primarily driven by the health care and social assistance, retail trade, real estate and rental and leasing, and accommodation and food services industries. However, there was a decline in the finance and insurance sector.
The growth in the government sector was attributed to increases at both the state and local levels, as well as the federal level.
In the private goods sector, the manufacturing of durable goods and nondurable goods saw decreases, but this was partially balanced by an increase in agriculture, forestry, fishing, and hunting.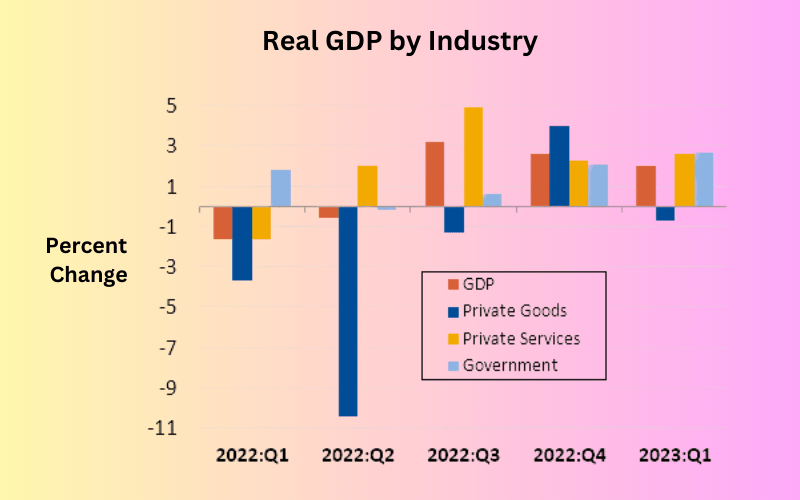 Challenges Still Faced by U.S. Economy
An alternative measure of growth, based on income rather than production, revealed a different perspective by indicating that the economy contracted for the second consecutive quarter. Nevertheless, even this measure was revised upward from the previous estimate.
Policymakers at the Federal Reserve are faced with a dilemma due to the ongoing strength of the consumer economy. Their objective is to raise interest rates to combat inflation without causing a recession.
On one hand, first-quarter data indicates some level of success. Economic growth has slowed down but has not come to a halt, and inflation has significantly cooled since the middle of the previous year.
However, numerous forecasters, both within and outside the central bank, remain skeptical that inflation will continue to decrease as long as consumers continue to spend money. This skepticism implies that policymakers are likely to implement further measures to control growth. During their recent meeting, Fed officials decided to keep interest rates unchanged for the first time in over a year, but they have indicated their intention to resume rate increases in July.
Experts acknowledged that inflation has consistently defied predictions of a slowdown. The persistence and intensity of inflation have consistently exceeded their initial expectations.
United States experienced stronger economic growth in the early months of this year than previously speculated. The report highlights the surprising resilience of the U.S. economic recovery. What remains to be seen is how the nation continues to maintain this position amidst the global recession that has engulfed other countries.
Source: U.S. Commerce Department