When you have one, you attempt to use your credit card as effectively as possible. Credit card bills, on the other hand, are a problem because you will need to pay them each month. The UNI card comes with a special feature so that users can pay their bills very conveniently. A UNI card is a card that allows you to make purchases now and pay for them later with a longer payment period than a credit card. In this article, we will inform you about Uni card apply, Uni card eligibility, Uni card charges, Uni card waiting list, Uni credit card apply online and much more.
UNI Card Apply & More: A Complete Guide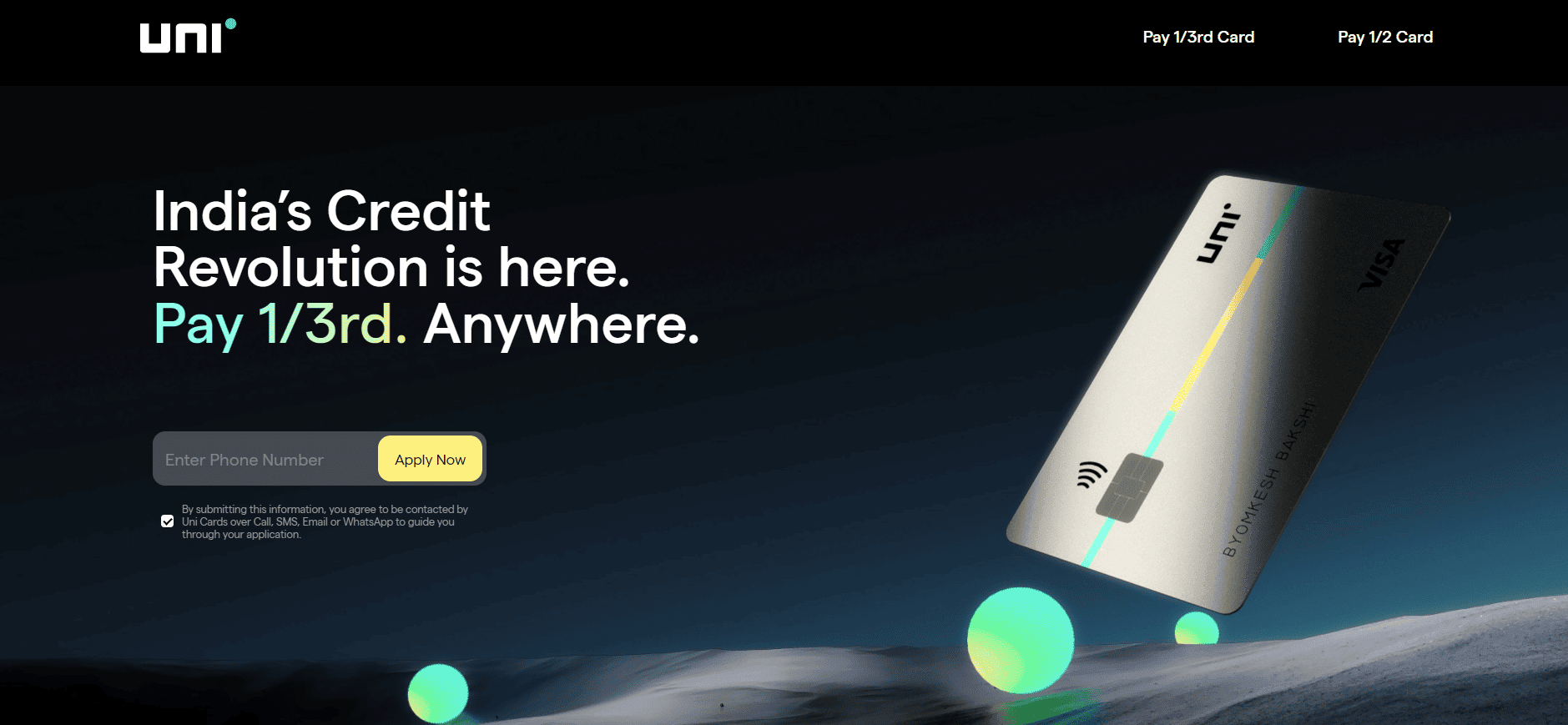 As the digital age continues, payments have been transformed as well. Paying with cash has become outdated as more and more local vendors are accepting UPI and other similar forms of payments. Credit card usage has reached an all time high and Uni card is just another step in this direction. It makes paying your bills simple so you can spend hassle free. Let us go over the nature of this card and how it works.
UNI card – Pay ⅓ card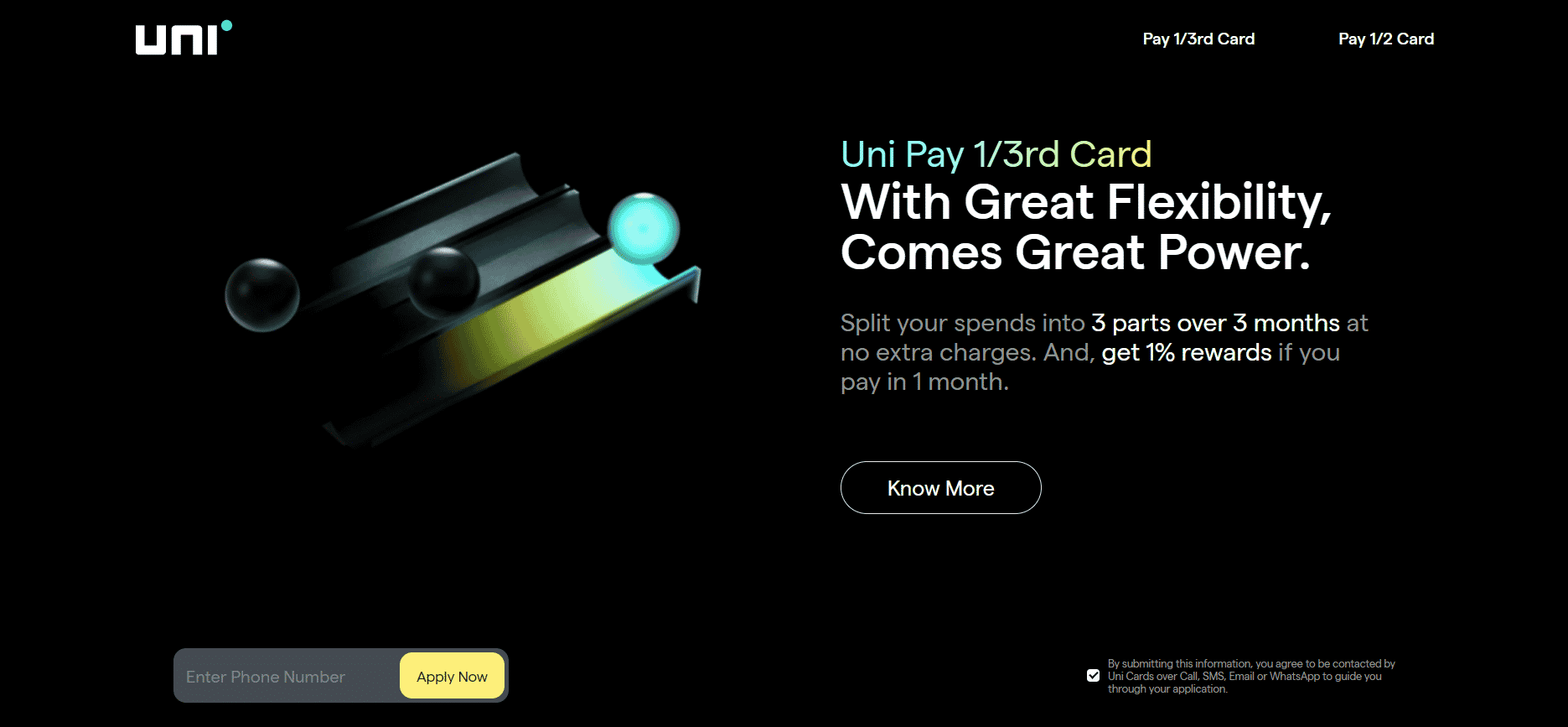 A collaborative effort between Uniorbit Technologies (UNI) and the State Bank of Mauritius (SBM) led to the introduction of the UNI Pay 1/3rd card. With the UNI Pay the 1/3rd card concept, you may split your monthly amount into three equal payments over the next three months without incurring any additional fees. For example, if your credit card bill is INR 30,000, you may make three payments of INR 10,000.
The best aspect of Uni Card is that there is no interest or other fees that are not disclosed. Recently, a new feature has been added, which is a 1/2 card, where you can split the bill into 2 parts for a period of 2 months without any extra fees.
UNI Card Eligibility
You must reside in India and be at least 18 years old in order to use the Uni pay card. There are some factors which decide your eligibility. Some of them are:
If you want to apply for this credit card, you must be an Indian resident.
In order to apply for this card, you must also have a high credit score.
The candidate must also have a reliable source of income.
The maximum age to apply for this card is 60 years.
Features of the UNI Card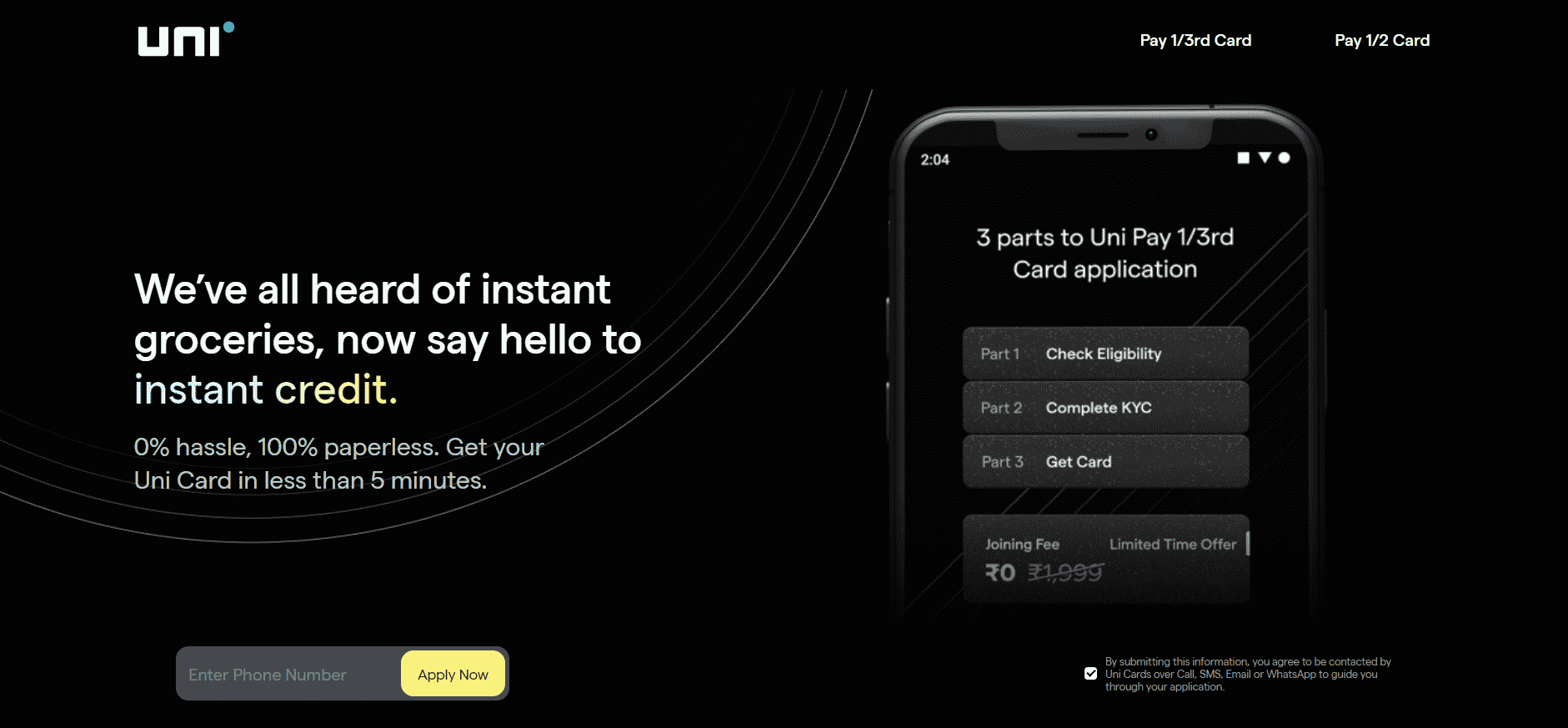 Before we learn about UNI Card apply, let us check out some of the interesting features that are offered by UNI card.
Converting EMI plans is simple: if your pocket can't cover the cost after three months, then, to make the complete payments, you choose lengthier EMI plans (6,9,12, or 18 months). This enables you to meet all of your demands without incurring debt.
Cashbacks: Unlike other cards, Uni rewards customers for making full payments by giving them discounts and rebates. So, if you believe you can pay off your entire bill at once, the firm will give you a 1% reduction or cashback!
No Joining Charge: To join the Uni Card and make use of its perks, there are no fees or any surprises. You merely need to apply, use the services, and pay for what you actually buy. Even the annual maintenance fees are waived for early customers of Uni.
Transparency: There are no secrets from the customers. If a charge is made without your knowledge, you can now receive 100% of your money back.
Security: To ensure that all personal information and data are always safe, all data you enter on the Uni Pay app is protected and encrypted.
Benefits of UNI Card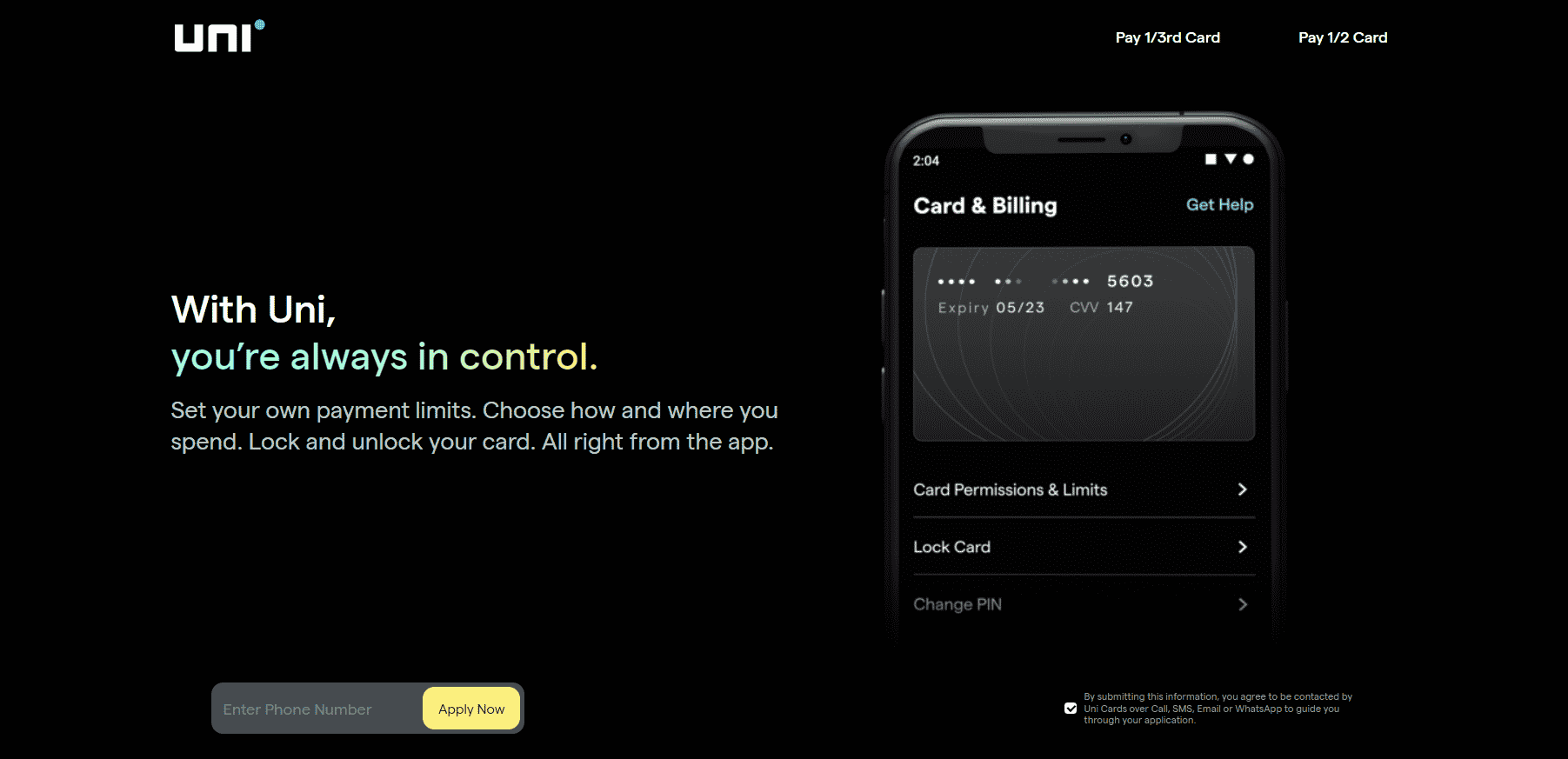 If you are wondering whether you should start the process of Uni Card apply or not then here are some great benefits you get from Uni card which can help you make a decision quickly.
It just asks for a third of the total cost to be paid at once.
Email, chat, and phone support are accessible around the clock.
The card's controls are simple to use.
The Uni app allows you to establish limitations based on your requirements and displays all transactions.
Before each payment, several bill reminders are sent to your phone and email.
You may quickly freeze the Uni card via the app to prevent fraud if you ever come into an emergency circumstance.
No initiation or yearly fees.
UNI Credit Card Apply Online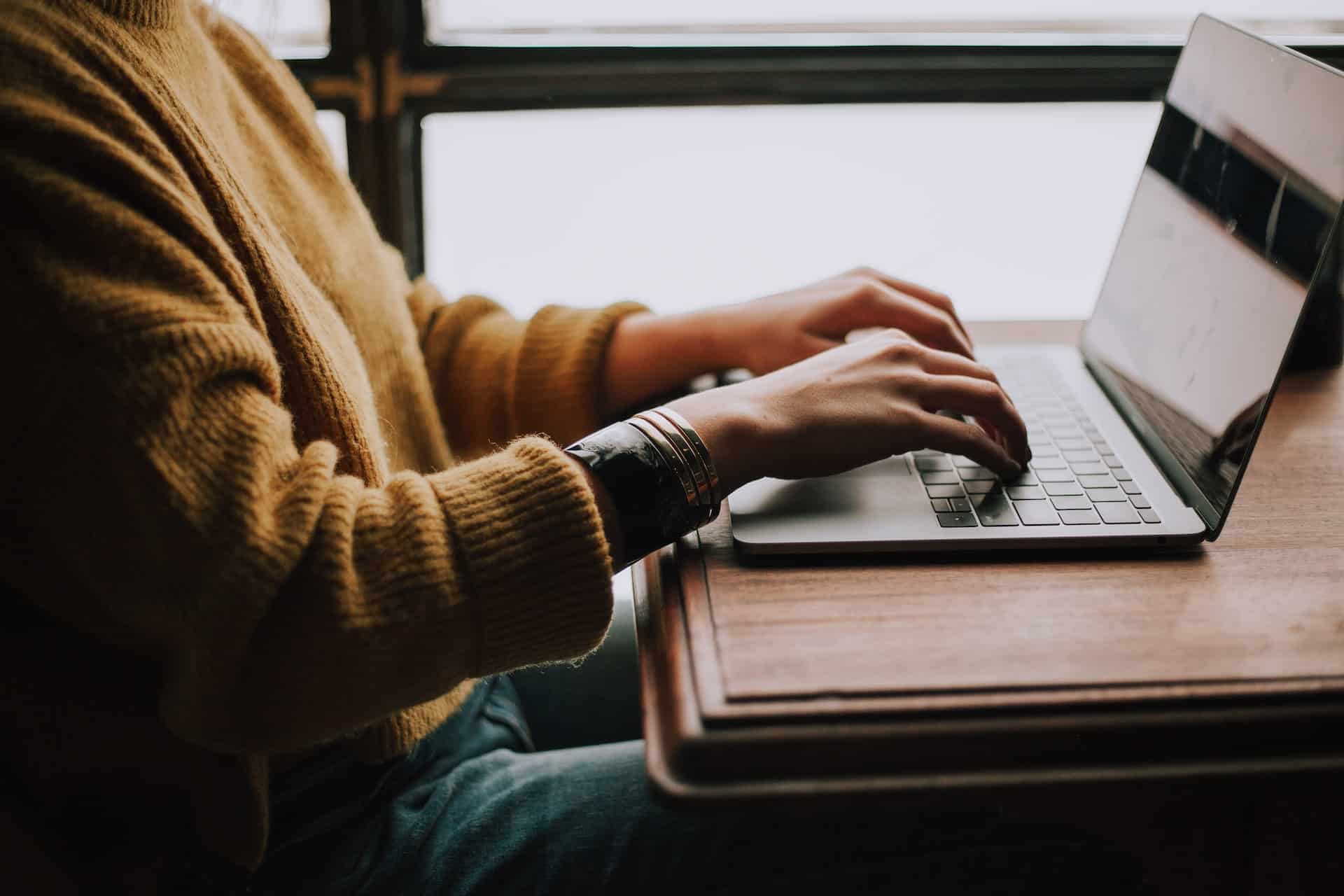 You can easily apply for a UNI card online by following the step mentioned below:
1. Go to their official application page.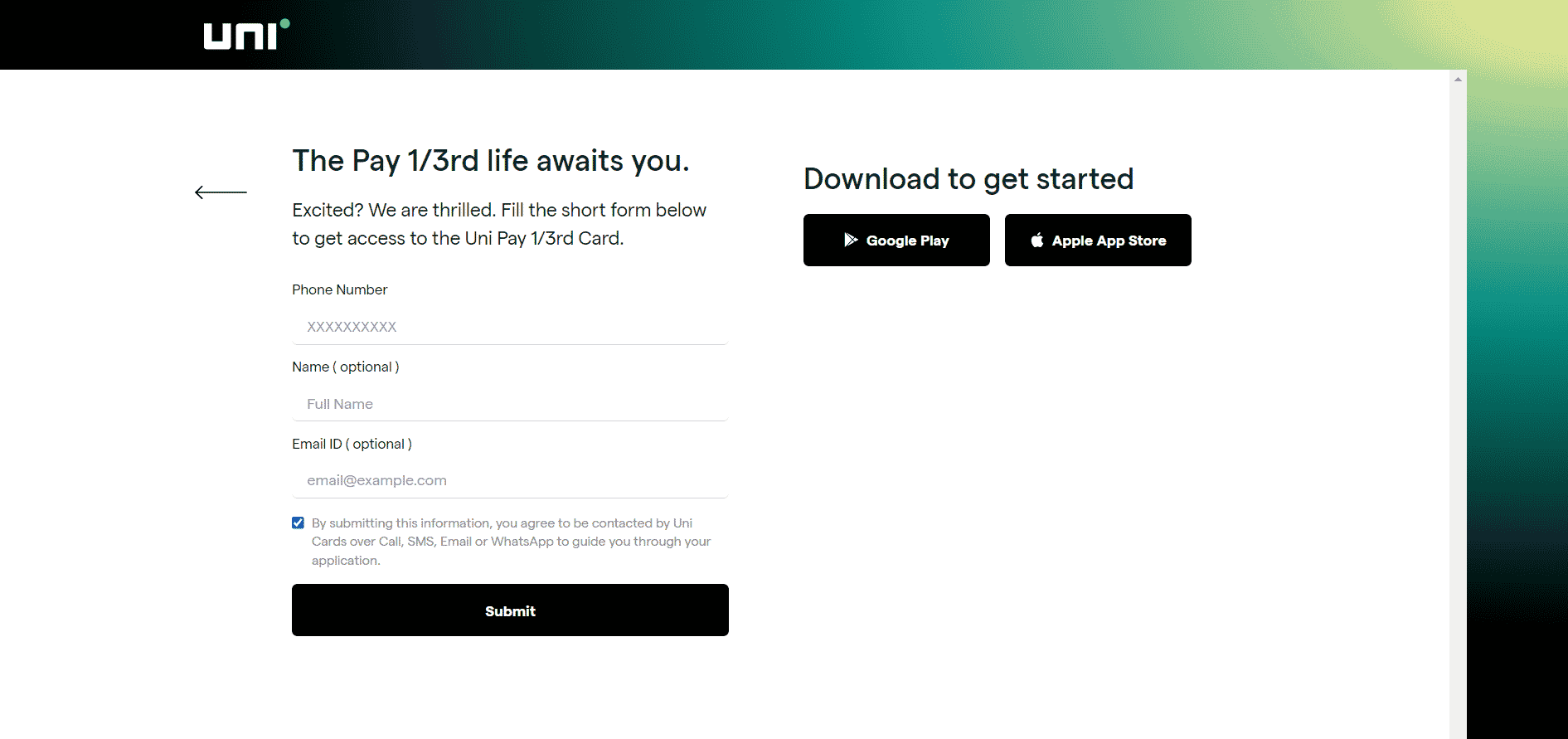 2. Provide your name, phone number, and email address and click on 'Submit' button.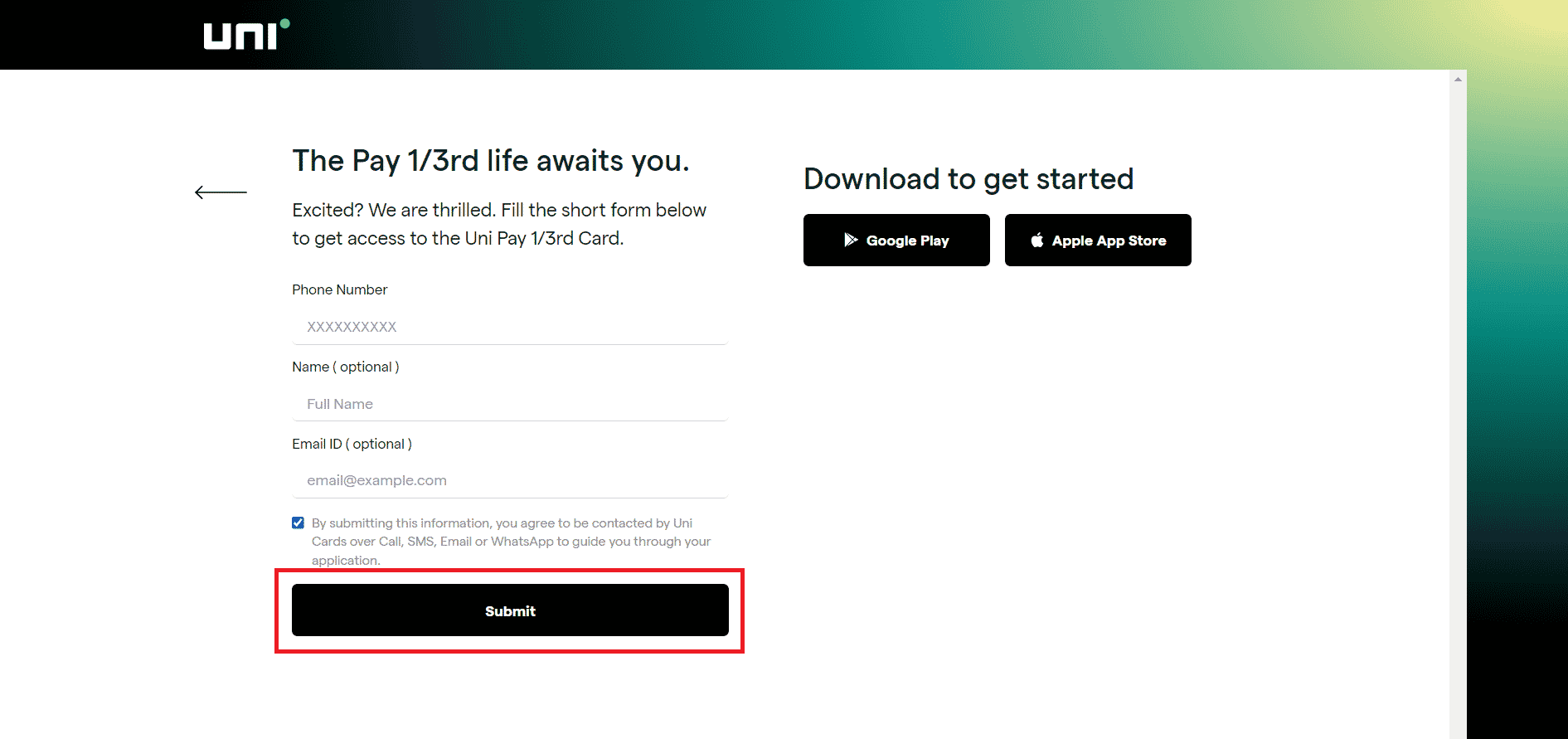 3. After that, you have to follow three steps, which include checking eligibility, completing KYC, and finally getting the card.
4. Click the 'Next' button after entering your PAN card information including your complete name, PAN number, and birthdate.
5. The following step is to choose your gender; then click 'Proceed'.
6. Select the sort of employment you now have and then click the 'Check Eligibility Now' option.
7. By clicking the 'Start KYC button' and going through the three stages, you may finish your KYC.
8. Once the KYC is complete, create a four-digit pin to protect the data and, once the password has been created, click on the arrow button.
9. To complete the KYC process and prove your identity, take a selfie.
10. To finish your KYC procedure, provide the delivery address information for receiving your card.
The same process can be done using Uni card app which is available on both Google Play Store and App Store.
Also Read: 15 Buy Now Pay Later Apps in India
Fees and Charges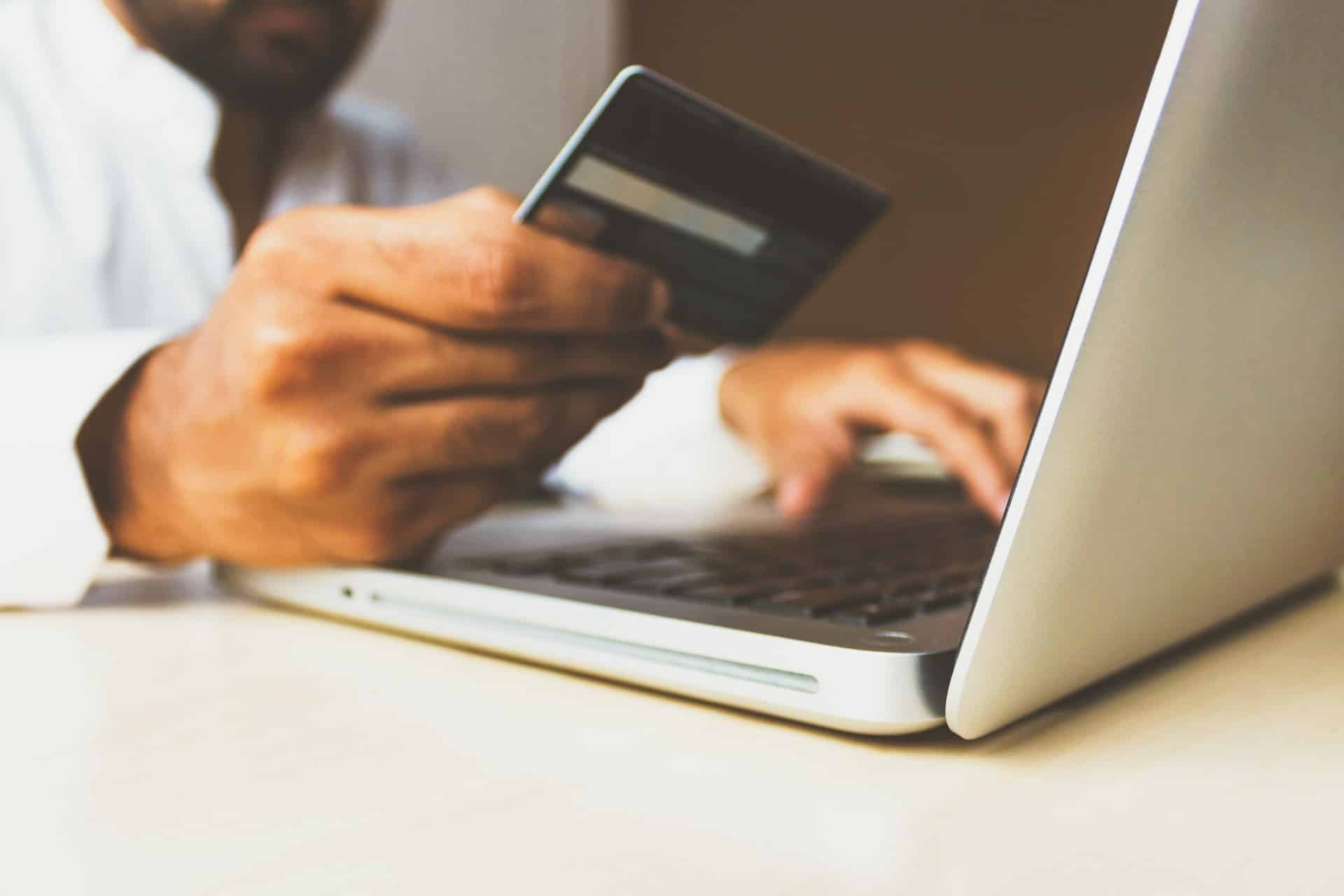 After learning about Uni Card apply, here is a detailed breakdown of some of its charges and other related information.
| | |
| --- | --- |
| Specifics  | Charges & Other information |
| Joining fee | NA |
| Annual fee | NA |
| Minimum amount due | 7.5% of the outstanding amount |
| Card not in use | Freeze for 6 months |
| Bill payment time | 10 Days |
| Carry forward fee | Up to 5.5% |
Credit Limit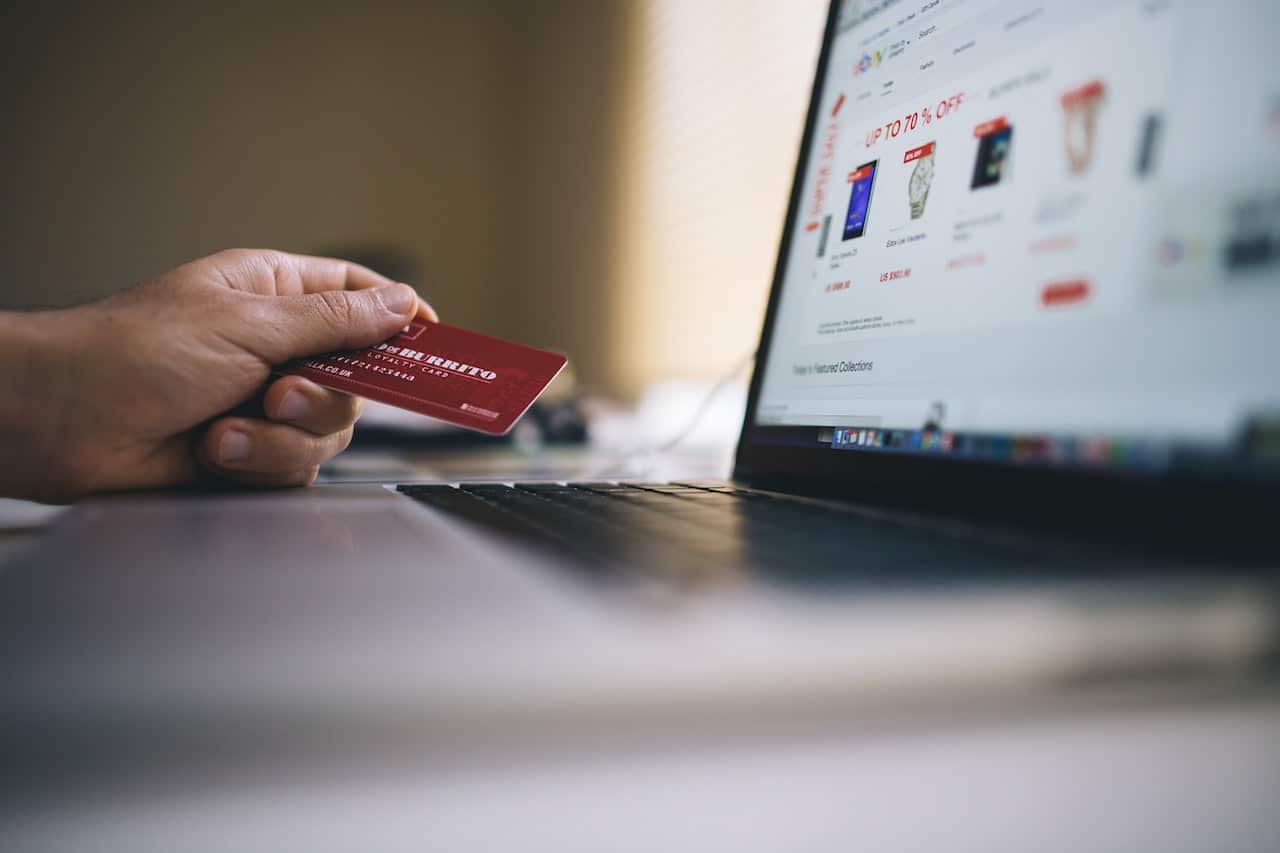 If a user qualifies, Uni offers one of the highest credit limits to that customer. By presenting your credit rating to the university, you can get more credit. If this is your first credit card, you could be given a smaller limit; but, as you begin using it and making timely payments, the limit will gradually grow.
Uni card has a limit that ranges from Rs. 20,000 to Rs. 6,00,000. After six months of using the card, you can also seek to have its credit limit increased.
Waiting List
As soon as you have submitted your documentation, when you click the check eligibility button, you will receive your credit limit; otherwise, you will be placed on a waiting list. You have to wait until you get a notification about your approval.
Overall, the Uni Pay 1/3rd card offers a smooth application process, a high-end welcome package, a respectable credit limit, fair rewards, and excellent customer service. The Uni 1/3rd card does not have reward points or any of the other perks that credit cards have, so it cannot be used as a substitute for one. This card is ideal for you if you like to have more flexibility while making purchases.
Note: RBI has suspended Uni Card pay 1/3 card and pay 1/2 card services for an indefinite time period. Please do your research before using Uni Pay card.
We hope you are now aware Uni card apply, Uni card eligibility, Uni Card Charges, Uni Card Waiting List, Uni Credit Card Apply Online and everything related to this amazing card. In the end, it is up to you and your spending habits and requirements that will decide whether this card is suitable for you or not.