Today, credit and debit cards have become a necessity – so much so that almost every person owns one. Their popularity has increased even more due to several lucrative offers and discounts offered for their use. Banks nowadays offer cards related to various brands, such as that of Ulta Beauty, a famous beauty salon company. Before learning how to apply for Ulta Mastercard, it is necessary to know Ulta Mastercard review, and today we will discuss these topics.
About Ulta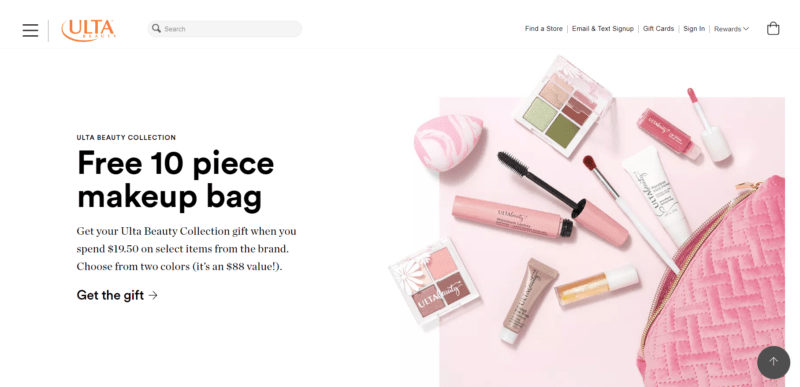 Ulta Beauty Inc is an American chain of beauty stores that in the past was known as Ulta Salon, Cosmetics & Fragrance Inc, and Ulta3 before that. Founded in 1990 the company headquarters are located in Bolingbrook, Illinois, U.S. Terry Hanson and Dick George founded this company which employed 21,000 people in 2021 at its 1,200 locations.
Each store of this brand has a beauty salon and you can find body products, bath products, hair care products, nail products, and much more in high-end and low-end ranges.
Mastercard is the world's second-largest payment processing corporation and was founded in 1966. The company headquarters are located at 2000 Purchase Street, Purchase, New York, U.S. The company operates worldwide and is a public company listed on the New York stock exchange. The company offers credit, debit, and prepaid cards to its users.
As we mentioned above there are brands that collaborate with banks or financial institutions to come up with co-branded cards. One such card is the Ulta Mastercard. It is a credit card that requires you to pay no annual fee while offering you quite a few benefits that we will learn more about in the Ulta Mastercard review section.
Ulta Mastercard Review: Everything There is to Know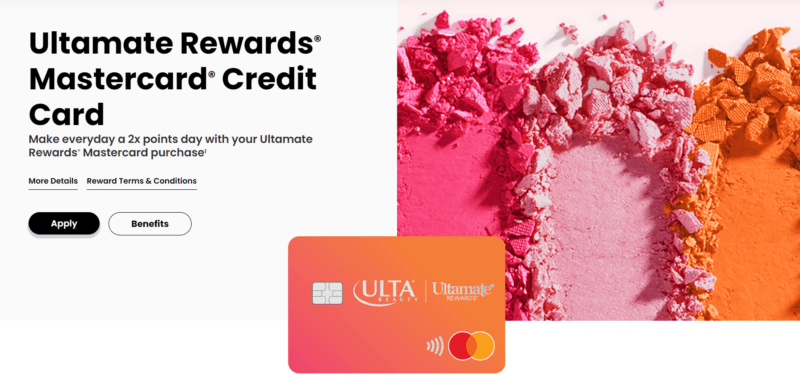 We learned about Ulta Beauty and Mastercard above and also learned that they have co-branded credit cards together. Of the two credit cards that the concerned parties share one is the Ultamate Rewards Mastercard Credit Card and the other is Ultamate Rewards Credit Card. We focus on the Mastercard branded card as we review it to determine whether or not it is a good credit card and whether you should sign up for it or not.
For every 1 dollar spent at Ulta Beauty, you get no less than 2 points. By using this credit card to buy Ulta Beauty products or services you get a 20% discount. When you get this card and spend 500 dollars using it outside of Ulta Beauty in the first 90 days a welcome bonus of 500 points is given to you. Also, this card can be used everywhere as long as the place accepts Mastercard. You also get 1 point for every 3 dollars spent using this card outside of Ulta Beauty.
That is not the whole Ulta Mastercard review as there's much more to come but that is pretty much everything that is on offer when you get this card.
What Credit Score do You Need for Ulta Mastercard?
We all know the relation that a credit card shares with the credit score. The higher the credit score the better card option available to you. Now by looking at the benefits that this card has to offer quite a few of you may not expect it to be a very demanding card in terms of credit score as a lot more cards that offer more benefits than this are sometimes less demanding but that is not the case with Ulta Mastercard.
To answer the question, what credit score do you need for Ulta Mastercard the appropriate answer would be good or even excellent. This means you would need to have a credit score in the range of 700 to 850. From 700 to 749, the rating is considered to be good and from 750 to 850 the range is considered to be excellent. Only people fitting in either category are eligible for this credit card.
The worth of one Ulta point comes to a value of anywhere between 3 to 6.25 cents each and it has been termed as a reward credit card. The APR of 21.24 to 30.24% of the card may not be the best rate around the market but the rewards and discounts mentioned above give it some weightage to pose as this pricey card that its credit score requirement suggests it to be.
How to Apply for Ulta Mastercard?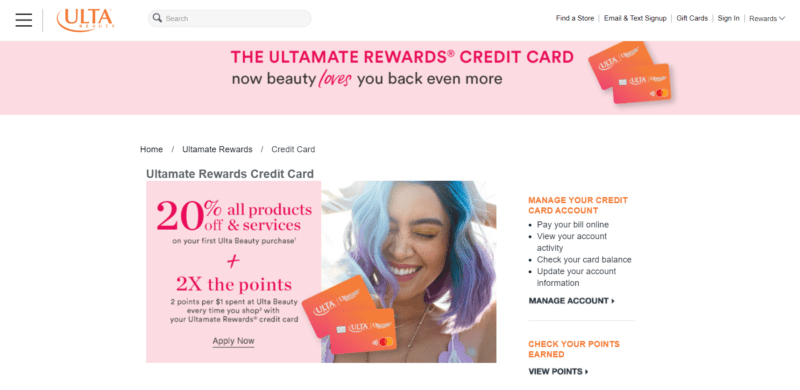 If you like the card so far and are convinced by its benefits or are a frequent customer of Ulta Beauty then obviously you would want to get the Ulta Mastercard. If you also meet the credit score requirements that you need to sign up for this card then the next obvious question in your mind would be how to apply for Ulta Mastercard the answer to which is mentioned below.
If you have gone through the Ulta Mastercard review and have made up your mind to get this card then there are two ways to proceed. The first would be to visit an Ulta Beauty store and there when you are at the checkout you can ask to sign up for the card.
Alternatively, you could head to Ulta credit card site and apply for the credit card online. If you meet the eligibility requirements and your request is approved then the card along with a welcome kit will be sent to you via mail.
How to Get an Ulta Mastercard?
We saw above that you need a good credit score to be able to get your hand on the Ulta Mastercard. If you meet all the requirements and are eligible for the card your next step would be to head to their store or visit their website.
Once you head to their website click on Apply Now after which you can sign up if you have an account already or you can choose to directly apply for the card.
On the next page, you will be asked to read information and rules and must also make sure that you meet the requirements. Once this is out of the way you will be asked to enter details like your name, email, password, SSN, and more and along with all this you will also have to provide electronic consent. Once you have filled it all up hit the Submit application option.
The application will then be processed and if yours is accepted then the card shall be received by you in 7 to 10 business days.
How to Pay Ulta Mastercard?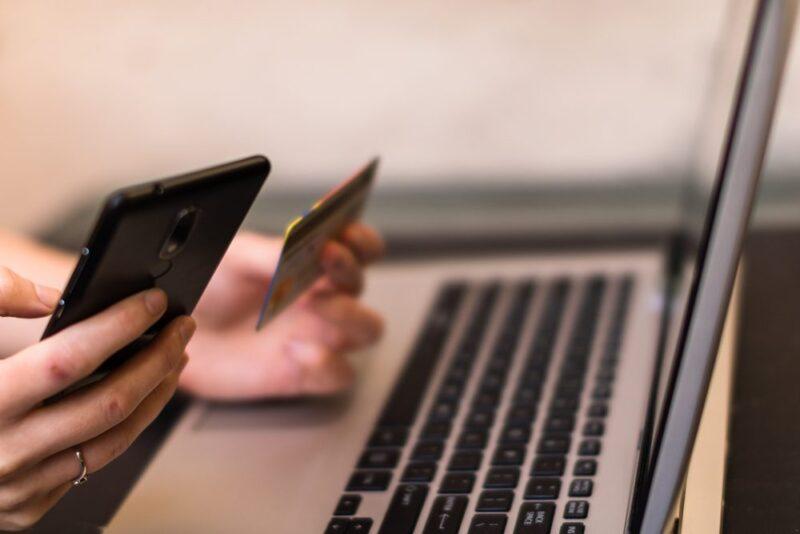 It might look complicated but it is not that hard to pay the balance of a credit card. Be it the question of how to pay Ulta Mastercard or any credit card, the answer is more or less similar for all of them. You have at least a couple of options if not multiple to be able to pay your credit card dues. In the case of this credit card also you have quite a few ways you could pay the dues. You could pay the due online, via phone, mail, or the mobile app.
Online
The article is supposed to be an Ulta Mastercard review so our focus is on that credit card, however, the payment process is the same for both cards across all modes. You head to the credit card landing page and then login into your account by entering your username and password. Then you head to the payment section and pay for the card.
Phone
Dial the number to Comenity Capital bank which is 866-257-9195. You will then be directed to follow certain steps on completion of which you will have successfully paid your balance.
Mail
This is another way when looking for how to pay Ulta Mastercard. You can write Comenity bank a check or purchase a money order that is payable to Comenity Capital bank Ultamate Rewards Mastercard or Ultamate Rewards credit card. Next up address the mail to the following address. Comenity Capital Bank — Ultamate Rewards Mastercard or Ultamate Rewards Credit Card PO Box 650964 Dallas, TX 75265-0964.
Mobile App
Open the app on your Android or Apple device. Head to the more section and select the credit card option. Next up click on the Manage account option and select the concerned credit card. Login to your account by entering the username and password and then follow the prompts provided to go through with the payment.
Is Ulta Mastercard Worth it?
Whether or not a credit card is useful comes down to its user. A good credit card may differ in quality from user to user. To some, a good credit card would be the one that provides more rewards while to someone else a good credit card might be the one that offers heavy discounts. So how does one answer the question of whether is Ulta Mastercard worth it or not?
For starters, Ulta Beauty has two co-branded cards to offer, and both are available for an annual fee of 0 dollars though this is more or less negated by its high credit score requirement. Next up these cards work well with Ulta Beauty's customer loyalty program and get you a lot of points that hold good value.
| Redeem points | Discounts on products and services | Value per point |
| --- | --- | --- |
| 100 | 3 dollars | 3 cents |
| 250 | 8 dollars | 3.2 cents |
| 500 | 17.5 dollars | 3.5 cents |
| 750 | 30 dollars | 4 cents |
| 1,000 | 50 dollars | 5 cents |
| 2,000 | 125 dollars | 6.25 cents |
Most credit cards can be used outside of the brand, but the points earned using them can't and that is the same here as well. Ulta's credit cards provide points that have more value to offer than the standard value offered by various credit cards and also these points can be redeemed at a very low threshold of 100 which is not usually the case with other brands. However, these points also expire within a year if you are a base-level user.
If you are a regular client of the Ulta Beauty brand then you can use this credit card to save a lot of money as you score a lot of points that can help you save money on subsequent visits.
Lastly, the APR of this credit card might not be the best but that is just how it is. So after this small Ulta Mastercard review, we would say that the card is worth it but mostly only if you are a frequent Ulta Beauty customer otherwise you can afford to miss out on this not-so-attractive reward credit card.
Ulta Beauty Mastercard Reviews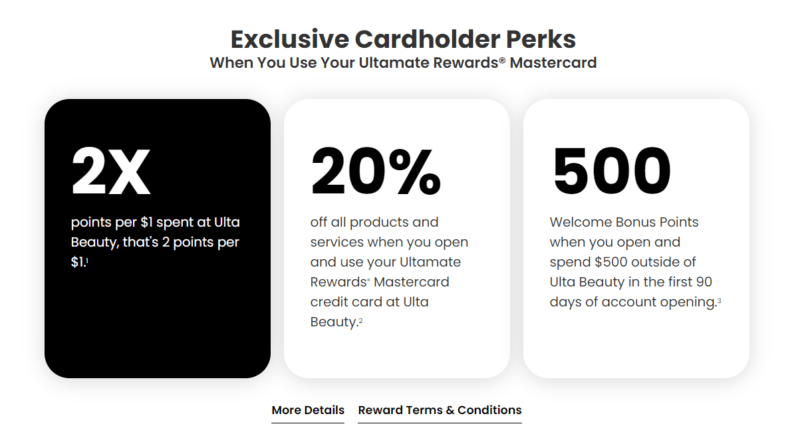 Depending on where you check for Ulta Beauty Mastercard reviews you may come across varied responses. SuperMoney gives this credit card a one-star rating whereas WalletHub gives it a three-star rating. Of course, it is the people on this platform, or rather writers like me who research and arrive at certain conclusions that help decide this number.
BestCards.com gives this credit card a rating of 3.5 stars while Myfin.Us gives it a 3.3-star rating. Now, we found the credit card to be worthy as we have mentioned above, however, it is a good credit card only if you are a frequent visitor or user of services and products of Ulta Beauty.
The market is filled with tons of other credit cards that can easily replace it and that is why the rating for this credit card is mostly bad or satisfactory. So on that note, we also would say that our Ulta Mastercard review would also not give this card a rating of more than or less than 2.5 stars which is not necessarily good or bad but rather balanced just as the offerings of this card.
Also Read: Credit Saint Clean Slate Reviews: Does it Work?
Ulta Mastercard Foreign Transaction Fee
A foreign transaction fee is the percentage of charge paid by a US citizen when they use a credit card outside of the US or when the transaction taking place is with a merchant that is based out of the US. More often than not the foreign transaction fee is placed between 1 and 3 percent as it has been a common practice for a long time. So that brings us to ask the question as to how much is the Ulta Mastercard foreign transaction fee.
The foreign transaction fee on this decently rated reward credit card is also 3% which is the highest percentage usually charged by credit cards. Because the points earned by using this card are not usable on other brands this charge looks to be higher than usual since the charge is already high and offers no benefits or leniency in return.
Ulta Mastercard offers a comprehensive range of features and benefits that make it an attractive choice for consumers. Its rewards program, competitive interest rates, and flexible payment options make it a versatile financial tool. With its seamless integration into Ulta Beauty's ecosystem, the Mastercard provides an enhanced shopping experience for beauty enthusiasts.