Co-branded credit cards have been around for a while now. Ulta Beauty is one of those brands that went on to create two credit cards, one tied up with Mastercard and the other self-owned. In this article, we will inform you about Ulta Credit Card, including Ulta Credit Card Payment Process.
Ulta Credit Card Payment Process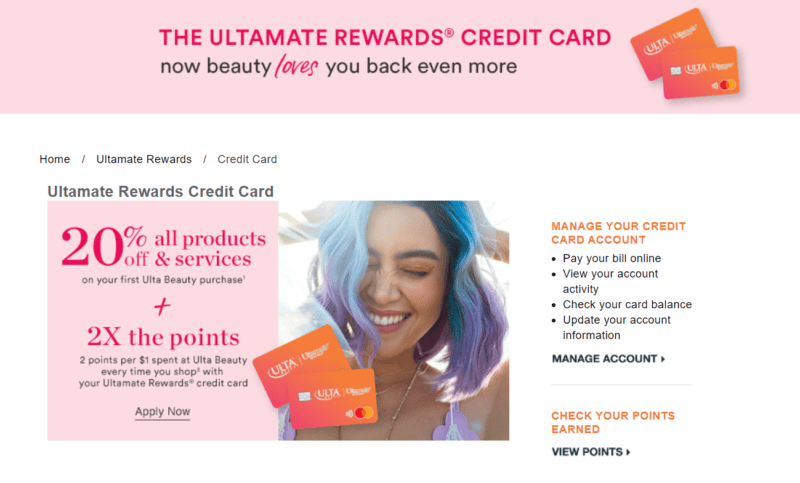 The most common way to pay credit card bills these days is to visit the online website login into your account and get done with it. But while it is easy this is not the only option that you have.
Most credit card-giving companies have more than one channel of payment available for their customers to use. With Ulta credit cards also you have multiple ways to go through with payment.
First and foremost you have the option to pay online where you just have to visit ulta.com/credit website and click on Manage account from here you should be able to easily figure out the following steps.
You can also pay via phone by calling Comenity Capital bank at 866-257-9195 or TDD/TTY: 888-819-1918 numbers. Or lastly, you can send your payment to Comenity Capital Bank – Ultamate Rewards Mastercard or Ultamate Rewards Credit Card PO Box 650964 Dallas TX 75265-0964.
While laying online is free of charge, paying via call and sending the payment to the bank may invite certain charges. So that's all you need to know about the Ulta credit card payment process.
How to Sign Up for Ulta Credit Card?
Just like there are multiple ways to pay for the Ulta credit card there are also a couple of ways you could get the Ulta branded credit card. The first step is almost similar to one of the payment methods where you head to ulta.com/credit website and apply for the Mastercard variant or the other option available to you.
Another way to get an Ulta credit card is to simply visit an Ulta Beauty store where you can ask to sign up for the credit card at the checkout. If your credit card request is accepted then you will be sent a credit card welcome kit mail in a span of 7 to 10 business days.
So that should answer the question of how to sign up for either Ulta credit card.
How do I get my Ulta Credit Card Account Number?
Getting the account number to the credit card is not usually a problem because it is right there in front of you in the middle of the card but what happens when you don't have your card on you or you like it, how do you then go about finding the account number to go through with a purchase? We know the multiple ways the Ulta credit card payment process works but an account number is required for each of them.
So the question you might be having is how do I get my Ulta credit card account number now? Well, it's simple. If it's an in-store payment then you inform the person at the checkout that you want to pay via your credit card and that you want to look up your account.
By providing the necessary identification and information on the pin pad you will have access to the information you seek. However, for online payments, you would need a physical card, or else you can contact Comenity Capital Bank and the customer service team shall help you with the issue.
Ulta Credit Card Apply
In the Ulta credit card payment process section, we saw that you can visit their credit card page and make your payment from there and you can also visit the same website when you want to pay for either of the two credit cards that Ulta offers.
But before you proceed with the Ulta credit card apply process it is necessary to know that a credit score of at least 700 is needed for the same which means only a good credit score assures you that you might be able to get your hands on it. However, the store card is available to those with a credit score of 640 or above.
How to use my Ulta Credit Card Online?
Again we have already answered your question about how to use my Ulta credit card online above. You can pay online by visiting the credit card page on the Ulta website. However, if you are asking about how to use it to make payment for goods then keep reading to find out about it.
The Ulta credit card payment process has been discussed above where you have been told the three ways you could pay for your purchases. However, the plain variant of the Ulta credit card can't be used anywhere outside of their stores and the Mastercard version can be used only at places where Mastercard is accepted apart from Ulta stores.
So you just have to select the option of paying via credit card when checking out from a website or store and select your Ulta Mastercard to pay for it and that is how you get it done.
Ulta Rewards Credit Card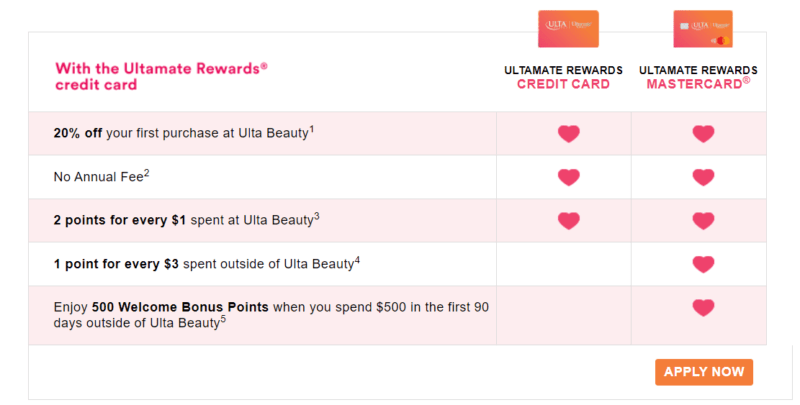 There are just two Ulta Beauty cards to choose from one of which is the in-store card or a closed-loop card and the other is the Mastercard variant which is an open-loop card accepted outside of the store at locations that accept Mastercard. Talking about the Ulta rewards credit card it is up for grabs for an annual fee of 0 dollars.
This credit card is an in-store card that has a lighter credit score requirement of 640 and above. This card gets you 20% off your first purchase from the store and gets you 2 points for every 1 dollar that you spend at their store.
Since the card can't be used out of the store there are no points on other purchases which it can't make in the first place and nor does this card come with any sort of welcome bonus.
How to make an Ulta Credit Card Payment?
This should no longer even be a question as we have already mentioned how to make an Ulta credit card payment. You have three options to choose from which include paying online via their website where you log in to your account.
If that doesn't work for you then you could call Comenity Capital Bank on the phone and they will help you with it. Lastly, you can send the payment to the address mentioned in the Ulta credit card payment process section and that should take care of things.
Also Read: Ulta Credit Card Customer Service
Ulta Credit Card Max Limit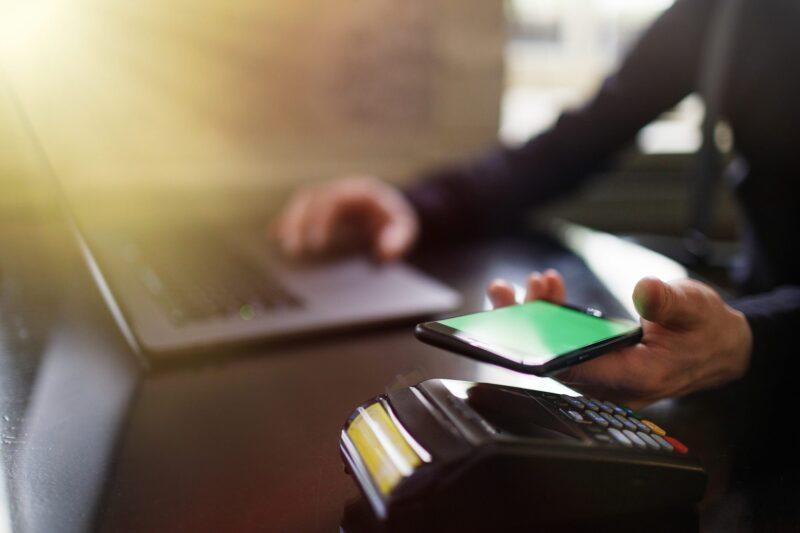 While we know everything from how to get an Ulta credit card to how to pay for an Ulta credit card to what credit score is required to get one and more but what we don't know is the limit that this card comes with which is a very important thing to know when talking about credit cards. So what does the Ulta credit card max limit look like?
It is believed that the credit limit on Ulta's credit card is anywhere between 250 dollars and 1,000 dollars or can be a bit more than it, which is unusual for store cards. However, there is no mention of the exact limit on the website.
Mostly it is your income level and overall credit history that decide the limit for your card and so if your income is great and your credit history is clean then expect to have a higher limit and vice versa.
With that, we conclude the Ulta credit card payment process article. We have made sure to mention information on how to sign up for Ulta credit card which should help you get your hands on one. We have also answered questions like how do I get my Ulta credit card account number and how to use my Ulta credit card online.
You now know all about the Ulta credit card apply process, rewards, payment, and credit card max limit. This should be all the information you need to have in hand before you can decide whether this is the card you need or not. Be aware of all its terms and conditions before applying for the card and taking advantage of its features.