TV5 News a regional Telugu news channel has broadcast a news report yesterday alleging that more microfinance clients have committed suicides and that the ordinance has been ineffective in reigning in microfinance institutions.
TV5 News is one of the local news channels that has been running a shrill campaign against MFI's in the state of Andhra Pradesh with a focus on SKS Microfinance, which is the largest microfinance company in India.
The bad news for MFI's in Andhra Pradesh does not seem to abate and has only been mounting over the past few days with SKS Microfinance going underground and reports coming in of Maoist's kidnapping MFI field staff in Khammam district.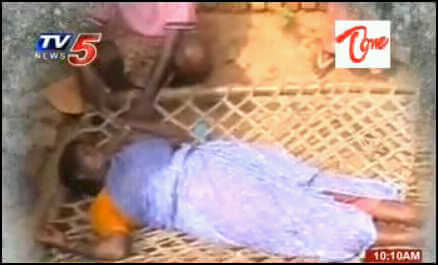 A screengrab from the above TV report of an alleged suicide by a microfinance client that took place two days ago in Andhra Pradesh.
In the below video report, a woman microfinance client of Spandana microfinance from Medak District allegedly committed suicide due to harassment. The police have arrested some Spandana staff members.