There are many crypto exchanges in India, but which one to trust? In this guide, you will find the top Cryptocurrency exchanges in India of 2021 that allow you to trade in different altcoins.
Many folks considered Bitcoin to be the original Cryptocurrency, which was founded in 2009 by pseudonymous developer Satoshi Nakamoto. The cryptocurrency was originated in the new age of blockchain technology.
You might be glad to know the inventor 'Satoshi Nakamoto' never intended to create Cryptocurrency when he just came up with his idea. Instead, his vision was to build a seamless decentralized cash system. However, the father of Bitcoin (Satoshi) suddenly disappeared after 3 years of establishing the world's first Cryptocurrency, Bitcoin.
Various people started investing in crypto from 2011 onwards, when similar cryptos appeared, such as Litecoin. Moreover, many individuals started investing in crypto with the rising inflation and seeking the potential for more stimulus.
Today, the sector is heating up, be it Bitcoin, Dogecoin, Cardano, Tether, Shiba Inu, or others.
The legality of crypto is still up in the air, but people from all over the world invest their money in digital assets and yield impeccable profits. In 2021, the number of investors massively increased, which led to the establishment of the best cryptocurrency exchanges in India and all over the world. The primary reason that changed the investors' approach to invest in digital currencies began when the regulators finally opened up the arena for companies to start their ventures.
Top 8 Best Cryptocurrency Exchanges in India
Looking forward to buying the dip and investing in Cryptocurrencies? We made it easy for you by doing the research work of finding the most reliable cryptocurrency exchanges in India that can't dig your pockets by any chance.
Listed below are the top cryptocurrency exchanges in India that allow you to trade in different altcoins, be it Dogecoin, MATIC, Bitcoin, or many others: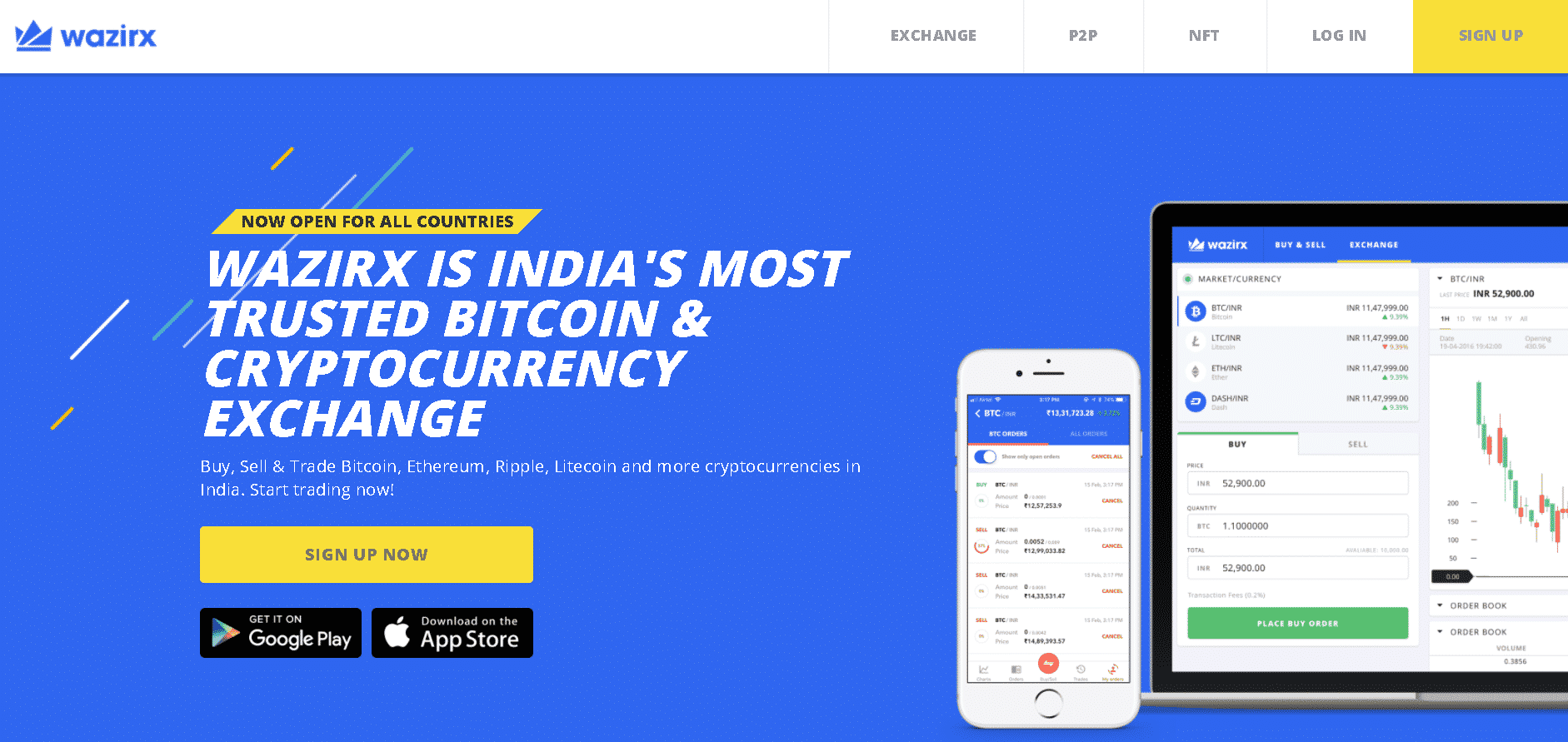 One of the fastest-growing cryptocurrency exchanges in India is WazirX. The platform has more than 1 million users that provide a lucrative opportunity for many investors by letting them trade/invest in more than 100 crypto assets.
The exchange is a part of the Binance group (the world's biggest crypto exchange), known for managing the users' investments worldwide.
WazirX is best-known for inventing a useful Peer-to-Peer (P2P) engine. It makes it straightforward for the Indian traders by automatically converting the crypto coin prices to Indian Rupees (INR). The platform is also featured with Smart Token Fund that is very useful for beginners. STF lets them find proficient traders and let them manage their cryptocurrency portfolio.
The exchange also offers an intuitive interface across mobile and laptops and has a quick sign-up and verification process compared to other crypto exchanges.
Also Read: 12 Best Penny Cryptocurrency to Invest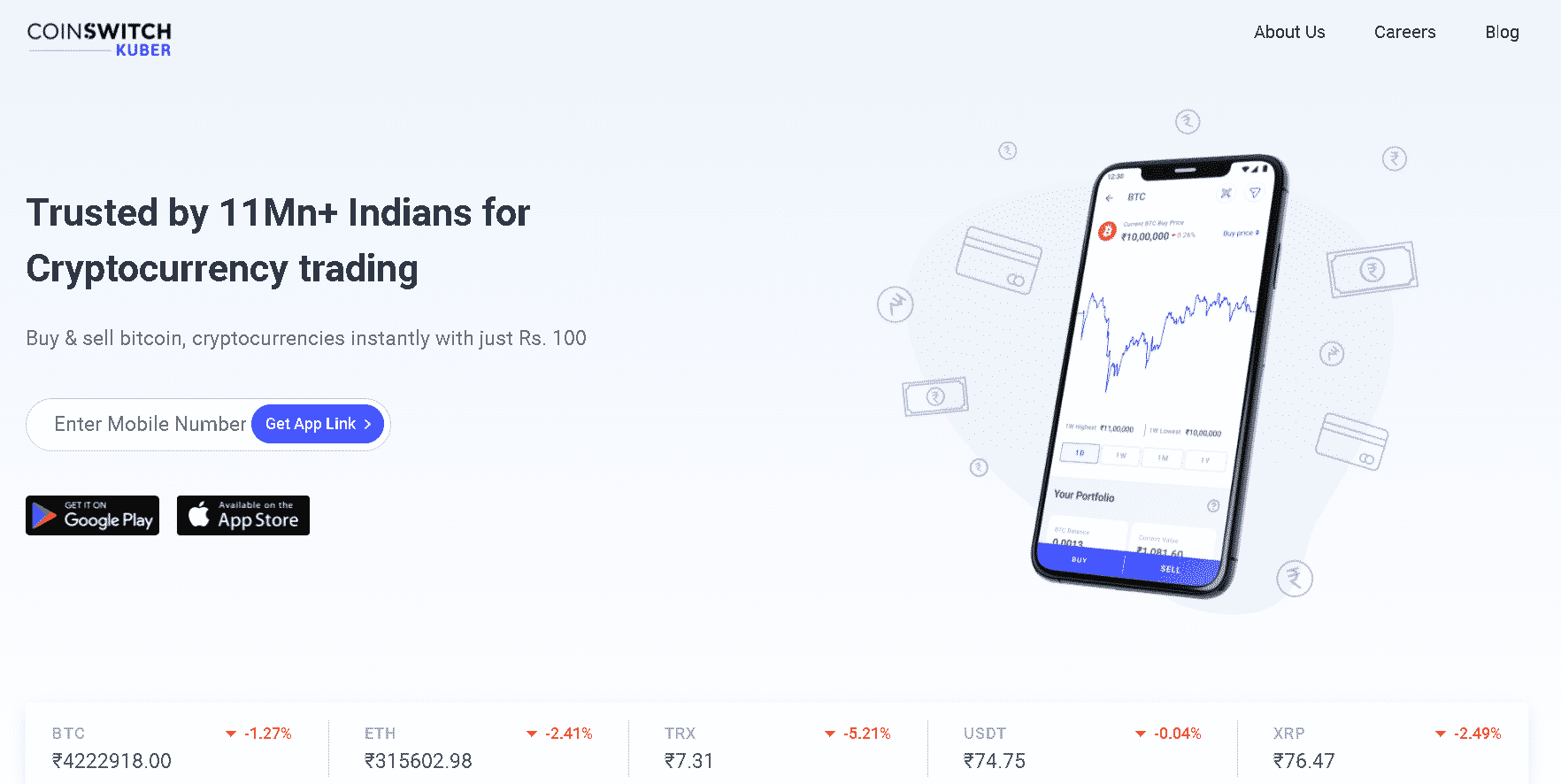 Founded in 2017, Coinswitch is a global aggregator of cryptocurrencies that offers more than 300 coins to trade/invest in and 45,000+ currency pairs. It is a user-friendly crypto exchange platform, offering competitive market rates as compared to other exchanges.
The platform is a subsidiary of Kuber, which has witnessed more than 350% growth since January 2021. As of August 2021, the exchange has a more than 4.5 million user base and has recorded a $5 million transaction volume in 10 months since its launch.
The platform displays all the prices of crypto assets in INR and offers 24/7 customer service assistant.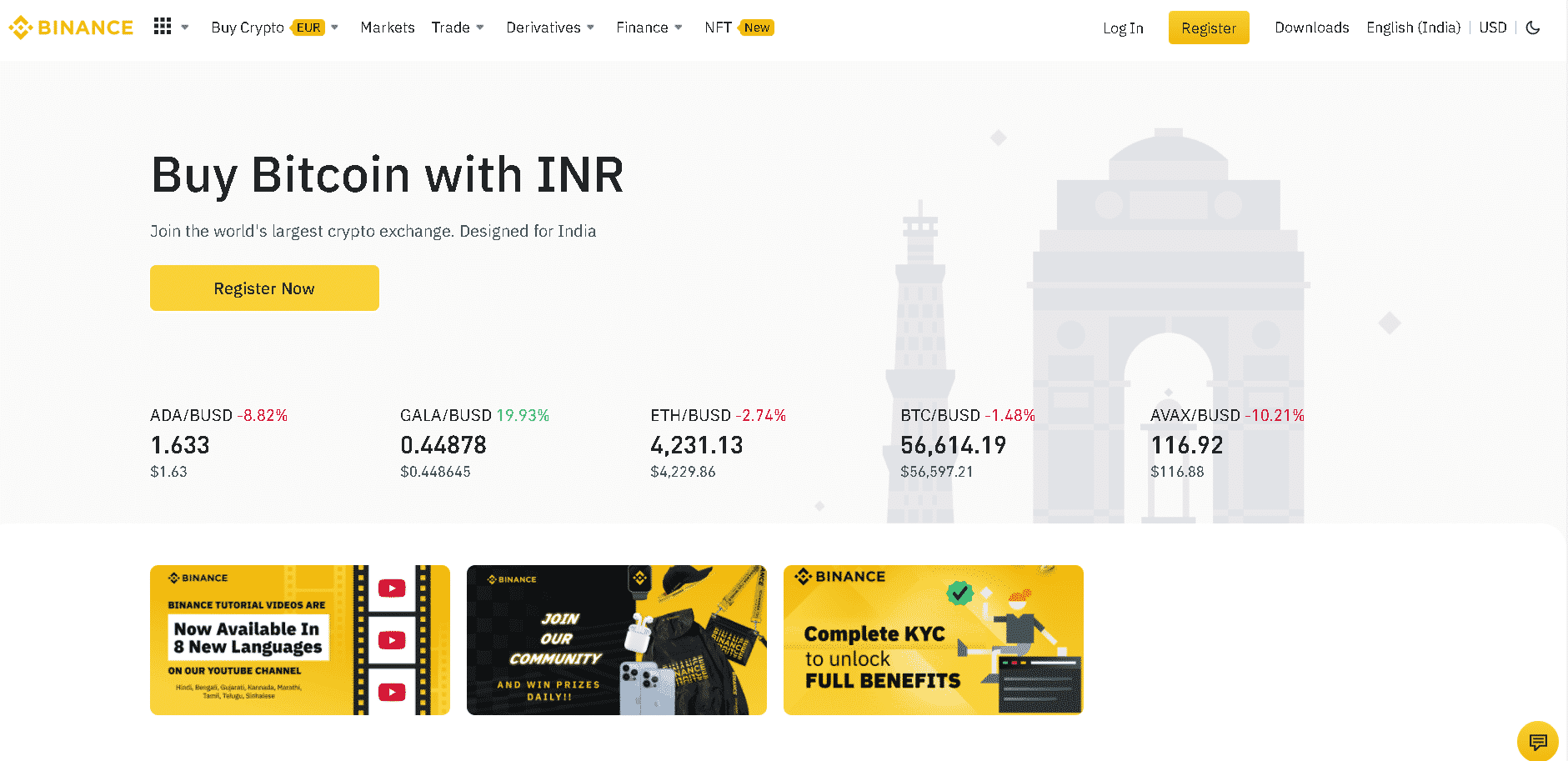 One of the most popular cryptocurrency exchanges in India, Binance offers a robust option for numerous users to trade over 350 altcoins, including Bitcoin, Litecoin, Etherium, Bitcoin Gold, Cardano, etc.
The best part about this platform is that investors earn interest on their entire total holdings. Moreover, just like WazirX, Binance India offers a way to trade peer-to-peer, execute advanced trading methods including future contracts, participate in margin trading, etc.
Binance India allows users to store crypto coins with competitive fees and avail loans against the crypto assets they own.
Also Read: Top 15 Cryptocurrencies to Invest other than Bitcoin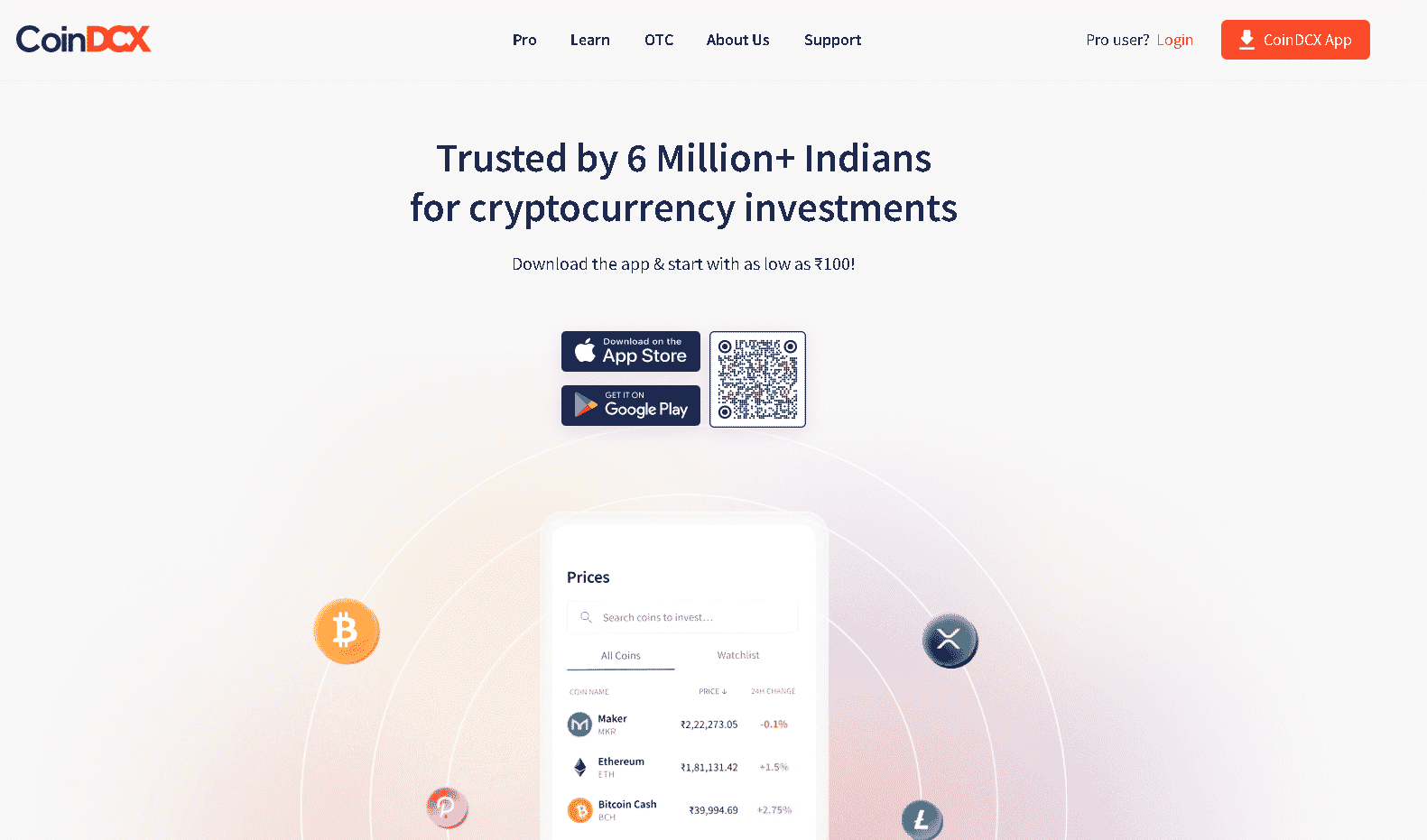 CoinDCX is a leading cryptocurrency exchange in India, providing investors a lucrative opportunity to earn substantial money by letting them invest in more than 200 different types of cryptocurrencies.
It is a Mumbai-based exchange that claims to have more than 1lakh active users across India. The platform is best known for levying minimal trading fees; that is 0.1%. Plus, the deposits and withdrawals are entirely free over this platform.
CoinDCX is featured with a convenient and straightforward user face making it easy for newbies to understand the deposits, withdrawal, and trading process for altcoins.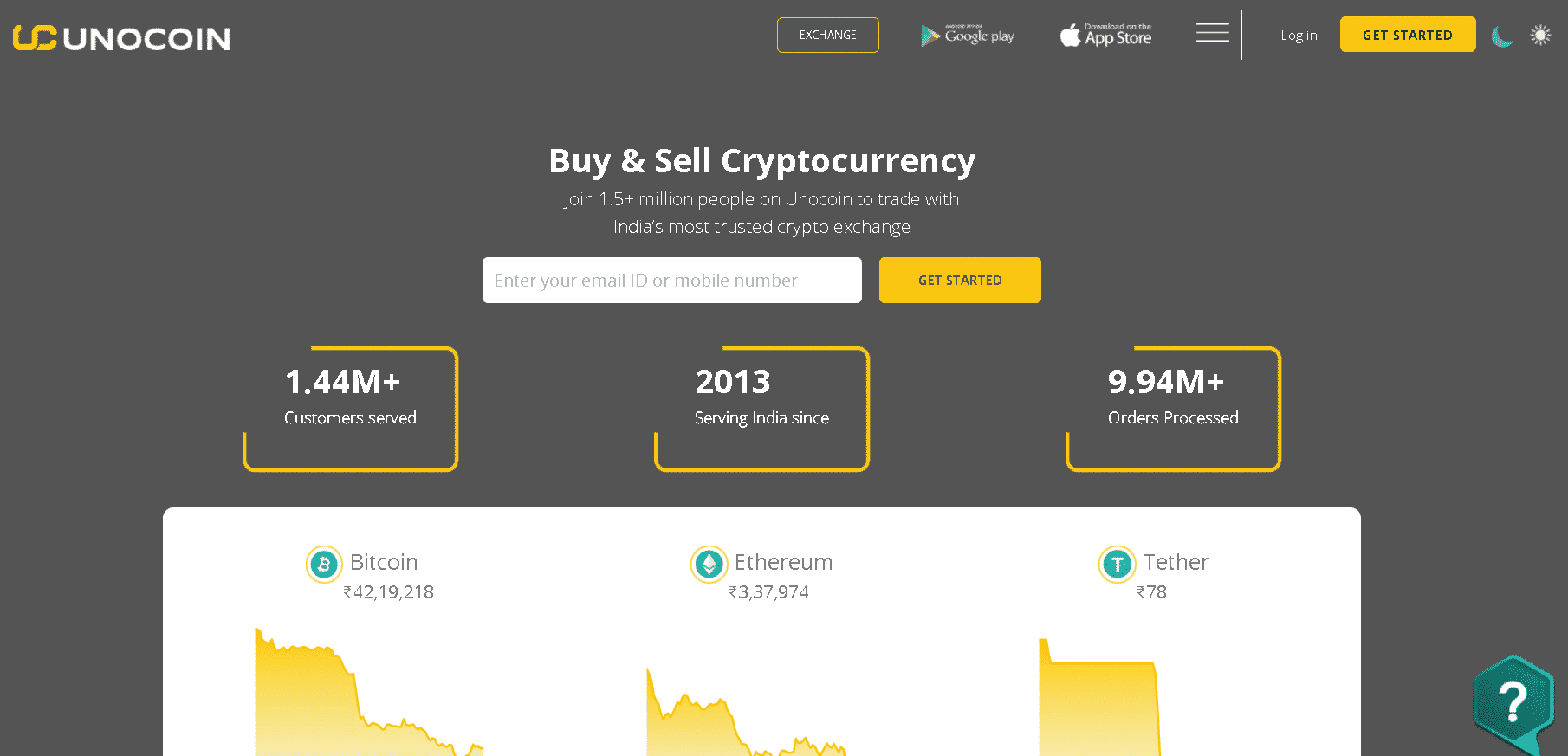 The Bangalore-based startup was the first entrant in the Bitcoin space in India. UnoCoin was founded in July 2013, enabling investors to buy, sell and transact in Bitcoin, Etherium, and many others.
It has more than 13 lakh users and claims its turnover runs in hundreds of crores, YoY.
It is one of the top cryptocurrency exchanges in India. The platform's app includes a schedule sale feature that allows customers to auto-sell from their investment portfolio.
UnoCoin charges a 0.7% fee on buying and selling altcoins, which is relatively higher than other crypto exchanges. However, the exchange is reliable, and you can even bring down its trading fees to 0.5% by upgrading to a Golf membership as well.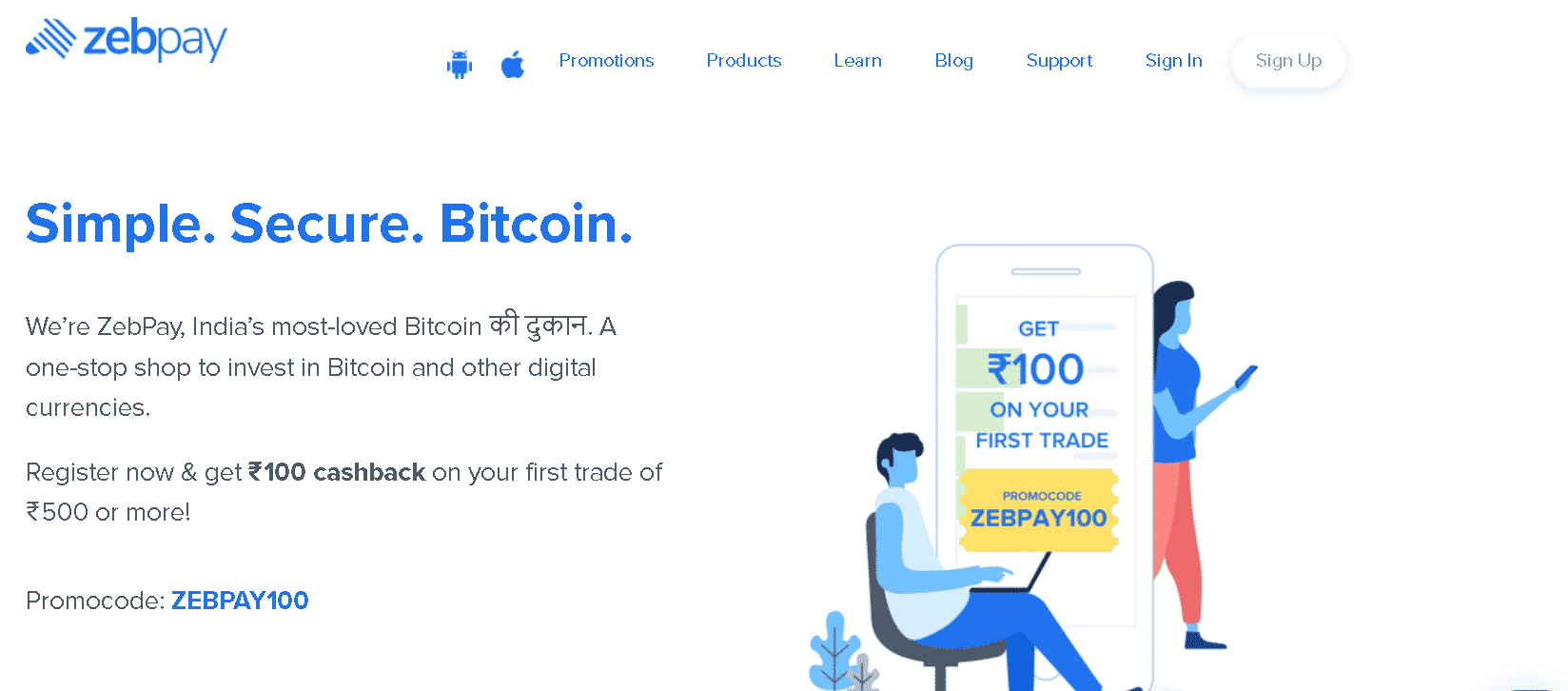 Another most popular cryptocurrency exchange in India, Zebpay, serves as a seamless trading platform for altcoins. The platform is known for launching crypto trading apps when no other app was introduced in the market.
The platform offers an intuitive interface with an easy sign-up and verification process. Plus, it also caters to the refer-and-earn feature.
It charges trading fees across all brackets and includes a membership fee of 0.0001 BTC per month. As per the Zebpay developers, if you invest in crypto assets through this app, you can avoid the fees, which are; 0.15 maker fee and 0.25% taker fee. However, if you are doing intraday (buying and selling on the same day), the total fees charged are 0.10%.
Also Read: How to Make Money with Bitcoin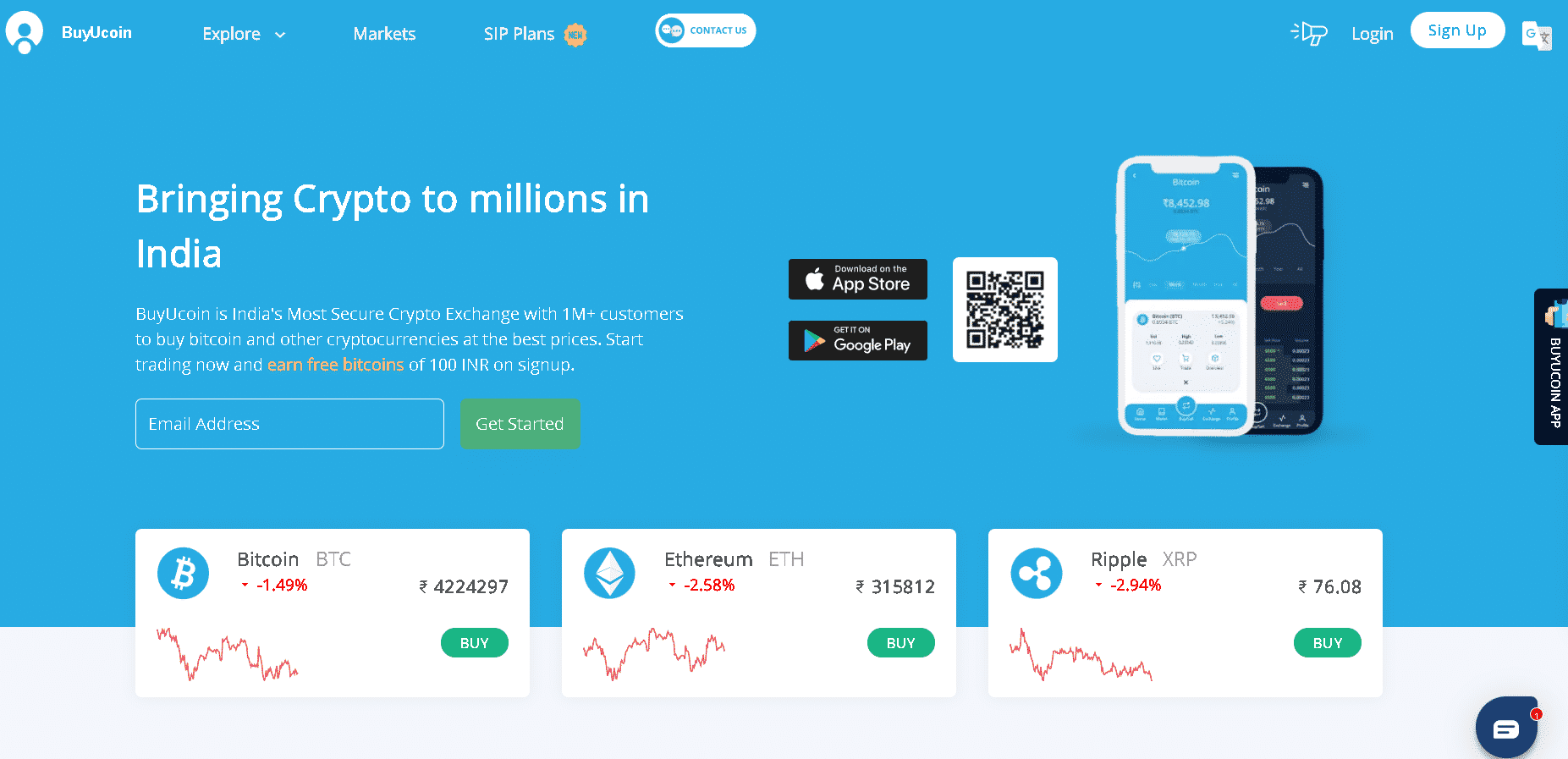 BuyUCoin is one of the top cryptocurrency exchanges in India that allows investors to buy, sell, store, and trade more than 130 types of crypto assets, including Bitcoin, Ripple, Litecoin, etc.
The platform provides an opportunity to its investors to earn ample revenue by charging a nominal commission on every transaction and margins on quick and easy trades.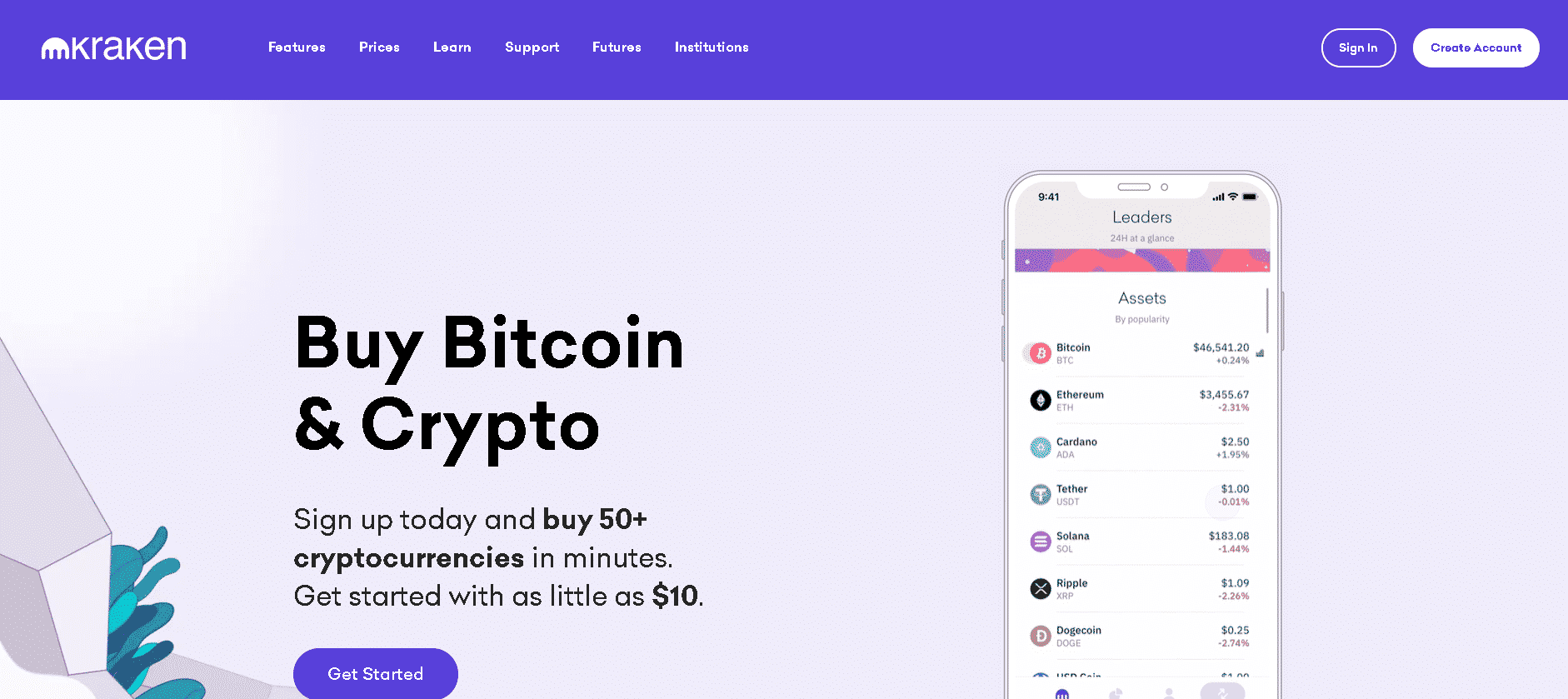 Originally, Kraken is a U.S based crypto exchange established in 2011. It is listed in the top cryptocurrency exchanges in India and worldwide.
The platform uses well-designed charted tools, and users can take significant advantage of low trading fees.
In addition, the exchange has a massive international presence and has the third-largest trading volume in the world.
The platform offers impeccable customer services by offering investors 24×7 help via text, phone, and email support. The payment and digital assets holding process of Kraken are robust and safe, as it adds to a higher level of security and infrastructure.
Also Read: Best Cryptocurrency to Mine
Note: One must invest their money in Cryptocurrency that they can afford to lose as the market is volatile and subject to market risks. Many people make ample money and generate massive revenue compared to many other trading methods and businesses, but the risk is equally high.
The list of most popular cryptocurrency exchanges in India is made after thorough research catering to all types of investors' needs. Therefore, pouring your money into any of the exchanges mentioned above is safe as all of them offer robust security, charge a nominal transaction fee, and are featured with high credibility.