Finding a sales prospect's or recruitment candidate's contact information has never been easy. Whether it be a cell phone number or mobile phone number to contact or text a prospect, a personal email address, a company email address, a direct office phone number, or even a mobile phone number, tracking accurate data is not that easy. This is where top contact finding tools come in handy. In this article, we will go over some of the best tools to find email and phone numbers.
Why Use Email and Contact Finding Tools?
Tools for discovering emails and contact numbers are useful assets for every organization. Anyone who utilizes one gets a lot of great benefits. Several of these benefits include:
Time Effective: Contact and email finder tools come with a range of services that make the task more automated. You can quickly search for a domain, and the tool will immediately reveal all of the emails that are accessible on that site.
Grow Business: Top contact finding tools list will help you close sales agreements and boost your income gradually. You might create a strong and effective list for your future clients and new leads by locating professional email addresses using these email finder tools.
Effective Lead Generation: Best tools to find email and phone numbers should be your go-to tool if you work in the lead-generation marketing industry. It offers a sizable amount of leads that you may turn into customers. Bulk leads are incredibly helpful when seeking collaborators, investors, or employees.
16 Top Contact Finding Tools with Pros and Cons
The top contact finding tools are useful in finding both the email addresses and contact details of a person in a few easy steps. These tools locate all such direct contact information for company sales, marketing, business development, generating leads, recruitment, account management, etc. Let us begin our list.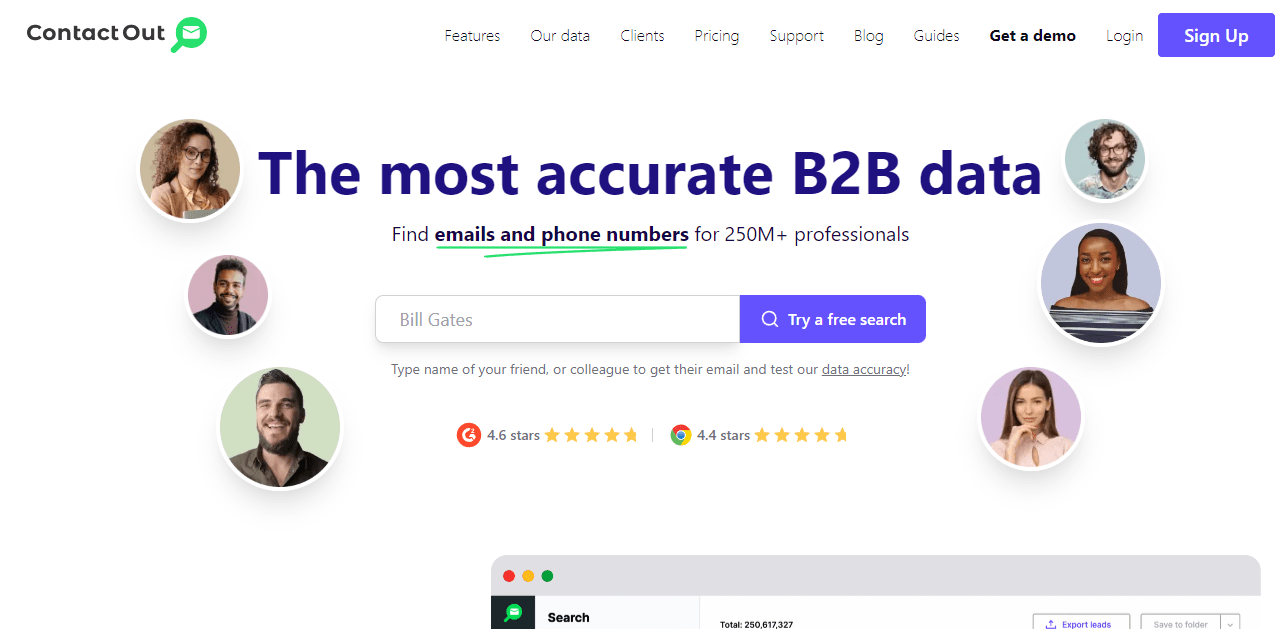 If one is in search of an easy-to-use tool that will allow professionals to look for phone numbers and emails easily, then Contact Out is the best option. This Chrome Extension is easy to use with a simple interface friendly for beginners as well. Contact Out can find contact and details only as a plugin when used with GitHub or LinkedIn. Several added features allow streamlined search options based on various categories of leads like location, employment type, name, and educational background. They also have good customer service for those who want help with any type of processing.
Pros
Simple interface
Added search features
Triple verified email addresses
Cons
Slow processing times.
Outdated contact information is provided at times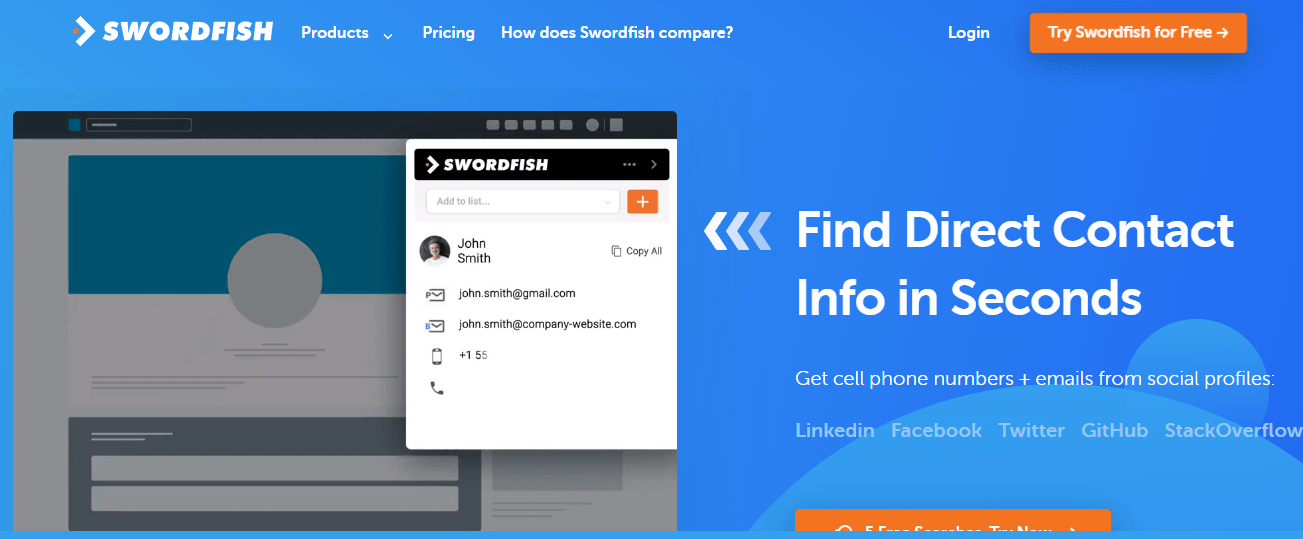 Swordfish AI is another one of the top contact finding tools for easily finding contact information that can be used as a plugin with major social media platforms. A free Swordfish AI Google Chrome extension plugin that interacts with LinkedIn, GitHub, Meetup, Facebook, Twitter, Stack Overflow, Dribble, Xing, Gmail, Bing, or Google allows users to do searches with ease.
For that person's profile, the Swordfish Chrome Extension will show all available contact details. The personal and professional contact details including phone numbers and email addresses are searched by the tool with the help of 200 plus network partners.
Pros
Can be used with various social media platforms.
Works with 200-plus network partners.
Provide accurate and current contact details.
Cons
Expensive with limited price plans.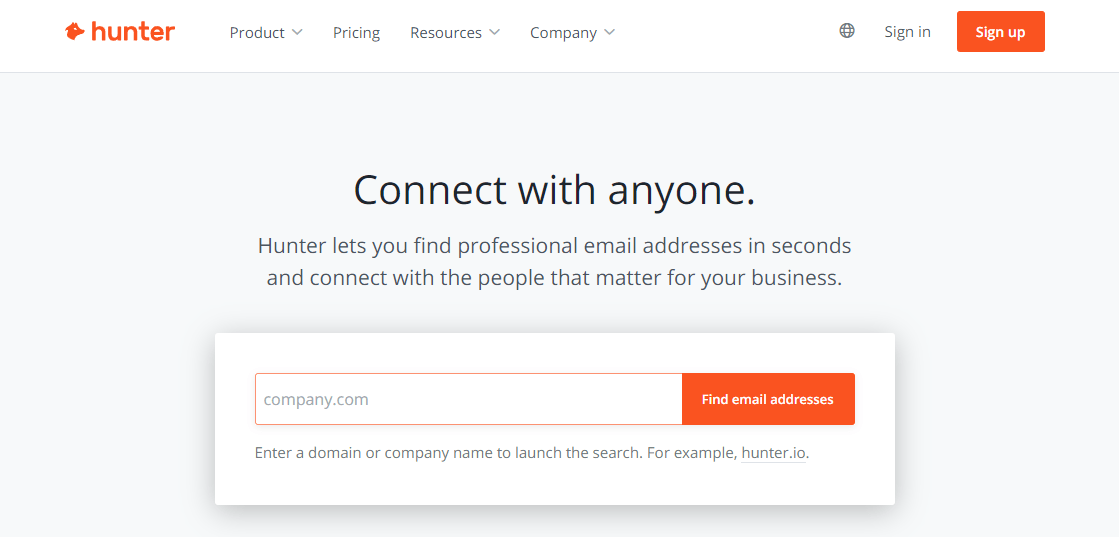 If you are in search of top contact finding tools that will allow an easy search of email addresses for lead generation, then Hunter.io is your best bet. This is an email address-searching plugin that will help professionals with their outreach campaigns. Users can swiftly and simply find the email addresses of prospects.
Additionally, it provides tools that make it simpler to locate contact information in bulk, such as bulk searches and domain searches. Hunter.io maintains a minimalist aesthetic in its design, with easy-to-understand menus and controls. Email verification, cold email templates, lead management, bulk email management, campaign optimizer, etc. are a few of the features that can be used in one of these top email finder tools.
Pros
The perfect tool for lead generation.
Easy to use and hassle-free.
One can find email addresses by domain search.
Cons
A bit on the expensive side.
Social media search is not available.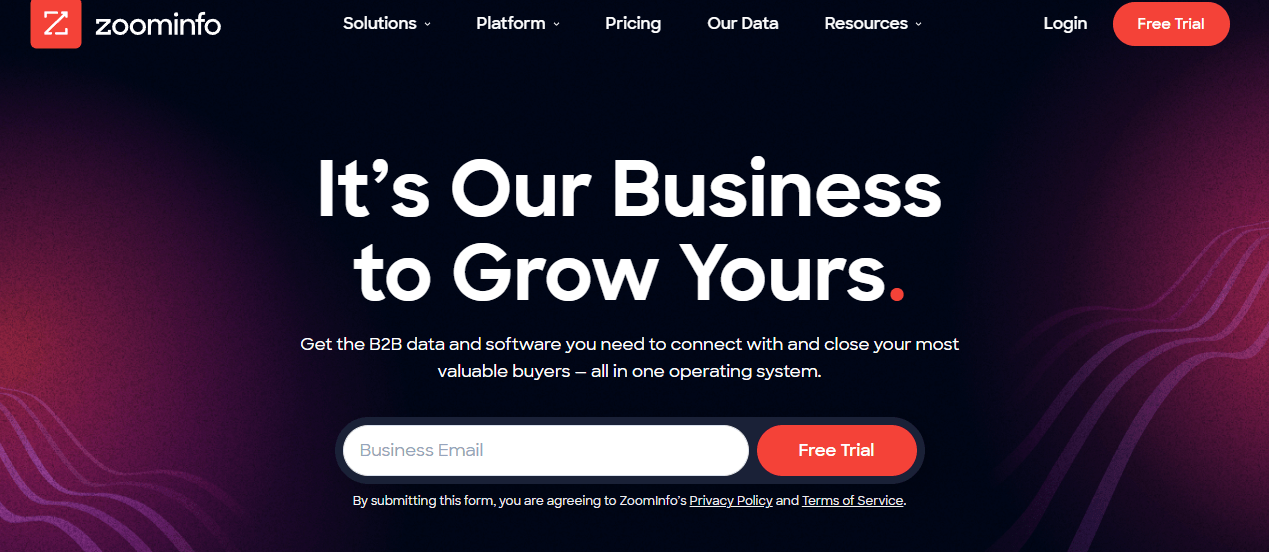 ZoomInfo combines technology with a thorough business database to power a go-to-market plan from beginning to end and offers a precise, 360-degree round-up of clients, prospects, and possibilities. Your workflows will be able to produce more leads for marketing and sales with more concluded transactions, more efficiency for operations, and more command for leadership if features and integrations are built into them. To achieve your lead generation, sales, and revenue targets, it equips each go-to-market phase with technology, integrations, and automation. One can easily use the chrome extension for easy access to these best tools to find email and phone numbers.
Pros
Fast searching tool.
Complete automation.
360-degree round-up of profiles.
Cons
Data quality is questionable and inaccurate at times.
Very expensive.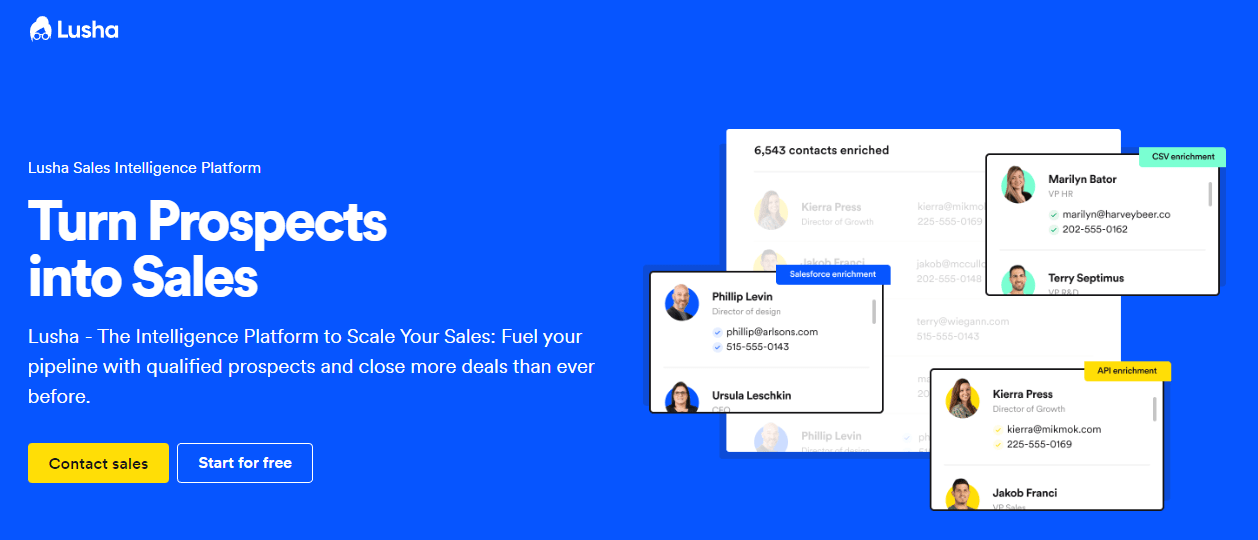 Business professionals can communicate with their leads, contacts, and candidates quickly and effectively with the aid of Lusha. This is an effective email and contact search tool for businesses for their B2B lead generation. Today, Lusha is used every day by over 800,000 sales reps, recruitment managers, and marketers to change the way they interact with their leads, contacts, and applicants.
To verify the information and build confidence, the Lusha Chrome extension can be quite helpful for businesses. Only LinkedIn and Salesforce are supported by the Lusha plugin currently. Within one's contacts and connections, one may look for potential leads using a separate feature called Prospect. It is among the best tools to find email and phone numbers.
Pros
The advanced search engine allows fast searching of contacts.
Hassle-free and smooth operation on a chrome extension.
Automation allows easy email marketing campaigns.
Cons
Not all email addresses are accurate causing email bouncebacks.
It is expensive.
Searching for contacts on their website can be tricky.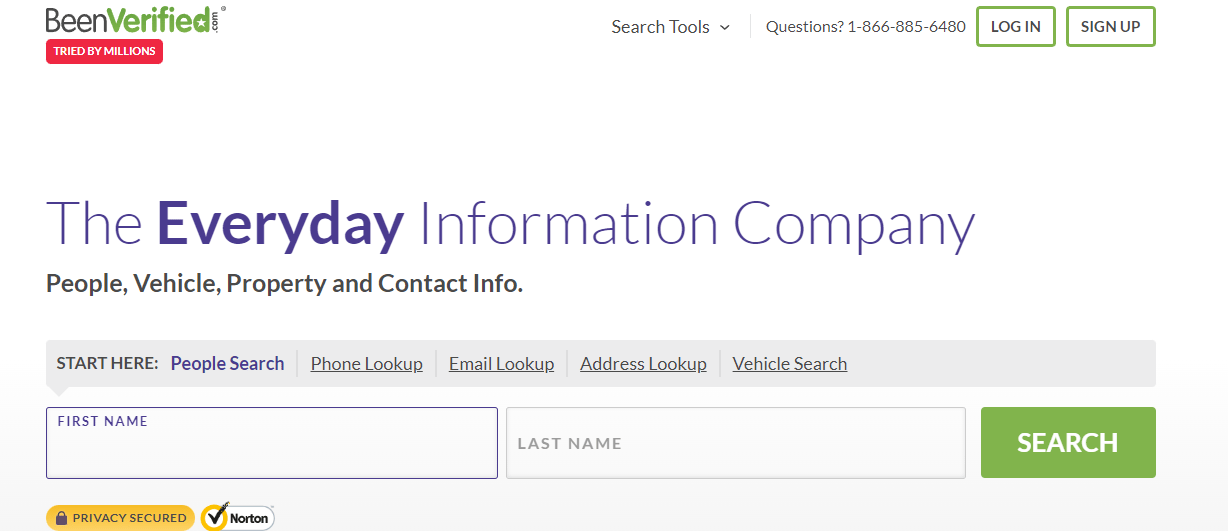 If you want a contact finding tool that is not only helpful in lead generation but also for other purposes, then BeenVerified is your go-to tool. You can use this tool for more than simply searching for email addresses and phone numbers. BeenVerified compiles all of the data from open sources and keeps it all in one database. Then, users may use a name, email address, or phone number to search for the individuals they need.
Users can choose from seven various products offered by the company, including reverse phone, unclaimed money, vehicle lookup, username search, and address lookup. The majority of them allow you to look up someone's phone number easily.
Pros
There is a mobile application for easy usage.
One can get comprehensive reports for every search.
There are multiple features for different plans.
They have reliable customer support.
Cons
At times, searching can take too long of a time.
The search results provided are not always 100 percent accurate or updated.

Apollo could be a good choice to take into account if you're looking for email finder tools to find someone's contact number or email that will assist you in making connections with the appropriate contacts. This application offers an "auto-complete" option that can suggest potential contacts as you write and allows you to browse for email addresses by name and company.
You can easily access a large database with over 200 million contacts spread over 10 million enterprises thanks to this tool. It has a "prospect searcher" that enables users to target a certain prospect type using more than 60 filters. Apollo's scoring engine contains a built-in scoring model based on the behavior of prospects that identifies the prospects for outreach and follow-up that should be prioritized by the user.
Pros
In-app integration.
Multiple pricing plans.
Job change alerts.
Easy to create and automate workflows for omnichannel sales engagement.
Cons
Not very updated contact data.
Chrome extension syncs slowly and makes Gmail and LinkedIn slow.
Lacks LinkedIn outreach automation.

Aiming to provide users with quick access to anyone's email address, Snov.io is an effective email finder. It has several capabilities, including the capacity to locate contacts for a certain domain, build a unique lead database, and validate email addresses. Additionally, it provides a Chrome plugin that lets users search for contact details while online.
The Domain Search tool on Snov.io let you see all the email addresses from a specific area. If you have several domains, you can use the mass space domain search option. You can view the organization's profile with the tool's help as well. The tool will assist in connecting you with the ideal person in the appropriate office at the appropriate company.
Pros
The pricing plans are economical.
The email verification tool is effective.
It is linked with a data scraper.
Cons
In bulk domain searches, the tool does not provide all the email addresses.
Cannot send emails to non-verified emails.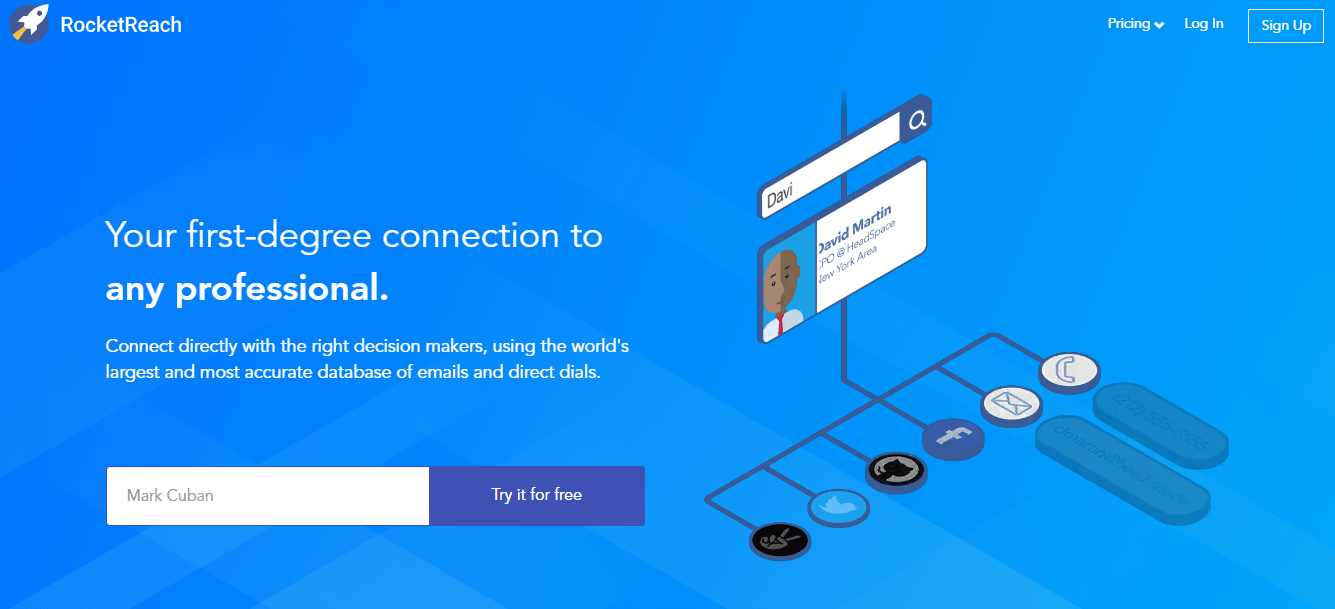 RocketReach enables users to locate email addresses, phone numbers, and social media links for more than 250 million professionals across 6 million firms globally. Utilizing someone's personal or professional LinkedIn profile URL to get email addresses is made simple for members of RocketReach. Users don't need to be concerned about using out-of-date information to connect with their target contacts immediately.
These are all accessible via the tool's intuitive interface. Users don't need to utilize any tedious search tools because the platform is simple to use and makes it easy to get the information they need. Additionally, RocketReach as one of the top contact finding tools provides a Chrome plugin, making it even simpler to locate contact details as you browse the web.
Pros
The email and contact info are accurate.
Easy to use interface.
One can search using a LinkedIn profile or company URL.
Cons
Expensive pricing plans.
The database is not that large.
There are search filters available.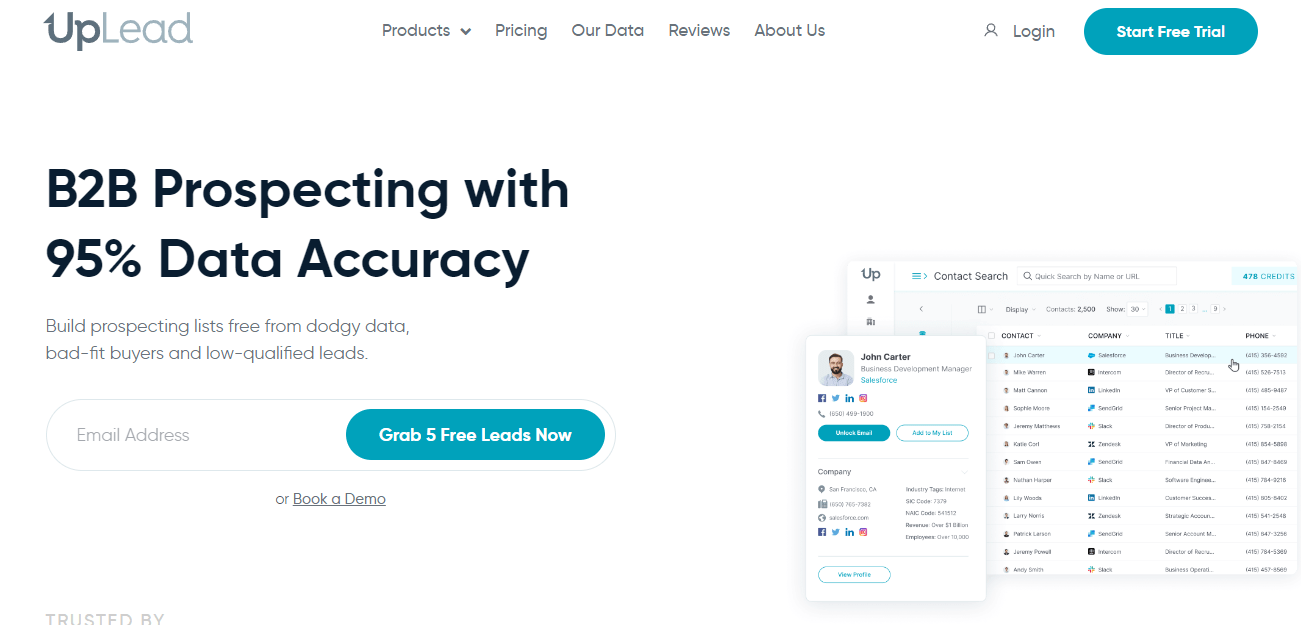 This B2B data provider application called UpLead gives users access to direct email addresses for verified B2B connections. You can find clients by searching for them by industry, location, sales volume, number of workers, public vs. private, contact title, management level, and other factors. It belongs on this list of the best tools to find email and phone numbers.
Utilizing the technology, users can generate targeted sales leads to boost growth. This is one of the best tools to find email and phone numbers to track qualified prospects fast and interact with them to increase sales. You can utilize the Uplead Chrome extension plugin for easy access.
Pros
Easy access to lead generation and management.
Good value for money.
Has an email verification feature.
Cons
The interface is not easy to use.
Fewer number filters.
Not easy to switch plans.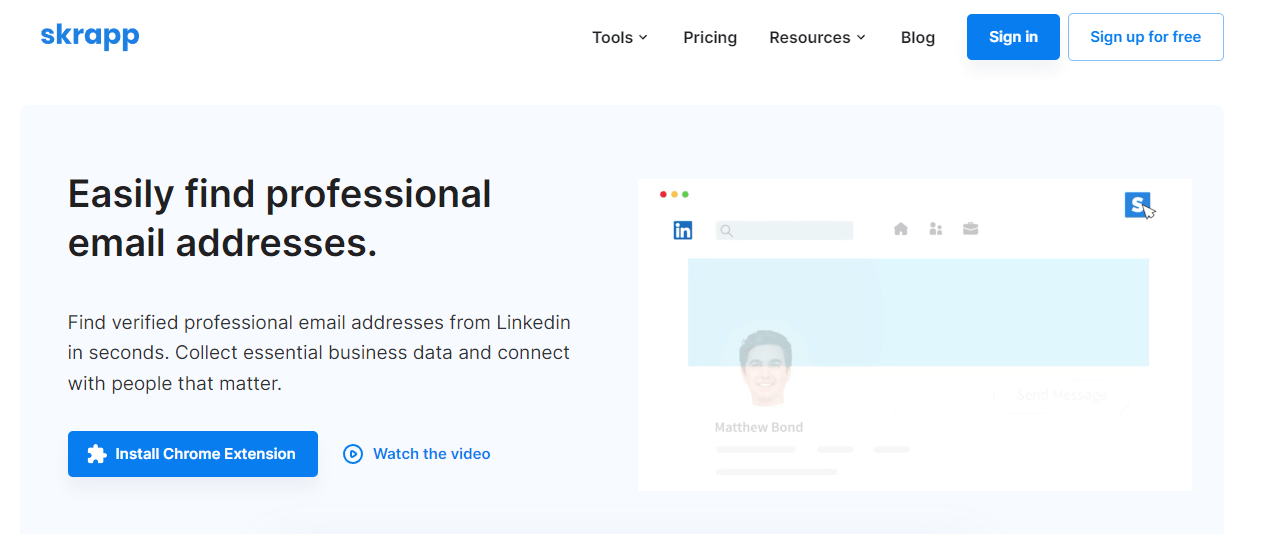 For B2B sales and marketing professionals, Skrapp.io is one of the top contact finding tools. Extracting information from LinkedIn searches and profiles, enables users to create pertinent email lists. Skrapp.io can be used as a web application or Google Chrome plugin, making it simple to locate target leads list swiftly and effectively.
By name, company name, website, or even job title, you can do a quick search. You can use the domain search option to look for the email addresses of the most important employees in the organization by domain or company name. Additionally, Skrapp.io has interfaces with a variety of well-known sales and marketing systems as well as a built-in CRM. The program is quite simple to use and returns fairly accurate search results.
Pros
There is a free option for those wanting to try the app before subscribing.
One can search using multiple prospects.
Hassle-free and fully automated tool.
Cons
Data can be outdated at times.
The tool tends to have occasional technical issues.
The pricing is quite expensive.
Also Read: 31 Best Pay Per Lead Affiliate Programs


This tool was made exclusively with recruiters and salespeople in mind. Both contact information and email addresses are provided by this tool. A Chrome Extension can be used to find and get in touch with new employees easily and in a much more hassle-free manner. Similar to many other recruitment extensions, Improver finds someone's contact number on LinkedIn with ease. Additionally, Improver features a distinctive AI function.
With AI you can import information into Improver with the open roles you are now trying to fill. The degree to which each prospective employee matches each position will subsequently be determined by AI, which will provide a percentage match. All this will simply make the process of recruitment much easier than any other tool.
Pros
Easy to use the tool.
AI function makes it easy to find and compare contacts.
Cons
Customer support is not reliable.
Not many filters are available for contact search.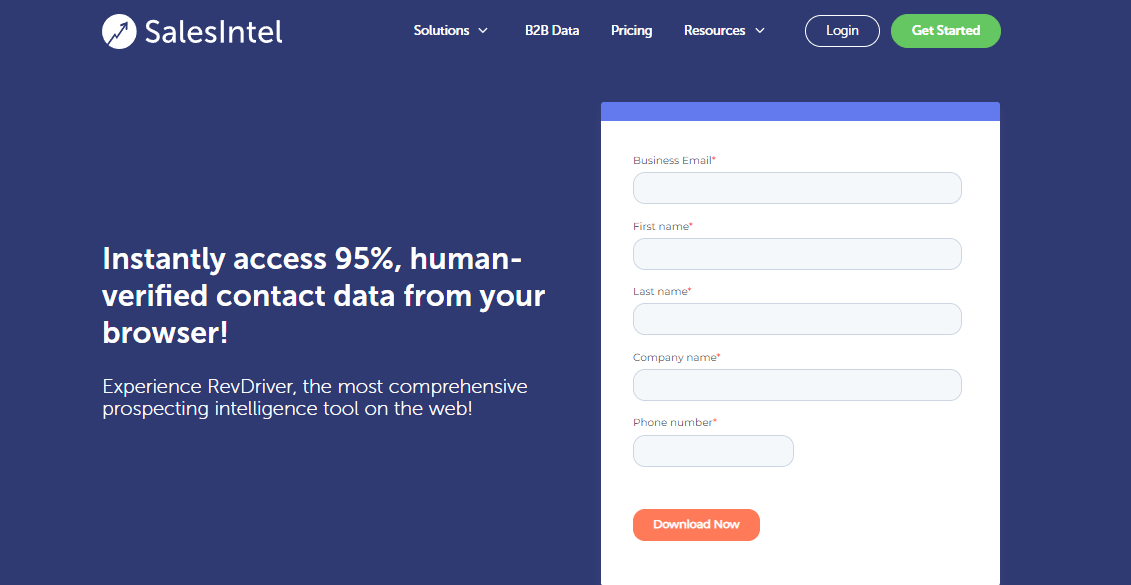 RevDriver is a Chrome extension that speeds up sales prospecting by displaying prospects' verified and current direct dials and phone numbers. This is one of the free ones among the top contact finding tools. The tool also provides access to additional contact details, such as email addresses, and corporate information, such as firmographics and technographics.
To discover phone numbers for the targeted prospects, just set up RevDriver and go to any LinkedIn profile or business website. While focusing the search using criteria like title, name, employment level, etc. one can also pinpoint important decision-makers and influencers and compile their contact information easily using the tool.
Pros
Multiple features to take advantage of.
Fast tool and can be integrated with LinkedIn easily.
Reliable customer support.
Cons
Data at times can be inaccurate.
Lacks streamlined contact download option.
Does not support integration with several CRM.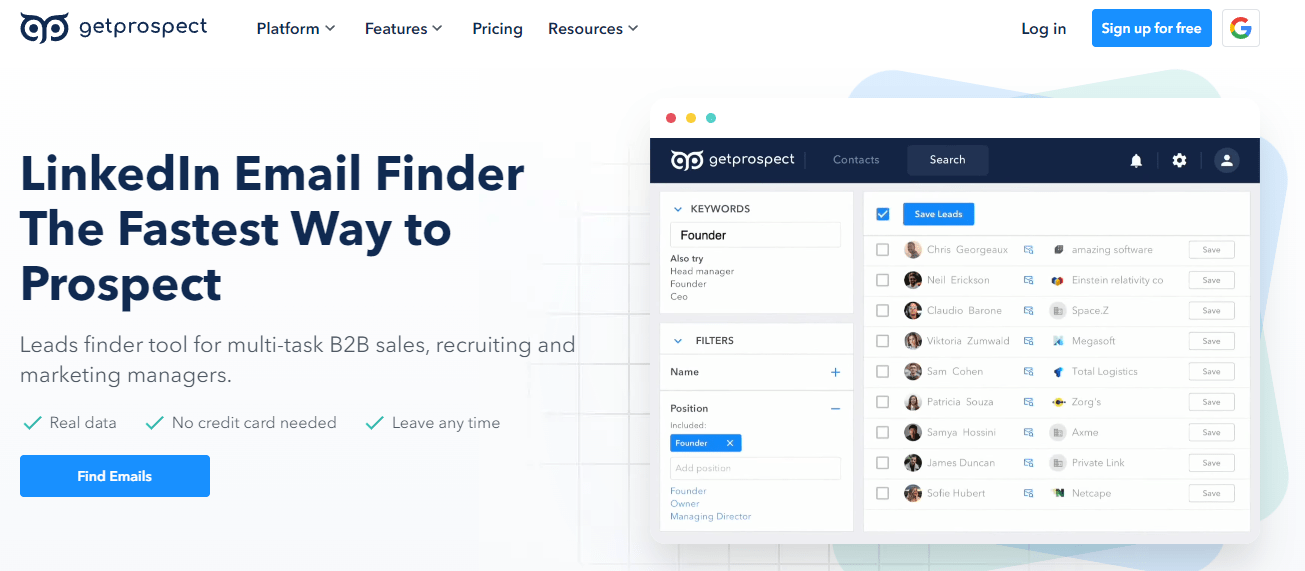 You can use GetProspect's email extractor to get a list of names with corporate emails, positions, LinkedIn profile URLs, company names, industries, websites, and much more by entering your search criteria on the website. By clicking a single button in individuals' profiles, the GetProspect Chrome extension makes it simple to get anyone's email address and create LinkedIn leads.
You can obtain contact details for just about anyone with this app. Finding the appropriate contact information for your leads is made simple thanks to the ability to search by company name or URL along with a simple interface of the tool. Additionally, GetProspect can give you social media accounts if you want more information than simply an email address.
Pros
The interface is simple.
One can find social media accounts as well based on search.
Pricing is fair.
Cons
At times, the data is outdated.
There are limited features to use.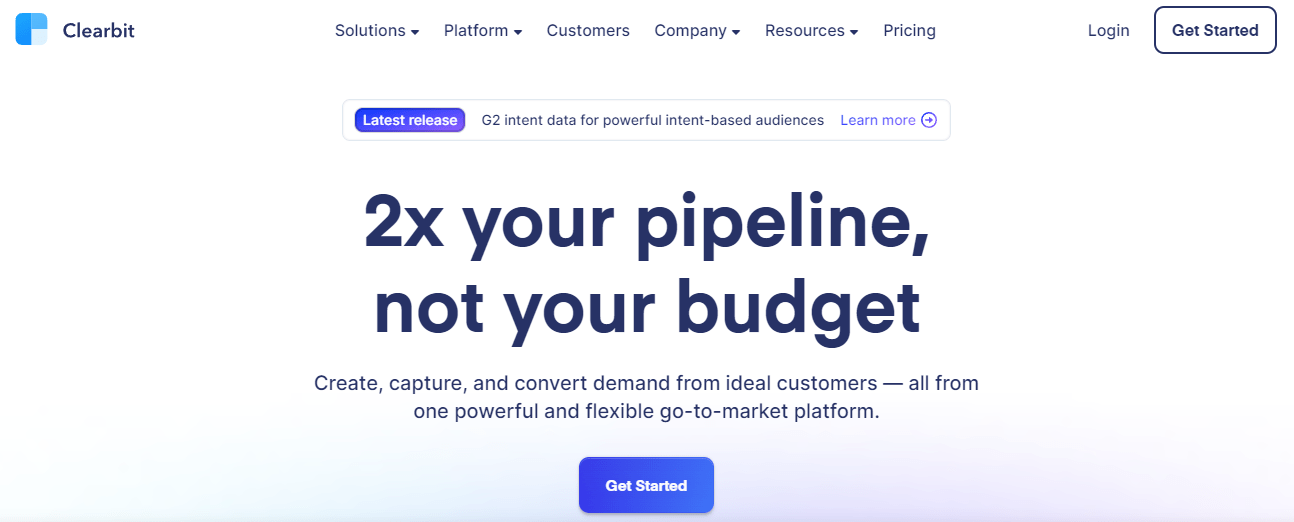 Sales and recruitment professionals can utilize this email-finding tool called Clearbit Connect to locate anyone's email address. It promises to have a success rate of more than 80%, and its search engine is AI-driven. Outlook, LinkedIn, and Gmail are all integrated with Clearbit. While the commercial version has no cap, the free edition only enables you to locate 250 contacts every month.
For all of your client interactions, it also serves as a marketing data engine. It fully comprehends your clients, identifies potential clients, and customizes every marketing and sales encounter. There is a plugin for the Clearbit Chrome extension available. It is renowned for its high rate of success, simplicity, and useful integrations.
Pros
Effective pricing.
Accurate data and contact information.
Easy to integrate and find someone's contact number.
Cons
Slow searching process.
Limited features.
Lack of proper customer support.

Salespeople, recruiters, and anybody else who wants to locate a contact fast should consider VoilaNorbert since it has a lot of characteristics that make it worthwhile. Additionally, a Chrome plugin is available to make finding emails online much simpler. It is among the best tools to find email and phone numbers.
VoilaNorbert can provide you access to phone numbers and social media accounts if you need more information than simply an email address. More so, it is an email address verification tool that seeks to confirm the validity of all the email addresses on your lists and prevent email bounces.
Pros
Effective email verification feature.
Fast and hassle-free tool.
Cons
The data accuracy is questionable.
Limited features and automation.
Expensive plans.
Is It Legal?
Is it OK to find someone's contact number from websites? It depends. When deciding if online scraping is legal, there are numerous factors to consider, including the reason for the scraping, the technique employed, and the data being scraped.
The easiest approach to determine if web scraping is lawful in your particular situation is to speak with a lawyer or other legal professional. They may aid with your comprehension of the dangers and ensure that you are doing it legally.
Also Read: 33 Best Email Marketing Tools for Small Businesses

How to Choose a Tool?
When selecting the top contact finding tools, you must take into account a few important things. Here are a few of the things you ought to consider:
Accuracy of Data: The accuracy of an email and contact finding tool is typically considered to be its most crucial component. Check to see if the tool you use has a solid track record of locating the correct email addresses and social media profiles and contact numbers.
Type and Size of Data: One will need a solution that can manage the data requirements if the database is huge. Consider the kind of data one will require as well.
Speed: When choosing a tool, take its speed into account. Your ability to move on to other activities, such as list validation and email or phone outreach depends on how soon you receive your data.
Types of Searches: All email finders include various search functions, such as domain, bulk, and individual searches. Finding top contact finding tools that do searches in a variety of ways while maintaining accuracy is ideal.
Ease of Usage: When selecting a contact search tool, convenience of use is essential. Even for complicated queries, the best contact and email finder tools should be simple to use and intuitive.
Cost: Finally, think about how much each tool costs. Before making a purchase, conduct some research and compare pricing since many products provide free trials or discounts for specific levels of usage, and then choose as per budget.
There are a ton of top contact finding tools that may make finding fresh leads easier for you. Making a selection could be challenging as there are so many more options available in the market currently However, one should have a solid foundation of information to draw from when making decisions.