The American Express Company, popularly known as AmEx, is a multinational finance corporation based in the United States. Headquartered in New York, it has a market capitalization worth around $103 billion, increasing steadily. It is also one of the only prestigious companies to be a part of the Dow Jones Industrial Average Index, which includes the world's top 30 entities in an index created exclusively for the stock market.
Charge cards are modes of online or digital or plastic payment. They are different from the conventional credit/debit cards with respect to the interest levied. Credit cards are cards issued by banks/card issuing companies to account holders which enable them to take a small loan under their credit limit from the bank at their whims, at the cost of nominal interest. If the card is paid off within the due date, no charges are levied. However, if the card is not paid off in time, the company or the bank may charge interest on the outstanding amount and levy a late fee to your card.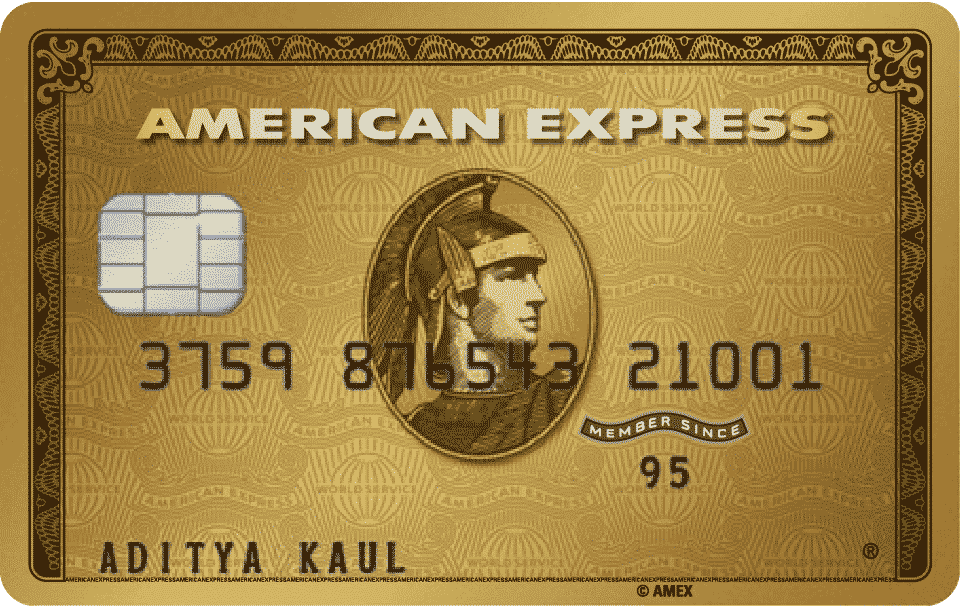 Things to know before applying for American Express Gold Charge card
Charge cards are different. They offer a huge credit limit and no interest rates. They, however, have to be paid off by the debtor as soon as they are handed the monthly statement. Charge cards are issued only by a nominal amount of companies as of 2020. A significant annual fee often accompanies these cards.
Charge cards may be used for dining, travel, hotel bookings, and household payments and are usually preferred by customers due to varied and premium cashback opportunities, rewards, offers, gifts, and redemption of earned points that accompany the usage of this card.
American Express issues five different types of charge cards: The Business Platinum Card, Business Gold Rewards Card, Plum Card, Platinum Card, and The Gold Card. Each card has its benefits and targets a specific variety of customers.
The Gold Charge Card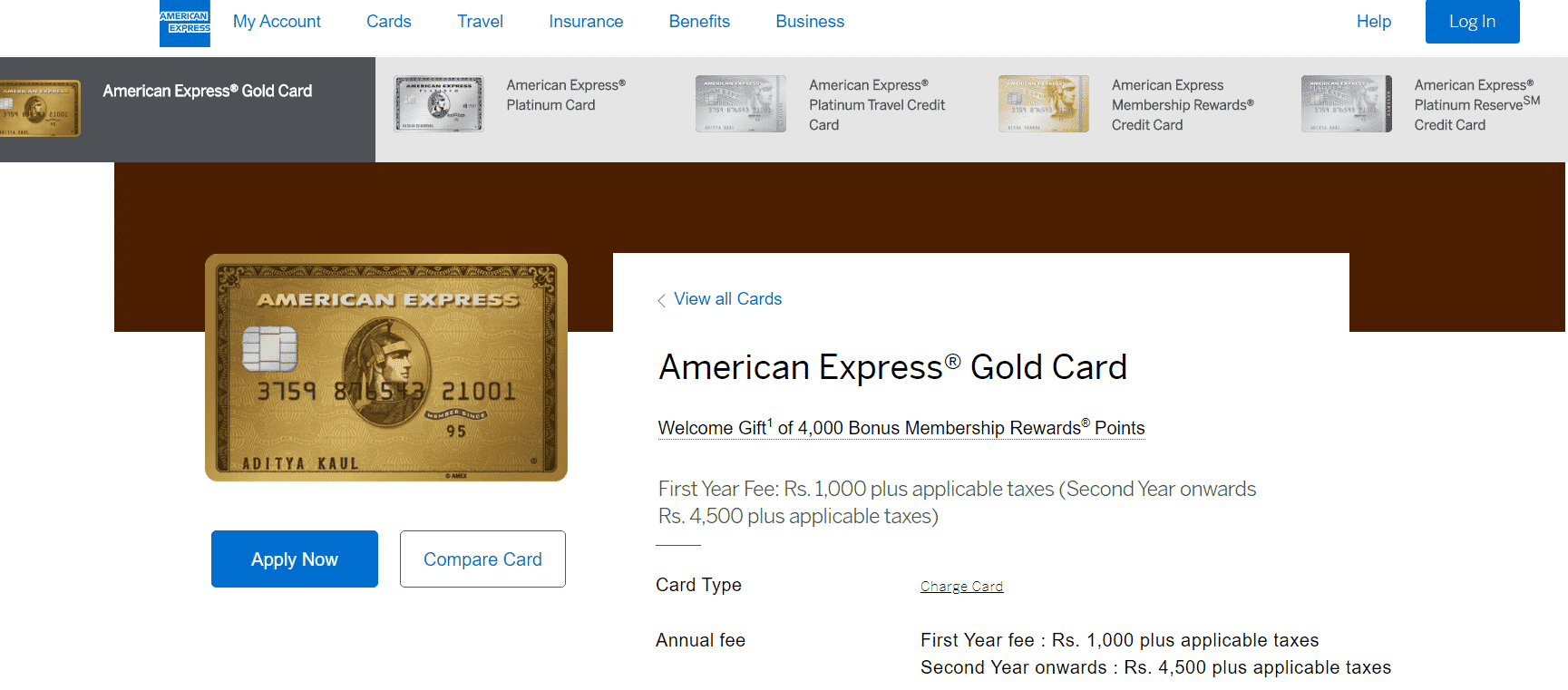 To acquire an American Express Gold Charge Card, one first needs to file a credit card application. Like the issuance of credit cards, personal loans, corporate loans, or any other loan, charge cards are issued to premium customers only, people who have an excellent borrow history and credit score. Repayment of charge cards at the end of each month, or the billing cycle affects the customer's credit score. If the bill isn't paid by the due date, credit scores are affected.
The advantages of holding a charge card include having virtually no credit limits, no interest charged, rewards, and redemption of points.
The Gold Charge Card offered by AmEx offers customers the Membership Rewards Gold Collection plus the American Express Membership Rewards Programme, which includes over 550 exciting redemption options to choose from, including free flights, hotel accommodation, shopping vouchers and more. Applications to the charge card may be made at the American Express website.
Visit Now
Things you should know
The Gold Charge Card can't be charged to EMIs: Equated Monthly Instalments (EMIs) are fixed monthly payments that are made from a borrower to a lender at a fixed time every month. The prime difference between a credit card and an AmEx charge card is that the customer's EMIs cannot be charged to the Gold Charge Card. This is applicable all around the globe and forms a major bone of contention between customers choosing between opting for a credit card and a charge card. However, American Express introduced a credit card for Indian customers to get over this difference as The American Express Membership Rewards Card.
No external limit to a charge card: Unlike credit cards, charge cards don't have an explicit limit on the amount customers can spend. The limit, thus, does not show up on the charge card's monthly statement. However, there is an 'internal limit' on the card, which puts a maximum limit on the usage of the card, which is usually highly flexible. The limit can be increased or decreased at the customer's wish or the bank's prerogative. However, all bills must be paid at the end of each month, so there is also an implied limit on the usage of charge cards. Once a customer hits the upper limit on the card, customer service at American Express can help them spend more from the same card at the expense of a phone call.
New user policies: Before applying for the Gold Charge Card at American Express, a customer must look out for joining offers that are offered by the company to their newest customers. They run extensive outreach programmes, offering up to 100,000 free points to new customers on the charge cards they sign up for. These outreach programmes are usually targeted towards specific target audiences, and customers can benefit a lot from availing offers like these. We, however, do advise you to stay vigilant of fraudsters and scammers who promise fake rewards and often extract useful information from prospective customers about their bank accounts, phone numbers, and email addresses.
Charges levied: The annual fee that is levied on the Gold Charge Card is Rs. 1000 for the first year and Rs. 4500 for all years hence. Rewards are earned for every rewarding purchase made with the card, be it dining, fuel, hotel bookings, and flight tickets. For every Rs. 50 spent using the card, 1 Membership Point is attributed to the card and can be redeemed accordingly. Offers are often rolled out for select or all customers with regard to the redemption of these points on sectors like food, power, and recharges.
Eligibility:
To be eligible for an American Express Gold Charge Card, a customer must fulfil all these following criteria:
He/she must be over 18 years of age;
If self-employed, the company the customer is associated to must have been trading for 12 months already;
He/she must have a good credit score and not have any defaults or pending payments;
He/she must have Indian or multinational savings or current bank account;
He/she must have a personal income of more than INR 6 lakhs;
He/she must be a resident of Delhi/NCR, Mumbai, Bhopal, Chennai, Pune, Ernakulam, Jaipur, Coimbatore, Indore, Kolkata, Chandigarh/Tricity, Ahmedabad, Surat, Vadodra, Bengaluru, Bhubaneshwar, Hyderabad, Vijaywada& Vizag, subject to conditions.
He/she must confirm that he/she is a Resident Indian as defined under the Income Tax Act of India and must declare that he/she will notify American Express Banking Corp. if there is a change in the residential status accordingly;
Once in a lifetime signup bonus: American Express offers huge and attractive offers to its newest customers, which can only be availed once in a lifetime. If a customer already has an AmEx card and has applied for yet another, they won't receive the signup bonus again. This is applicable for all cards issued by The American Express Company. For example: if you already own an American Express Everyday Card and apply for another American Express Gold Charge Card, you won't receive the signup bonus because you're already a registered customer at Amex.
The '1 in 5' and '2 in 90' rule: The '1 in 5' and '2 in 90' rule states that a customer can only apply for a credit card at American Express once in 5 days and twice in 90 days. Any more applications will automatically be deemed for rejection at the company. Finance statistics from independent researchers also state that an individual can only own 5 credit cards at American Express. Any more than that is not feasible to the personal finances of the individual. This concerns, however, users applying for charge cards because the above rule does not apply to charge cards and only to credit cards. Misinformation about this policy at the American Express Company can deter users from fulfilling their needs at AmEx.
Internal credit can be increased: The internal limits levied on the Gold Charge Card can be tripled from their initial amount. This feature can be very useful when customers have to spend more than their card allows them to. Since American Express charges a huge interchange fee, they want their customers to spend more. One of the most excellent ways to do that is to give customers the room to make more purchases and increase their expenses.
American Express speeds up deliveries for free when you lose or get your AmEx card stolen. For higher-end, premium cards, this is done automatically. This service might also be extended to lower-range cards if the customer calls up customer service and requests for such a service to be offered to them. This is one of the most premium facilities that are offered by AmEx to its customers free of cost.
Recommended:
I hope this guide was helpful and you're aware of the things you should know before applying for the American Express Gold Charge card.