It is a myth that only the millennials and Gen Z spend heavily on everything – small or large – without thinking twice. Similarly, we have another misconception that middle-aged people spend more than others due to family responsibilities and future planning. At least, the report by Fed says so. According to them, the demographic group most affected by high credit card debt consists of retired individuals and those in their advanced years.
As per the Survey of Consumer Finances (SCF) conducted by the Federal Reserve Board, individuals aged 75 and above in the United States carry the highest average credit card debt. As of the most recent SCF, this age group had an average balance of $8,078 on their credit cards. This indicates the high spending patterns and consumer demands of this age group, as opposed to the young and middle-aged people.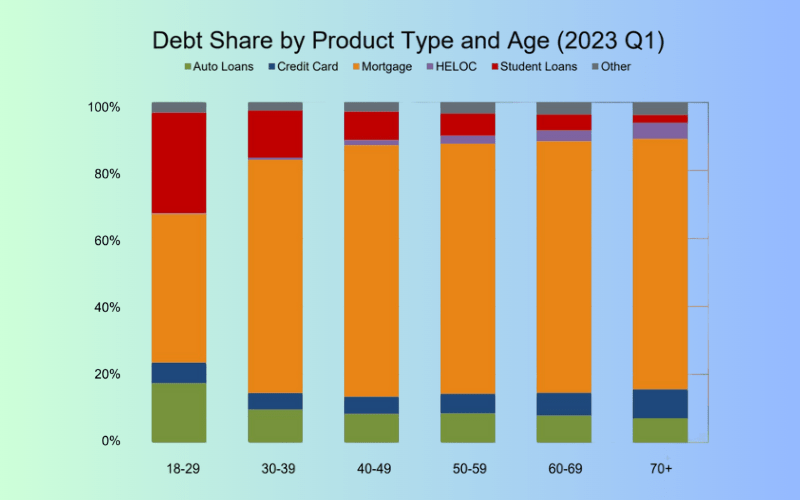 The data indicates that there is a significant distinction between the average and median credit card debt for all age groups, particularly for individuals aged 75 and older. This suggests that the presence of extreme values, or outliers, with exceptionally high balances, is causing the average data to be distorted in an upward direction. In such skewed data scenarios, the median value tends to offer a more precise depiction of the true central tendency.
The average credit card debt among Americans aged 75 and older is the highest, but this can be attributed to a few individuals with exceptionally large balances. On the other hand, their median credit card debt is $2,700, which is tied for the second-lowest with several other age groups. Americans aged 45 to 54 actually have the highest median credit card debt at $3,200.
Between 2016 and 2019, there was a rise in the proportion of families carrying credit card debt. In 2019, credit card debt remained the most prevalent form of debt, with 47-48% of families reporting an outstanding balance after their last payment. Among those with credit card debt, the typical family owed $2,700 in 2019, which was a 10% increase compared to 2016. Moreover, both the median and mean balances for families with credit card debt rose to $2,700 and $6,300, respectively.
According to the Federal Reserve, Americans currently hold approximately $986 billion in credit card debt, marking the highest amount ever recorded. The agency reported a surge of nearly $250 billion in credit card debt since April 2021 when it reached $740 billion.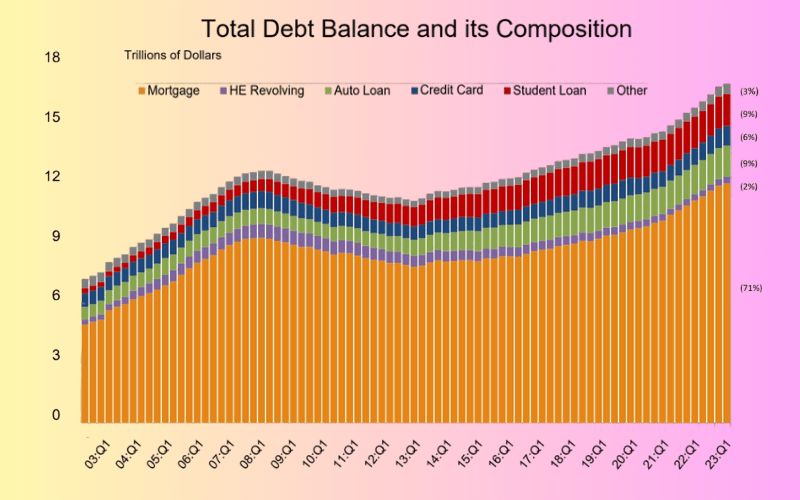 Traditionally, credit card debt tends to decrease in the first quarter of the year as individuals pay off their holiday expenses. However, this trend did not occur in 2023, breaking the pattern for the first time since the 2001 recession. Analysts attribute this deviation to people utilizing their credit cards for essential purchases rather than for buying Christmas presents or going on vacations.
Experian, one of the major credit bureaus, reports that the average credit card balance at the end of 2022 was $5,910, reflecting a more than 13% increase compared to the previous year. This rise represents a rebound from the peak of the pandemic, as the Federal Reserve has been adjusting interest rates and consumers are gradually increasing their discretionary spending.
It is important to note that having credit card debt is generally something you should strive to avoid. This is because the average credit card annual percentage rate (APR) exceeds 20%, meaning even a relatively small balance can accumulate significant interest charges.
How to Tackle the Problem of Credit Card Debt?
Here are some ways to get around credit card debt.
If you are currently free from credit card debt, it is advisable to maintain that status. Only spend within your means and make it a habit to pay off your entire credit card balance each month. By doing so, you can steer clear of debt and bypass credit card interest.
It's worth reviewing your credit and debit card choices as well, as using the wrong credit card can potentially cost you substantial amounts of money.
If you do carry balances on your credit cards, your goal should be to pay them off as soon as possible. The quicker you can achieve this, the less interest you will accrue.
Making higher monthly payments on your credit cards is one of the most effective ways to eliminate credit card debt. Additionally, there are a few other strategies that can expedite the process.
Every purchase you make increases your debt and the amount of interest you are obligated to pay. It is advisable to stick to using your debit card and cash until you have completely paid off your credit card debt. This way, you won't be able to spend beyond your means, and you'll save on interest since you won't be adding to your credit card balances.
Consider obtaining a personal loan or a balance transfer credit card to pay off your existing credit card debt. This approach can save you money on interest and consolidate your payments into a single monthly installment. Some of the best options for debt consolidation include debt consolidation loans and balance transfer credit cards.
Another effective tactic is to tighten up your spending habits. Assess your expenses and determine which bills you can reduce or eliminate entirely. Once you have cut back, allocate all the extra money you have saved towards paying off your credit card debt.
If you struggle to identify areas for cutbacks, consider using budgeting apps that provide a comprehensive overview of your spending patterns.
Also Read: 28 Best Personal Expense Tracker Apps in India
So, the demographic group most affected by high credit card debt consists of retired individuals and those in their advanced years. While middle-aged adults and seniors often carry higher credit card balances, this is an issue that affects individuals across all age groups. The good news is that with the right financial habits, you can rectify the situation and prevent it from recurring in the future.
Source: Survey of Consumer Finances