Internet has served well in the fields of education and general research work. Today, a variety of online blogs provide valuable information about various subjects. Like any other established company, startups also refer to these to get knowledge from experts and stay updated about various things related to their business. In this article, we will inform you about the best blog for startups and the best blogs for entrepreneurs.
The Best Blog for Startups: A Complete List
Internet is full of content like images, videos, articles, or whatever. Even the least popular topics have at least a couple of forums, blogs, or write-ups dedicated to them. Given below are some of the best blogs for startups. Let us begin our list.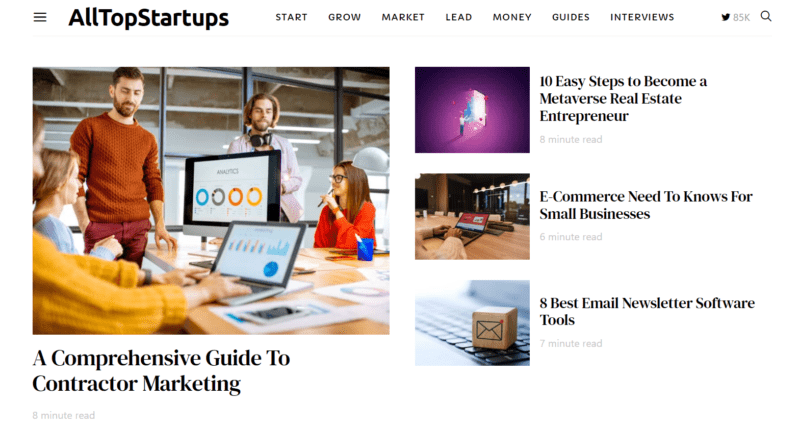 If you are a young and aspiring entrepreneur who not only wants to start a business but also grow it exponentially then this is the blog for you to follow. Since it is a website for beginners the layout of the website is clean and easy so navigating through it is easier. Be it listicles that you are looking for or a simple article to read on an XYZ subject the website has it all and more as there are quite a few topics covered by them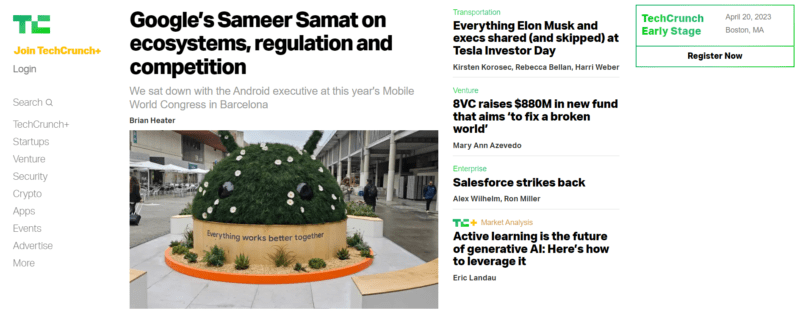 You might have figured by the name what kind of content can be found on this blog. However, apart from tech this website also has a Startup section where you have news pieces and insider stories showing up regularly. It is a bug and popular website that is usually the first to crack news. But again the content of this website is not limited to just startups or tech as topics from a few other fields and industries also regularly feature on this website that the readers can go through.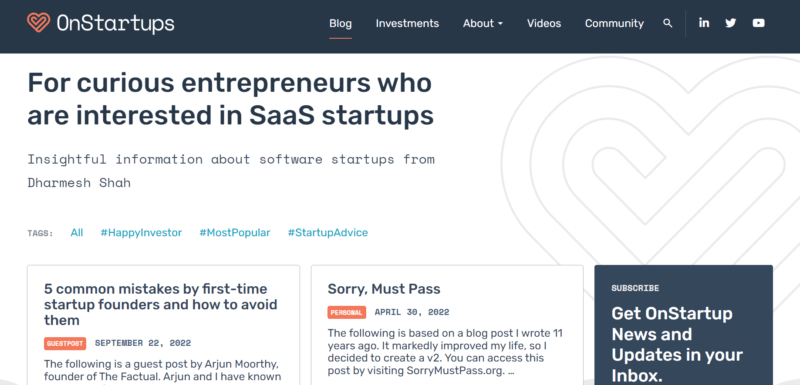 Hubspot is a marketing platform that was founded by Dharmesh Shah who is also the man responsible for running this blog. When the writer of a blog is an entrepreneur themselves it only increases the reader's trust in the content they read. The website features guest posts as well as articles that belong to Dharmesh himself. If you wish to be a successful entrepreneur then you might want to check out this website.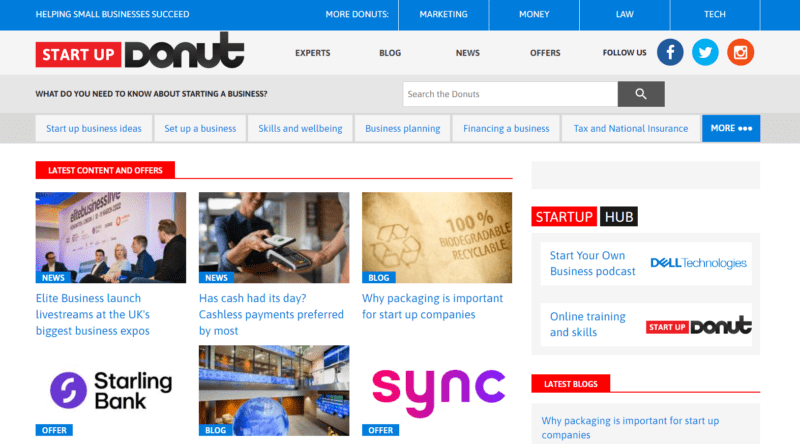 If you are looking for a blog that deals with business-related stuff and other related stuff then this might be the blog to visit for you. This is a website that is regularly updated and contains articles on a range of finance-related stuff. Not only that but the website is also home to a handful of more topics under which you have multiple blogs which makes it a one-stop destination for readers interested in a variety of topics.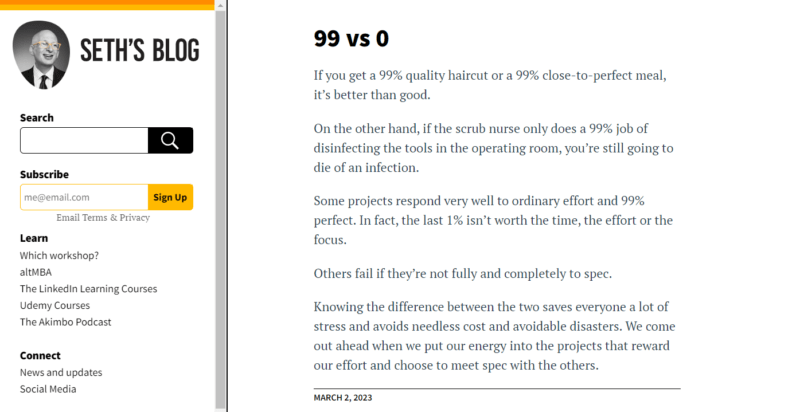 Seth Godin has written quite a few best-selling books while his Ted Talk has had more than 6 million views and for that reason, many are convinced that his blog is the best blog on startups and other stuff. It's not your average or common kind of blog website but something different from what we usually see and that is what makes his work even more intriguing.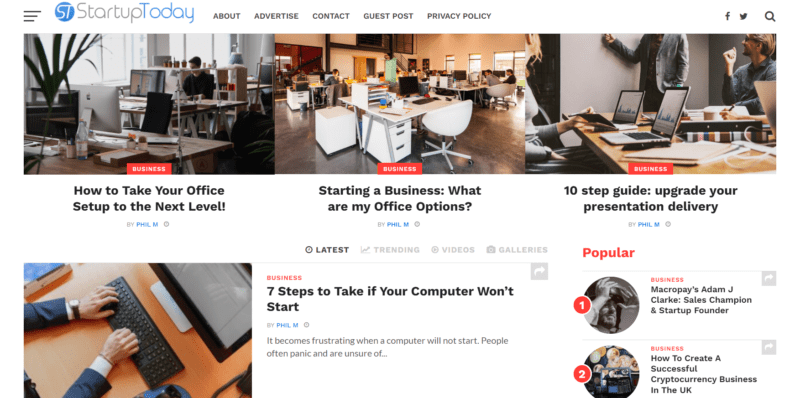 On this blog website, you learn the importance of blogging and WordPress in the growth and establishment of a startup. But that's not all there's also general discussion happening on this website on various related topics. It is a UK-based website where you can also find videos and photos on various topics. All in all, it is a good blog to consider visiting if you are running or planning to run a startup. Many people consider it the best blog for startups.
Best Blogs for Entrepreneurs
It's not just startups that need something to refer to, established businessmen or entrepreneurs could also do well with some help or reference at times. However, since different blogs cater to different target groups, we have a completely new list of blog for entrepreneurs where they can head to find the much-needed boost that they look for.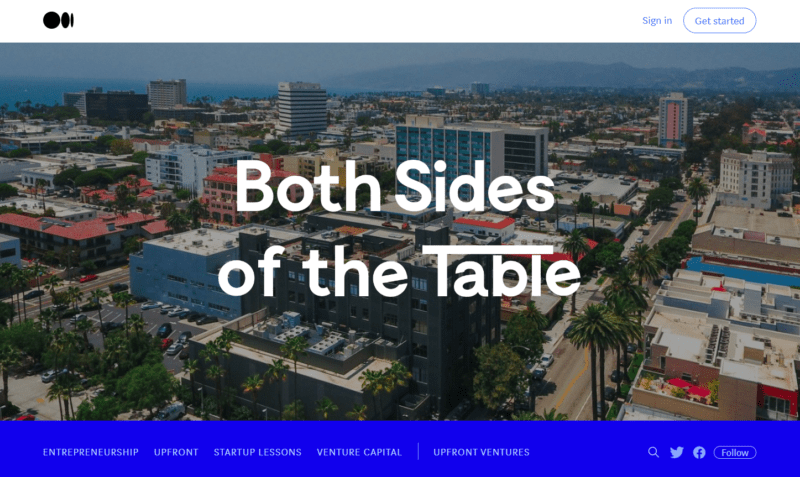 Managing partner at Upfront Ventures, Mark Suster has come up with this blog website that is home to some of the best articles based on entrepreneurial stuff, especially about the challenges that you might face on your journey to become one. Aspiring entrepreneurs might find this blog very helpful as they prepare to enter the world of entrepreneurship with some knowledge of it from an insider. It is one of the best blogs for entrepreneurs.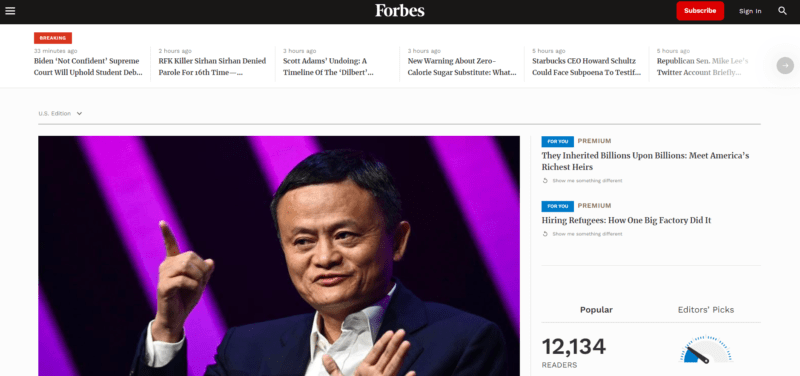 A website as popular as this needs no introduction as few blogs can boast popularity as huge as theirs. Known for its business-related content, Forbes also has a dedicated Entrepreneurship section where industry updates, inspiring stuff and a lot of other related content can be found that can help aspiring entrepreneurs get a feel of what the journey ahead looks like.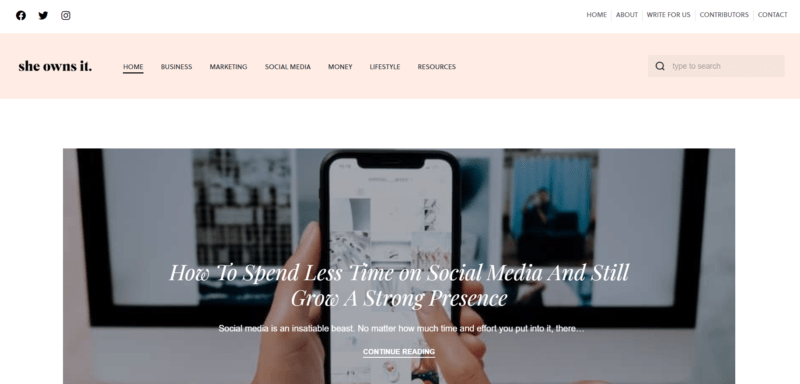 We might not have had a blog run by women for women in the blog for startups list but we do have one on this list. It's a women-empowering blog site where women share their success stories for others to read and get motivation from. Topics ranging from money to lifestyle, a lot of varied content can be found on this blog run by women for women and if you believe in being a strong independent girl then you now know where to head for some inspiration targeted just to you.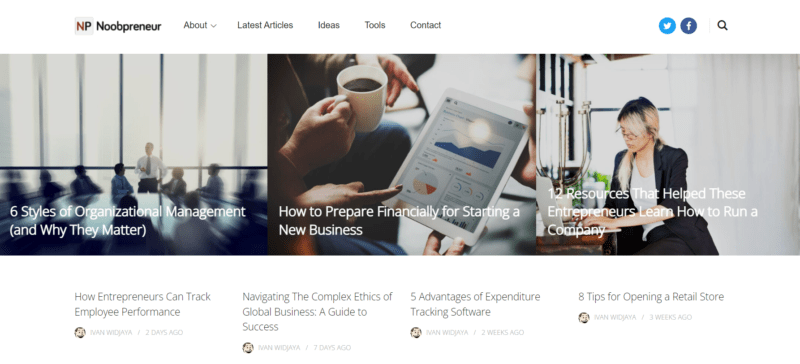 We mentioned above how Forbes is one very reported and credible blog for most types of business-related content and when a blog of that stature mentions you to be one of the top websites for entrepreneurs it surely gives you credibility. If you want to start your business from the ground level and take it up to the sky, then refer to this blog where you will find articles to help you at all steps of your entrepreneurial journey.
Also Read: List of Useful Quick Certifications that Pay Well
Best Blogs for Startup Founders
You already have 10 great blog websites mentioned in this article so far that you can refer to as an entrepreneur looking to grow your business or for someone who aspires to have their startup. However, we do wish to mention a further 5 blog websites which form a part of the list of some of the best blogs for startup founders.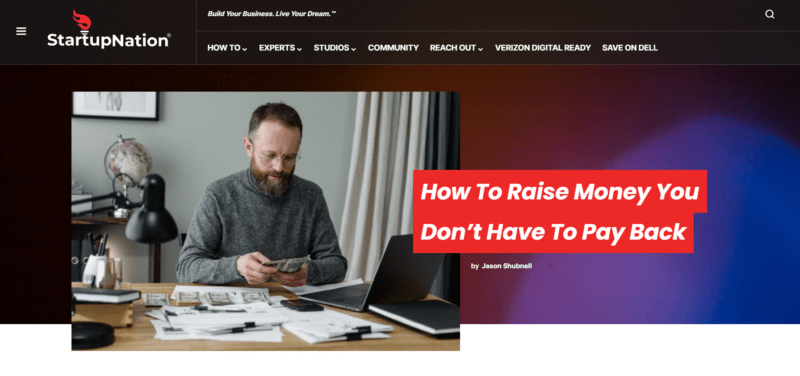 Be it starting a business, building one, or even managing this website is home for information on all such stuff. What's different about this blog is that it is not only home to written content but they also run a radio show and a community forum where you can meet other business owners which helps you not only build contacts but gets you to learn from other people and their personal stories as well which makes it a great blog for startup founders.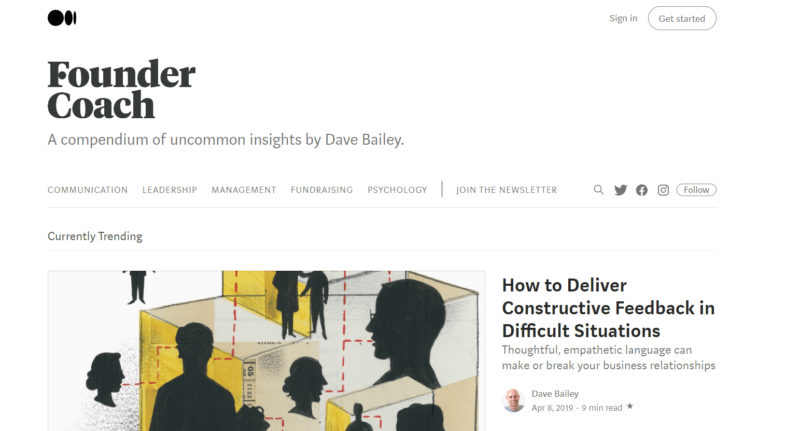 Dave Bailey is a multi-faceted man whose credentials include being an entrepreneur, angel investor, former venture partner, and CEO coach. So if someone that accomplished starts a blog then you better believe that they know what they are doing and saying. Be it fundraising or marketing the man has tips to share on this and a lot of other stuff for aspiring businessmen. He has himself been a co-founder for a few companies and so he is a man with not only experience but stories of his own to share as well.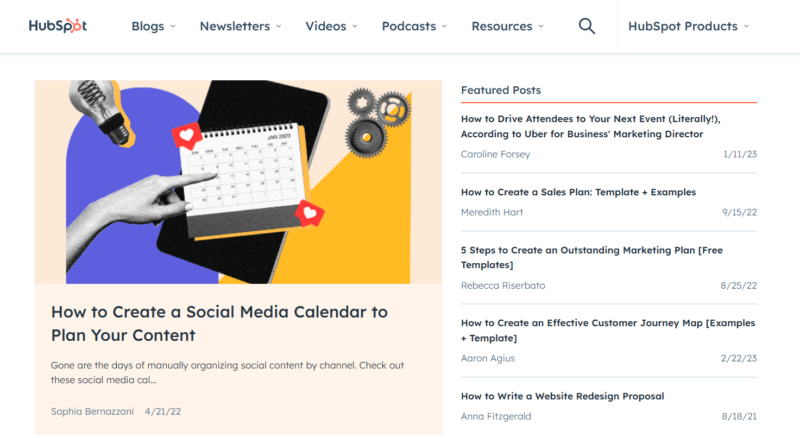 You can go and check out HubSpot not only when you are looking out for a blog for startup content only, but you can also find free certification courses and a lot of e-books, guides, and research articles on their page as well. The website covers news, marketing tips, sales tip, service tip, and a lot of other such stuff that an aspiring businessman may find useful and so the blog makes it to this list.
Jason Calacanis is an angel investor, entrepreneur, and author in addition to which he runs a blog that is meant for aspiring businessmen. He also runs a half-day angel investing course, has written a book, and runs a podcast channel. This makes him an expert in a range of fields on a range of topics of which one is business and the other topic is society. If you are ever looking for inspiration or motivation in your entrepreneurial journey then you may want to head to this blog.
Also Read: Best LinkedIn Practices for Business Professionals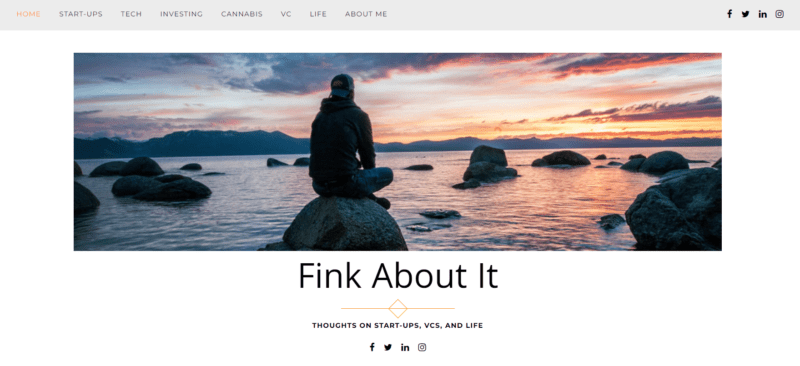 A startup competition judge, a venture investor, an angel investor, and a speaker are all the credentials of Jeffery Finkle who is the owner of this blog meant especially for business people. From startup to tech to more the website covers content based on a variety of topics. The first cannabis member-managed fund was co-founded by him and he also runs a not-for-profit organization in New York as well as Long Island. Someone with that kind of CV and experience can surely be much helpful to you when it comes to providing business or startup-related tips and tricks.
Finding the best blog for startups is a subjective endeavor, as individual needs and preferences vary greatly. It is crucial for entrepreneurs to explore various options, engage with different perspectives, and ultimately choose a blog that aligns with their unique business goals. The journey of startup success often involves continuous learning and adaptation, and a well-curated blog can serve as a valuable resource along the way.