If you are a restaurant owner, then bringing in more orders and clients must be your first and foremost concern. With the arrival of food delivery apps, customers have started ordering a lot more and many restaurants had to adapt to curb their losses. Partnering with these apps is a great way to make income and promote your restaurant. Most of these apps have an affiliate program and today we are informing you about one of them. When it comes to food delivery, Swiggy is the first name that pops up. In this article, we will shed light on how you can use Swiggy partner with us program. We will also cover all the Swiggy affiliate program details that include Swiggy affiliate commission rate and registration.
Swiggy Partner with Us and Affiliate Program
Ordering from Swiggy has become a lifestyle. They deliver all types of food, sweets, drinks and much more. The platform is enormously famous among young people who want to satisfy their food cravings. Swiggy adds new customers every day and their business is booming. It is the right time to partner with them as Swiggy affiliate commission is quite high. But before we go into the details of Swiggy affiliate program, Let us learn more about the company.
About Swiggy
Online meal ordering was essentially nonexistent in 2014, which prompted a need in the industry. The meal ordering and delivery startup of Swiggy have ever since changed the entire game. As of right now, Swiggy has partnered with more than 1.6 lakh restaurants spread across 500 Indian cities, including major metropolises like Bengaluru, Delhi, Mumbai, Chennai, Hyderabad, and many others. Millions of people have downloaded the Swiggy smartphone application, and the business is now the go-to option for anybody looking to purchase meals online. They have hundreds of delivery partners in every city and they fulfill almost 10,000 orders every month.
Founders Nandan Reddy, Sriharsha Majety, and previous co-founder Rahul Jaimini have believed in the consistent efforts made by the team to adapt to daily changes in the trends and the enthusiasm to assist as many individuals as possible. All this has made Swiggy a highly reliable name in the industry with a huge user base that provides a good starting point for restaurants in the direction of expansion.
Partnering with Swiggy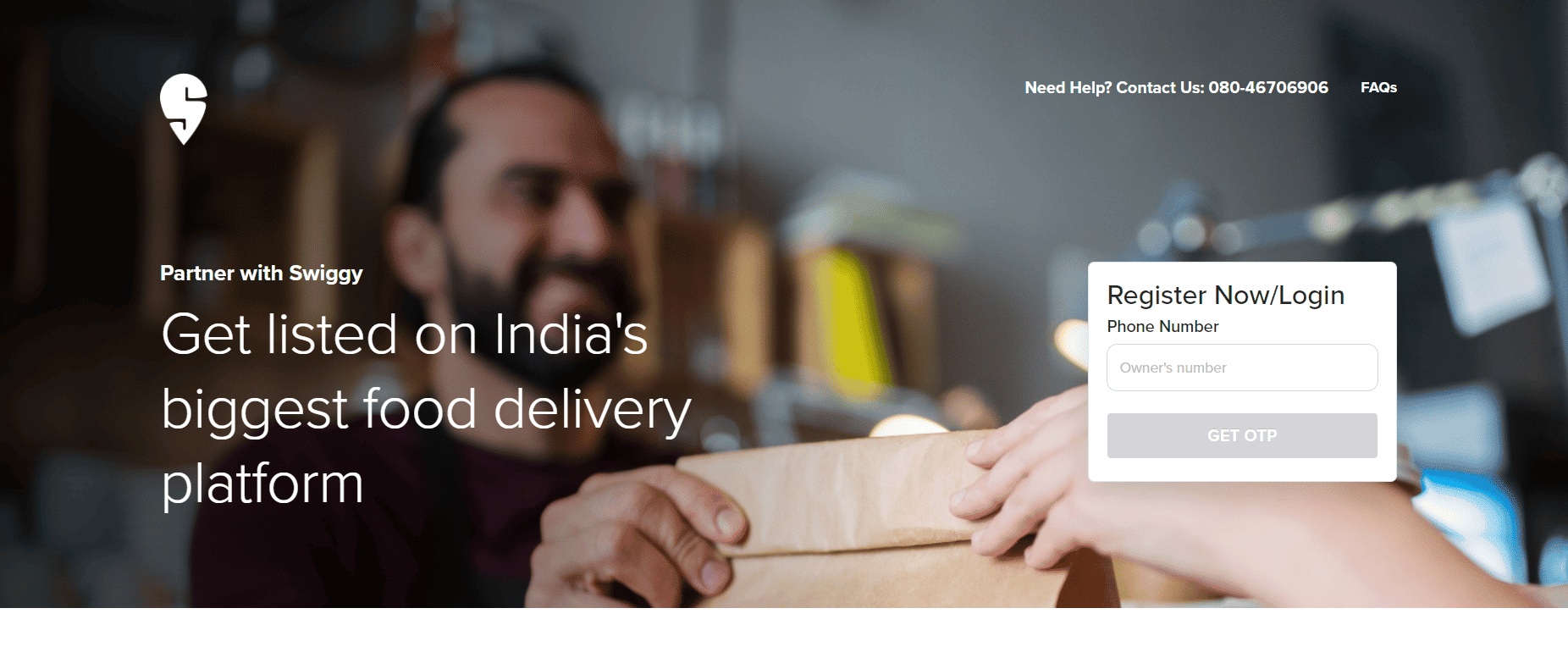 Are you a restaurant owner? Do you want to increase your revenue, reach a bigger audience and deliver meals to doorstep with the least hassle possible? Well, now is the time to sign up for a delivery partnership. And when it comes to food delivery platforms, Swiggy is a major runner in the game.
You can easily partner up with Swiggy in simple steps after which the customers while ordering food online will be able to access your restaurant directly. They can order food, cancel orders; get access to discounts and promo codes, etc. from the Swiggy app and site itself. Swiggy affiliate commission is also great.
Nowadays as more and more customers choose to place their meal orders online to take advantage of some fantastic deals. In this situation, joining the Swiggy restaurant network using Swiggy affiliate program with us module is more crucial than ever for the long-term success of your company.
Benefits of Partnering with Swiggy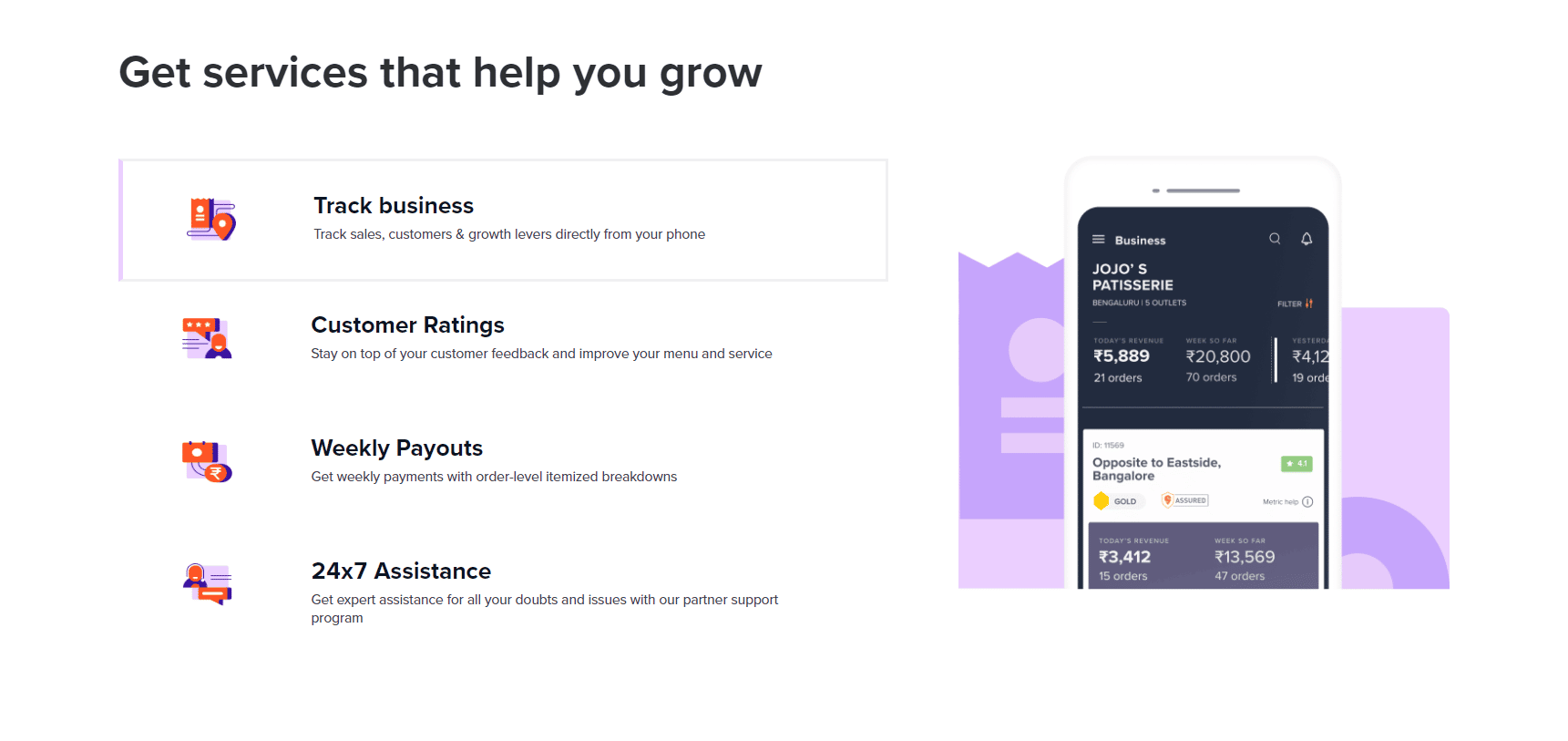 Registering and partnering with Swiggy has several advantages, the most talked about of which is a reduction in the overall operating expenses. Your business is no longer bothered by delivery men or the challenging logistics involved with timely meal delivery. Another benefit of registering your business with Swiggy is the possibility to boost sales.
You have the chance to grow your clientele, sell your invoices, and eventually improve your income by collaborating with Swiggy. Keeping an employee on-call and available to take calls for food delivery can be difficult and exhausting. Restaurants that sign up with Swiggy can avoid this difficulty.
There are also multiple other features to take advantage of after Swiggy partner registration like:
Track Everything: You can track every activity related to your restaurant and deliveries are done in one place. The app will tell you about the deliveries you did, the growth, and how the customers are interacting with the restaurant.
Customer Support: With Swiggy you will not have to worry about being stuck anywhere. Their 24×7 customer support is active and ready to guide and solve the queries posted by the partners at any time of the day.
Weekly Payouts: Swiggy has kept the payout cycles on a week-to-week basis, this means you will not have to wait for the entire month for the payout.
Large Delivery Fleet: Swiggy has maintained a large delivery fleet that allows the restaurant to easily reach the customers in time without any delays.
How to Complete Swiggy Partner Registration and Login?
It is not that difficult to become a partner with Swiggy partner with us program. All you need to do is follow a few simple steps and you can register with the platform for your restaurant business. You can also use the given login ID and password to complete the Swiggy partner login.
1. Go to the official page of Swiggy.
2. Now, scroll down and select the Partner with us option that you see below Contact section at the bottom.

3. You will have to provide your mobile number and after which an OTP will be sent to the said number. Fill in the OTP to get redirected to the further steps of Swiggy partner registration.
4. You will be taken to a registration form where you must provide the following information: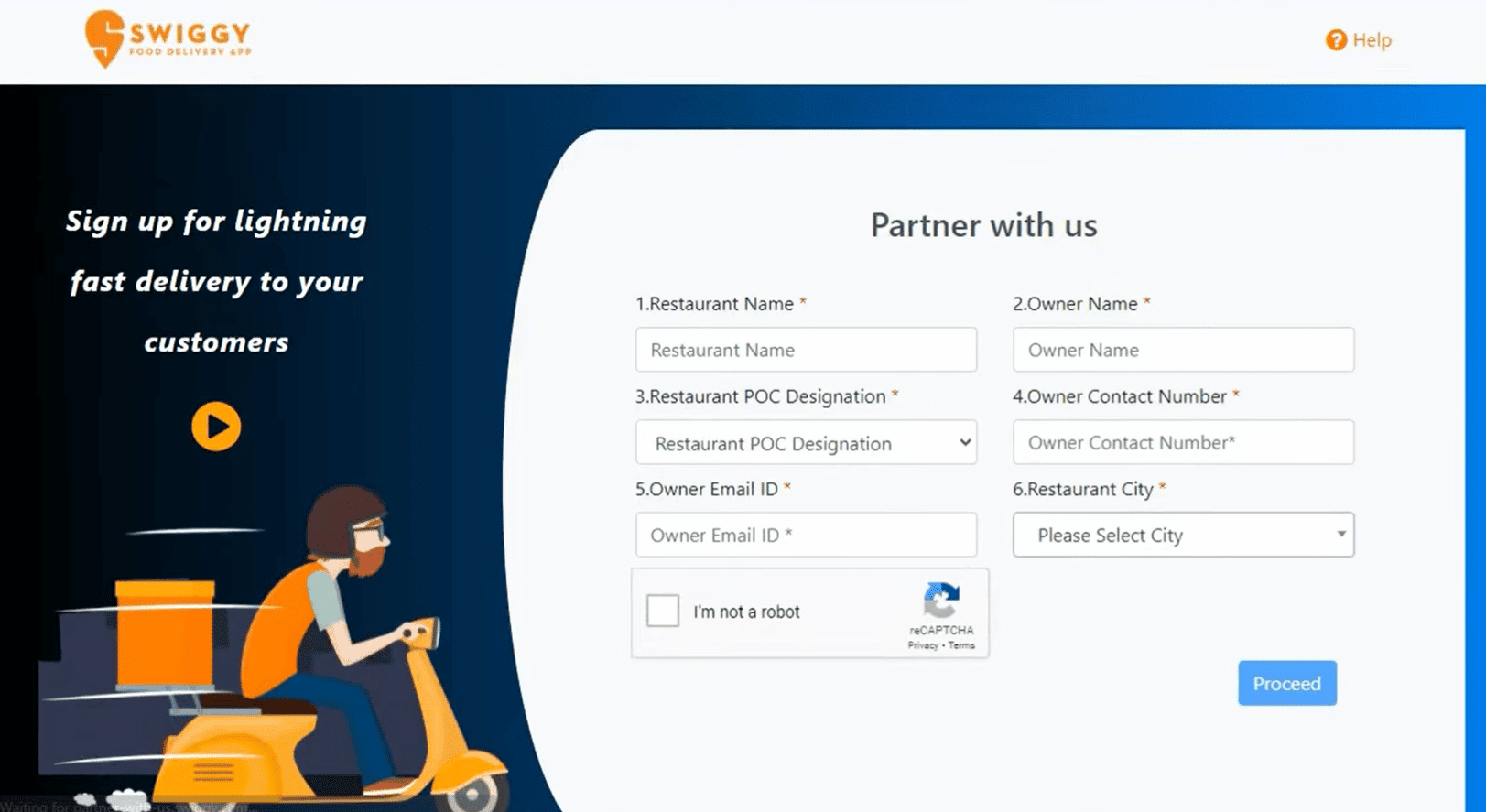 Name of the restaurant
Owner's name
Designation of POC
Owner's phone number and email address
Location of the restaurant
5. For your application for Swiggy partner with us program to be processed, Click the Submit button.
6. After this a new box requesting further information will appear. You must enter information such as:
Link to a website or online directory
Price for two people
What type of food is served?
Establishment type
Delivery assistance (yes or no)
7. Next, attach the following documents:
GSTIN
FSSAI license
Shop license
8. Now, you have to attach a few pictures asked as per the Swiggy policy. Click and attach the pictures of the kitchen, façade, locality, and dining and packaging area.
9. Click on Submit once you have finished entering all the necessary information. You will get a message once your registration is finished.
Be sure to maintain hard copies of all your paperwork on hand since one of their representatives will contact you for the remainder of the procedure and the Swiggy restaurant partner agreement. After verification, you set your Login ID and password through Swiggy partner login feature.
Also Read: Zomato Affiliate Program with High Payout
Things to Remember before Registering with Swiggy
Here are a few things that one should know before registering to be a partner with the Swiggy platform.
Keep The Documents Handy: The essential papers' digital copies must always be on hand. Verifying your documents is essential to the registration procedure. Keep the original digital copies of your store license, PAN card, FSSAI certificate, bank information, and GST certificate on hand.
Commission: One should be aware of the commission charged by Swiggy on partnering with them. For restaurants in developing areas, the commission rate might be anything between 15 and 25 percent. One must also pay an extra 4 to 7 percent fee if they wish Swiggy to advertise their business after joining Swiggy partner with us.
Have A Menu: Keep an online menu ready. Restaurants should update their pricing lists and online menus as regularly as possible to give clients the most recent information.
Benefits of Working with a Delivery Partner
There are multiple advantages of working alongside a food delivery partner like Swiggy. Here are some of them:
Super Convenient: Customers would have to physically visit the restaurant to collect the food they've ordered if you didn't provide meal delivery services. With delivery partners, customers can place their orders at any time and from anywhere. Therefore, making ordering food a convenient task.
Increase Your Customers: You have the choice to grow your clientele by using a meal delivery service. How? By increasing the visibility of your company and therefore the size of your clientele. Even if the brick-and-mortar restaurant is just located in one location, you will still have the opportunity to serve other out-of-town consumers who may now place orders from your menu.
Abundance of Options: Customers can now find a wide range of meal selections through several food delivery platforms. This is good for company owners since it gives them exposure after joining Swiggy partner with us. They won't have to limit their consumers to the standard fast food and restaurant businesses that already employ this kind of service. More than that, even if you don't own a website, this is a terrific way to advertise the meals.
Use the Benefits of Promo and Discounts: Customers are more inclined to order when they get a discount or offer. You can use time-sensitive deals and special promotions to promote your business further.
What is Affiliate Marketing?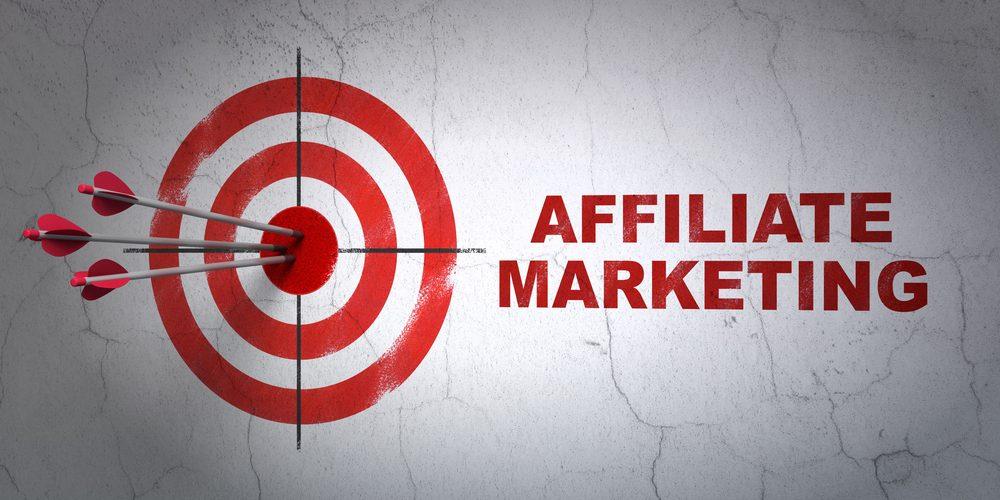 The recent trend toward less conventional marketing strategies has undoubtedly paid off, being extremely advantageous to both businesses and affiliate marketers. The affiliate merely looks for a brand they are interested in, promotes it, and receives a cut of the revenue from each transaction. Through affiliate connections from one site to another, the sales are monitored. The use of affiliate marketing can significantly increase online earnings and increase sales.
Affiliate marketing takes advantage of a range of people's skills for a more successful marketing approach while giving contributors a piece of the profit since it works by distributing the duties of product production and promotion between parties. Three parties are involved in affiliate marketing; the seller or the company, the affiliate, and the customer. Affiliates can use social media, blogs and YouTube videos, to expose the reader and customers to the product they can click the affiliate link and make the transaction themselves. After every conversion, the affiliate gets a share of the sales after the customer purchases the product.
The Seller: The seller is a company or retailer with a commodity to promote, whether they are a sole proprietor or a multinational corporation. A tangible item like domestic products or a service like cosmetics instructions may both be considered the product. The seller, usually referred to as the brand, can also be the advertiser and make money via affiliate marketing revenue sharing; they are not required to participate actively in the marketing.
Affiliate: An affiliate is a person that effectively advertises the seller's goods to prospective customers. To put it another way, the affiliate advertises the product to persuade customers that it is worthwhile or advantageous to them and urges them to buy the product. The affiliate gets a share of the sales if the customer decides to purchase the item.
Customer: Of course, for the affiliate system to be successful, there must be sales, and it is the consumer or customer who drives these sales.
About Swiggy Affiliate Program
Now that you know that you can easily join Swiggy partner with us module and boost your business by reaching a wider audience. It's time to know if there is any other way to earn money with Swiggy as well. Well, yes, there is! With the affiliate program offered by Swiggy you can earn by bringing in more clients for the Swiggy platform. If you are a blogger in the food industry, have a food-related YouTube channel, or have a social media page that is focused on food, then affiliating can be a good option for you.
The Swiggy Affiliate Program can help you earn good revenue per sale from both new users and old ones if you are successful in piquing a reader's interest in a certain deal via your social media page, your blog, or your YouTube account. Using Swiggy affiliate commission, you can make decent income.
It would be highly beneficial for you to persuade your audience to purchase meals from it given its popularity, use, and dependability. Swiggy is a fantastic food affiliate program in which you can be part of a respectable platform and will also get to earn a lot more than some of the other options in the market. Let us learn about Swiggy affiliate commission in detail.
What is Swiggy Affiliate Commission?
Before joining any affiliate program, a person is always interested in learning about the commission plan for the program. Here is what one should know about the Swiggy affiliate commission:
Under the per click module, you will earn:
| | |
| --- | --- |
| 1 Month Duration | INR 0.13 |
| 3 Month Duration Or More | INR 0.20 |
Under the per sale module you will earn:
| | |
| --- | --- |
| Old users | INR 0.75 per sale |
| New users | INR 18.75 per sale |
Certain types of media are allowed when it comes to Swiggy affiliating for bringing in more clients. Here are the allowed media:
Banners
Deals
Text link
Cashback
Coupons
Social media
Deep linking
Email marketing
Also Read: Myntra Affiliate Program With 8.5% Commission

Benefits of an Affiliate Program
Here are some of the benefits of joining an affiliate program:
Easy to Set Up: Starting a business in affiliate marketing is quite simple. In the beginning, all you need to do is decide on a sector that you want to work in. Next, simply decide on a subject matter that you feel most at ease discussing. The next step is to decide on the affiliate marketing media that you will be using. You can launch a social media profile, a YouTube channel, or a website. Or you could potentially carry out all three.
Easy to Get Selected: The low entrance threshold for affiliate marketing is one of the benefits that will help anyone to start earning. You don't require a certain degree or job experience. To start a blog or social media page for affiliate marketing, all you need is a computer or smartphone, as well as the fundamental computer abilities required to update your content on the website or profile.
Minimum Investment Required: You are suggesting things to other people as an affiliate marketer. You are not making any products or services. If you decide to purchase a premium website, the only money you will have to pay is to set up your site. Even better, you may use a free hosting service like WordPress to host the affiliate marketing website. You can pay someone to put up your website if you're not very adept at the technical aspects of doing so for a minimal charge.
You Are the Boss: You are in charge of your work as an affiliate marketer. Your working schedule is up to you. Even your workspace and the projects you work on are up to you. You are completely free to select the kind of items you want to promote and to alter them as you see fit. It's difficult to find a career that allows for this much freedom.
Swiggy is a common name for people who constantly order food online and becoming a partner with Swiggy will only help boost your business. You will be able to reach more people with Swiggy partner with us program and will be able to take and deliver orders efficiently and also provide multiple promos and discounts to the customers to make them come back. Other than that, Swiggy affiliate commission is decent which is another reason to use Swiggy affiliate program.