Since the last few months, living expenses have become costlier in Canada, making life difficult for the ordinary citizens. They are forced to seek financial advice to manage their expenditures and maintain a budget. However, a recent survey highlights that family members and friends are the greatest financial advisors for Canadians, causing unease among economic experts over their role as advisors.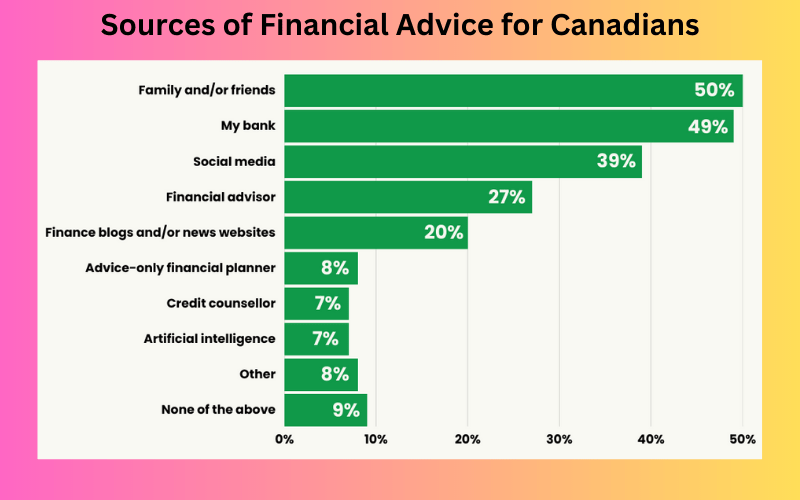 The usage of both financial advisors and planners is highest among young adults aged 25 to 34, a period when financial matters become more complex. According to a survey by WealthRocket, it was discovered that:
Half of Canadians (50%) rely on friends and family, including spouses/partners, as their primary source of financial advice.
Nearly the same percentage (49%) seek advice from their bank. However, it is essential for Canadians to be aware of potential bias when consulting their bank, despite having qualified personnel.
In contrast, fewer Canadians seek financial advice from independent financial advisors (27%) and even fewer from advice-only financial planners (8%).
One-third (33%) of respondents in this age group use independent advisors, and 14% opt for advice-only planners.
For 20% of Canadians, research includes consulting financial blogs and news sites.
Another 7% to 8% turn to various sources such as credit counselors, artificial intelligence, YouTube, TV, podcasts, and books.
Use of Social Media for Financial Advice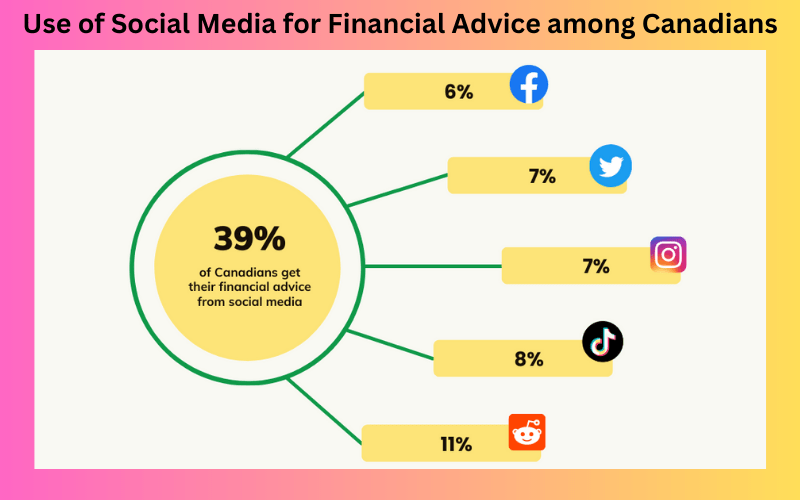 According to the survey, 39% of Canadians use social media as a source of financial advice, even though 26% of them consider it untrustworthy. The social media platforms included in the survey were Reddit (11%), TikTok (8%), Instagram (7%), Twitter (7%), and Facebook (6%).
The younger age groups, specifically those between 18 and 24 and 25 to 34, are more likely to use social media for financial guidance and trust it more than older age groups.
Among those aged 18 to 24, 9% find social media extremely trustworthy, compared to only 5% or less in other age groups.
The majority of respondents (36%) expressed a neutral/unsure sentiment about the trustworthiness of financial advice on social media.
Reddit emerged as the most popular platform for financial advice, with 11% of respondents using it for this purpose. The platform has gained popularity in Canada as a source of financial advice, with some boards having a large number of members.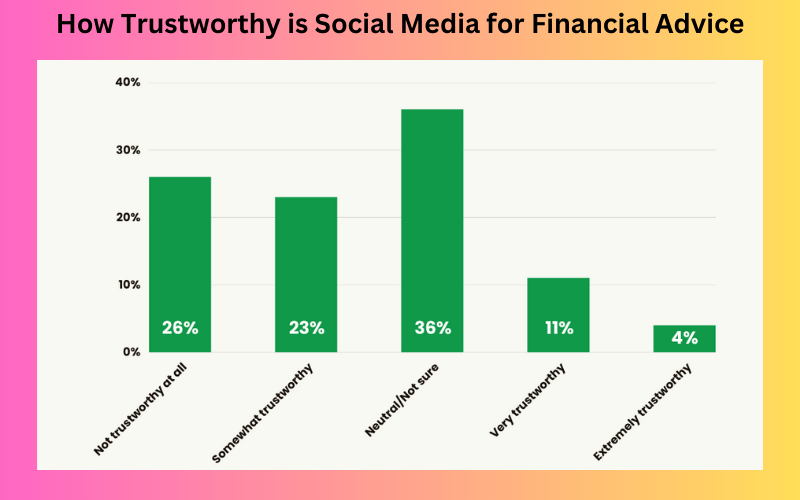 These numbers suggest that people have mixed feelings about the reliability of information found in forums, groups, and finfluencer accounts. Despite some hesitation, social media remains the third most popular source of financial advice for Canadians, possibly because it offers a less intimidating and more private way to seek guidance compared to face-to-face interactions with financial planners or advisors.
Also Read: Survey Highlights Causes of Financial Stress among Young Canadians
Reasons for Canadians to Seek Financial Advice
The data indicates that a significant number of respondents (49%) sought financial advice within the past year, possibly reflecting a growing need for guidance in navigating recent financial challenges nationwide, such as inflation and higher mortgage payments.
Approximately 37% of Canadians sought financial advice due to the high cost of living and inflation rates.
Another 29% sought help to receive guidance on investments or to start investing.
Additionally, 26% sought advice in response to rising interest rates, while 21% needed assistance with managing their debt.
For 19% of Canadians, retirement planning was the main reason they sought financial advice, followed by 16% who did so due to a change in employment circumstances.
Furthermore, 10% sought advice because of a change in their relationship status, and 7% sought help after receiving a significant financial windfall.
Interestingly, 9% of respondents had their own specific reasons for seeking financial advice, including supporting older family members, improving their credit scores, becoming homeowners, managing mortgage renewals, and dealing with student debt.

It's important to understand the difference between financial advisors and advice-only financial planners. Financial advisors often focus on helping individuals invest their savings and receive a percentage-based compensation, potentially creating a conflict of interest. On the other hand, advice-only financial planners operate on a fee-for-service model and cover various financial questions without selling products or earning commissions.
While relying on your close ones as greatest financial advisors for Canadians might be a natural starting point, it has its drawbacks. Unless friends or family members have a background in financial planning, their advice might be based on misunderstandings about how financial matters actually work. Therefore, it is advisable to do your own research when seeking a financial professional.
Source: WealthRocket Survey