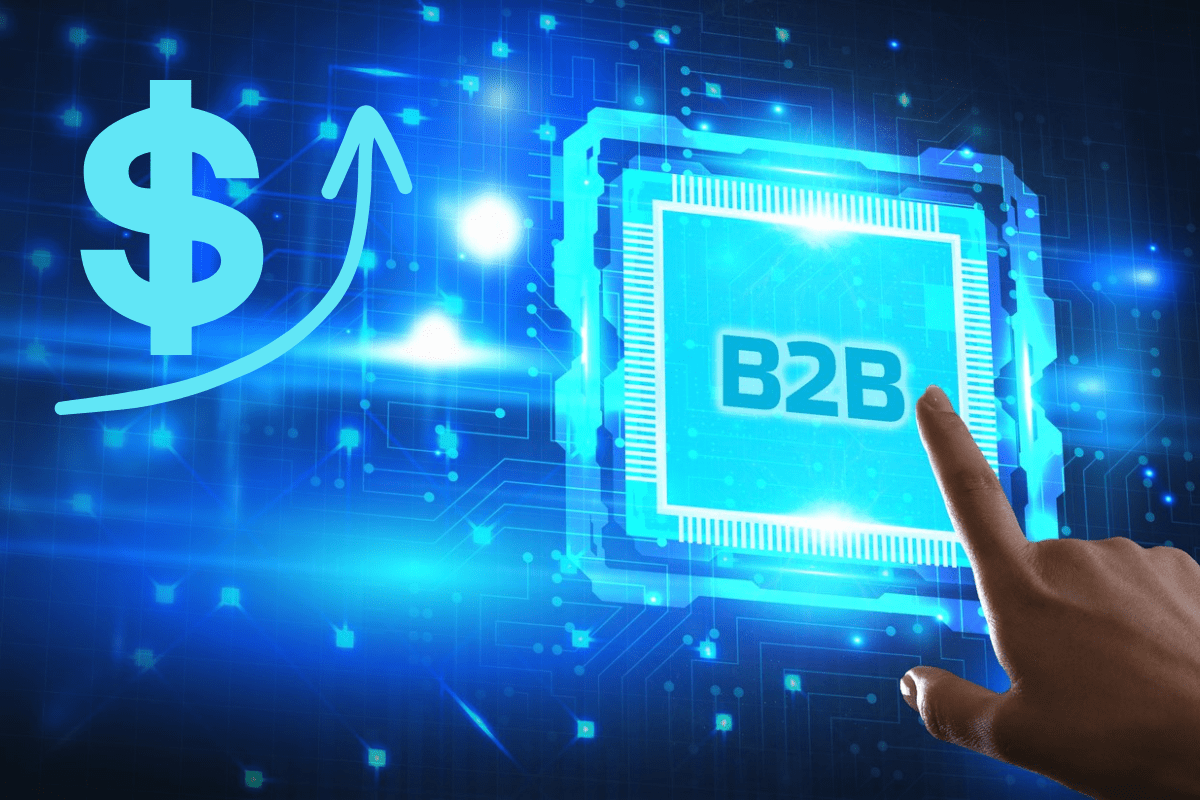 Amidst the ongoing economic challenges all over the world, SaaS companies continue to demonstrate their ability to maintain their robustness and become profitable. A recent survey has highlighted the impact of billing models on B2B companies in California, accelerating their financial growth and expansion.
Maxio, a prominent billing and financial operations platform catering to B2B SaaS companies, has unveiled its latest research findings through the Maxio Institute, the company's dedicated research and analytics division.
Powered by the billing and financial operations platform, the Maxio Growth Index delves into anonymized year-over-year customer billing data. This platform, currently responsible for processing an annual billing and invoicing volume exceeding $13 billion, serves a diverse clientele of over 2,000 businesses. Notably, a significant portion of these clients are software-as-a-service (SaaS) companies backed by venture capital or private equity, boasting revenues ranging from $1 million to $100 million.
Analysis of billing data collected from a comprehensive sample of over 2,000 companies during the initial half of 2023 reveals a notable trend within the realm of B2B subscription businesses. Despite prevailing economic challenges, these businesses are demonstrating resilience and ongoing expansion. In spite of more restricted access to funding, B2B subscription enterprises have maintained their upward trajectory since the start of 2022. They have recorded an average year-on-year growth of 10-15% throughout the initial two quarters of 2023.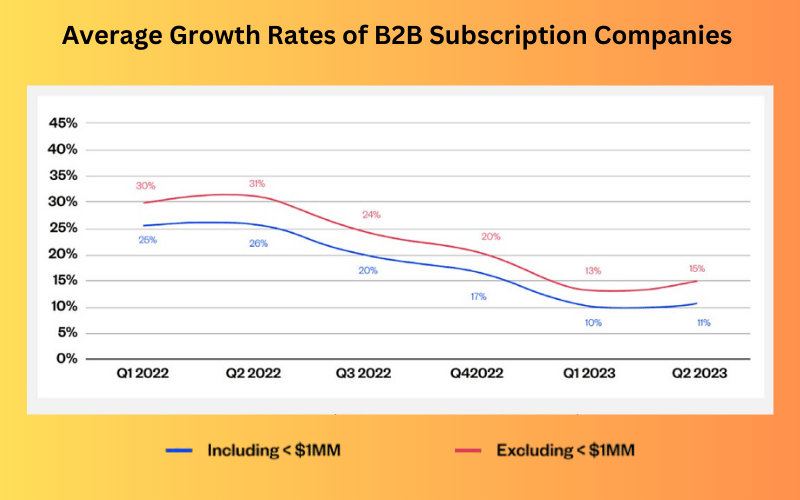 However, it is important to note that their annual growth rates have encountered a significant decline of nearly 50% when compared to the corresponding period in the previous year. During that prior period, growth rates ranged between a robust 25% and 30%. Among the intriguing revelations from this research, one standout discovery is the direct influence of billing methods on a company's sensitivity to economic fluctuations and its trajectory of growth. This dip in growth has prompted a shift from pursuing growth at any cost to a focus on achieving efficient growth, given that obtaining capital at favorable valuations is no longer a straightforward endeavor.
Throughout 2022, SaaS companies utilizing consumption- and usage-based billing models faced a distinct and pronounced decline in their quarter-over-quarter growth rates. These rates plummeted from an average of 38% in the first quarter of 2022 to a mere 17% in the subsequent quarter (Q2 2022). This decline can be attributed to abrupt shifts in the market as well as the discretion of customers to curtail their SaaS expenditures.
This downtrend persisted until the first quarter of 2023, with growth rates dwindling to a modest 8%. However, it is noteworthy that the adaptable billing models employed by these companies played a pivotal role in their recovery. This adaptability led to an impressive resurgence, evidenced by a substantial 50% surge in growth rates by the second quarter of 2023 (Q2 2023).
On the flip side, SaaS companies that have established long-term contracts have displayed remarkable resilience to economic disruptions. This was evident as they even witnessed a surge in their growth rates during the initial half of 2022. However, a subsequent decline has set in, with successive quarters in 2023 exhibiting a diminishing trend. This decline reached its culmination in Q2 2023, with a growth rate of merely 17%.
This marks a significant 4-fold decrease from their robust 39% growth rate observed in Q2 2022. The primary reason for this decline is likely attributed to the renewal phase of these contracts, often structured on an annual or bi-annual basis, occurring during this period.
The rates of growth in B2B subscription businesses within the $1 million to $100 million annual processing range have shown a consistent decline. However, there is a positive aspect to this situation. On average, B2B businesses are still experiencing growth, except for those with processing volumes under $1 million. The divergence in growth rates between these two variants of subscription billing models is most pronounced among companies generating an annual recurring revenue (ARR) of less than $1 million.
Businesses falling within this revenue bracket that are reliant on consumption-based models have consistently faced challenges. Their performance has witnessed a deteriorating trend over the last six consecutive quarters, culminating in a negative growth rate of 20% by the close of Q2 2023. In stark contrast, companies that have embraced subscription invoicing models have flourished, showcasing some of the highest growth rates within the industry. These companies have achieved an impressive average growth rate of over 60% across the past six quarters.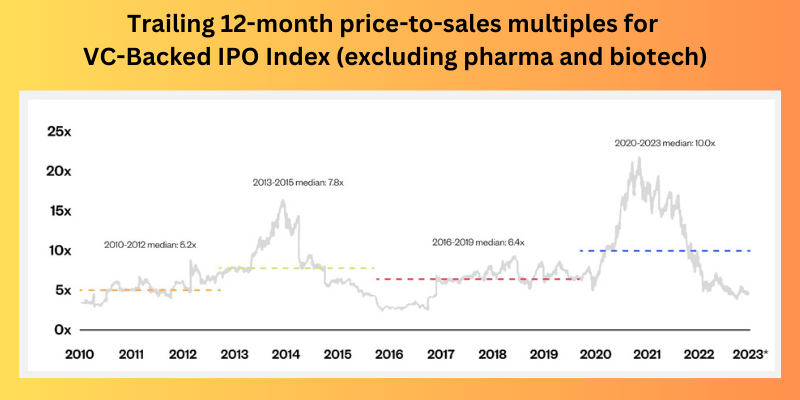 In the ever-changing economic landscape, B2B SaaS companies are confronted with the imperative to adapt their billing strategies to ensure sustainable growth. In this context, having a comprehensive understanding of all facets of financial operations becomes paramount. This not only facilitates the creation of effective pricing models aligned with client needs but also acts as a protective shield against sudden market fluctuations and unforeseen economic downturns.
Also Read: Survey Highlights Potential Recession in Australia in Upcoming Future
The latest research from the Maxio Institute underscores a noteworthy trend: the success of B2B SaaS companies is no longer restricted to the confines of Silicon Valley. Interestingly, according to the company's analysis, leading companies have consistently achieved growth rates that outpace their counterparts in the Bay Area by an impressive margin of 22% to 28% over the past 18 months.
Experts hold the belief that the ongoing economic conditions will persist for a minimum of 12 months. However, there is a positive outlook on B2B companies' ability to navigate this phase of economic unpredictability as long as they effectively handle their cash reserves.
Source: Maxio Growth Index Report