Bangalore is the startup capital of India. Period. All you entrepreneurs in Gurgaon and Hyderabad can eat your heart out but none of you can afford to wear this crown. In the Global Startup Ecosystem Ranking collated by a research firm, Bangalore is the top Indian city for startups and is globally ranked at the fifteenth spot.
There are various benefits of incubating your company in Bangalore. Firstly hiring talent is easy and cheap compared to global peers like Berlin and Singapore. Secondly, the cost of renting office space is quite low compared to Mumbai or Delhi. Lastly, Bangalore has the best climate suited to people who come from different geographies. Some famous startups which started their operations in Bangalore are Infosys, Flipkart, and Inmobi.
Bangalore – Favorite among Venture Capitalists
VC's have for long favored Bangalore and startups incubated here get preferential treatment when it comes to raising funding. Bangalore also has a much more supportive ecosystem and it is easier to recruit software engineers here. Koramangla, Whitefield, and HSR Layout have emerged as the hubs of tech startups who are dabbling in Artificial Intelligence and Big Data Analytics.
So if you are an entrepreneur looking for support in setting up your company and raising funding to expand your business, you can consider the options given below :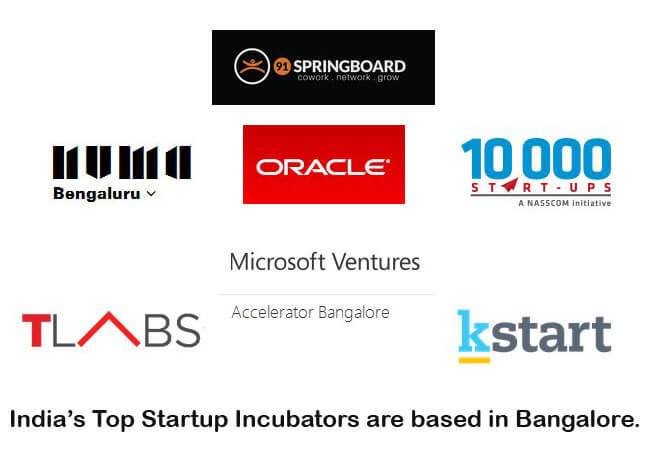 | | | | |
| --- | --- | --- | --- |
| |    Name | Description | Website To Apply |
| 1. | Oracle Cloud Startup Accelerator | Oracle's first incubator based in India. The incubator was launched in the first week of April and will mentor 5-6 startups who are focused on providing cloud-based solutions. Oracle plans to expand to other cities like Chennai, Gurgaon, Hyderabad, Mumbai, Noida, and Pune. It later plans to expand to Tier-II cities like Trivandrum and Vijayawada. | https://www.oracle.com/in/ |
| 2. | K-Start | K-Start is a seed funding program started by Kalaari Capital which provides seed funding along with mentorship for startups. Kalaari Capital has been quite active in India investing in companies like YourStory.com and has partnerships with IBM, Google, and Intel to support Startups. | http://kstart.in |
| 3. | T-Labs | T-Labs provides up to Rs 30 Lakh in seed capital funding and connects you to experienced mentors in the Tech space. T-Labs is funded by Times Internet, a behemoth from the stable of the Bennett, Coleman and Company Limited. | http://tlabs.in |
| 4. | 91 Springboard | They offer co-working spaces while also serving as an Incubator.  It is a part of the 10,000 startups program supported by the Government of Karnataka. Located in Koramangala, it is already home to dozens of companies. | http://www.91springboard.com |
| 5. | NUMABangalore | The French-based startup opened its first branch in Bangalore, India by entering into a partnership with Cobalt Co-Working Spaces. Located off Chruch Street, it is fast emerging as an alternate space for Startups. | https://bengaluru.numa.co |
| 6. | 10,000 Startups | 10,000 Startups is an incubation program funded by NASSCOM, the premier association of IT companies in India. It operates through a large startup warehouse in Diamond District off HAL Airport Road. Startups have to apply for this program and are screened before being admitted. | http://10000startups.com |
| 7. | Microsoft Ventures Accelerator | One of the top startup accelerators in the country, startups from all across India vie with each other to get selected. It has mentored more than 80+ companies, many of whom have gone on to raise funding in millions of dollars. | https://www.microsoftventures.com/ |