The year 2022 will be known for high inflation rates, throwing obstacles for development of both advanced and emerging markets. One such challenge arises from the rapidly increasing costs of food items, leading to high food insecurity in the MENA region. However, in 2023, a significant exception is food inflation in Qatar, which has remained stable even in the face of global economic crisis.
The World Bank, IMF, and Trading Economics recently released their annual food price inflation tracker for various countries spanning from February to May 2023. The data used in the report was gathered by Qatar Statistics Authority, which played a crucial role in shaping the report's findings and recommendations. To calculate the real food inflation, the World Bank compared food inflation with overall inflation rates.
In the previous year, the nation experienced a price surge, partly due to global food shortages triggered by the Ukraine war and partly in anticipation of the World Cup. However, the yearly food inflation in Qatar has since stabilized and recovered. According to the report, while the MENA region is grappling with high food prices, Qatar has managed to keep its food inflation at an unusually low rate of -0.01%.
Let's look at the month-to-month food inflation figures:
In July of the preceding year, it stood at 4.8%, increasing to 6.4% in August 2022, followed by 4.6% in September 2022.
In October 2022, it moderated to 1.3%, further decreasing to 0.3% in November 2022. In December 2022, it rose slightly to 1.5%.
However, the situation improved in January this year, showing a decline of -0.6% in food inflation in Qatar.
In February, it recorded a significant decrease of -1.9%, followed by a slight increase of 0.7% in March and 1.4% in April.
Finally, in May, it showed a decline of -1.5%.
Meanwhile, according to the IMF, Qatar's general inflation of consumer goods is expected to be 3% this year, significantly lower than the Middle East's average of 12.6%. Unlike most countries in the Gulf Cooperation Council (GCC), Qatar's inflation is not significantly influenced by food inflation.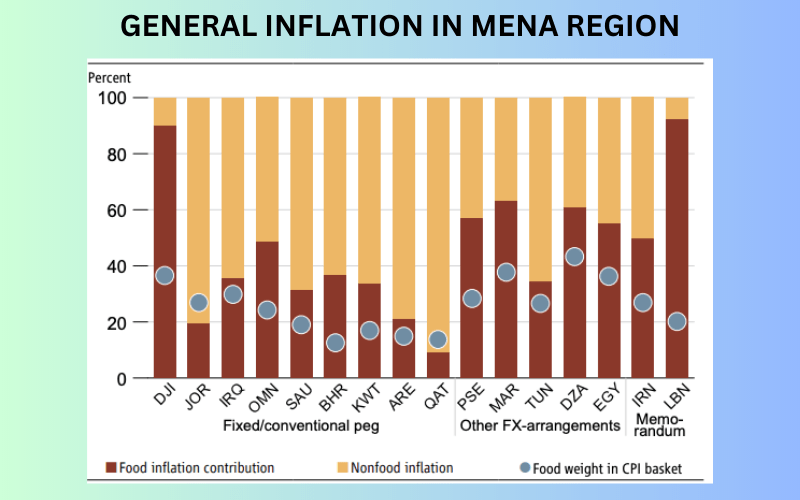 In a region where double-digit food price inflation is a persistent problem, Qatar stands out as an exception.
However, the MENA region as a whole experienced a slowdown in growth, dropping from 5.8% to 3% due in part to food shortages.
This slowdown was exacerbated by high inflation rates, with the average year-on-year inflation reaching 19.4% in 2022.
Food inflation was even more concerning, averaging at 29%.
The impact of this increased inflation is evident in the risk of stunting among infants in developing MENA economies. According to the report, there is a possibility of a 17-24% increase in stunting, putting around 200,000 to 285,000 infants at risk of developmental issues caused by malnutrition.
Also Read: Household Confidence in Morocco Reached its Lowest Point since Great Recession
Inflation and demand for exported goods have varying impacts on these countries. The GCC nations, in particular, are projected to maintain their growth momentum despite inflation, although at a slower pace, with the growth rate expected to decrease from 7.3% in 2022 to 3.2% in 2023. This deceleration is primarily attributed to the reduced demand and lower oil prices compared to the peak levels achieved in the previous year.

World Bank MENA Vice President Ferid Belhaj emphasized the need for bold policies in a region where more than half of the population comprises young people, acknowledging the diverse economies ranging from oil-exporting giants to conflict-affected nations.
Since February 2022, Qatar has not been actively involved in creating new product markets and social transfer policies. However, other countries in the region, especially those outside of the GCC, have taken significant steps to stimulate their economies. They have implemented various measures, including increasing food and fuel subsidies, introducing price controls and trade regulations, regulating prices, reducing subsidies, and implementing cash transfers and indirect tax exemptions.
Despite these policies, the region has experienced an increase in food inflation. It is essential to note that these measures may have helped to contain food product prices to some extent, and the situation could have been worse without them. Nevertheless, reports from the World Bank suggest that these interventions may not be the most efficient use of limited fiscal resources, particularly for oil-importing countries.
The World Bank argues that such policies can distort product markets and lead to imbalances, which could have negative long-term effects on macroeconomic outcomes. Furthermore, the challenge of rolling back these measures indicates that they might be more difficult to reverse than initially anticipated, even if they were initially intended as temporary measures.
Source: World Bank Report