Recycling can make a lot of difference with respect to environment and climate. Moreover, using old second hand items is preferred by many as they are cheap and reliable. That is why selling used items has become a profitable business nowadays. Besides regular shopping sites, there are many platforms where you can buy and sell second hand products. This article will inform you about some of the best sites for selling used items.
10 Amazing Sites for Selling Used Items
Just like Amazon, eBay, and other such places are dedicated to selling newer products as you all must know. There are e-commerce stores dedicated to selling antique or vintage stuff, you have websites dedicated to selling only electronics and similarly, you have sites for selling used items. Everything is moving online and it's been happening for a while now. First, it was buying and selling that shifted online, and now even buying and selling of used goods happens online. This is the magic of the times we live in. Let us begin our list.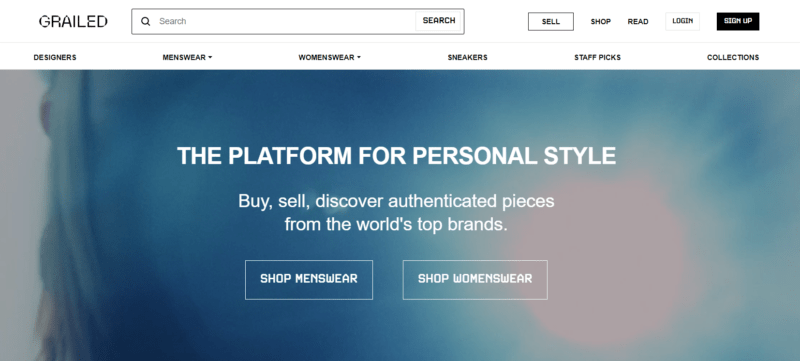 Founded in 2013 this is a second hand men's clothing-selling online fashion website. The platform has no less than 7 million monthly active users showing us just how much the demand for second hand products has grown to be in the present times. Even though it is a place to buy and sell second hand products, the stuff that can be found on this website is usually high-end and belongs to the luxury segment.
Most stuff found on this website is one of its kind and stuff from brands like Yeezy, Supreme, and more can be found here. You can buy or sell stuff on this platform but first, you need to create an account for the same.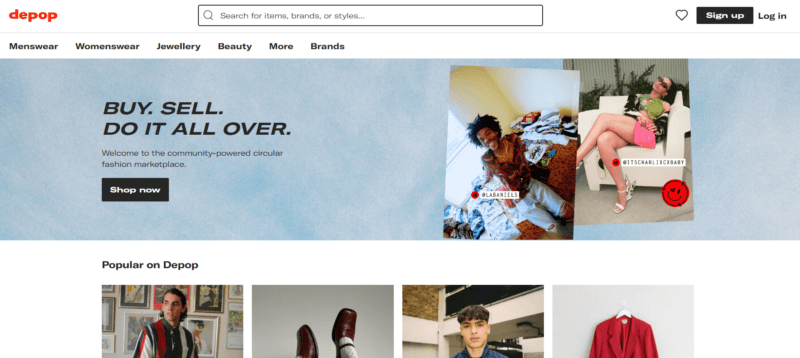 Founded in 2011, Depop is similar to Grailed where again buying and selling of fashion-related clothing takes place. The platform is available in 150 countries from where it has amassed 26 million users.
This website is popular among people buying and selling used goods, especially Gen Z and Millennials. The website was already massively popular which led to Etsy acquiring it in 2019 for 1.6 billion dollars thereby further increasing its popularity.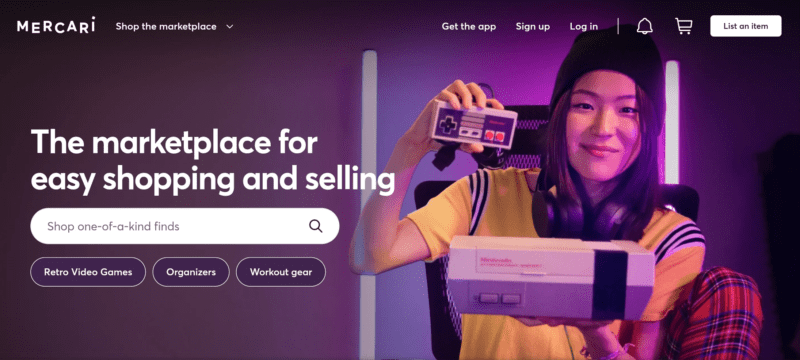 Founded in 2013 in Japan, Mercari is yet another one of the great sites for selling used items. It took its first steps of expansion in 2014 when it tried to establish a business in the USA and fortunately for them, it happened to be a hugely successful move. Just a couple of years back the platform had around 20 million, monthly active users.
The website has a presence on the global level and the fact that almost anything can be sold on this website is what makes it even more popular. To make delivery of products possible to the buyers as quickly as possible the company has tied up with Uber and FedEx.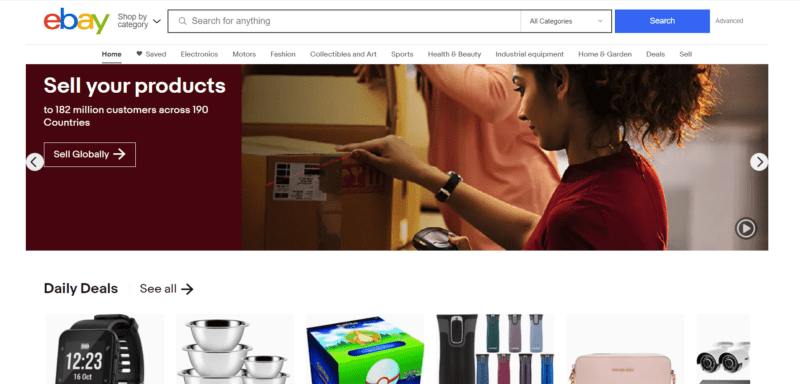 Most of you know eBay as a place for buying and selling new goods but what you ought to know is that this popular e-commerce website is also a marketplace for buying and selling second hand goods. The website was founded in 1995 as an auction website before it became the marketplace that it today is.
The website sees 138 million monthly active users from around the world. This platform is available in 180 countries and almost all kinds of goods are available on their platform. eBay is the world's second largest e-commerce platform after Amazon, however, if you consider only the second hand market online then it comes out to be the biggest.

Founded in 2011 this e-commerce platform sees around 7.8 million active US users each month and 70 million in total. Apart from the US, the website is popular in places like India and Canada as well. This second hand buying and selling place is home to products like clothes, pets, electronics, beauty products, and much more.
As a seller, the app interface is easy for you to understand as the listing process is easy and all you have to do is click pictures and upload them on the website and provide details for them and set a price as well. It is one of the best sites for selling used items.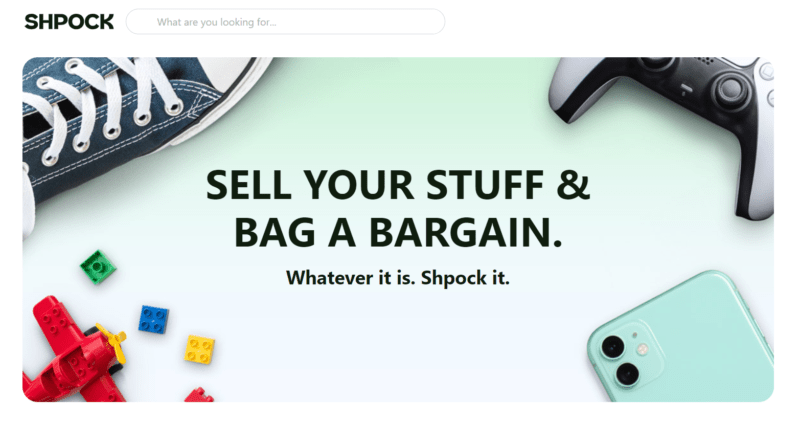 From the UK we have this great marketplace for selling second hand items that goes by the name Shpock. It is primarily a place for selling boots but that is not all of it. The app runs a classifieds wall where you can find almost anything and everything that you might be looking for.
You can list stuff on this website that you no longer wish to own and then sell it to the person interested in buying it for the right price. The app is popular among teenagers in the UK. It is a great place to buy and sell second hand products.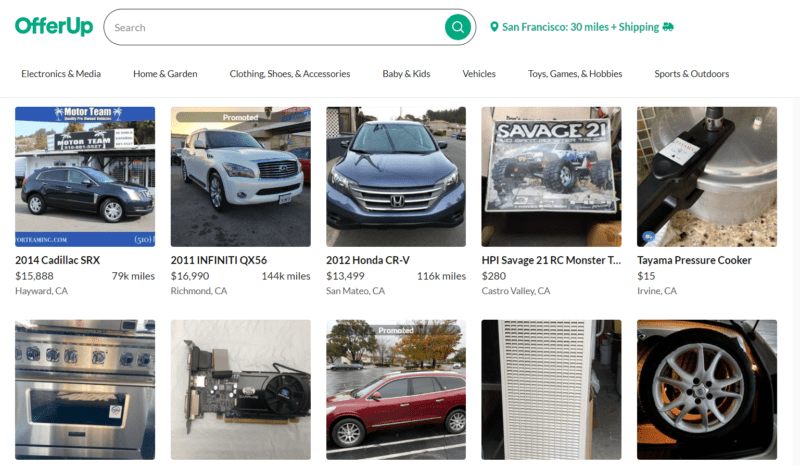 The US has no shortage of sites for selling used items as here's one more US-based second-hand selling marketplace. The website is somewhat similar to Craigslist in the sense that the platform allows you to chat with your buyer and the two of you can arrange to meet up and complete the buying and selling in person. Android, as well as iOS users, can use the app on their devices after downloading it from their respective stores.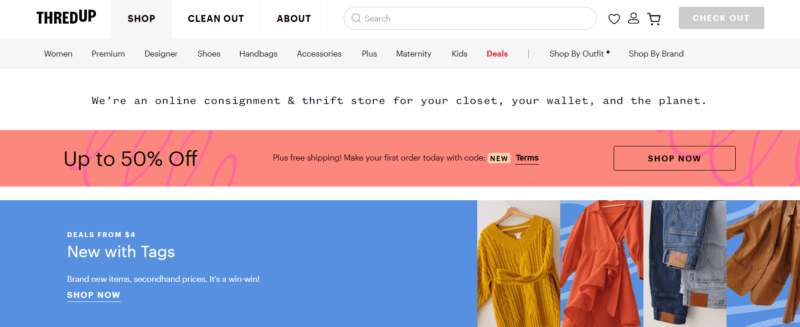 If good quality clothing, handbags, or shoes are what you are looking for, and if you want this stuff for a lady or a kid then there might not be a better place to check it out than thredUP. Branded clothes can be bought and sold on this platform for low and affordable prices.
The users of this platform found it to be one of the best buying and selling marketplaces for second hand goods because of the collection and prices of goods available on the platform while the app also had an easy to use and understand interface.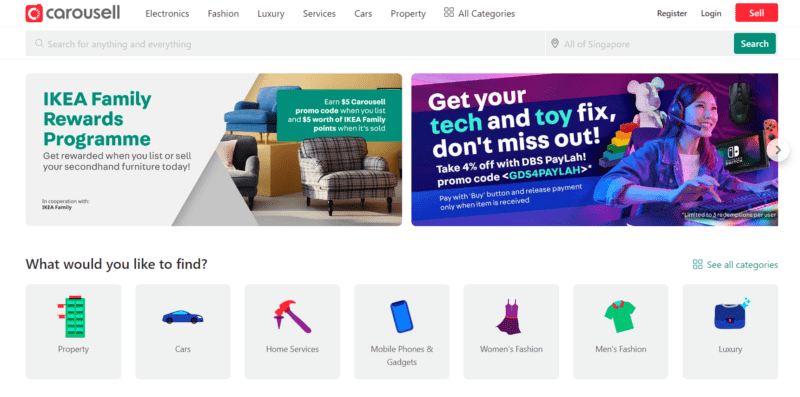 Another great free-to-use buy-and-sell marketplace is Carousell. Available on Android as well as iOS devices this platform is easy to use as all you have to do is upload a picture of the product you wish to sell and after that, you can start chatting with potential and interested customers. It is among the best sites for selling used items.
Users of the app have found it to be a nice alternative to eBay where second hand products can be found in great condition and at suitable prices. The app has been designed in such a way that buying and selling usually happen locally as you will be shown stuff from around your area.
In Turkey, the top marketplace to buy and sell old stuff is Letgo. You could use this website to buy and sell stuff like cars, games, clothes, electronics, etc. The platform allows you to chat with potential customers to whom you wish to sell products. Users who have the app have found it to be a more than decent one and listing stuff on the platform is simple making it a good second hand marketplace.
So that's 10 different names or websites provided by us where you can buy and sell second hand products. The one thing to keep in mind while dealing with old products as a buyer is to make sure the goods are in good condition and as a seller also it is the same. Such places can be filled with scammers and all kinds of people who don't care for customer satisfaction or personal goodwill and so you can never be too safe.
There are numerous remarkable sites available for selling used items, offering a convenient and efficient way to declutter and make some extra cash. With a wide range of platforms catering to various categories and user preferences, individuals can easily find a suitable marketplace to connect with potential buyers and maximize their selling experience.