Do you find affiliate marketing programs intriguing? Likely, you would as many people are earning massive commissions with affiliate marketing. That would be one reason you are searching for the Shopify affiliate marketing program, which is a reliable platform to fetch huge commissions being an affiliate. Several questions might be stuck in your head, including, Is this program worth joining? If it is, how much can you earn through this marketing program? We will provide you with the complete Shopify affiliate program review in this guide.
Ecommerce and online retails are trending topics. If you are thinking of diving into the affiliate marketing stream of business. In that case, you might be interested in drop shipping, e-commerce, informing others how e-commerce or drop shipping works, and making ample money with affiliate marketing.
A desire to enter the world of e-commerce is supported by global sales that have surpassed $2.3 trillion by February 2022. Today, numerous affiliate marketers are jumping on the e-commerce bandwagon by promoting different apps, plugins, themes, online retail stores, and other products/services. However, Shopify is becoming one of the best platforms for helping marketers increase their wealth significantly.  Let us first have a look at what exactly is Shopify?
What is Shopify?
Shopify is a leading multi-channel eCommerce solution designed for small, medium, and large enterprises. Primarily, it is a cloud-based complete eCommerce site that facilitates starting & growing an online store and managing the inventory, products, and shipping payments, all under one roof.
The subscription-based software is helping brands to set up an online store and sell their products effortlessly by widening their audience reach. The best part about the platform is that it also enables store owners to sell products in physical locations using the Shopify Point of Sale app and its hardware.
It is engineered for making enterprise-level technology available to every type of merchant.
Quick facts About Shopify
Established in the year 2006, this eCommerce solution gained utmost recognition today. The platform has proven its million-dollar worth by having more than 2,43,000 active Shopify stores worldwide.
The top 3 categories of the platform include Fashion & Apparel, Electronics & Accessories, and Home & Garden.
The platform offers a wide array of captivating designed themes/templates to business owners; more than 120.
It creates a user-friendly and incredible online store.
Best suited for small and medium enterprises. However, it has a subscription for large businesses too.
The eCommerce solution empowers retailers to effortlessly manage every aspect of their business, from order information, product description, and customer data to stock/inventory from a centralized location.
Shopify Affiliate Marketing Program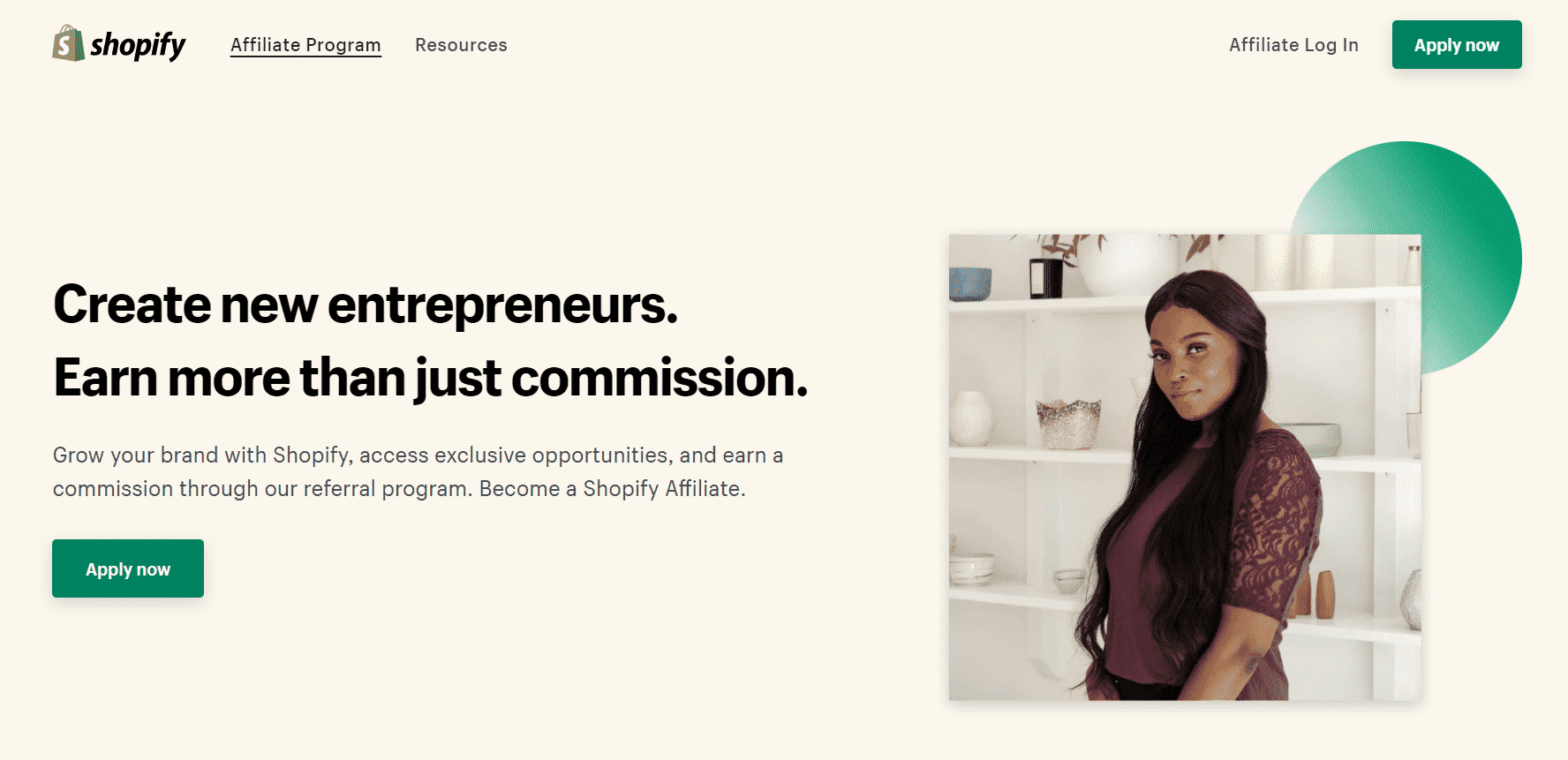 Shopify has an affiliate program. The platform lets you earn enormous commissions while promoting a quality product and using in-house affiliate marketing software. Let's check out a few crucial details about the program below:
Cookie duration: 30 days
Commission Rate: Up to 200%
Cost Per Action: Cost Per Sale
Commission Type: Both, Recurring and Non-Recurring
Payment options: PayPal
Affiliate software/network: In-house
Shopify is featured with one of the best affiliate landing pages, which is its enticing aspect. The platform cares about its affiliates extensively. Plus, the Shopify team describes its affiliate program efficiently and explains all its terms in detail to ensure full transparency, unlike many other renowned platforms.
They have a very informative FAQs section, and you can also check the customers about the program online.  This affiliate program is self-hosted, so you are not required to have an account on any affiliate networks.
Also Read: ClickFunnels Affiliate Review
How Does the Shopify Affiliate Marketing Program Work?
With this efficient affiliate program, you can build a relevant audience interested in selling products using e-commerce software. Once the audience is redirected to Shopify, the tracking software records the click as your referral, based on which you earn a commission.
The audience redirected to this platform is allowed to opt for its free trial and valuable detailed information alongside their journey of signing up. If the customer finds the products listed on Shopify meet their requirements and decides to buy a product, the affiliates will get a commission with a sale that could range from $58 and go up to $2000. We will discuss Shopify's affiliate commission criteria below, in brief.
Why Become a Shopify Affiliate?
It is a lucrative opportunity to earn a decent amount of money every month in the form of recurring or one-time commission on selling a product if the customer purchases the product once clicking your link. Furthermore, participating and making money through the Shopify affiliate marketing program will help you associate with brands. All you need to do is promote the brands or products and reap the benefits.
Undoubtedly, eCommerce is the leading business framework online. Shopify is basically helping small and medium scale enterprises grow by setting up their online stores and discovering a larger audience for their products. This is where you, being an affiliate marketer, start promoting the platform or the products listed on Shopify through its affiliate program and start earning commission on every sale made using your link. You can perform target marketing to outshine your competitors and start making massive earnings.
Also Read: Top 35 Affiliate Marketing Agencies
Shopify Affiliate Program Commission
Selling products through affiliate links by putting them on your website or any social media platform can fetch you a commission of up to 200% on your visitor's monthly subscription fee.
The affiliates receive the commission for the first 2 months of your visitor's subscription, only if the visitor retains Shopify for the duration. However, if the visitor leaves Shopify during the 1st month, the affiliate will not receive a commission for the 2nd month.
Shopify offers 3 plans to set up your store that starts with a monthly price of $29 per month, which is called the 'Basic Shopify' plan, providing you an opportunity to earn a commission of up to $58. The second plan, 'Shopify', can be subscribed for $79 per month, which allows you to earn a commission of up to $158.
The third plan, 'Advanced Shopify', can be opted by paying $299 per month, allowing you to earn a commission of up to $598. There is another plan, designed especially for large enterprises, called 'Shopify Plus.'The plan price is very high, exceeding $2000 every month. However, the amount of commission you receive is equally higher.
Shopify only makes payments in USD. The platform pays through PayPal, and it may take a couple of days for the payment to get credited to your account. Now getting further in this Shopify affiliate program review, let us look at making money through the Shopify marketing program.
How to Make Money With Shopify Marketing Program?
One can follow any approach to promote Shopify. The most common one is through reviews and educational content. However, you could follow many other approaches to make money through this spectacular platform. Listed below is the step by step guide to making money with Shopify:
Build a website, landing page, or funnel
Create content based on your target audience or relevant ads. The most common and compelling content created by affiliates includes blog posts, video tutorials, online guides & courses, interviews & case studies, building an email list, and commerce platform reviews & comparisons.
Engage the visitors looking for an eCommerce solution through your ads or content.
Inform and educate the visitors on how Shopify will facilitate achieving their goals, why they should click your link, and how it will benefit them.
Make money on every sale of the product through your affiliate link.
Many affiliates are also earning well by uploading educational material on their YouTube channel. In the beginning, it may take some time to get considerable views on your YouTube channel and the video you uploaded. You need to keep patience and keep pumping multiple high-quality videos before you start seeing any traction. Using effective keywords will also help.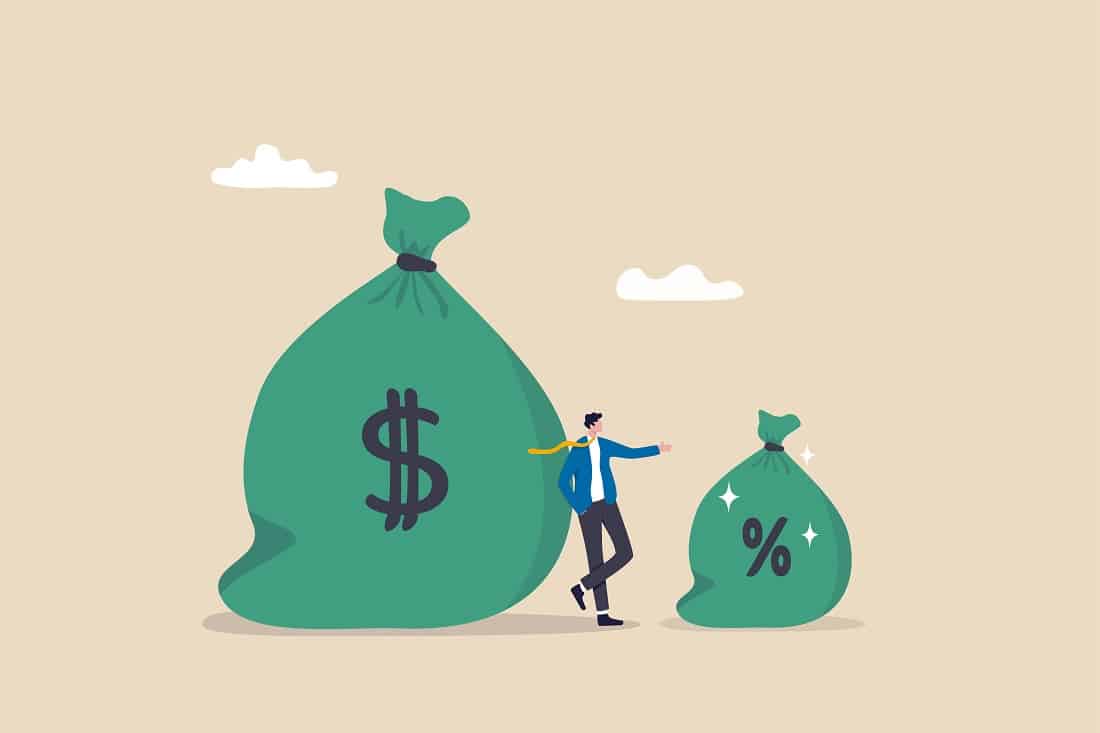 Once your YouTube channel starts drawing audiences' attention, you can combine the YouTube content with your own courses. Thinking how? It is pretty simple. You just need to link the Shopify free trial to your course in the video description.
One thing is evidently true; if you manage to grow your YouTube channel exponentially, it can be a gold mine for you and your next generation.
You can also create a free education or some other valuable course that is trending and preferred by the majority of the public. Doing this will make it easy for you to draw traffic and make enormous money through affiliate marketing alone.
Also Read: How to Make Money through Affiliate Marketing
Benefits of Shopify Affiliate Program
Still unsure about the Shopify affiliate marketing program? It is why we have compiled the pros and cons of the Shopify affiliate program which will help you evaluate whether to opt for this affiliate program or not. Check out the upsides of the Shopify affiliate marketing program below:
Shopify is best known for paying high commission rates for every referral who signs up for a paid plan. The affiliates receive a 100% commission on the first and the second payments.
Every affiliate gets an affiliate manager, helping affiliates in case they need any assistance or support.
Shopify has an extensive range of products that facilitates entrepreneurs getting incredible results with e-commerce.
The platform is featured with a conversion-optimized funnel.
The leading eCommerce solution allows the users to try the software and educate them to make a fully informed buying decision.
The program has a 30-day cookie that enables the sales attribution to start as soon as the visitor clicks your link and opts for a free trial within 30 days. You will earn a commission if the user is converted and retained to be a prospective client after the trial period.
Shopify's affiliate portal is featured with an intuitive interface making it easy to navigate.
Shopify provides compelling banners, creative resources, and well-designed marketing materials to affiliates.
For tracking purposes, it allows the publishers to create links with unique identifiers, including campaign name, source, content, and medium.
One of the most significant benefits of this affiliate program is that it is the market leader. As a result, the eCommerce solution acts as the greatest source to make your vision turn into reality by featuring many influential factors, including a renowned brand, appealing content, intuitive dashboard, seamless software, guides, and free online courses.
Drawbacks of Shopify Affiliate Program
Evidently, if something has advantages, surely there would be some demerits as well. Although the Shopify affiliate program has an excellent image in the market, still there are a few drawbacks, which you should be cognizant of:
The affiliate's income can massively fluctuate as they allow them to earn long-term recurring commissions on restricted items.
The affiliates are required to deep-link their IDs to page and post URLs, which is not ideal for someone unfamiliar with deep linking. Moreover, those individuals will miss the potential to convert more sales.
Although, a 30-day cookie is good. However, it could have been improvised by offering a cookie duration ranging from 45 to 90 days. Business planning can take a while, which will not let the referral period expire before the users sign up if the cookie duration is increased to 90 days. The longer conversion window will surely benefit affiliates immensely.
The platform does not offer public incentives for high sales volume.
Also Read: 120 Best Affiliate Programs
Who is This Program Ideal For?
The Shopify affiliate marketing program is primarily for entrepreneurs using Shopify to manage their e-commerce stores. Plus, it is a perfect choice for those looking to build an audience that would need a solution like Shopify.
Shopify Affiliate Program Tools and Training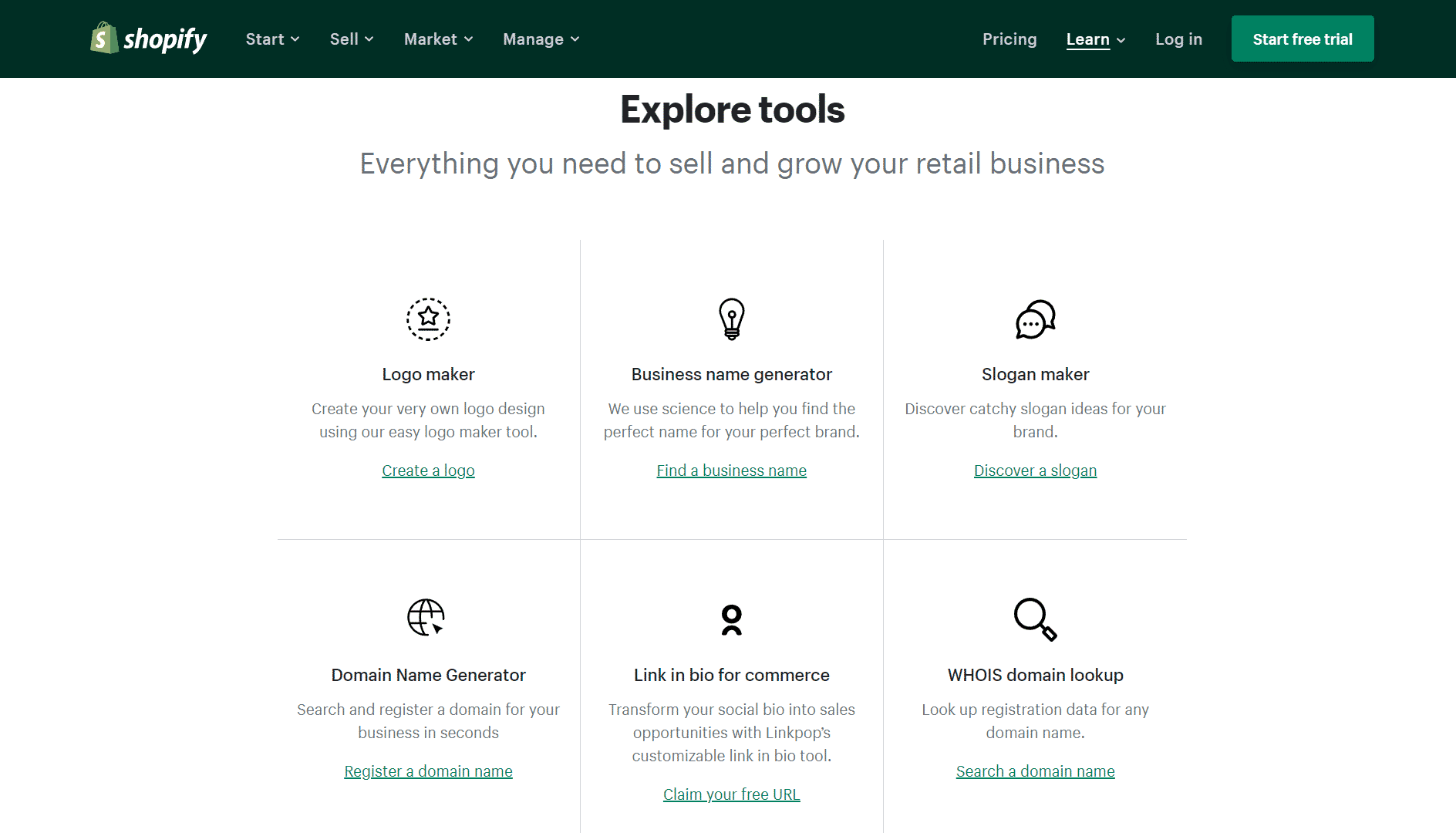 Are you a newbie in the affiliate marketing business? No need to worry! The incredible platform Shopify offers affiliate marketing training. They conduct Affiliate Marketing Fundamentals: a course one can sign up for to learn how to run an affiliate program efficiently. They also have an affiliate blog that can help you learn more.
Once you learn how it works and succeeds in the Shopify affiliate program, they may also assign you as an affiliate manager that will immensely benefit you and your career. Now, let us turn our heads toward the Shopify affiliate program review.
Shopify Affiliate Marketing Program Review
A little knowledge is more dangerous than having none at all. Therefore, we do not want our readers to communicate incomplete information about the program. They should be fully aware of the upsides and downsides of the Shopify affiliate marketing program to make a fully informed decision after considering every aspect. Our experts have done comprehensive research and jotted some common positive and negative feedback from users worldwide:
Positive Reviews
Incredible products help people start their online stores easily and quickly.
Helped me earn massive commissions while promoting a valuable service and quality product.
I was always paid on time, being an affiliate.
It helped me a lot by facilitating converting leads into prospective clients.
Referred to numerous satisfied customers.
Negative Reviews
Shopify is stringent with the rules.
I was banned without notification.
The sales and support team are unorganized.
Also Read: 50+ Best Recurring Affiliate Programs
FAQs
Q1. What is the Shopify Affiliate Commission rate?
The program provides an opportunity to every affiliate to fetch up to 200% commission on every sale made through their link. However, there are certain factors where the commission percentage may vary.
Q2. Can I make $3000 every month working as a Shopify affiliate?
Yes, you can definitely make even more than $3000 every month. Shopify is best-known for offering high commission rates. Moreover, its affiliate marketing software supports affiliates with a course, live chat, and marketing insights.
The affiliates are also given the freedom to promote an enormous range of products/services, including informative articles, free online courses, webinars, guides, etc., that allure different types of customers and help in boosting the sales of an affiliate.
Q3. What is the cookie length of this affiliate program?
The cookie duration of this affiliate program is 30 days.
Q4. How much is the joining fee for this Program?
The Shopify affiliate program is 100% free for everyone. It implies you need not spend a single penny from your pocket and get an opportunity to earn a handsome commission for free.
Top Alternatives
Shopify is hosting a trending affiliate program right now. Still, if you do not opt for this program due to any reason, and you want to taste success with affiliate marketing by considering some dropshipping and e-commerce solutions, try out these platforms:
1. WA Affiliate
The Wealthy Affiliate program is an excellent alternative to Shopify. It allows individuals to become a WA affiliate and earn a 40% commission while promoting a hosting solution facilitating hosting Woocommerce online stores. In addition, the platform offers e-commerce and cloud hosting training that helps individuals develop their expertise as affiliate marketers.
2. InMotion Hosting
The platform offers hosting of most CMS (content management systems), including Magento, a renowned e-commerce platform. Magento is ranked 3rd, and comes after Shopify and Woocommerce, as it has a massive portion of the e-commerce market share. In addition, the platform takes extensive care of its affiliates and offers them great incentives for high sales volume.
Shopify Affiliate Review: Should You Join the Program?
The foremost thing to consider before opting for this program is whether you have an audience that could benefit from using Shopify. If yes, you should definitely join this program.
One of the biggest upsides of joining the Shopify program is its high percentage commission. Plus, the scope of drop shipping is consistently rising, making it an excellent time to join this program. At the same time, the downside is the highly competitive market. Even if you decide how to promote Shopify, be it through a social media platform or your website, it might still be hard to enhance your content's ranking.
So, consider every aspect, and if you think you can build the audience to sell the product, go for it, and enjoy earning high commissions through the Shopify affiliate marketing program.