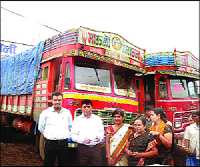 Here's a unique example set by self-help which could be worth emulating by thousands of self-help groups in Pune. Four months after the self-owned industrial unit at Talawade was set up by the Swamini Mahila Bachat Gat Akhil Mahasangh, it has proved its mettle: by exporting 80,000 polythene bags to New York, thereby becoming the first self-help group in Pune to enter the international market.
The biggest moment of pride for the Swamini maha sangha came when it sent two trucks carrying the polythene bags consignment to New York through Mumbai from where they will be shipped to the US.
Heaping praise on the maha sangha, Band said, "Nothing is possible without determination. The success of this project, started by the self-help groups, will make the women members more confident. They must keep the prices lower than the market price, keep looking for new markets, and make the basic facilities available for continuous working." Commissioner Sharma assured that the civic body extends all possible help to the self-help group which was doing a very good job. He said if the spares are manufactured in-house, it would add to the profits. Sulabha Ubale, one of the architects of the maha sangha, said that the project took shape because of the initiative of Divisional commissioner Dilip Band and support of Municipal Commissioner Asheesh Sharma.
The total investment of the Swamini maha sangha in the project of Rs 1 crore includes Rs 50 lakh of bank loan, Rs 30 lakh of the municipal grant, and Rs 20 lakh from women's collective capital. Polythene bags of different sizes are manufactured here, which are used for the storage of animal food, fertilizer, and sugar. The raw material is provided by Sumedh Polymers, Pune and they take the finished goods. Some 50 women workers are working in two shifts.
This industrial unit has four looms, two cutting machines, three sewing machines, and one printing machine. 80,000 bags have been produced until today. The project was inaugurated by MP Adhalrao Patil on May 28. The Swamini Mahila Bachat Gat Mahasangh comprises 11 self-help groups including Yamunanagar, Kala, Sakhi, Mauli, Nirmalmoti, Kumjai, Khushi, Trimurti, Ugam, Sankalp, and Swamini. Ubale said the maha sangha employs 50 women and each one of them gets a monthly salary of Rs 2500 for six hours of work.
IE