Want to shop at Sam's Club but do not have a membership? Well, there is a way out. Sam's Club is a perfect place to shop if you want to buy groceries, beverages, candy, dairy, seafood, fruits and vegetables, deli and sides, organic foods, vending foods, meat, canned and packaged foods, wine, frozen food, artisanal cheese, snacks and much more. In this article, we will inform you about Sam's Club one day pass using which you can shop at Sam's Club without being a member.
Sam's Club One Day Pass: Shop Without a Membership
Sam's Club store is well-known for purchasing bulk products and getting huge discounts on them. But, the major drawback is that you need to have a membership to shop from there. The minimum membership cost for joining Sam's Club is $50 a year, but not everyone is comfortable paying this amount. However with Sam's club one day pass you can shop at Sam's without membership. Before we discuss that let us learn about Sam's club.
About Sam's Club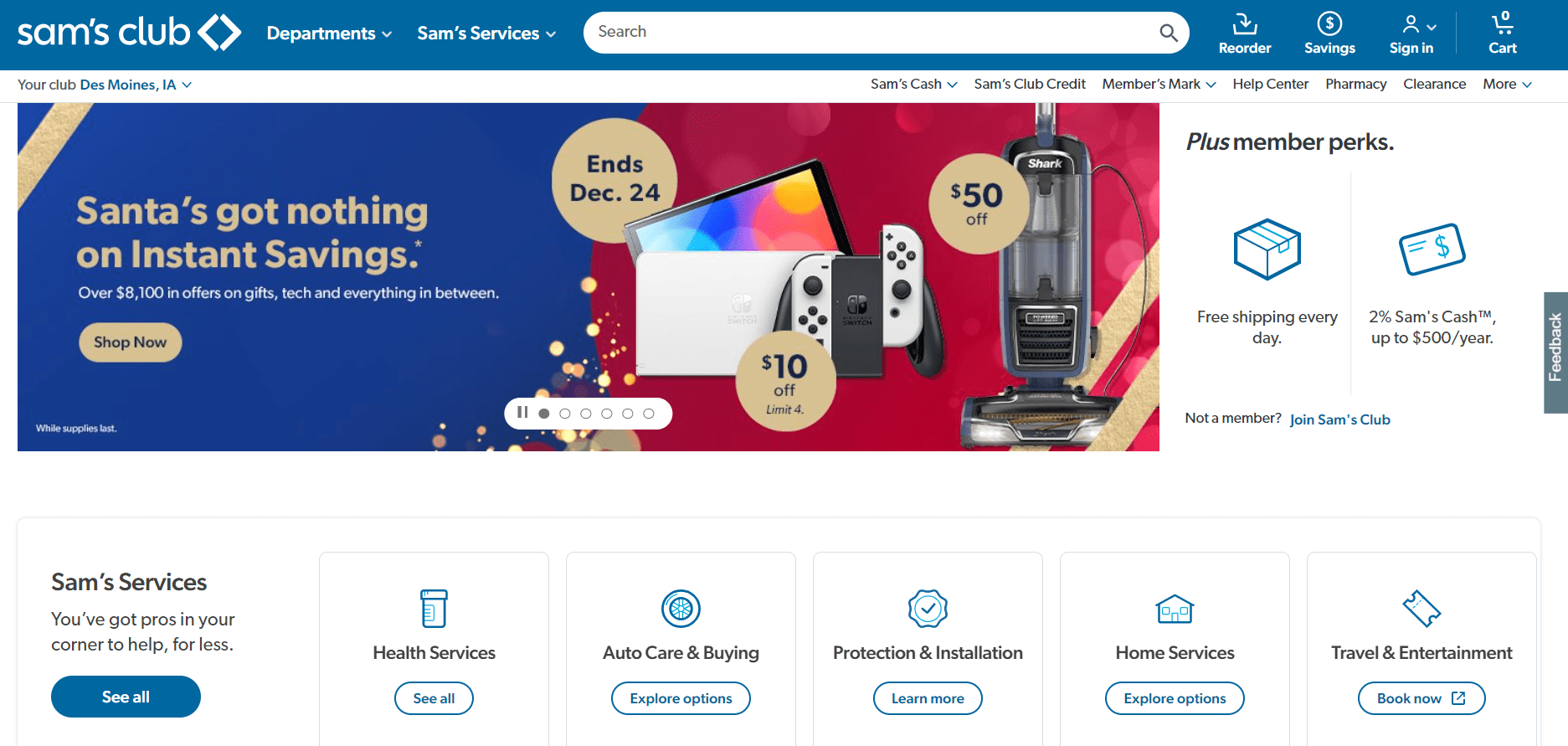 Sam's Club is an American chain that was founded in 1983 by Walmart Inc. It is a membership-only retail warehouse club that provides goods and services for consumers and business owners, plus you also get affordable luxury merchandise. It is a limited-item business model which provides its members with the best quality products at the most reasonable pricing.
You will be amazed to know that it has more than 41 million members to whom it provides its services, and this number is increasing every day. It is a division of discount merchandiser Wal-Mart Stores that has more than 450 stores nationwide. Its members can shop at its stores that are pretty huge and offer more than 4000 products starting from groceries to pharmaceuticals, clothes and whatnot.
They supply goods not only to individuals but also to offices, restaurants, markets, daycare centers and various other places.
Ways to Shop at Sam's Club Without being a Member
You might not wish to spend $50 yearly on the membership but still want the perks it offers. Is it possible? Well, yes, there are numerous ways you can shop at Sam's Club without being a member. Let us have a look at some of the significant ones-
1. Use Sam's Club One Day Pass

If you are a non-member, you can shop at the store at avail discounts but not regularly. This one-day guest pass will help you enter the store, the pass is free of cost but you will have to pay a 10% service fee on everything you purchase from the store. You should keep in mind that you cannot use this pass on Black Friday. The good news is that if you stay in South Carolina or California, you will not have to pay the 10% fee.
2. Add-on member
Apart from Sam's Club one-day pass, there is another great solution for you if you don't want to pay for the membership fee. All you need to do is check if any of your friends or a family member has Sam's club membership, you can be an add-on member on their account and avail all the benefits that the member gets.
The best part is that you will not have to pay the 10% service fee, but there is a small fee for adding someone to your membership card. You can pay that amount and get all the benefits a member gets. Another thing you can do is give the list of products you want to any of your friend who has Sam's club membership and pay them. One can add up to 8 extra members for the Club membership and up to 16 for the Plus membership for $50 per person, per year.
3. Find a shopping buddy
This is an easy one. In case if you know someone who already has Sam's club membership, you can contact them and accompany them on their shopping trip to the Club and use their membership if they agree. Once you are done shopping, you can pay them for the products you purchase; thus, this is a great way of getting discounts without paying for the membership fee.
4. Shop Online
You need not be a member of Sam's Club to avail benefits through their online shop. They just charge a 10% service fee on your total bill, it is a perfect method to see their offers, and if you find them appealing, you can also opt for their membership. If you wish to shop frequently through their online platform, it is suggested to pay the fee as it will be pretty beneficial.
5. Shop for products that do not need membership
You can purchase numerous items without paying for the membership. One of the items is all the pharmacy products. Other items are alcohol; the reason why it is the same for all is because of a law that averts the selling of alcohol by membership arrangements.
Therefore, even non-members get all the hard drinks at the same price. So, now you can party hard by saving a lot on hard drinks if you buy from Sam's Club. Optical services are the next things you can opt for at a discounted price as a non-member. It is a great alternative to Sam's club one day pass.
You will need the membership to buy optical products, but non-members can see a Doctor of Optometry at the same price, as per their website. In fact, there is one more thing you can do as a non-member at same prices, i.e., print photos and for shopping in their photo center.
6. Eating at the café
Yes, you heard it right; no membership is required to buy anything from Sam's Club. You can check their website and see where they have cafés. You can check this under the 'Services at your club' section; if you see that a café is mentioned in the list, you can visit and enjoy the food at discounted prices. Also, there is no service fee to eat or purchase anything at the café.
7. Use the pharmacy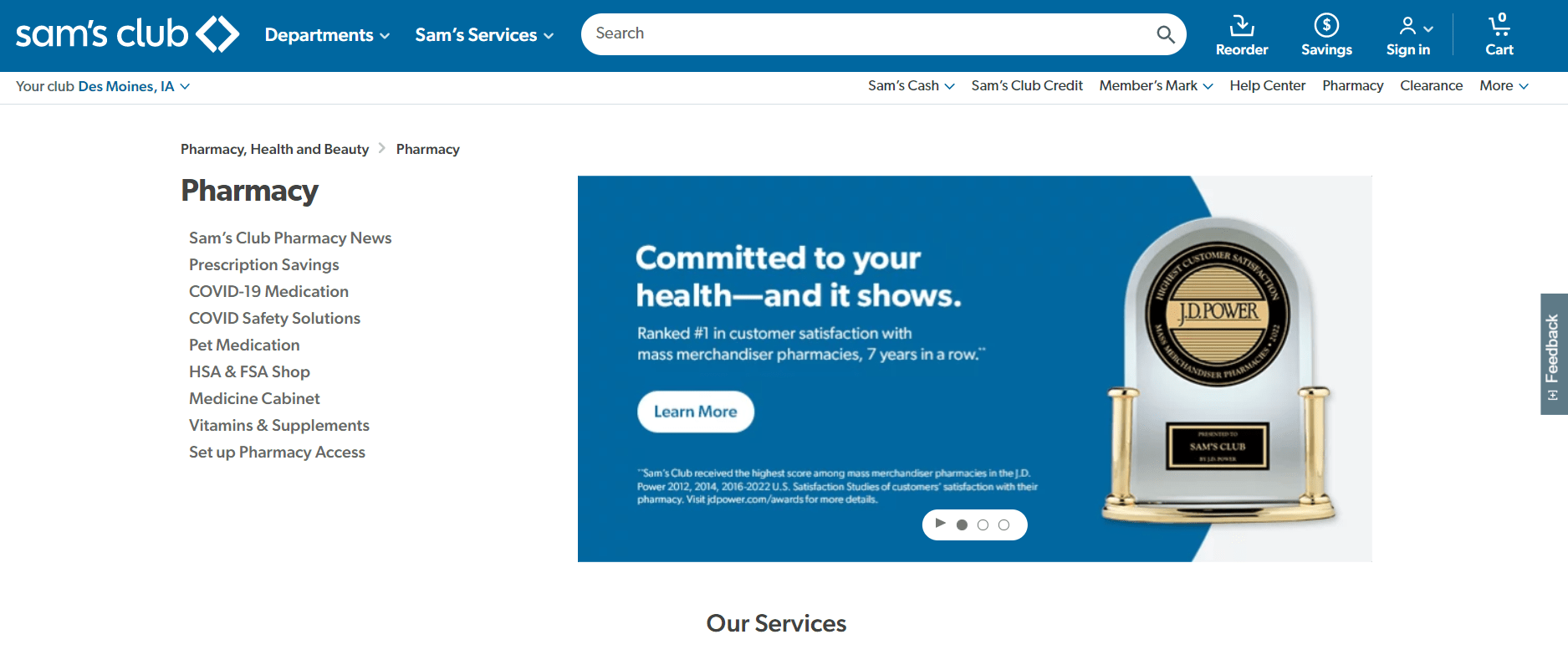 Anyone can purchase from their pharmacy and get the usual discount, as per the information on their website. But, all Sam's Club do not have pharmacies, you can search and find the nearest store with a pharmacy. As you choose the location, under the 'service at your club' section, you will be able to see the word, Pharmacy, if that store offers this facility.
8. Shop during an open house
Yes, you heard it right, there are a lot of times during the year when Sam's club host an open house. In this event, even non-members can avail of their services and shop at the warehouse at discounted prices. But, the question is how you will get to know about this open house event.
For this, you can sign-up for email alerts or follow their Facebook page. They always inform people in advance about such events so that people can take the maximum benefit and plan their day accordingly.
9. Use the 90-day free trial
A lot of people get an invitation for a 90-day free trial; if you are lucky, you might also get the same. This trial is not provided upon request. You can get this free trial if you get an email from an existing member who has got a free trial offer that he can share with a friend or family member or participate in a partner program that makes 90-day trials available.
There are numerous benefits of a 90-day free trial, such as you can avail all the benefits of paid members, and the best part is that it can be sued as soon as you sign-up for it in the store or online. If you cancel the 90-day free trial before time, then the benefits get canceled immediately and cannot be renewed.
10. Using Instacart
You can shop from Sam's Club using Instacart as well, but there is no advantage as you will not get any discount. Instacart states that Sam's Club fixes the prices they sell on Instacart, plus the prices online may be higher than the normal stores.
Sam's Club Membership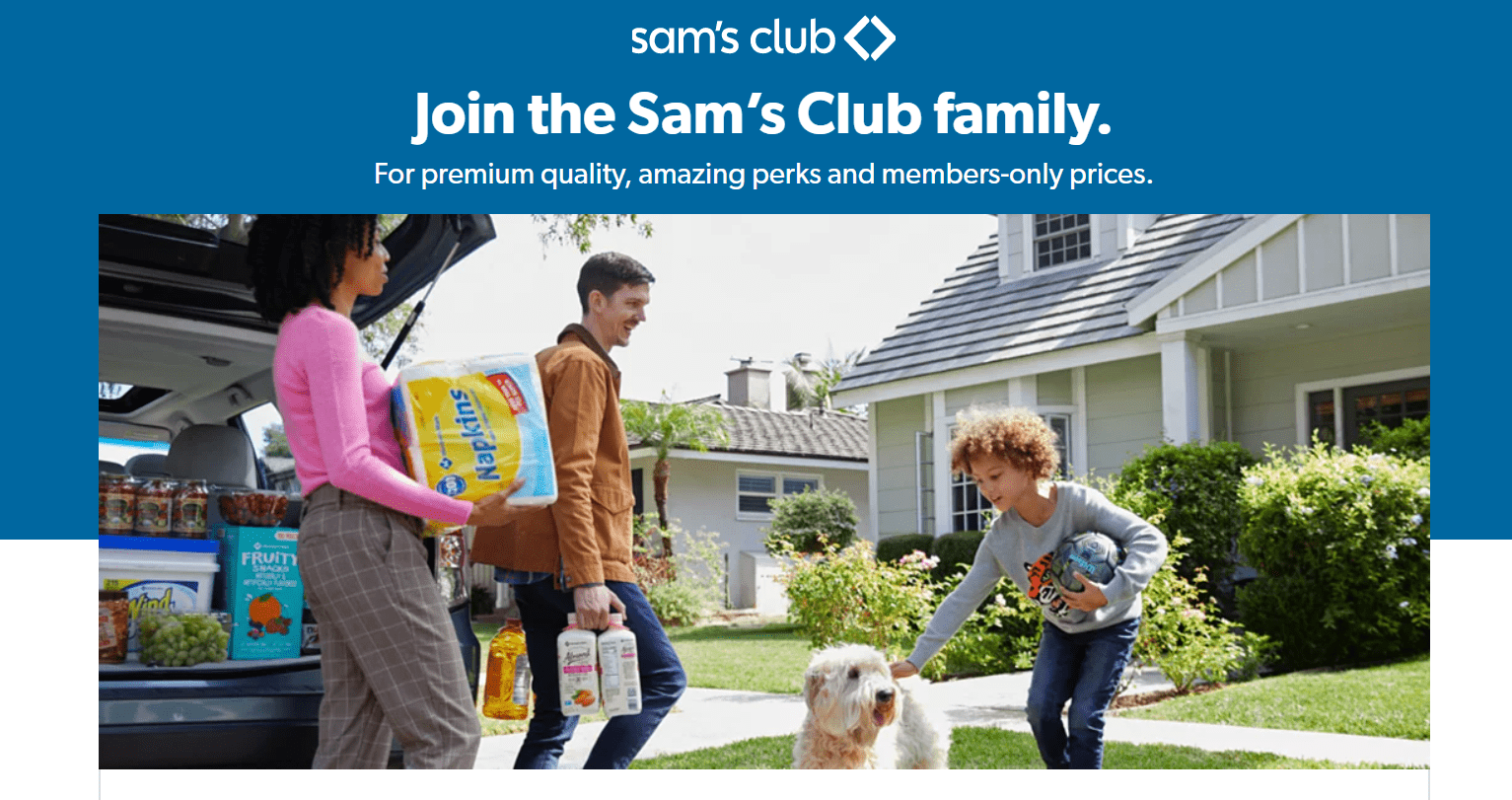 After learning about Sam's club one day pass, let us learn what you can get by taking their membership. Becoming a member of Sam's club will cost you $50 yearly. They also have a Plus membership that comes at $110 per year. You get tons of benefits as a member, some of which are mentioned below.
Benefits of Club Membership
Here are some benefits that you get by opting the club membership:
On fuel
Instant savings
Add-on membership
Sam's club MasterCard
Complimentary membership
Tire & Battery Center
Benefits of Plus Membership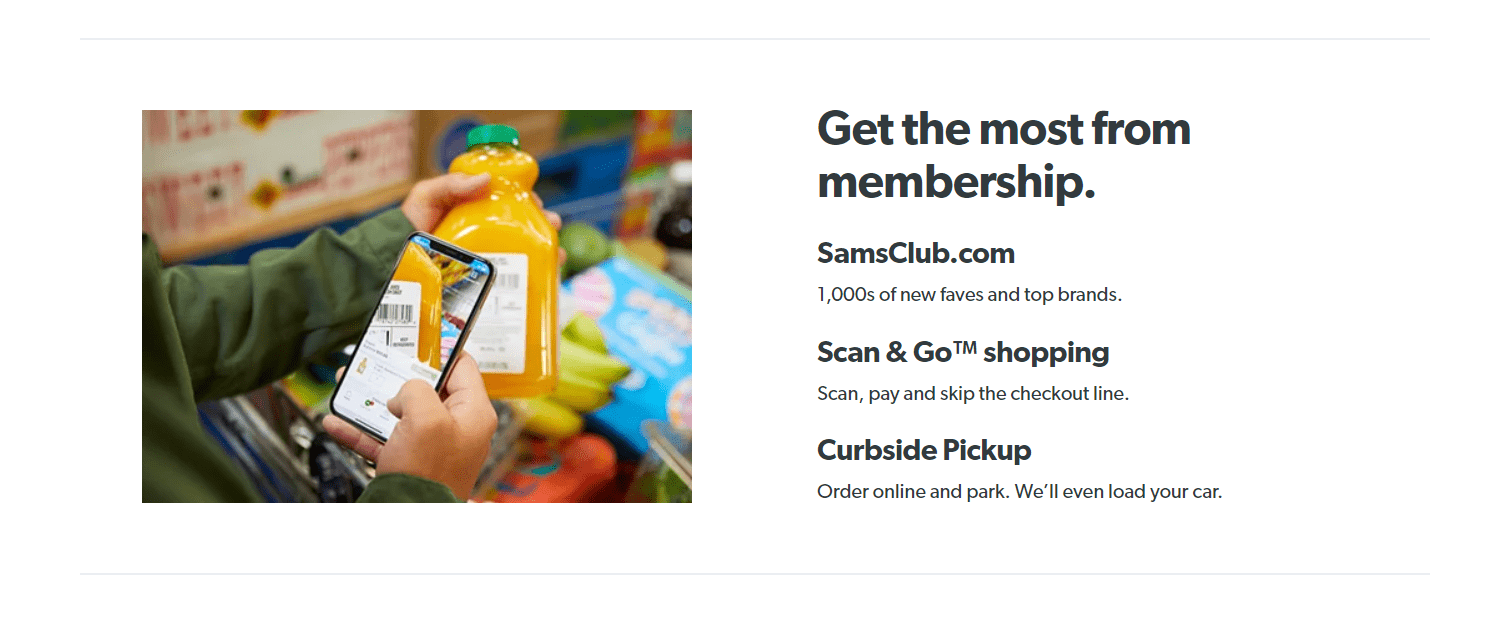 In the plus membership, you get all benefits of club membership along with these additional features:
Optical Savings
Pharmacy Savings
Early Shopping
Free shipping
Sam's club membership can help you save a lot of money on everyday purchases such as electronics, gas, groceries, furniture, games and much more. $8 and $12 is the delivery fee for plus members and club members respectively.
In fact, if you have membership you can get other perks as well like free flat tire repair, battery testing and windshield wiper replacement at Sam's club gas pumps. Other than this, you can also get discounts on hotel bookings, movies, live events, rental cars and various other places.
Once you sign-up as a member with them, your membership will get renewed automatically every year at the standard price, till the time you don't cancel it. If at any point of time, you wish to cancel the membership, you can do it easily by visiting the company's official website.
Also Read: Cash App vs Venmo vs Zelle: Which is the best?
How to get a refund on Sam's club membership?
Once you take Sam's club membership and after that you feel that you might not use it often and you do not need it. What will happen in that case, will they give you full refund, partial refund or no money? The highlighting part is that you can get a full-refund of your fee, if you change your mind.
Here are a few ways of getting the full-refund:
The first method is contacting Sam's club customer service desk, as they can cancel the membership and issue full refund
If you are unable to visit the store, call at 1-888-746-7726 and ask to cancel the subscription and to issue the refund
Another easy way is by visiting their website and cancelling the subscription online. This is the easiest and quick ways of getting the subscription cancelled and getting your money back.
These were some of the best ways to shop at Sam's Club without paying their membership fee. We also informed you about Sam's Club one-day pass and how you can use it. All in all, shopping from Sam's Club can save you a lot of money, so if you are a non-member, either opt for one of the ways mentioned above or take their annual membership.