UK based Private Equity firm TLG Capital has invested $4.46 Mn(Rs 20.5 Crore) for a 36% stake in Re-feel Cartridge Engineering Pvt Ltd in its first Indian private equity deal. The deal values the startup which provides printer cartridge refill and laptop repair services at $12.40 Mn(Rs 57 Crore).
The funds will be used by Re-feel for expanding its franchisee network and expanding its laptop repair business. TLG Capital's Siddarth Menon has been appointed chief financial adviser at Re-feel Engineering.TLG is also planning to replicate Re-feel's overall business model in sub-Saharan Africa due to the similarities it sees between the two markets.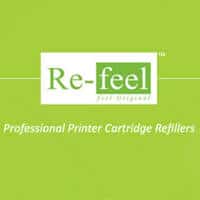 In 2008, Bennett, Coleman & Co Ltd (BCCL), publishers of 'The Times of India' and 'The Economic Times', had completed a private treaty deal with Re-Feel Cartridge. As part of the deal, BCCL has invested around Rs 15 crore in the company.
Re-Feel Cartridge was floated in February 2007 but the first store was set up only in August 2007. The company claims refilling inkjet cartridges at their store will enable a price saving of 75% than buying an OEM cartridge and 60% for laser cartridges. Little wonder, the company has more than 50 corporate clients.
Refilling printer cartridges is one of the ways by which companies can cut their printing costs by at least 50-60%. Typically, a large organization has a printing budget of around Rs 5-7 lakh per month. Around 40% of Re Feel's revenue is expected from the enterprise segment and the balance from the small office home office (SOHO) and retail customers said an official from Re Feel Cartridges.
Re-Feel Engineering also owns the Club Laptop franchisee which operates in the laptop service segment. Club Laptop offers a one-stop solution for laptop repair and laptop accessories.