So you are thinking about working from home in India or have just found your first online job after or your cousin Venky who now lives in the United States and earns in US$ wants to return you the money that you lent him during your college days?
Don't worry, every blogger and Internet Entrepreneur since the dawn of the Internet has faced this dilemma. Today we have dozens of large online money transfer companies and start-ups in India who allow you to send and receive payments online but the million-dollar questions still are.
How do you securely receive money online in India with minimal transaction costs?
You could receive money online through any of the dozens of services, but which is the best? You might have a zillion other questions about receiving your first online payment, some of these might be :
How will the money be transferred into your bank account?
What will be the conversion rate for US$ to Indian Rupee?
What will be the transaction cost per transfer?
How many days will it take to receive the money into your bank account?
Do you need a Bank account to receive the money?
In this article, we will explore the answers to all these questions and more.
We will explain how easy it is to receive your first online payment from outside India. If you want to transfer money within India, you can use the local bank network comprising of private and public sector banks such as ICICI Bank, State Bank of India, HDFC Bank, Axis Bank, Canara Bank and others which are quite efficient and have a good branch network across India.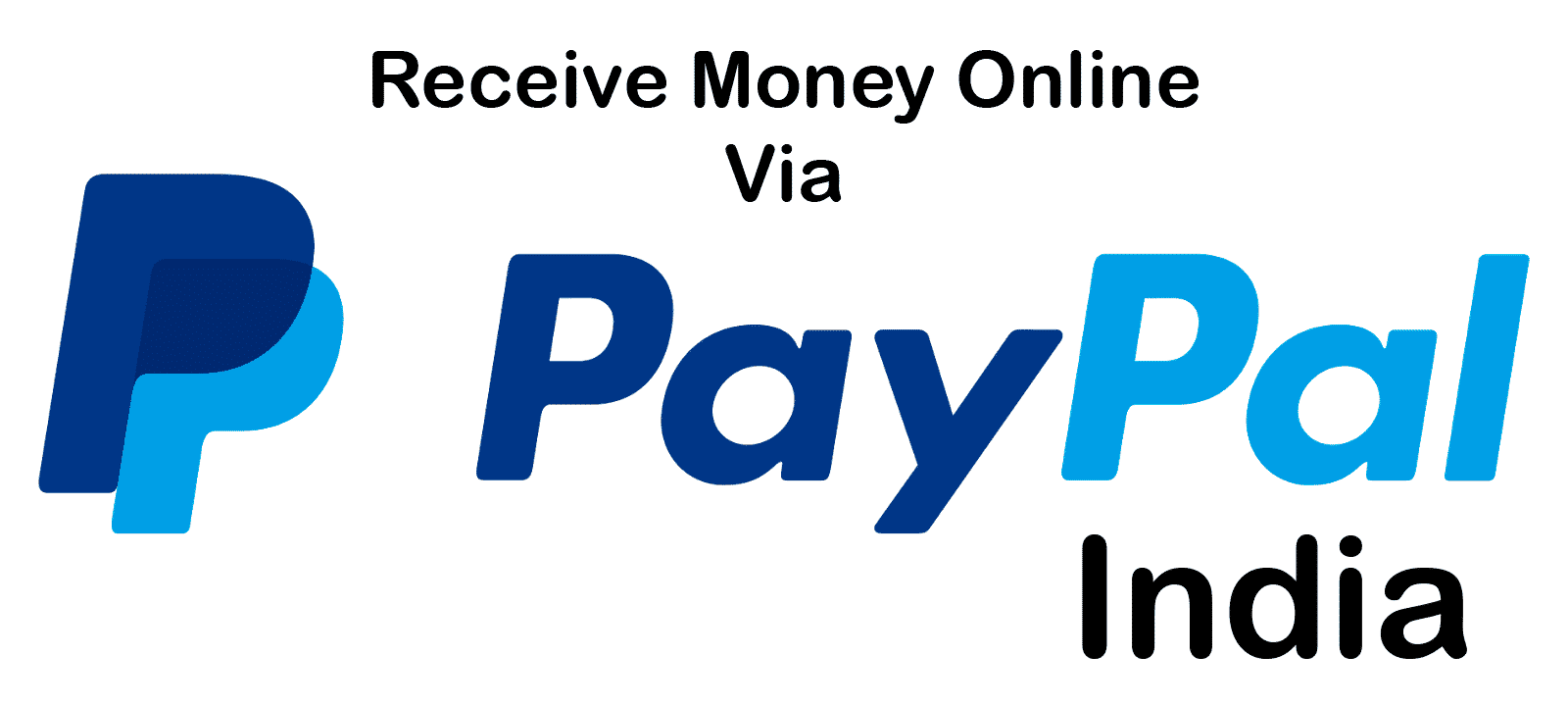 Paypal has emerged in the last decade as the biggest and most reliable payment service online and is used by millions of entrepreneurs and freelance workers online. Paypal was started in 1998 and is an American company founded by the now-famous Elon Musk. It was acquired by eBay in 2002. We strongly recommend that you use Paypal as your first choice to receive payments online as it is currently the world's largest online digital wallet and in 2014 transferred more than US$ 200 billion across 190 nations around the globe.
The company provides International Digital Wallets that allow you to receive and make payments online securely and without any hassles. They also have strong anti-fraud checking systems in place. Moreover, if you feel you have been cheated you can always reverse the transaction and ask for a refund by opening a dispute at the Paypal Resolution Center.
Follow the steps below to receive your first online payment in India
First, head to https://www.paypal.com/in/home the Paypal website for Indian users and click on the Sign-Up button at the right upper corner of the screen. You will then be taken to the next screen which will appear as below :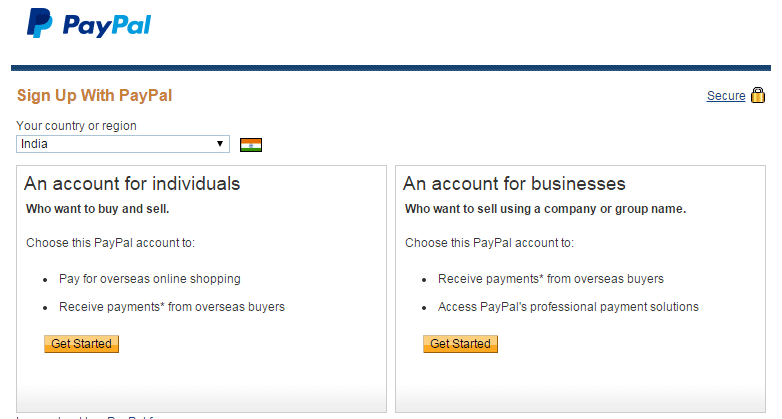 Click on the Get Started button under "Accounts for Individuals" if you won't register the account in your name, if you have a registered proprietorship, firm, or company and want to open a Paypal account in its name then choose "An Account for Businesses".  After clicking on Accounts for Individuals you will be transferred to the next screen, where you will be required to enter your personal details such as Name, Date of Birth, Address, Mobile no, etc. Kindly fill these up.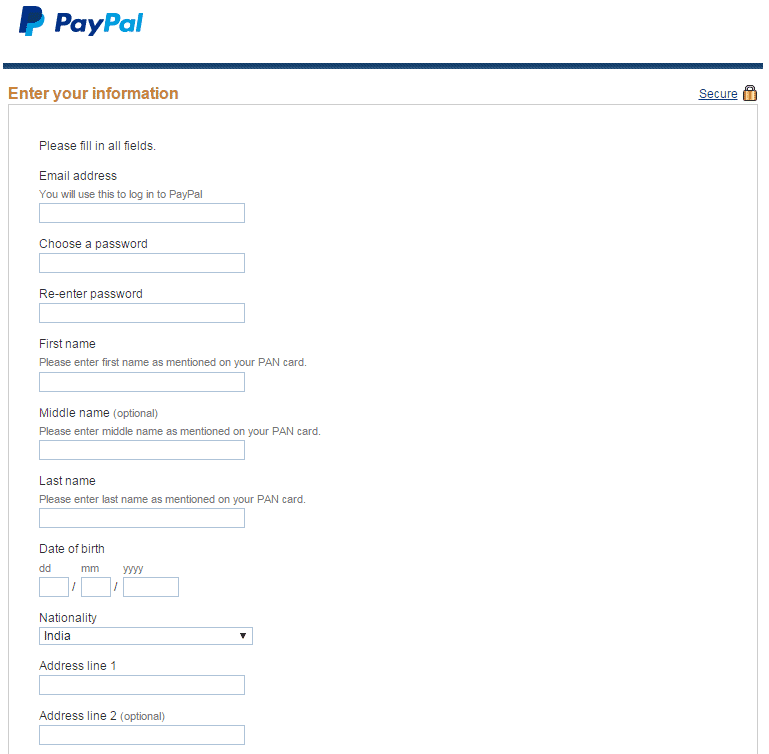 At this stage, you might be asked for your credit card or debit card details. If you intend to use Paypal to make purchases online then you can provide this information or else you can skip it as it is an optional feature. Once you have filled in all the details click on the Agree and Create Account at the bottom of the page. You will receive a confirmation email from Paypal shortly.
Now you have a Paypal account for free which can be used to send and receive money from around the world.
Now follow the steps outlined below to receive your first payment online.

Log in to your newly created Paypal account and click on the Request Money tab that you will see in the middle of the screen. Then click on the Request Money button below the navigation bar.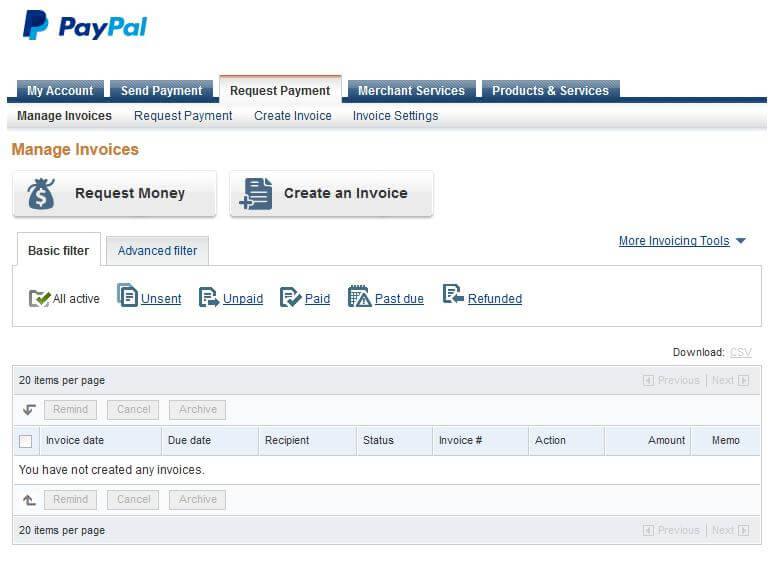 Next, proceed to enter the email details of the person who has to make a payment to you and the amount that is required to be paid. Once you have filled in all the details click continue and Paypal will send an email to the person requesting money on your behalf.
Your employer can then make the payment online using his debit or credit card. When the payment is done you will receive an email confirming the amount that has been transferred to your account. Alternatively, you can also ask your client to pay money to your email account which you have used to register for Paypal.
Once you receive the money you can withdraw it to your bank account by adding your Bank Account Information. To add a bank account to your Paypal account click on My Account –> Profile –> Link/Edit Bank Account.
After you receive money into your Paypal account it will be automatically be transferred to your bank account as per RBI guidelines.  It will take 3-4 days for the money to be credited into your bank account. If there are any holidays in the US or India, then it might take an additional 2-3 days. Also, banks don't work on weekends so no transfers take place on Saturday and Sunday. I have also noticed that Private Banks in India are better at handling international transfers compared to Public Banks.
You need a bank account with a debit card issued by Visa or Mastercard to receive payments from Paypal. If you do not have a bank account you can open one now under the Jan Dhan Yojana.
Paypal India Fees – RBI Guidelines
Since Online Money Payments in India are subject to RBI Guidelines, Paypal India has several restrictions in place. Some of these are :
Paypal will deduct 4.4% of the amount you receive + $ 0.30 USD per transfer. So if you receive a payment of US $100 from your client, $ 4.40 + $ 0.30 = $ 4.70 will be deducted and you will receive $ 95.3 into your account.
PayPal account holders in India cannot receive payments exceeding $10,000.00 per transaction.
The money received cannot be used to make online purchases and has to be compulsorily withdrawn to your bank account as per RBI Guidelines. RBI has made it mandatory for compulsory withdrawal into your bank account because if users spend it then RBI cannot get any information about the transaction and it will result in the creation of black money and money laundering.
The Currency will be converted at the prevailing market rate from US$ into Indian Rupees. You might also be charged a fee for conversion. Some Indian users of Paypal have complained about these fees in the past.