A few years ago, e-commerce was described as a booming industry, and this statement is still true today. Companies in this industry are making a lot of money these days. This profitability causes many companies to open e-commerce platforms. Poshmark and Mercari are two such websites that also contribute to these numbers. However, this also poses a dilemma in choosing the best platform. In this article, we will make a comparison – Poshmark vs Mercari – to help you decide which platform is better.
Poshmark vs Mercari: A Comparison
Now we know that both these platforms are online marketplaces or e-commerce websites but that is just one similarity that they share of the many more that may exist. However, our prime concern is the differences between the two or rather finding out the better platform between the two and so let the comparison begin.
1. Working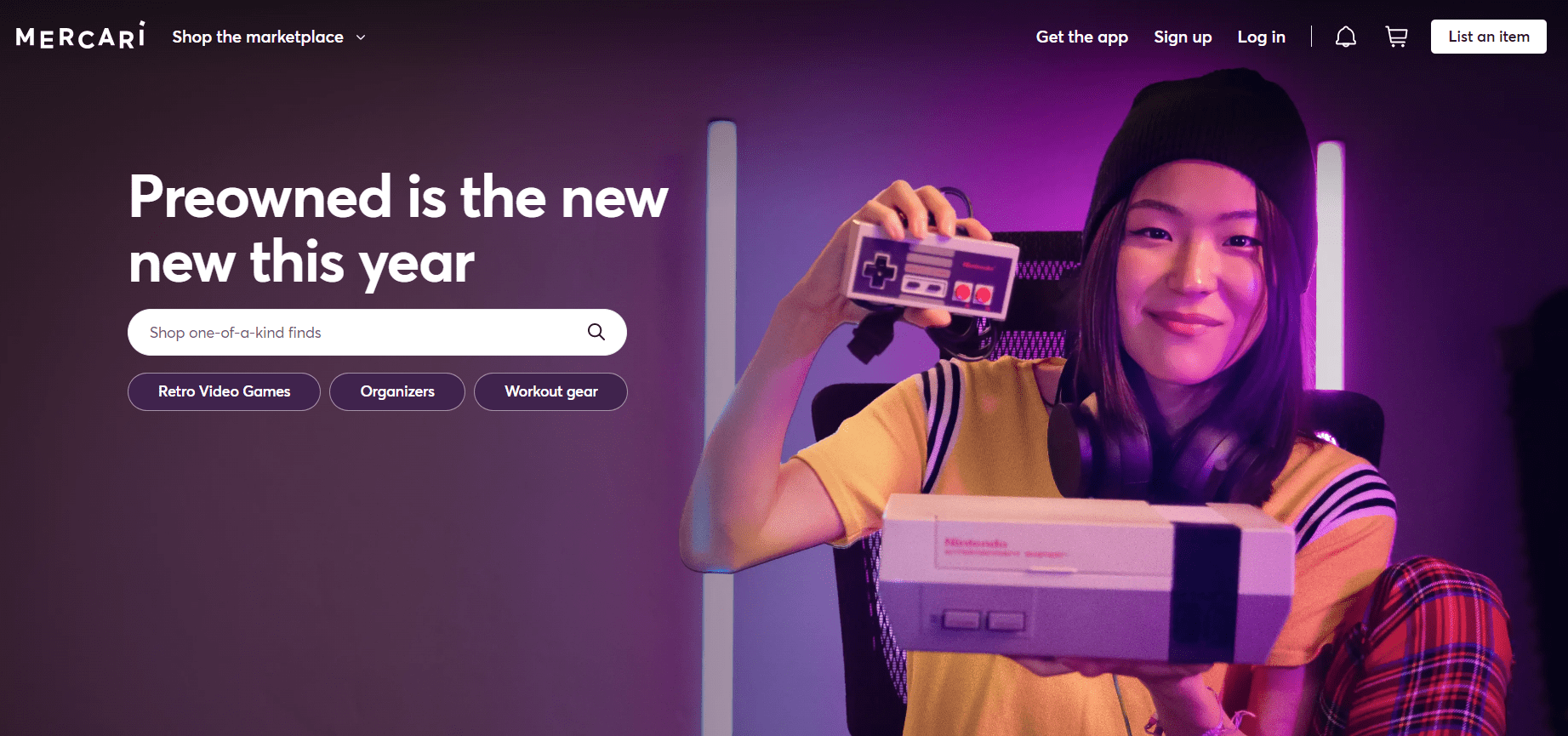 Poshmark and Mercari are selling and buying platforms but Poshmark wants to be a little bit more than just this. For this reason, they have something that is called Poshmark Ambassadors who act as a mentor and receive a special badge on their profile. Poshmark cares about the journey and doesn't just want the people using the platform unanimously.
Mercari, on the other hand, is a proper seller's and buyer's place where the main aim is to buy and sell products and no real interaction may occur between the two parties. Also, Mercari does not have a fashion-inspired community like Poshmark and so the former may easily sell an electronic gadget while the latter may have a nice dress that people may not find elsewhere.
2. Restrictions
While buying and selling take place on both these platforms it's not like anything and everything can be sold on them there are certain restrictions and rules to abide by. Both platforms have certain rules as to what products can be sold and purchased via their platform. First of all, both places need you to list an item only if they are in good condition. Liquids need to be sealed and packed properly while also being represented correctly on the website.
Another thing similar between the two in this Poshmark vs Mercari comparison is that you can't list a replica or fake product, nor can you sell or buy products made of the skin of endangered species unless you want to get a permanent ban. You also can violate trademarks or copy another brand in the name of inspiration. You also can't use parts of a branded item to create or use in a different product.
There is a USPS regulation list to follow where the products that you can't deal in are mentioned some of which include makeup or personal care products, furniture, used underwear, appliances, health or wellness products, uniforms of airport staff, and more.
You also can't sell drugs or related stuff, even if it is homemade medicine. An item reported as stolen can't make its way to the platforms. Firearms, counterfeit goods, military-grade products, alcohol-containing products, tobacco, and products are also a no-no. You can't share account credentials or personal information of people which may lead to identity theft.
Ebooks, software, games, and other such intangible products can't be sold on the platform either. You also can't sell items that don't belong to you at the time of listing. Products prohibited by mailing companies also can't be sold nor can stuff like financial products including crypto be sold on these platforms. Live animals can't be sold via these platforms, and porn content and products promoting hate or violence also are not allowed on the platform.
3. Fees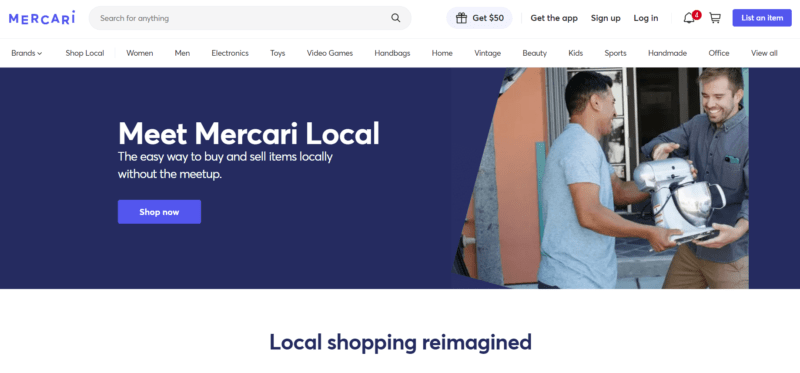 You can't have a Poshmark vs Mercari comparison without talking about the fee structure. Poshmark will charge you a flat fee of 2.95 dollars if the product listed by you is worth less than 15 dollars and if it exceeds this price then 20% is charged, credit card fees also may or may not be covered in this. When it comes to shopping you can expect to pay a 4.99 dollar charge or you can use Posh Post and get items up to 5 lbs relievers for free.
Mercari charges a flat 10% selling fee regardless of the product sold on this; you also pay a 2.9% + 0.30 dollar as a payment processing fee and transaction cost. Mercari will ship products up to 150 lb in weight if more than that then you have to ship the products yourself.
4. Payment
When paying on Poshmark you have the option of major credit cards and the same is the case with Mercari. Both of them accept Mastercard, VISA, Discover, and Amex cards while Poshmark also supports JCB. Mercari accepts PayPal, Zip, and Apple Pay while Poshmark accepts Venmo and Affirm in addition to the three accepted by Mercari.
| | Poshmark | Mercari |
| --- | --- | --- |
| Audience | Fashion friendly | More likely for people looking for products such as electronic goods |
| Restrictions | A list of stuff including drugs | A list of stuff including live animals |
| Fees | 2.95 dollars for products less than 15 dollars worth, 20% for products above that | 10% selling fee plus a 2.9% payment processing fee and 0.30 dollars per transaction |
| Pay Options | Everything accepted by Mercari plus JCB cards and Venmo and Affirm | Amex, VISA, Discover, Mastercard, Google Pay, Apple Pay, and Zip |
What is Poshmark?
So while we saw the clash of two platforms above there still might be some of you who may have the question as to what is Poshmark. As we said it is an online marketplace for buyers and sellers where stuff like home goods, second stuff, and electronics can be found. This platform with its 80 million users has its headquarters in Redwood City, California.
This is a public company and was founded in 2011 on May 10th. Manish Chandra, Tracy Sun, Chetan Pungaliya, and Gautam Golwala founded this company, and in 2022 their company had 800 employees. As of today, the company has expanded to Canada, Australia, and India apart from the US.
Also Read: How does Mercari Work? Full Guide
How Poshmark Works?
As seen in the Poshmark vs Mercari comparison section both these platforms are e-commerce platforms and so that means they work the same basic way. You have buyers, you have sellers and they are given a common place where they meet virtually and transact.
The platform allows sellers to list products related to apparel, lifestyle, footwear, accessories, pets, home, beauty, pets, and more from which the buyers can choose. Poshmark is just providing sellers with the tools that can help them become successful business people.
But exactly how Poshmark work? They don't own or manage any inventory that is for the seller to do. They don't find customers for buyers that is for the buyers to do for themselves. So what is Poshmark doing here? Poshmark's primary job is to provide this platform where the two parties can meet and to provide sellers and buyers with tools that help make this transaction or process smooth and efficient.
Sellers click pictures and upload the products, buyers find them and order them, and the company gets the product delivered and charges money for shipping from the buyer and sale charges from the seller.
How does Poshmark Work for Buyers?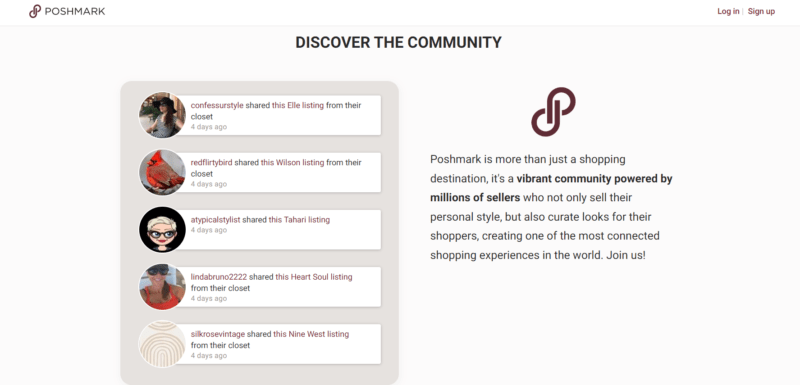 It isn't as complicated as we want it to be. You ask – how does Poshmark work for buyers – and the answer can already be found in this article as it has been mentioned quite a few times but let us list it down once again.
1. Start Point
Create an account on the website or the app of the platform and start looking for the product you wish to purchase. Once you have found the product you desire click on Buy Now.
2. Next part
Before the order can be confirmed you need to select the method of payment for which you have multiple options as mentioned in the table above. If you have a redeemable balance or credits in your account, then you can use that too.
3. Endpoint
Now the product is selected, and the buying details are shared but what about where you want to receive the product? Check all the information related to your order and provide a delivery address, post that hit the Submit Order button and that is where it ends for you.
Is Selling on Poshmark Worth It?
What if we told you that you could make 5,000 dollars via listing and sales on Poshmark, forget 5 let's say you can make 10,000 dollars how does that sound? How does 77,000 dollars sound? You might think we are crazy or bluffing but we aren't. A user let his account on Poshmark lie around for 2 years before listing stuff on it but once they did list stuff it started getting buyers.
You ask if is selling on Poshmark worth it and we say this user made 77,000 dollars and sold listings of theirs to make this kind of money so now you decide what is going to be for you? Do you know what is even more astonishing about selling on Poshmark? You don't even need to pay to make an account on the platform and can begin selling used stuff so that means your investment initially can be 0 dollars which is not something that you can overlook just like that.
How Much does Poshmark Take?
From Poshmark vs Mercari, in comparison to until now, we haven't seen or come across any charges that the platform takes for downloading or using it and that is because there is none. But then how do they make money? They charge buyers and sellers for various stuff, that's how.
Seller
We have seen above that every seller is supposed to pay a flat fee of 2.95 dollars for stuff worth less than 15 dollars and a 20% commission for the sale of an item worth over 15 dollars. So that leaves you with 80% of the price.
Buyer
Buyers see themselves paying credit card fees which the company usually tries to include in the sale fee amount. However, you need to buy a USPS sticker from Poshmark for the shipping of your order and there is also a shipping fee to be paid based on the weight of the item ordered, so how much does Poshmark take for items based on weight? The flat shipping fee is 7.67 dollars for items under 5 lb while items over 10 lb bring about an additional charge.
How does Poshmark Shipping Work?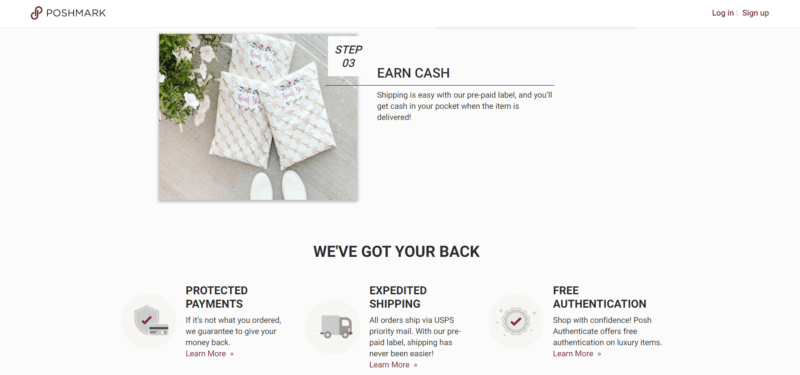 The buyer buys the USPS label for a product under 5 lb or over 10 lb by paying for it accordingly and this is mailed to you. Now you can choose the delivery option that you want or can collect your parcel for free from the USPS store.
As a seller, you can personalize or brand the item purchased or you can just take a bit of an extra effort to make sure a fragile item is provided the necessary protection for its journey on the road. So when you ask how does Poshmark shipping work, it is more or less similar to any other company's barring the label-acquiring process.
So we started this article with Poshmark vs Mercari comparison and we end it with that. While we drew a comparison above it is now time to give our verdict. Poshmark is a marketplace for clothes and personal items while Mercari might incline more toward other products.
They both also have restrictions on various products that you can buy or sell from their platform which are more or less the same. When it comes to charging the seller, Poshmark tends to eat up more of the seller's earnings than Mercari even though the latter has more charges to put on a seller. However, the buyer has more payment options available in the case of Poshmark.
Both Poshmark and Mercari offer unique features and benefits to online sellers and buyers, catering to different preferences and needs in the resale market. Ultimately, the choice between the two platforms depends on individual priorities and the specific items being sold or purchased.