Looking for ways to improve your financial literacy and get your money matters in order? Personal finance podcasts are a great resource for getting expert advice and learning about the latest trends and strategies in managing your finances. In this article, we'll share some of the top personal finance podcasts to help you gain valuable insights and take control of your money.
Top 15 Personal Finance Podcasts You Can't Afford to Miss
Personal finance podcasts are a popular form of audio programming that offer practical advice and direction on managing money and achieving financial goals. They often feature interviews with industry professionals, such as financial consultants, economists, and personal finance bloggers, who provide their perspectives and knowledge on various financial matters. Let us begin our list.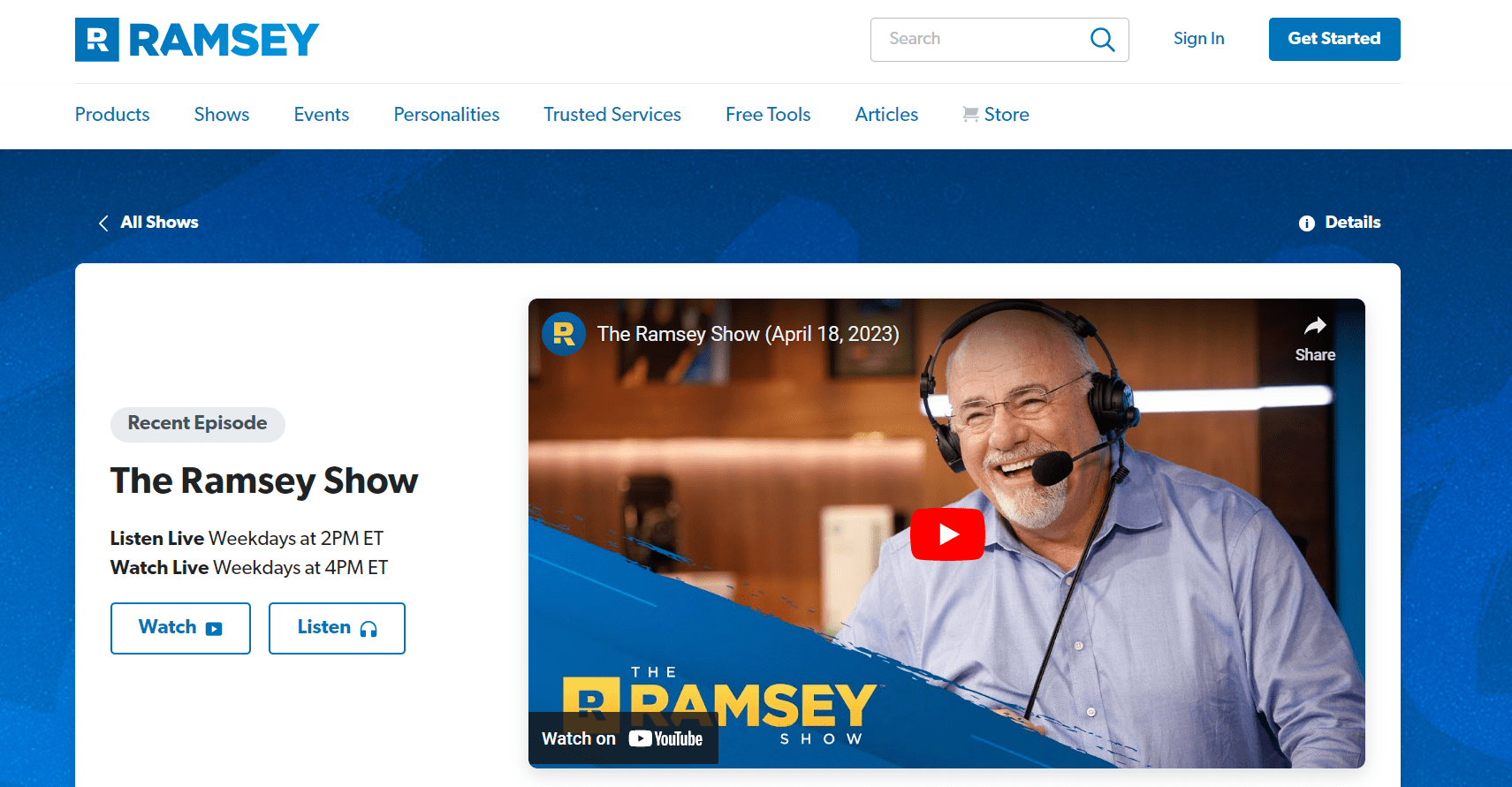 Dave Ramsey, an American financial author, radio broadcaster, and businessman, hosts The Ramsey Show, a prominent personal finance podcast. Since its inception in 1992, the podcast has aided millions of individuals across the US as well as globally.
Budgeting, saving, investment, retirement planning, and debt management are among the subjects covered in the program. Dave Ramsey draws on his experience and skills to provide listeners with practical guidance on how to manage their money, get out of debt, and build wealth.
The debt-free scream section, in which listeners who have paid off their debt phone in to tell their success stories, is one of The Ramsey Show's distinguishing elements. The Ramsey Show also offers a website with extra resources and tools for personal budget management. The website contains articles, videos, and online courses on many aspects of personal finance.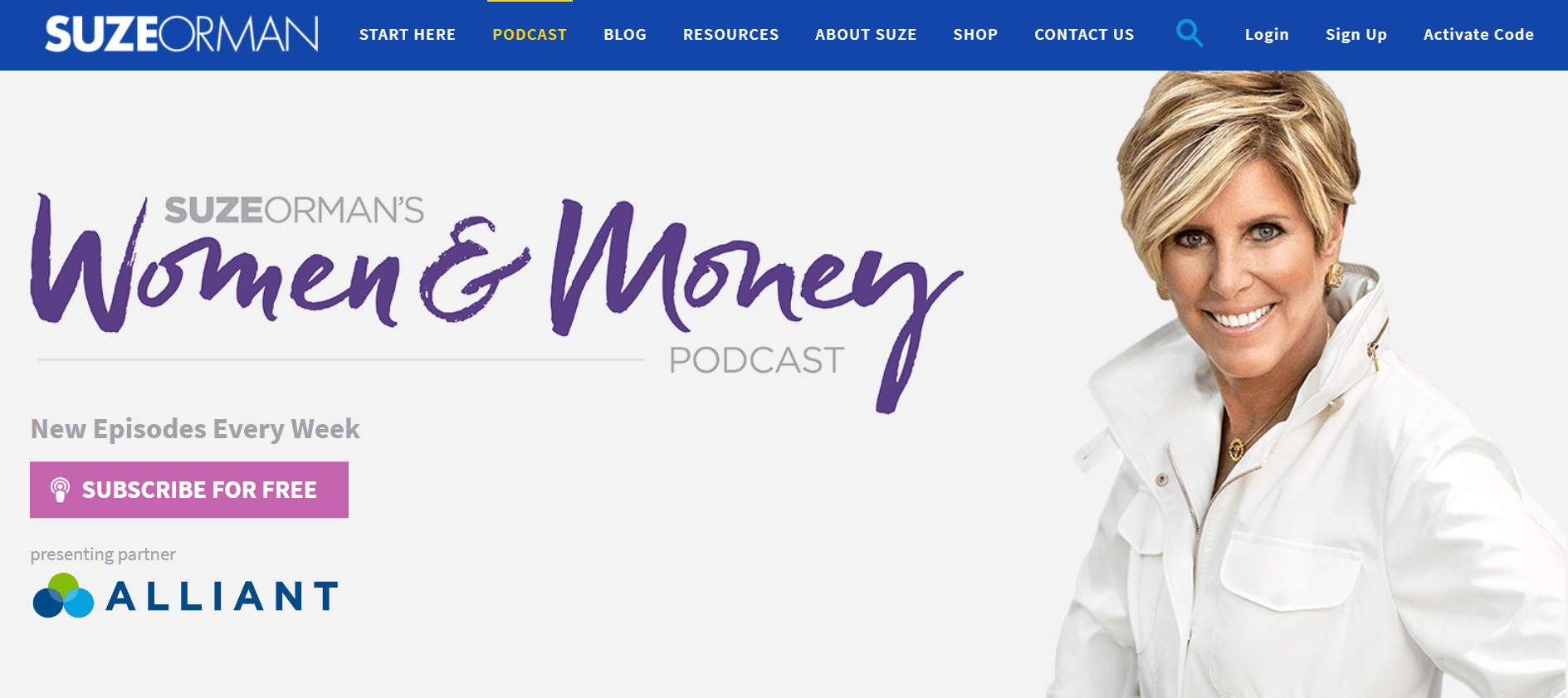 The Women and Money podcast is the best personal finance podcast for women. Suze Orman, a financial expert, hosts the show.
She is a financial consultant, television personality, and author from the United States who is noted for her unique approach to money, which combines personal finance with personal growth. Orman gives her thoughts and views on these themes, as well as addressing listener queries and offering practical money-management guidance.
One of the podcast's distinguishing features is its emphasis on the specific financial issues that women in the world encounter. Orman discusses topics such as the gender wage gap, the expense of daycare, and the difficulties of juggling work and family commitments. Orman encourages women to take control of their finances and to make informed decisions about their money.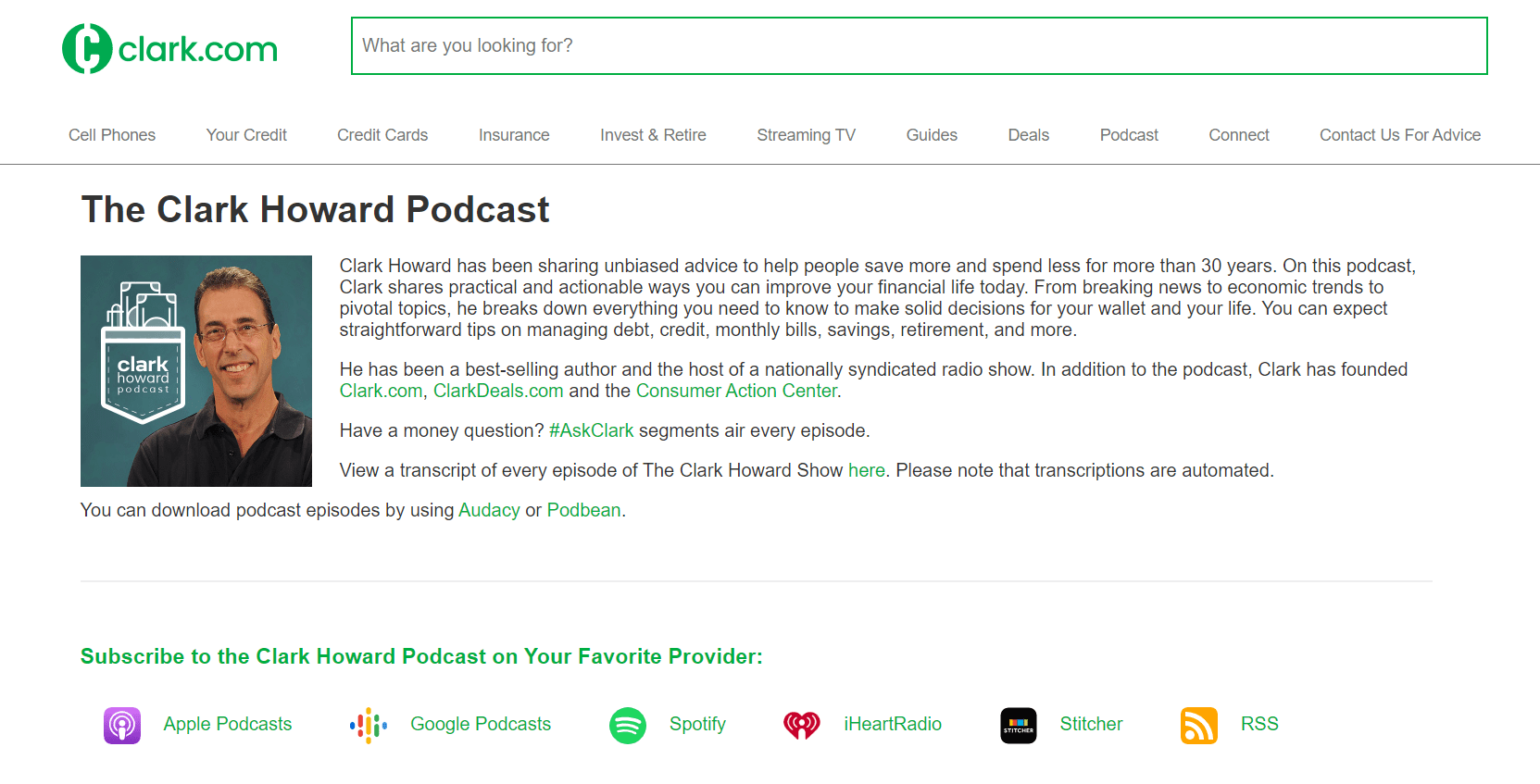 Clark Howard wants to empower individuals to take charge of their finances as a nationally syndicated radio talk show presenter and consumer reporter for TV news by giving money-saving suggestions, consumer advice, hot bargains, and economic news to help listeners attain financial independence. Clark Howard is a consumer advocate and money-saving specialist.
Each edition of the podcast is released on weekdays and lasts between 30 and 45 minutes. He frequently uses personal tales and stories to explain his arguments, making the material more approachable and engaging.
The Clark Howard Podcast's focus on delivering actionable advice that listeners can apply in their everyday lives is one of its primary qualities. He employs simple language and avoids financial jargon, making the subject simple to comprehend.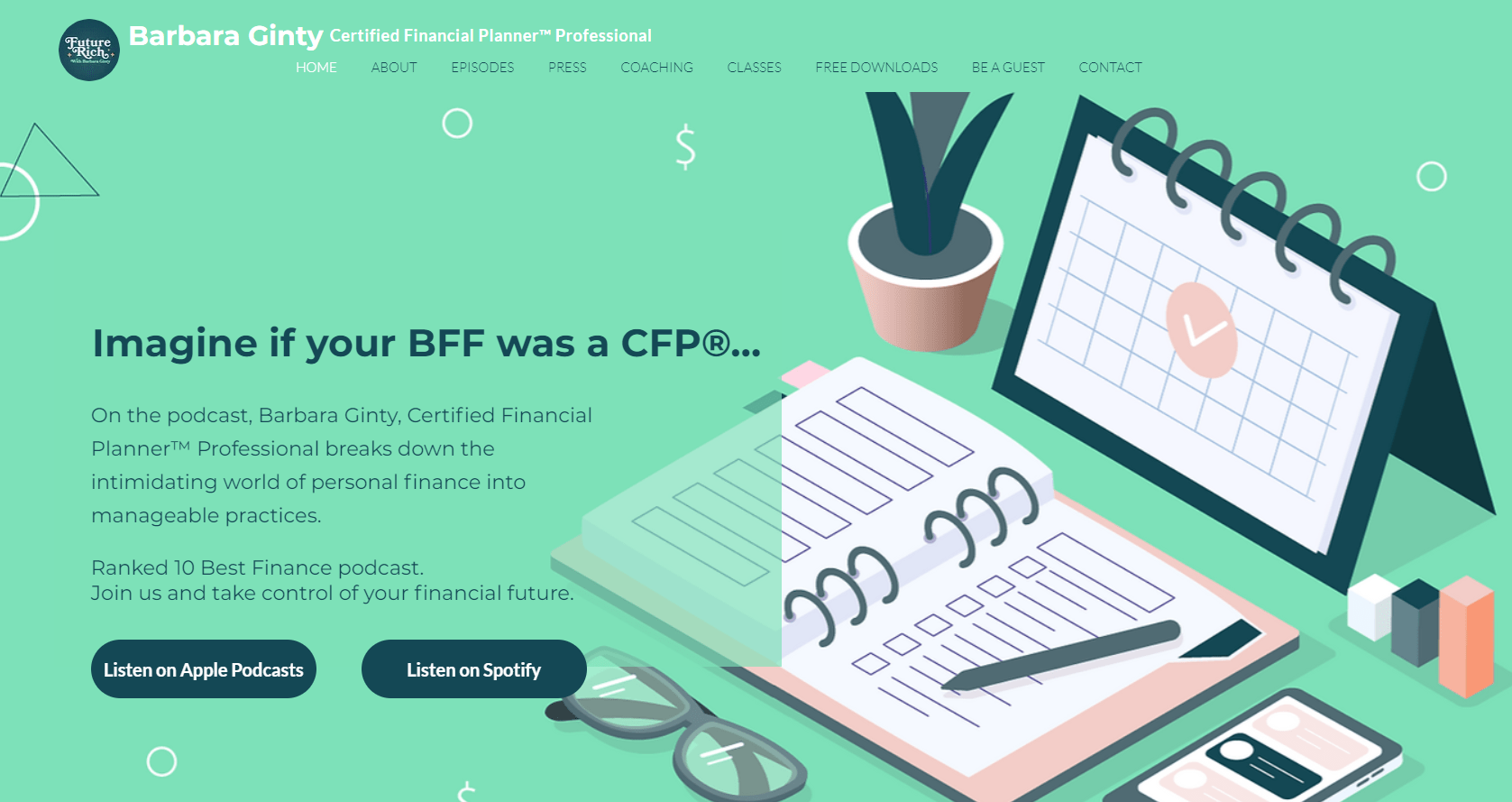 Future Rich is hosted by certified financial planner and author of "The Financially Forward Mindset," Barbara Ginty. Ginty interviews actual women about their financial difficulties and advises listeners in comparable situations. Ginty is like your closest friend, only she knows everything about money.
The program simplifies difficult financial concepts and provides practical solutions for increasing financial well-being. The focus on the necessity of a positive outlook when it comes to money is one of the book's major features.
Barbara Ginty, the show's host, thinks that establishing a financially forward attitude is critical to financial success, and she gives advice on how to build this mindset in each episode.
This podcast is created by Tiffany Aliche (AKA The Budgetnista) and Mandi Woodruff to blend a pleasant chat with genuine and various types of money challenges. It provides practical counsel in an easy-to-understand format. The podcast has been airing since 2015 and has gained a devoted following.
The podcast discusses a variety of personal finance subjects, such as saving and investing, as well as debt management and retirement planning. Mandi and Tiffany also address the relationship between money and culture, covering issues such as racial wealth disparity and the gender wage gap.
The hosts' down-to-earth style and sympathetic narrative set Brown Ambition apart from other personal finance podcasts. They share their personal money adventures and provide listeners with practical insights and assistance.
Cross-reference: 4 Finance Podcasts From CFPs That Actually Offer Professional Advice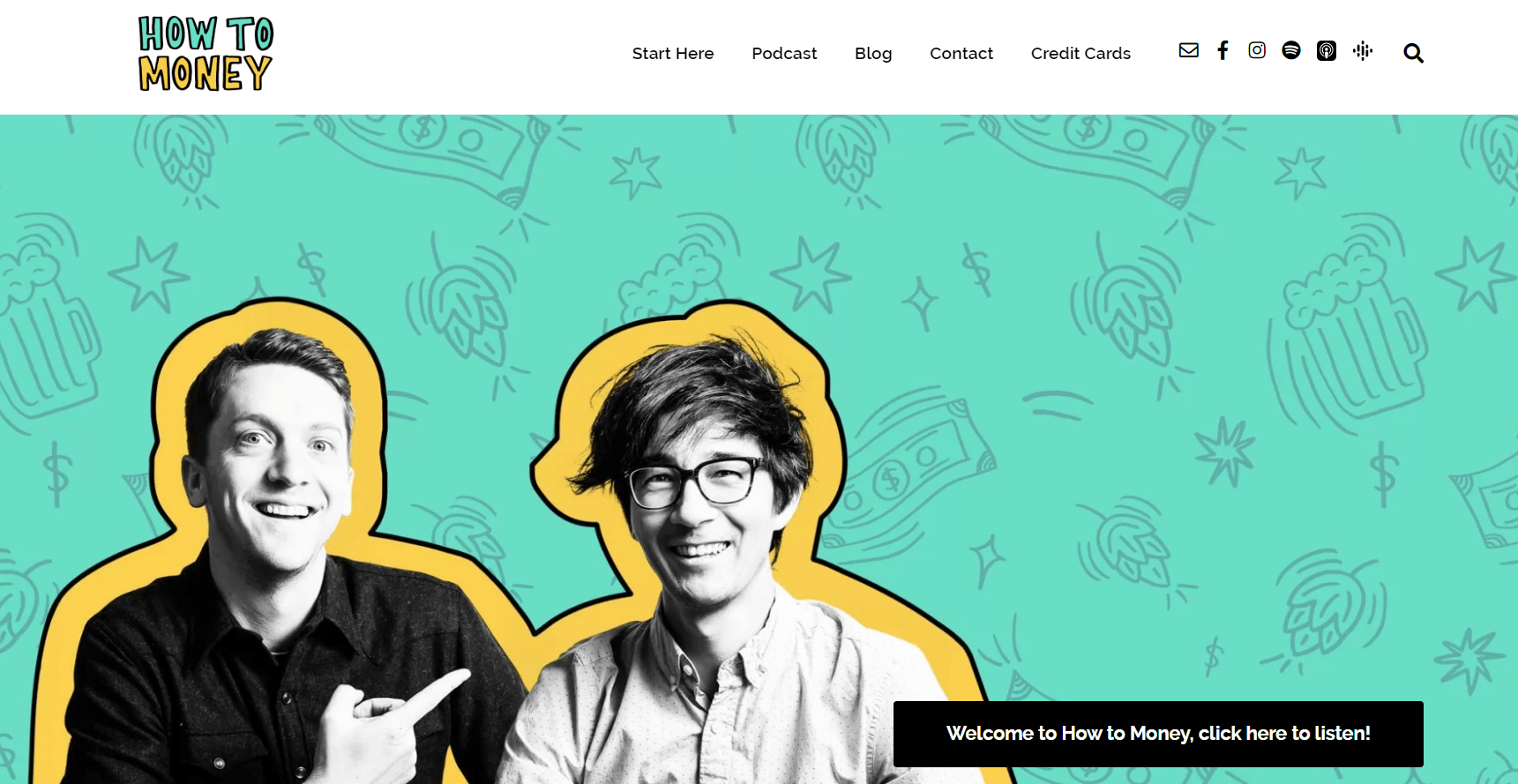 How to Money is best of the personal finance podcast that teaches listeners how to manage their money and make better financial decisions. Joel Larsgaard and Matt Altmix, two friends who are enthusiastic about personal finance and aim to help others attain financial independence, present the podcast.
Each episode contains helpful hints and ideas that listeners may use to better their financial position. How To Money stands out from other personal finance podcasts owing to its engaging and amusing tone.
The hosts take a playful approach to exploring what may be a dry and tedious subject. They utilize comedy and personal experiences to keep the audience interested and the content more approachable.
Mindy Jensen and Scott Trench, financial professionals, interview thought leaders on ways to make more, retain more, spend wisely, and increase wealth. BiggerPockets Money gives listeners suggestions and concrete guidance on how to get their money in order through these chats. It focuses on assisting individuals in achieving financial independence through real estate investing, entrepreneurship, and other wealth-building activities.
One of the podcast's distinguishing features is its emphasis on real estate investing as a crucial wealth-building method. Numerous episodes explore various facets of real estate investing, such as rental property management, home hacking, and house flipping.
Some episodes focus on specific financial goals, such as debt repayment or retirement savings, while others address wider issues, such as entrepreneurship and building multiple streams of income.

Farnoosh Torabi hosts the popular personal finance podcast So Money. Budgeting, saving, investing, entrepreneurship, and other personal finance themes are covered in the podcast.
Farnoosh interviews a wide range of guests, including financial experts, authors, business owners, and celebrities, to present listeners with a diversity of opinions and recommendations.
Farnoosh handles listener questions on a variety of personal finance subjects on the podcast. This enables listeners to receive tailored financial advice and assistance. The "Friday Five," in which Farnoosh delivers five fast financial ideas or stories that are relevant to listeners, is another popular portion of the program. This section is a fantastic way to remain aware of financial trends and news.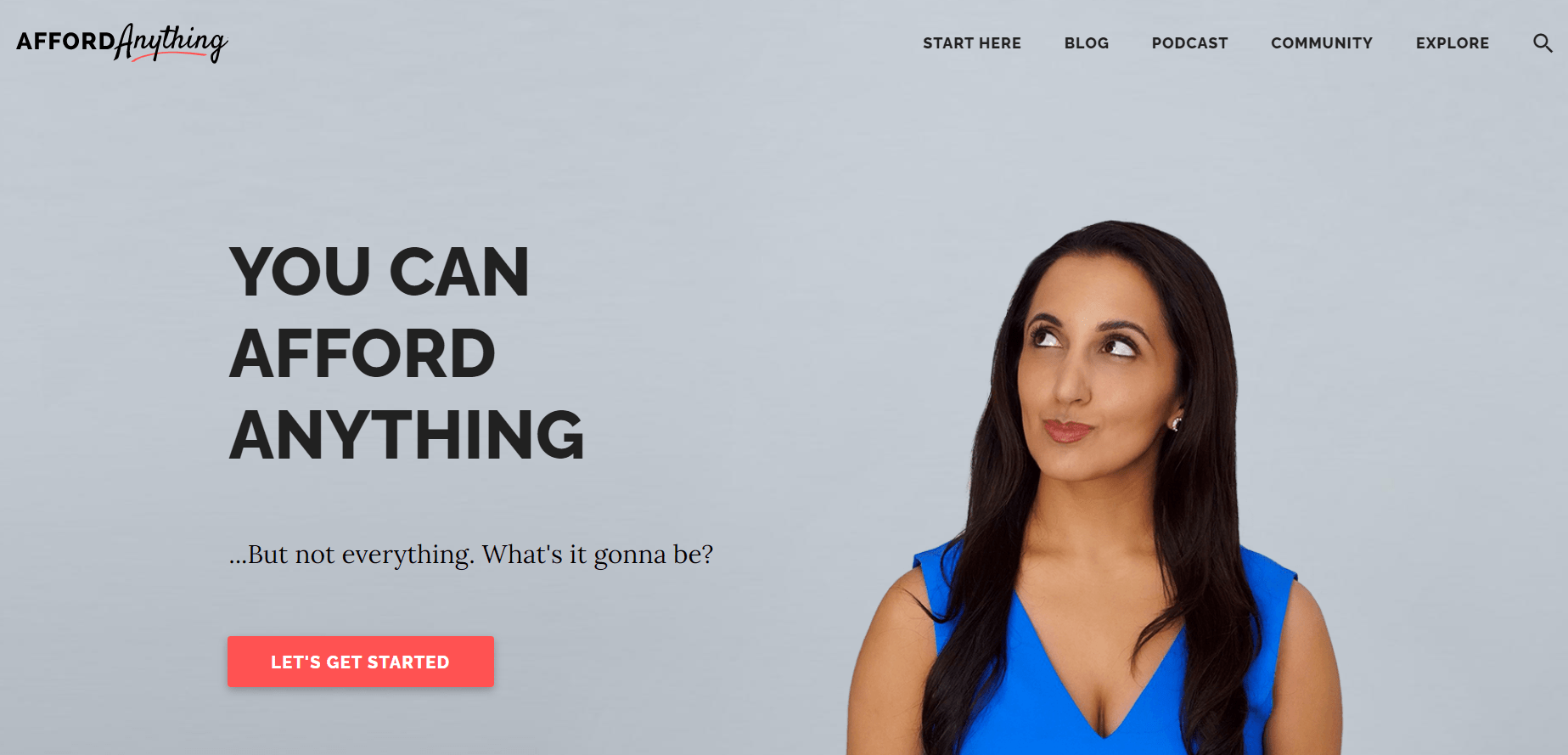 Paula Pant, a financial analyst, writer, and speaker who has appeared in major media sites such as Forbes, The New York Times, and CNBC, hosts this podcast. She meets a wide range of individuals, including entrepreneurs, early retirees, millionaires, and investors, to investigate the difficult task of living a balanced life.
Paula In the podcast Afford Anything urges her audience to look beyond conventional financial advice and focus on their beliefs and ambitions. She thinks that everyone can attain financial independence and live the life they choose if they have the appropriate mentality and are prepared to take action.
Paula believes strongly in the capacity of real estate to produce passive income and wealth over time. She discusses her personal real estate investing experiences and provides recommendations on podcasts.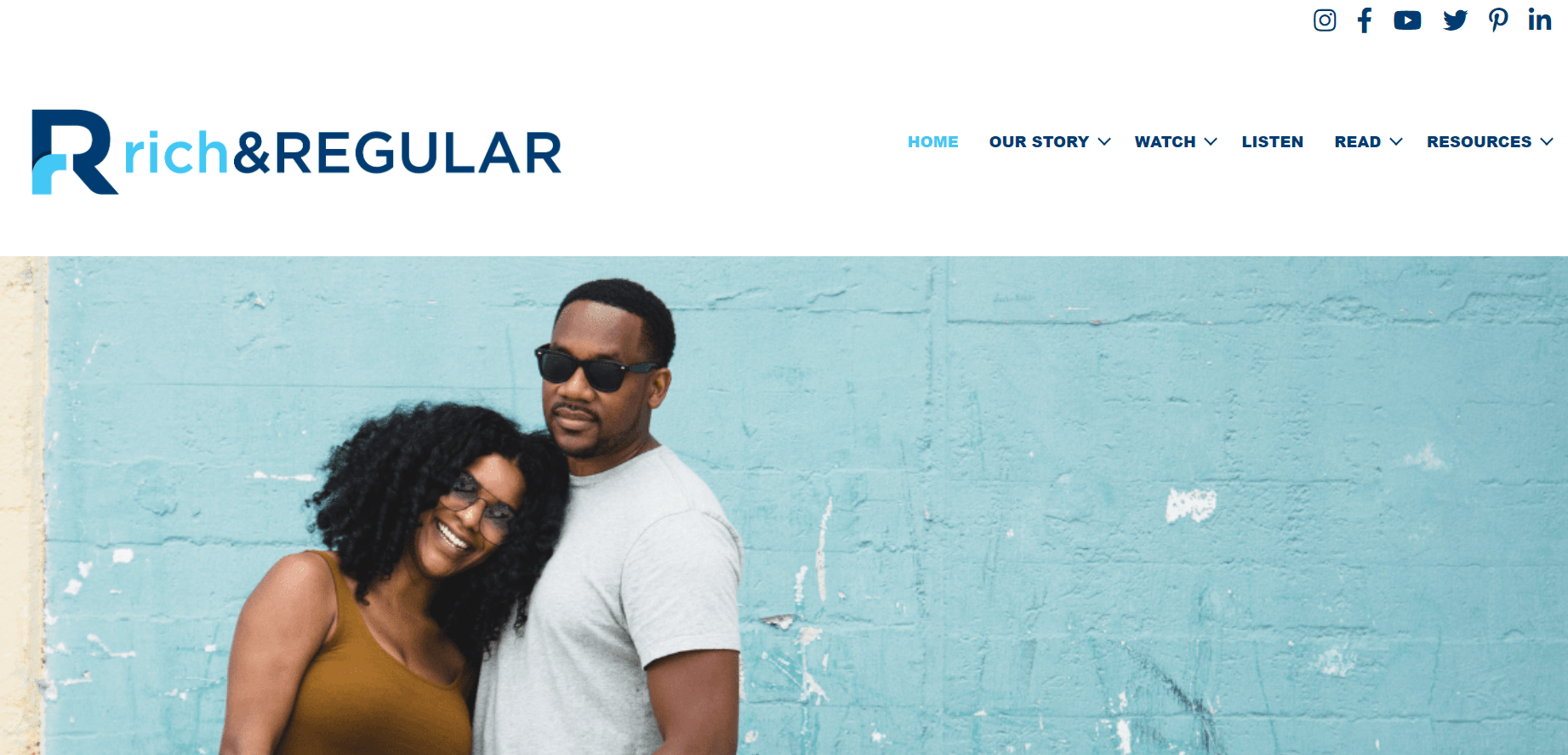 Julian and Kiersten Saunders, a married couple who relate their personal experiences of rising from penniless to six-figure net worth, host the podcast. With practical guidance and inspirational tales, the podcast aims to encourage individuals to take charge of their money and generate wealth.
Kiersten and Julien Saunders sacked their financial advisor early in their investing adventure so they could manage their retirement savings on their own.
On their podcast Rich & REGULAR, they now share what they know about investing and living within their means. They also interview guests who discuss their own success stories and offer wealth-building techniques and guidance.
Cross-reference: Can't Manage Your Money? There's a Podcast for That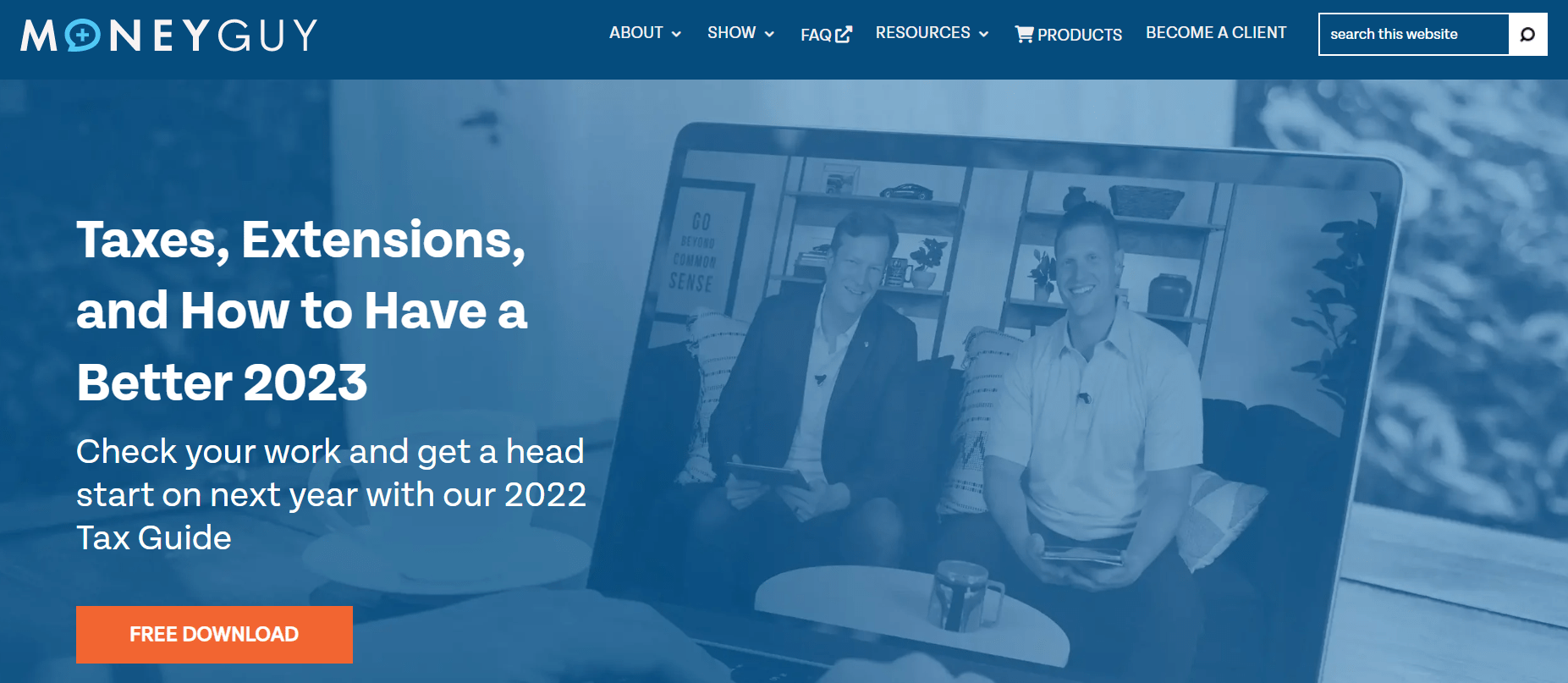 The Money Guy Show is a popular personal finance podcast hosted by Brian Preston and Bo Hanson. The podcast has been around since 2006. The podcast discusses a variety of financial subjects such as investing, retirement planning, debt reduction, and much more. The podcast has a reputation for being simple, honest, and practical.
The Money Man Show is known for breaking down difficult financial ideas into simple terms. The broadcasters explain their arguments using real-life examples and stories, which allows listeners to relate to the knowledge and apply it to their own lives. The hosts are also extremely receptive to their listeners' queries and comments, devoting entire episodes to answering them.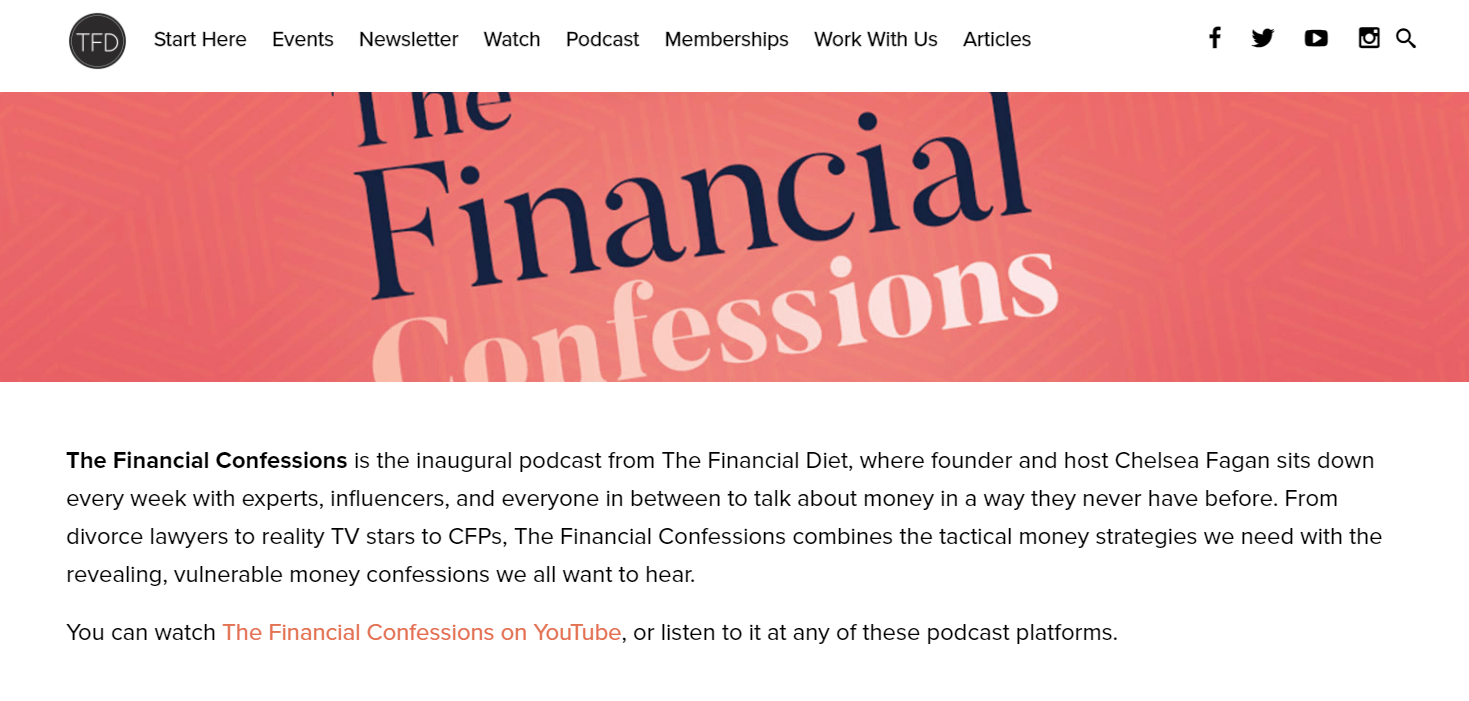 The Financial Confessions addresses financial issues that are prevalent but rarely covered in the pages of the Financial Times. It is a popular personal finance podcast produced by Chelsea Fagan, the founder of the same-name website and YouTube channel. When it comes to discussing financial subjects, Fagan's podcast is approachable and entertaining.
Chelsea and a guest, usually a financial expert or someone with a unique perspective on money, appear on each episode of the podcast. The themes vary from practical budgeting, investing, and saving advice to more abstract issues like money psychology and the influence of social media on our spending patterns.
The podcast focuses on financial education and empowerment. The podcast's goal is to assist listeners to develop a strong foundation of financial literacy and confidence so that they can make sound financial decisions.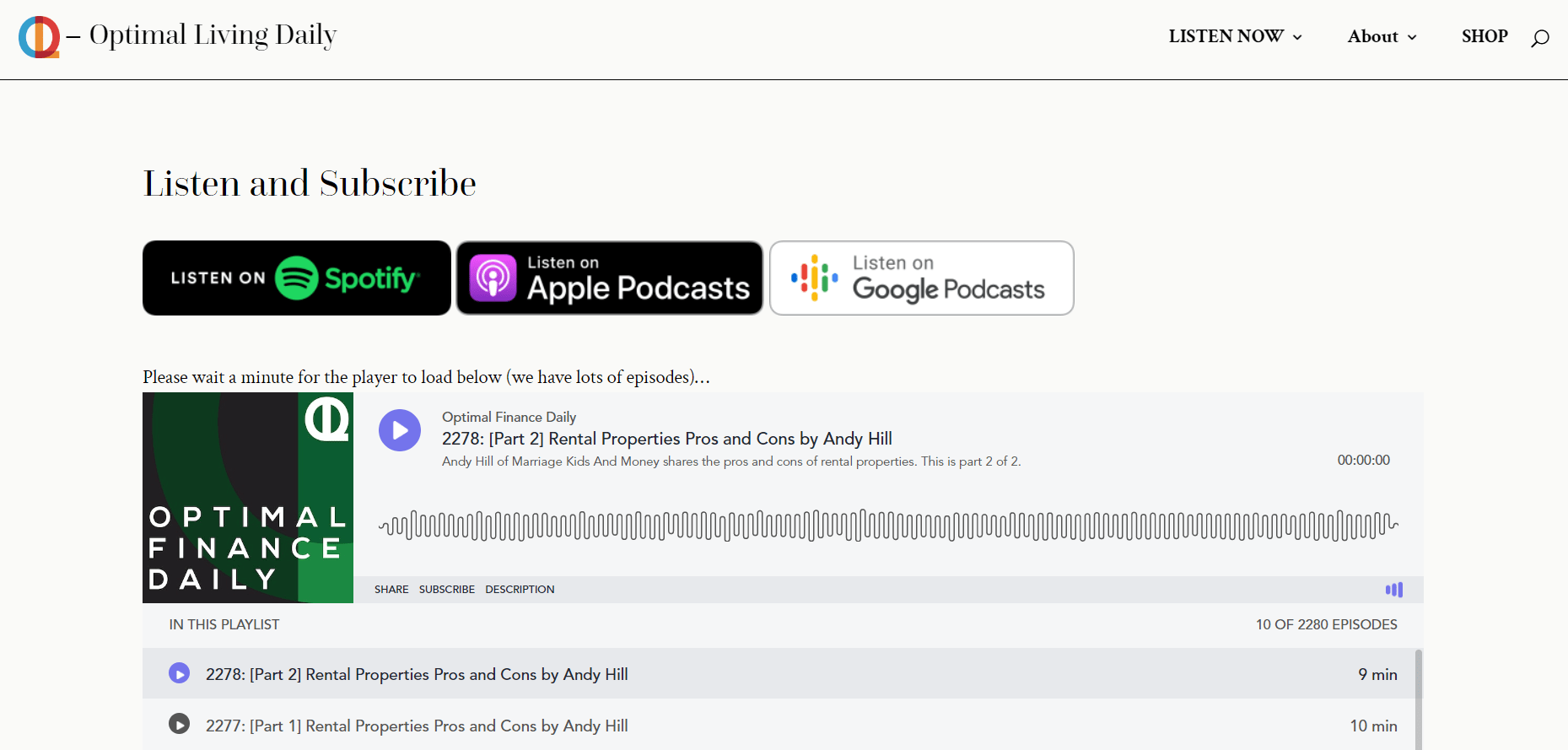 Diania Merriam and Dan Weinberg, the hosts, attempt to simplify how individuals handle and manage money by narrating some of the greatest personal finance blogs and offering listeners financial recommendations. To begin making sense of their money concerns, listeners learn about financial literacy principles such as budgeting, investing, and financial freedom.
This podcast provides listeners with a variety of opinions and ideas while also introducing them to fresh voices in the personal finance world. Another fantastic feature of the podcast is that it is easily understood by listeners with varying degrees of financial understanding.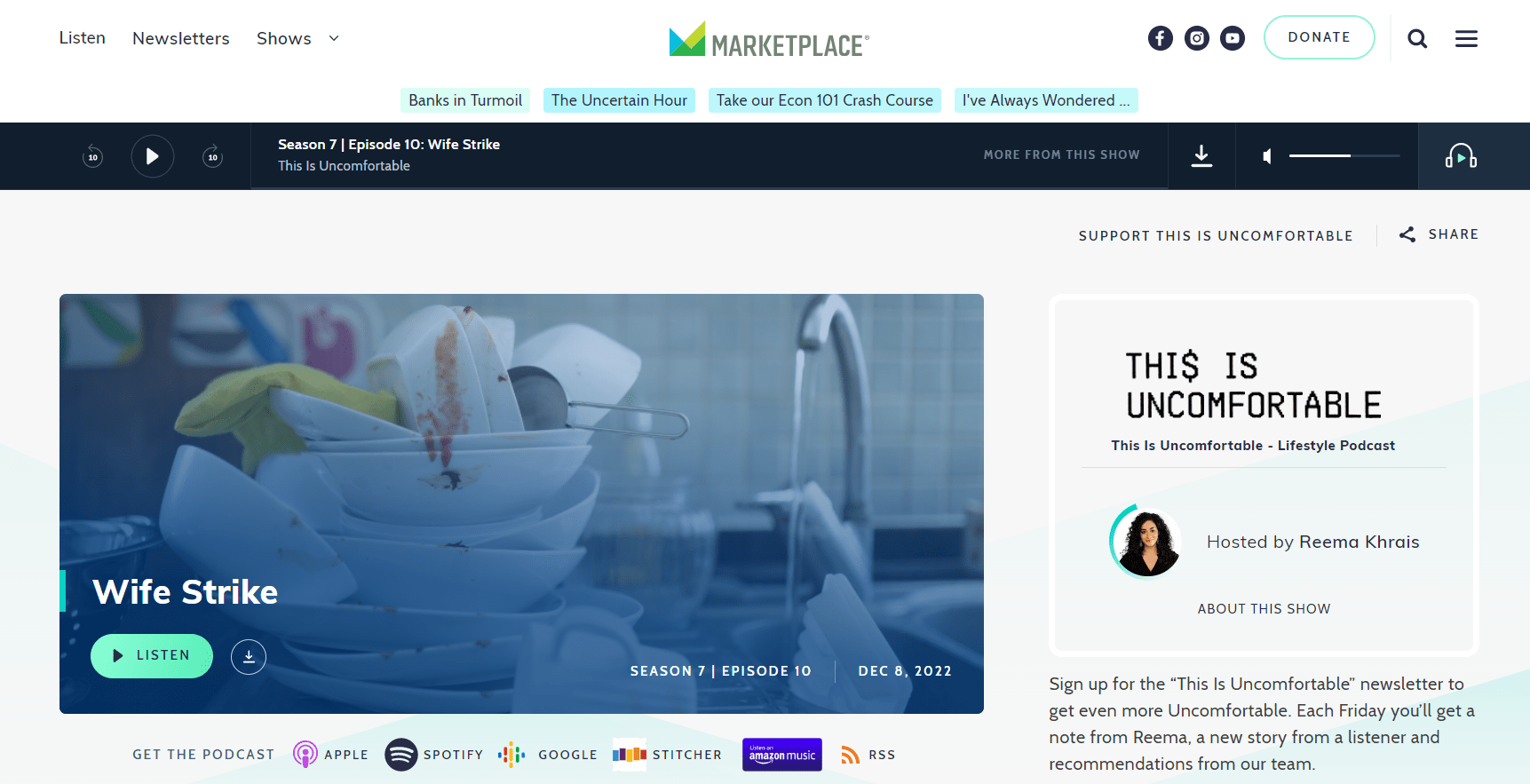 This podcast about money and investing is hosted by Reema Khrais, and it contains real-life stories from people who relate their personal experiences with money and how it has changed their lives. This is one of the best personal finance podcasts that delve into the sometimes controversial and emotional elements of money.
Each episode of This is Uncomfortable delves into a different aspect of personal finance, such as debt, retirement, relationships, and so on. The podcast seeks to offer a safe environment for listeners to examine their sentiments and attitudes regarding money via frank interviews and storytelling.
Khrais walks listeners through each episode and develops a connection with the people featured on the podcast through her warm and conversational demeanor. Rather than merely offering financial advice or ideas, the podcast looks into the psychological and sociological variables that influence financial decisions.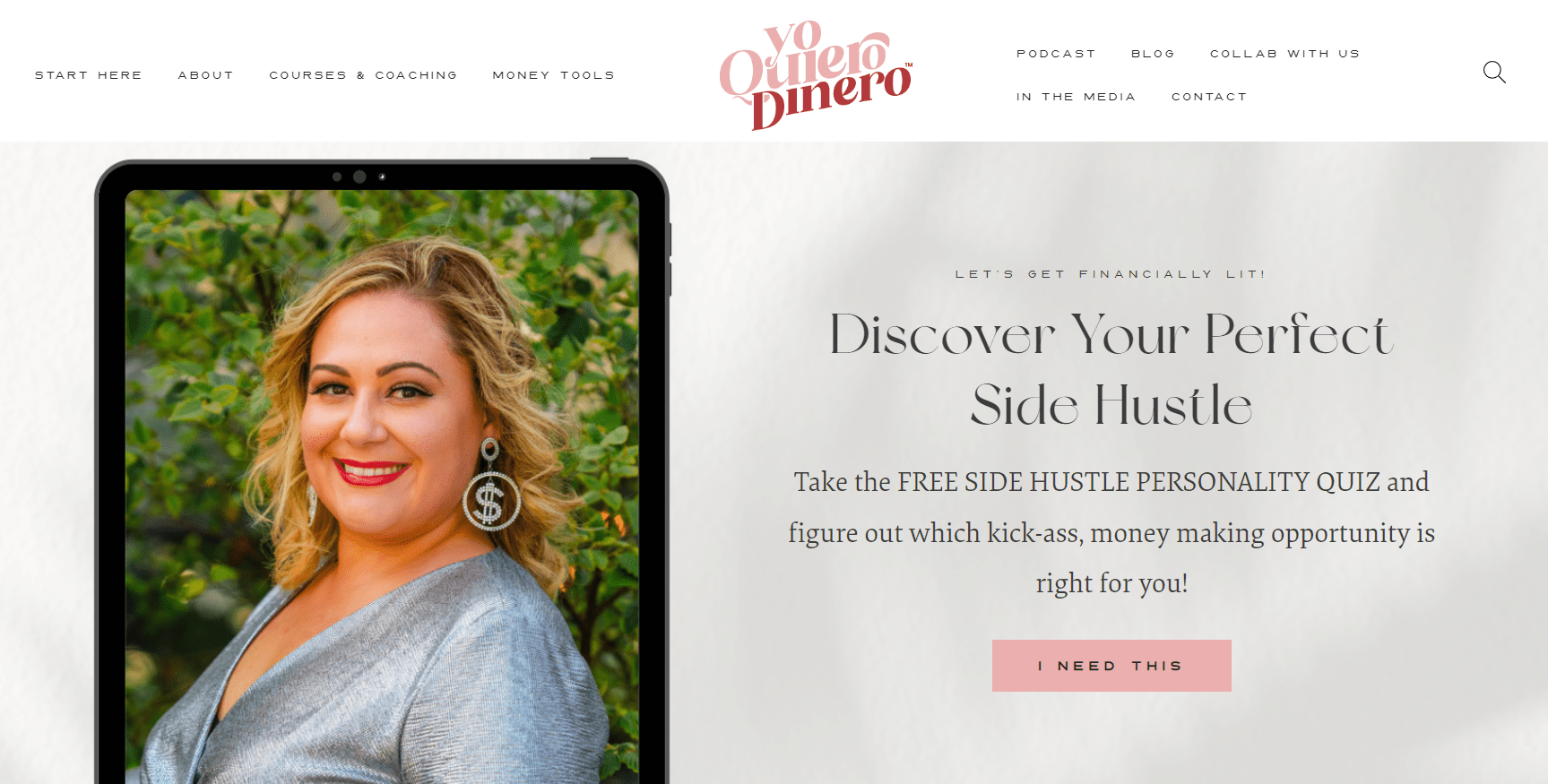 Yo Quiero Dinero is a prominent personal finance podcast that has grown in popularity over the last several years. Jannese Torres-Rodriguez, a financial coach and entrepreneur, hosts the podcast and shares her own money experiences as well as interviews a varied spectrum of guests to give insights and guidance on personal finance matters.
This award-winning podcast covers a wide range of professionals who speak openly about money, generational wealth, and entrepreneurship. One of the most important aspects of the podcast is its dedication to diversity, equity, and inclusion.
Guests on the show discuss personal finance success stories, with an emphasis on the experiences of Latina women. The podcast's goal is to connect with and motivate Latinas to make sound financial decisions.
Cross-reference: 6 personal finance podcasts that won't bore you to death
Benefits of Listening to Personal Finance Podcasts
Now that you that there are multiple financial products to choose from with their own style and content type. Let's look at some of the benefits that you can get from them as well.
Inspiration: Personal finance podcasts frequently highlight success stories of people who have achieved financial independence or met their financial objectives. Listening to these experiences might drive you to make positive changes in your financial life and work towards your financial objectives.
Informative: These podcasts are an excellent method to learn about financial principles such as budgeting, investing, and saving. You may enhance your financial literacy by listening to these podcasts, which will help you make better financial choices in the future.
Expert Advice: Finance podcasts frequently incorporate conversations with financial specialists such as financial planners, investment advisors, and accountants. You may obtain useful insights and guidance from professionals in the subject by listening to these interviews.
Convenience: Podcasts are an easy method to get information. You may listen to them while commuting, working out, or completing household tasks. This means you can study more about personal finance in your spare time rather than devoting extra time to it.
Join The Community: Podcasts frequently have active listener communities that discuss their own experiences, give support, and provide comments. By joining these groups, you will be able to connect with others who share your financial objectives.
Finding Best of the Personal Finance Podcast
Choosing the best personal finance podcasts might be difficult because there are so many excellent ones available. Here are some suggestions for finding the best podcasts:
Get Recommendations: Request recommendations from friends, family, or coworkers. They may be familiar with several excellent financial podcasts that they have listened to and appreciated.
Look for Credible Hosts: These finance podcasts should be hosted by respected professionals in the subject. Certified financial planners, investment advisors, and finance journalists, for example, can give significant insights and guidance.
Check Reviews And Ratings: Look for personal finance podcast with good ratings and favorable reviews on finance podcast directories such as Apple Podcasts or Spotify. This might help you determine which podcasts are popular among listeners.
Consider Your Likes And Interests: Find personal finance podcasts that address themes of interest to you. If you're considering investing, check for podcasts on it. Find podcasts that address budgeting and saving in depth if you're seeking assistance.
Listen To A Few Episodes: Once you've identified a few podcasts that appear intriguing, listen to a few episodes to get a sense of the host's style and the topics covered. This might assist you in determining whether the podcast is suitable for you.
The personal finance industry continues to evolve, and with it, the services available to assist consumers to improve their financial awareness. The personal finance podcasts listed here are among the best and most diversified options available.
These podcasts cover a wide range of issues, from financial independence to investing to budgeting. Also, some of the best podcast about money and investing give practical insights and guidance that can help listeners improve their financial well-being.