Parents are always willing to sacrifice their own comfort and provide the best for their children. However, the ongoing inflation has adversely affected them and their finances. As the back-to-school shopping season starts and potential economic recession rumor continues, they are struggling. Thus, parents are planning to cut back on major expenses to prioritize essential school items while preparing their children for the upcoming school year.
The research was conducted between May and June and involved a survey of 1,212 parents with school-aged children. According to Deloitte's 16th annual back-to-school survey report:
Parents are anticipating a 10 percent reduction in spending per child across various categories such as devices, clothing, and supplies.
On average, parents plan to allocate $597 per student, compared to $661 in 2022.
However, this does not imply a decrease in spending across all areas. Parents expect to allocate more funds towards school supplies compared to clothing and other products.
Nationwide, retailers can anticipate back-to-school spending to reach approximately $31.2 billion this season, reflecting a 9 percent decline compared to the previous year, as indicated by Deloitte's data.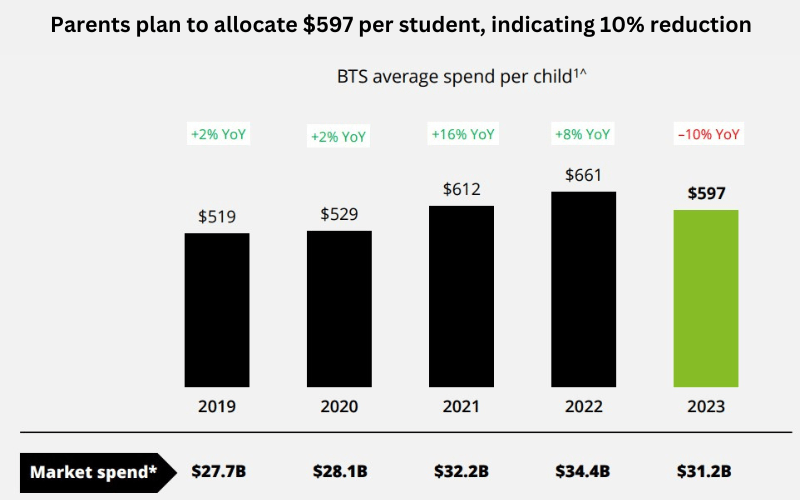 This shift in consumer behavior occurs at a time when prices remain elevated, with the cost of school supplies having increased by nearly 24 percent over the past two years, according to the report. Recent government data suggests a slowdown in inflation, with upward price pressures easing for many goods.
Many households are becoming more cautious with their spending due to concerns over layoffs and a cooling labor market, as well as the impact of prolonged inflation on their financial situation. Stephen Rogers, the executive director of Deloitte Services' Consumer Industry Center and a co-author of the report, noted that inflation-weary parents are seizing the back-to-school shopping season as an opportunity to spend less. According to the survey:
31 percent of respondents stated that inflation has worsened their financial circumstances in the past year.
In contrast to the previous two years, where parents focused on purchasing tech products and apparel to prepare their children for the return to in-person classrooms after the pandemic, many are now shifting their attention back to basic annual supplies.
Parents are planning to reduce their spending by 14 percent on clothing and 13 percent on tech items this year. However, they expect to spend around 20 percent more on school supplies.
The importance of sustainable items, which was previously a top concern, has taken a backseat, as only 35% of consumers intend to buy them compared to 50% in 2022.
When it comes to choosing where to shop, the majority of shoppers (80%) are inclined to prioritize mass merchants that offer competitive prices.
To qualify for free shipping, shoppers are willing to spend an average of $32, and a significant 59% of respondents state that they will exclusively shop at retailers that provide free returns.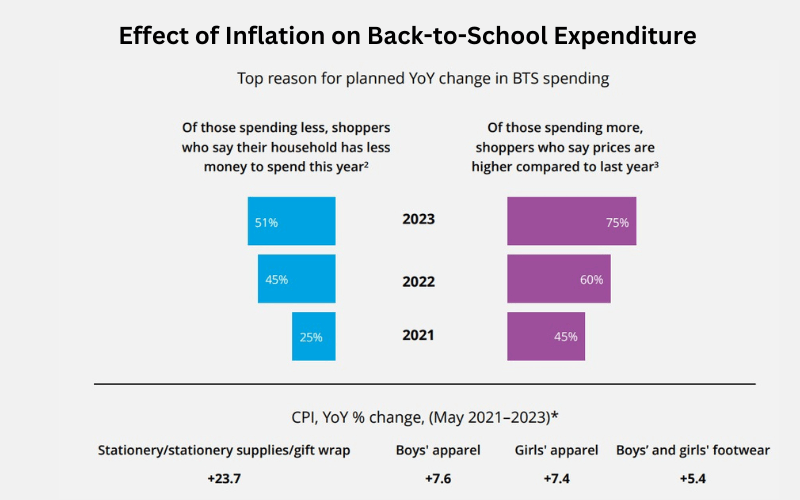 Rogers explained that parents are delaying purchases of items like denim and devices and concentrating on traditional back-to-school categories such as notebooks and highlighters. However, approximately 60% of parents, while remaining mindful of their budget, are open to certain expenditures, such as treating their child, expressing themselves, or seeking higher quality. The primary categories that might encourage this splurge spending are clothing/accessories and technology products. Retailers who comprehend the factors that drive these splurges have the potential to attract customers who are willing to spend a little extra.
Expenditure on Technology
The changes in students' tech needs during and after the pandemic have also affected spending on devices this back-to-school shopping season. While parents may have initially rushed to buy devices when the pandemic started, the increased availability of laptops and tablets through school programs has reduced the need for families to purchase them for individual students. Furthermore, families that made significant tech purchases in recent years are less likely to require additional devices.
The survey conducted by Deloitte also delved into parents' concerns regarding their children's device usage before the new school year.
The results showed that nearly half of the parents are worried about their children's mental health.
36 percent believe that smartphones have complicated their children's lives.
It was found that 45 percent of parents would have preferred to delay children's use of smartphones.
However, parents are also struggling with the fact that their children want to fit in with their peers, which influences their decision. In fact, 31 percent of respondents stated that societal pressures played a role in determining when their children received their first smartphone.
This concern indicates that parents, educators, and school leaders will closely monitor students' device usage and attempt to limit their screen time this year. It will be interesting to see how parents will navigate these concerns and adapt to the evolving landscape of technology and education. Considering the findings, parents may be interested in tools that can assist them and their children in navigating issues related to technology use and excessive screen time.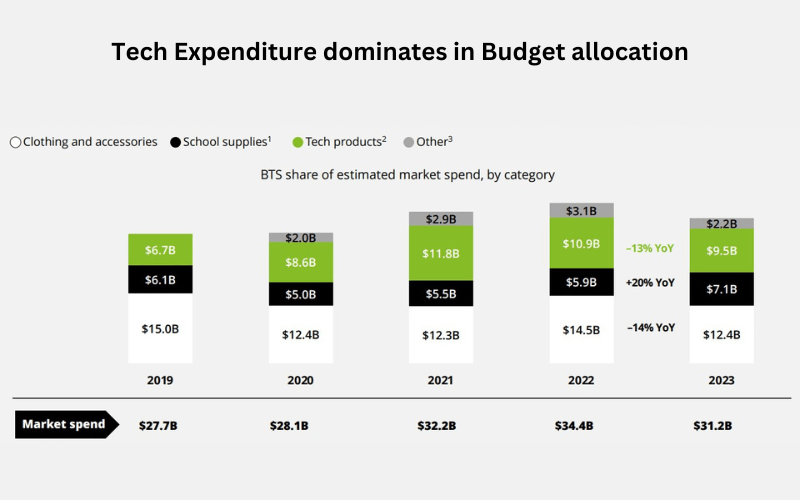 Also Read: Why Extracurricular Activities are Important in School life?
The Deloitte survey also explored parents' perspectives on generative AI tools, such as ChatGPT, which are increasingly becoming part of students' technological experiences. However, the value attributed to these tools varied significantly across different generations.
Overall, 15 percent of parents reported that their children are utilizing generative AI in their schoolwork.
Among millennial parents, 31 percent agreed that generative AI has a positive impact on academic performance and overall learning experiences, while 34 percent disagreed.
In comparison, 22 percent of Generation X parents viewed generative AI positively, whereas 36 percent disagreed.
As expected, baby boomers exhibited more skepticism towards generative AI, with only 17 percent considering it a positive tool and 44 percent expressing disagreement.
Rogers, an expert in the field, remarked that this pattern of differing opinions by generation reflects the narrative surrounding the introduction of cell phones and mobile technology. Just like with smartphones, there is a split among generations regarding whether generative AI is beneficial or not.
Source: Deloitte Back-to-School Survey