Though 5th June is celebrated as World Environment Day, efforts are made almost every day to solve the crisis of climate change and global warming. However, developed countries don't necessarily fulfill the commitments made by them. Oxfam has raised concerns about inadequate support provided by wealthier nations to assist poorer countries in dealing with impacts of climate change and transitioning towards more sustainable economies.
Oxfam International, in its recently released Climate Finance Shadow Report 2023 during the Bonn Climate Change Conference, revealed significant disparities in the actual amount of climate finance provided by wealthier nations compared to the reported figures. The organization stated that the true value of annual climate finance from richer countries was a mere $24.5 billion, much lower than the claimed $83.3 billion.
Claims vs Reality
Oxfam also highlighted the concerning fact that more than half of the climate finance received by the poorest nations came in the form of loans, which could further burden these already impoverished countries with debt. Nafkote Dabi, climate change policy lead for Oxfam International, strongly criticized this situation as deeply unjust and accused rich countries of disregarding the concerns of poorer nations.
She emphasized the damaging impact of this behavior on crucial climate negotiations, warning that everyone stands to lose in this dangerous game.
The commitment made by developed nations at the 2009 Cop15 United Nations Climate Change Summit in Copenhagen was to collectively provide $100 billion per year for climate action by 2020. However, according to figures from the Organisation for Economic Co-operation and Development, only $83.3 billion was mobilized in 2020, with the majority being public finance, $14.5 billion coming from private finance, and $3 billion from export credits.
Oxfam argued that the reported $83.3 billion figure was an overestimate due to instances where the climate objective of certain projects was exaggerated or loans were included at face value. Instead of allocating additional funds, donor countries are believed to be repurposing up to one-third of aid contributions as climate finance.
Therefore, according to Oxfam's report, the actual amount of funds mobilized by wealthy nations in 2020 to support climate action in poorer countries—the real value of funds—was estimated to be between $21 billion and $24.5 billion.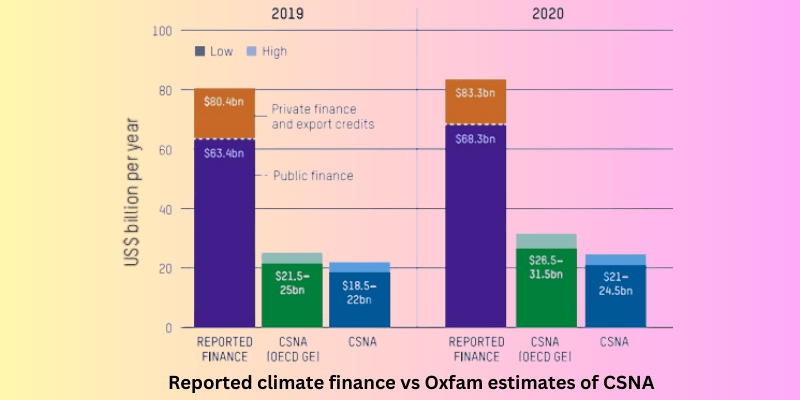 Oxfam has criticized the amount of financial support directed towards helping nations adapt to the effects of climate change, stating that the current funding falls far short of what is required.
The organization calculated that between $9.5 billion and $11.5 billion has been allocated for adaptation, which they argue is inadequate considering the increasing impacts of climate change already being felt worldwide.
Oxfam's spokesperson Dabi emphasized that the $11.5 billion figure should not be misconstrued as sufficient to assist low and middle-income countries in coping with the devastating consequences of climate change, such as floods, hurricanes, droughts, and wildfires.
The organization also highlighted that the $14.5 billion provided by private investors, primarily for mitigation efforts, is less than what was expected from the private sector for climate projects in poorer nations.
What Needs to be Done Now?
To address these issues, Oxfam called for a massive increase in efforts and stressed the importance of providing more climate finance as grants rather than loans. The organization argued that international climate finance plays a vital role in supporting communities and countries at the forefront of climate change, helping them address climate damages, adapt to unavoidable changes, and promote low-carbon development pathways.
Dr Ajay Gambhir, a senior research fellow at the Grantham Institute on Climate Change and the Environment, echoed Oxfam's concerns, asserting that even the most generous estimate by the OECD falls short of what is needed.
He emphasized that developed countries have not fulfilled their commitments and stressed the urgency of providing more financial support to address the immense challenges of decarbonization and adaptation.
According to Dr Gambhir, funds are required for a wide range of measures, including constructing sea walls and implementing reflective surfaces on buildings to aid developing nations in adapting to climate change.
He also emphasized the need for investment in irrigation systems to combat agricultural droughts and protect river flows.
Mitigation efforts involve assisting developing nations in transitioning away from fossil fuels in sectors like transportation and power generation.
Dr Gambhir emphasized that financial support should be provided to facilitate the energy transition, as renewable costs decrease but investments in infrastructure, grid connections, and backup systems are still necessary.
Oxfam's report comes in the wake of warnings by Dr Sultan Al Jaber, the Cop28 President-Designate and Minister of Industry and Advanced Technology, who highlighted the limited availability of climate finance as a threat to global climate goals.
Dr Al Jaber called for increased public and private financing to foster low-carbon growth and development in Africa, emphasizing the lack of accessible and affordable finance for the continent.
Oxfam has raised concerns about inadequate support provided by wealthier nations to assist poorer countries in dealing with impacts of climate change.
The organization sees an opportunity to establish new climate finance goals for the period beyond 2025 through the UN Framework Convention on Climate Change. However, Oxfam cautions against repeating past mistakes and stresses the need for a substantial increase in financial support to address both adaptation and mitigation challenges.
Also Read: 21 Best Paying Jobs in Oil & Gas Production for Financial Success
The paper recommends that high-income countries should speed up their efforts to gather and allocate climate finance, ensuring that any past shortfalls are compensated in a fair and equitable manner.
It is crucial for these countries to provide transparent financial resources with effective accountability measures, while also enabling greater local involvement and responsiveness to the specific needs of the communities affected.
Those directly facing the consequences of the climate crisis should receive the funding they were pledged for adaptation and mitigation, as well as for addressing the losses and damages they are already enduring due to climate-related impacts.
Source: Oxfam Report