The internet has a plethora of sites that promise to pay you for doing certain tasks. As a result, it has become to identify the validity of these sites and their claims. One such site is Opinion Outpost. It is a great platform where you can earn some extra cash by sharing your feedback and opinions on their everyday products and services. It is an easy way to earn money and it only takes a few minutes to complete the tasks. But is it authentic? In this Opinion Outpost review, we will cover all aspects of this platform so you can decide whether to use it or not.
Opinion Outpost Review: Take Surveys, Make Money
Many of us spend the majority of our time on the web. Thus, the idea of making money by being online and giving feedback is incredibly appealing. But, it can also be used to con people, so one must be careful. Opinion Outpost claims to pay money in exchange for your opinions and feedback but are they legit? Let us find out in this Opinion Outpost review.
What is Opinion Outpost?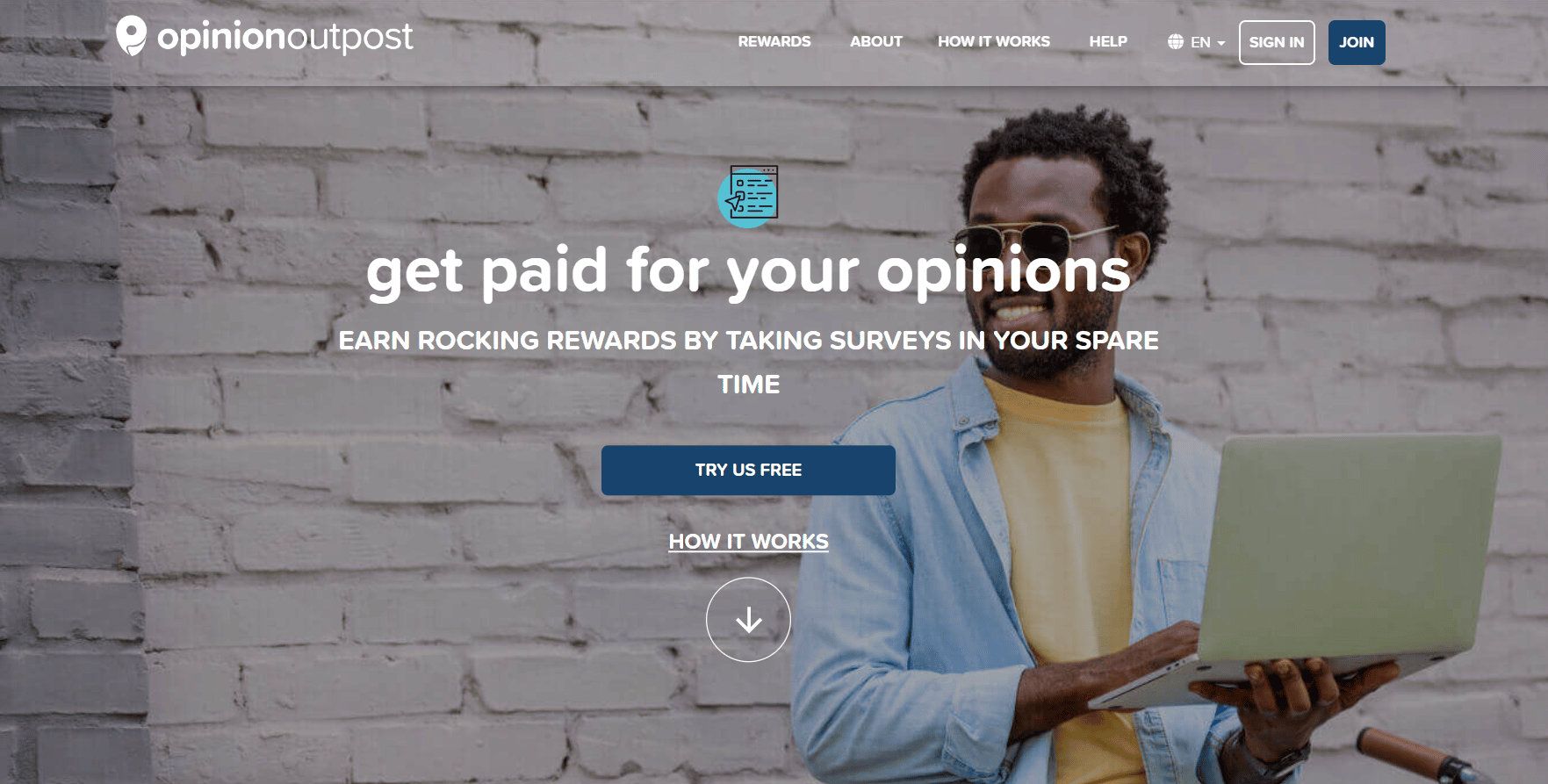 Opinion Outpost is a market research company that allows its members to take online surveys in exchange for money. These surveys are related to some of the greatest companies and businesses in the world. The data obtained from you is then sent back to the companies who use it to improve their services.
The company was founded in 1977 by Survey Sampling International, LLC (SSI, now Dynata) and was headquartered in Shelton, Connecticut. The surveys are related to product tests, reviews of advertisements, surveys targeted for specific locations, Google Ads Data Hub, etc. You can go to their official site to get started.
How does Opinion Outpost work?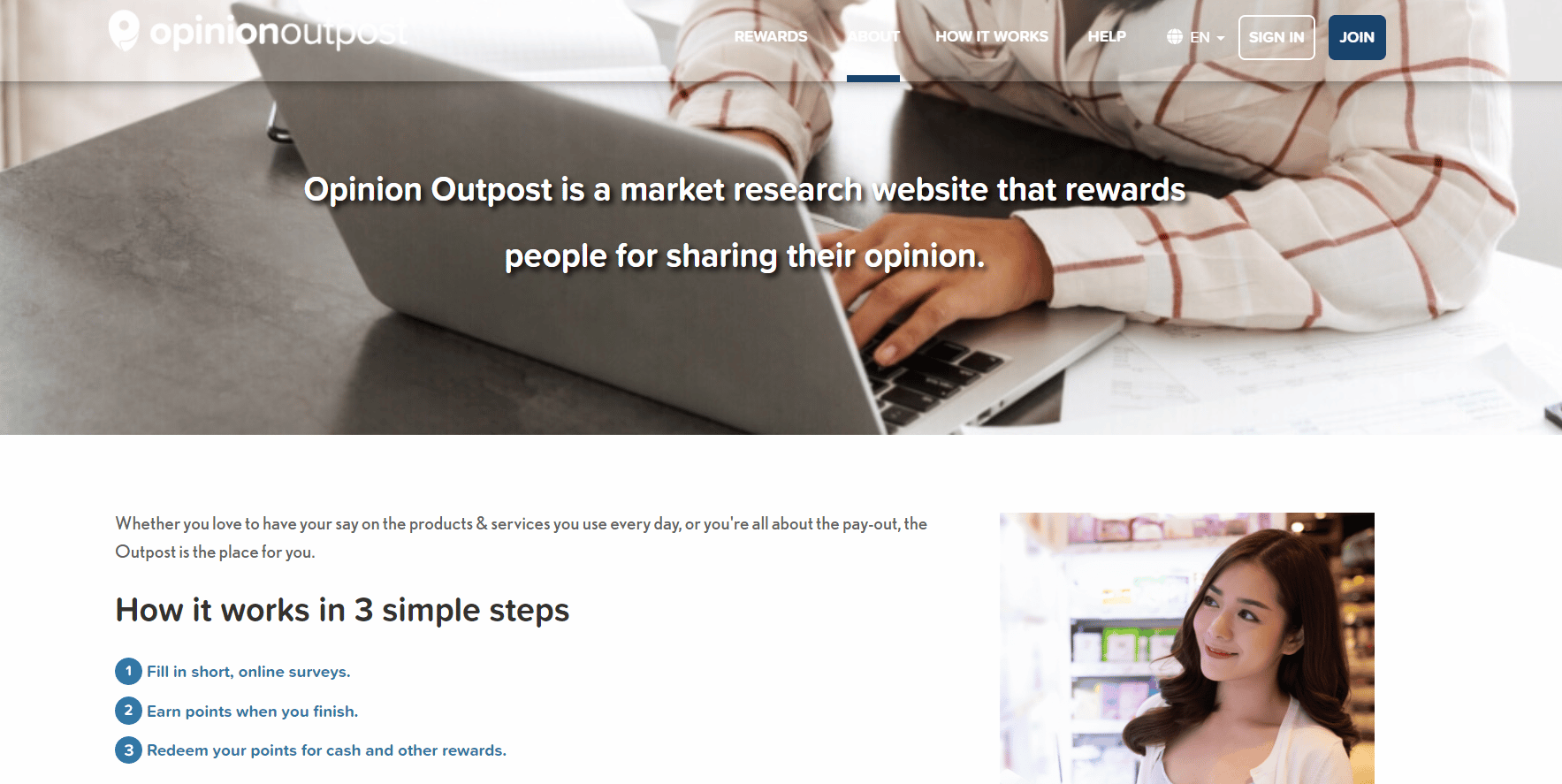 Opinion Outpost offers paid online surveys to people who want to provide opinions on various products and services. The marketing and development team at Opinion Outpost wants feedback on their products. In exchange for completing surveys, polls, or focus groups, they offer cash rewards via Amazon or PayPal. There are various vouchers available as well if you want to try the other way.
It is simple to register for Opinion Outpost for free and complete your profile. After this, a dashboard will appear on your screen containing your profile and your points. You can then take surveys by clicking on the Take a Survey! button, however, before that, you have to answer several MCQs that enhance your experience on Opinion Outpost by giving suitable surveys and better rewards.
After this, you can start taking the survey by providing some basic information about yourself. These surveys can last for any period of time, and the rewards are decided according to that. General surveys are common, though sometimes they can refer to some specific genre or niche as well, such as advertisements. Let us continue this Opinion Outpost review by learning how to join this site.
How to join Opinion Outpost?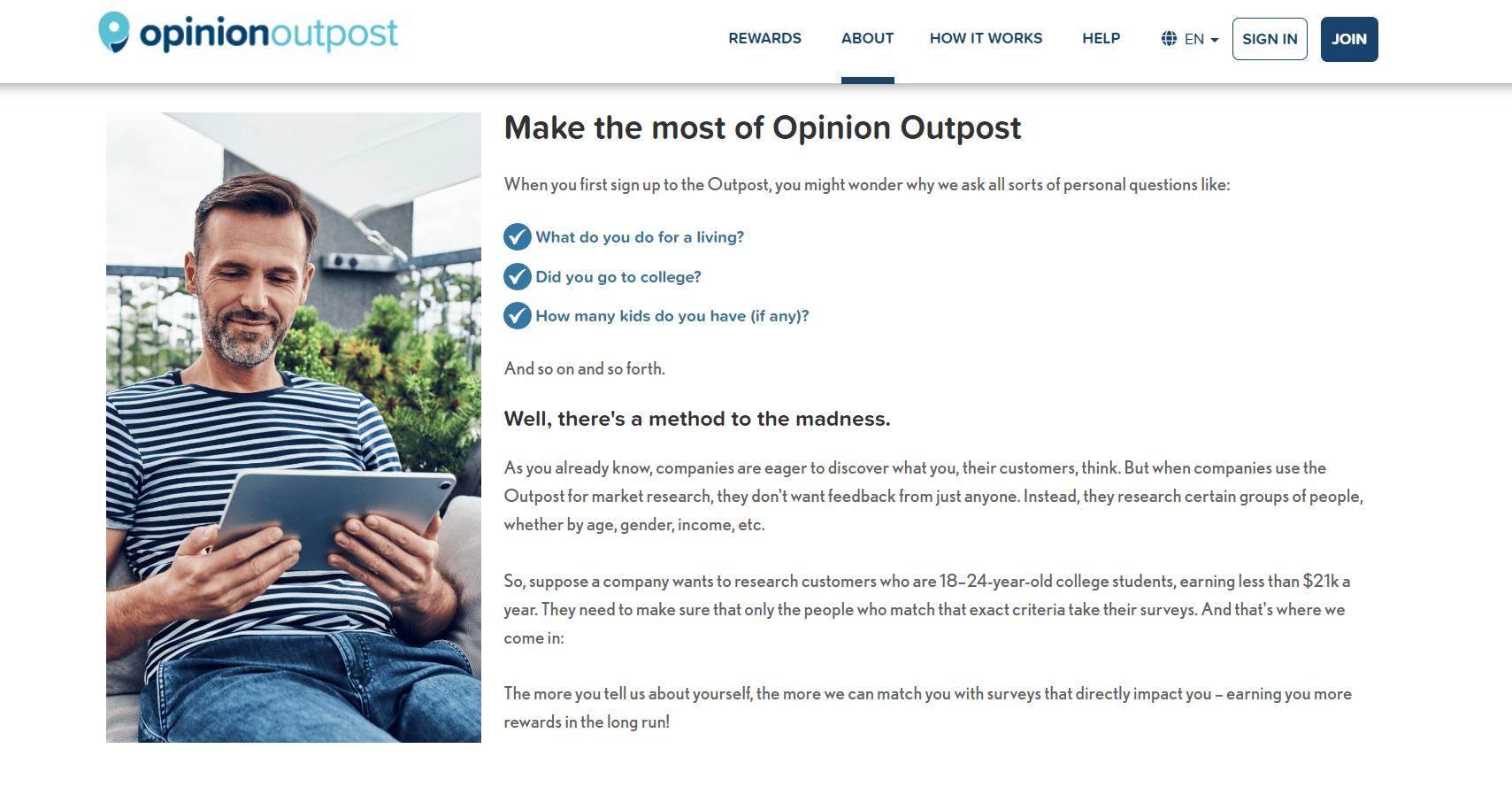 If you are over 18 years of age and residing in the United States, you can open an account on Opinion Outpost and sign up, providing your basic details, name, gender, and email address. You can sign up for the site without any future risks, and the best part is that it is completely free.
Remember to put the correct email address while signing up, as they will send you a verification email on your provided email id before creating your account.
If you wish to redeem your earned points via PayPal, make sure you sign up with the email address that your PayPal account carries. Once your account is created, you will be asked for further basic details like age, occupation, location, etc.
How to make money with Opinion Outpost?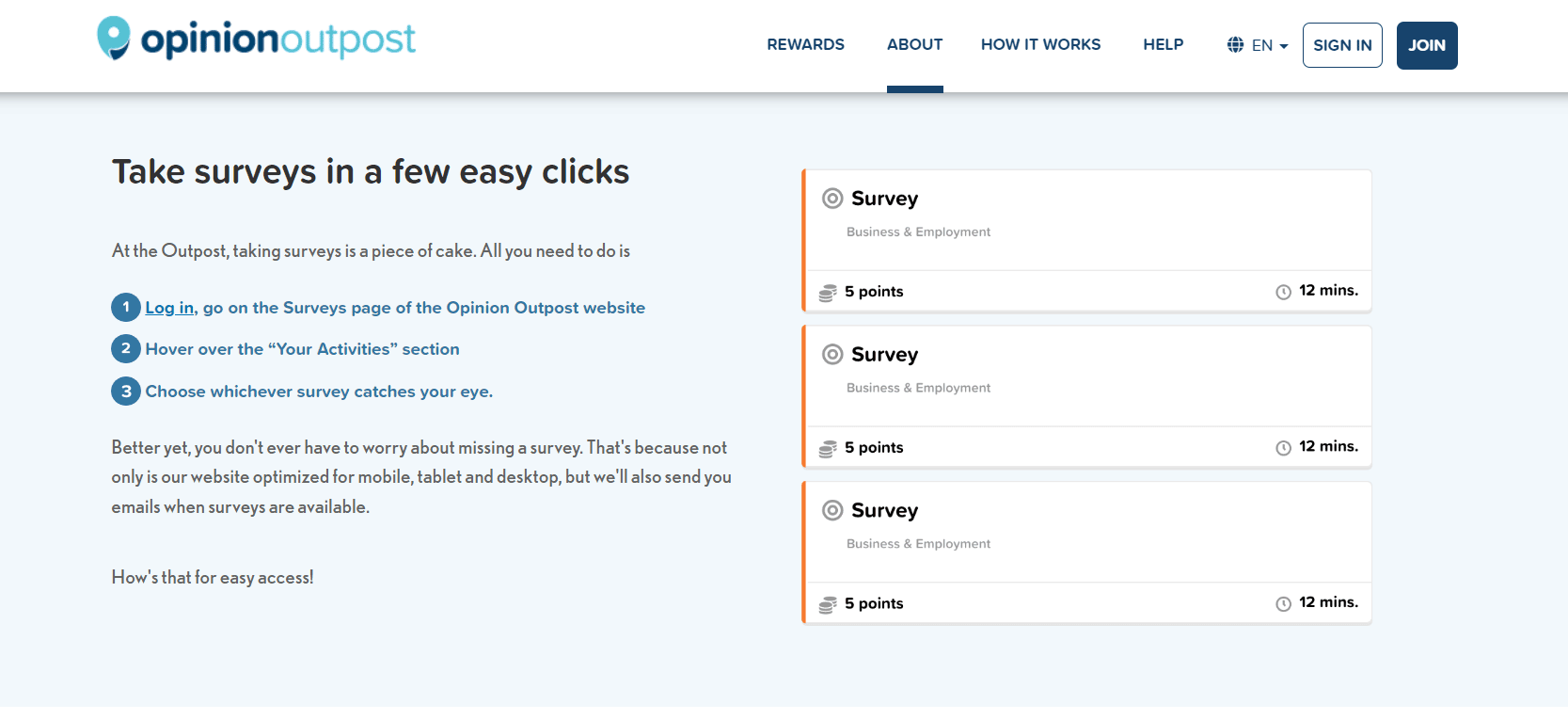 Once you sign up for an account, you can start taking surveys. Opinion Outpost will send you an email whenever new surveys are available as per your qualification. You should consistently receive these notifications, although their availability can be unpredictable and last for short periods. Therefore, there might be times when no survey will suit your needs.
To be eligible for the rewards, you have to take a short screener, and if accepted, you will be able to earn points. They have a particular criterion, so your answers must match their requirements. Sometimes you may be disqualified in between the surveys after answering a few questions. Whether you are able to earn rewards actually depends on your profile as well.
If you don't fit their criteria, you will not be rewarded any points. For each survey, you get a certain number of reward points which you can later redeem for cash or e-cards.
Each survey has different requirements; you will be given an estimated time and points to answer each question. Make sure you pay attention and answer each question honestly and reasonably, or else your account might be even removed by Opinion Outpost.
Is Opinion Outpost legit or a scam?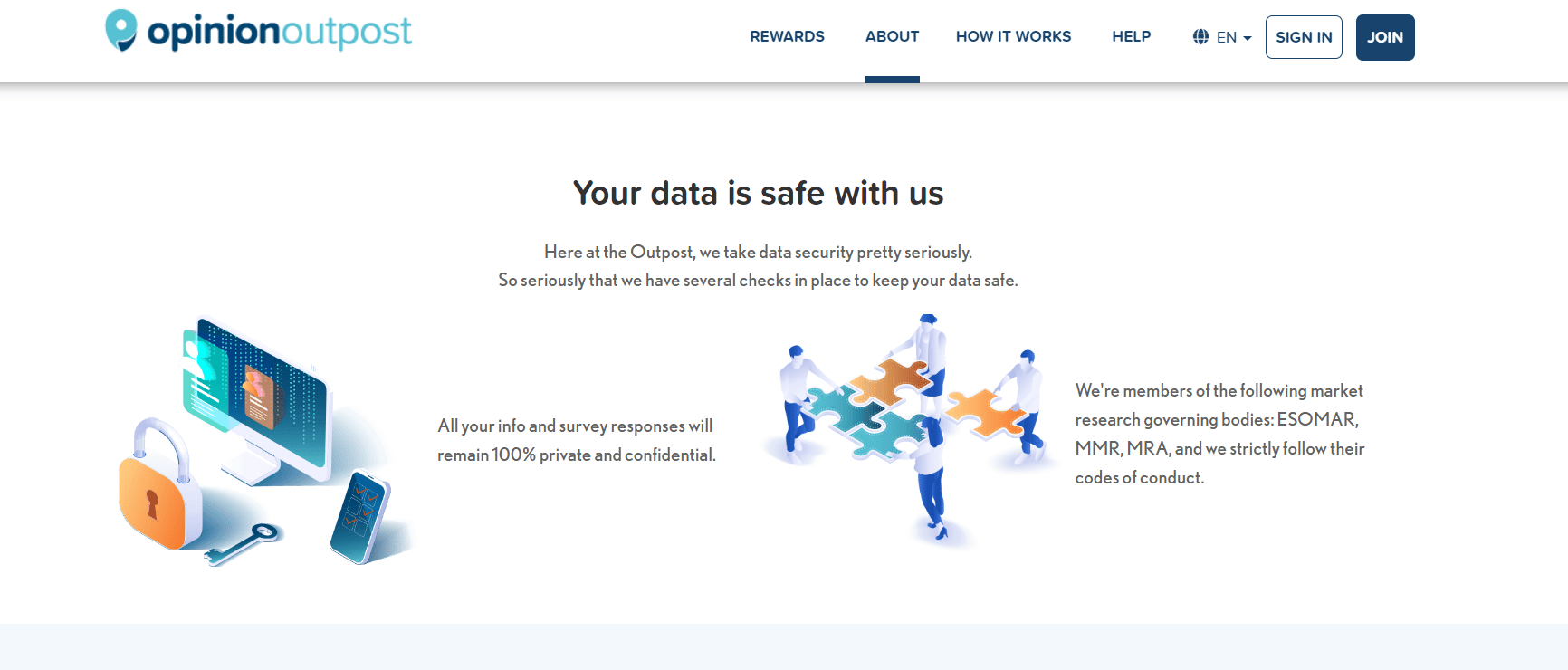 Since 1977, Opinion Outpost has been proven to be an entirely legitimate platform. The site is run by the company Dynata LLC. (formerly named Survey Sampling International, LLC) which operates out of Texas and specializes in market research for businesses all around America. To date, the site has around 2 million users worldwide.
Opinion Outpost is also safe because they use mobile verification every time you withdraw your points to ensure it is you. They send you a 6-digit pin on your mobile for confirmation that you need to enter when they ask.
With Opinion Outpost, your personal information also remains intact and secured as the site has a secure online portal for storing personal data, which will never be shared with any third party or sold off in order to protect your privacy.
If you're looking to make some extra money sitting at home, then filling out surveys on Opinion Outpost is an option worth considering. The site offers rewards in exchange for taking surveys that members can access covering various topics.
ESOMAR, MMR, MRA are some governing bodies that regulate Opinion Outpost and thus their rules and regulations are followed by the site. There is no chance of hampering privacy or leakage of data from the platform.
Also Read: 17 Free Apps That Pay You to Walk

Who can join Opinion Outpost?
People from countries like the US, UK, and Canada can join this platform. In some European countries like Germany, Spain, Denmark, and France as well this site is used but is known by a different name. For instance, Spain is familiar with 'Centro de Opinion'. In Denmark, it is named 'MitPanel.'
Can you use Opinion Outpost on mobile?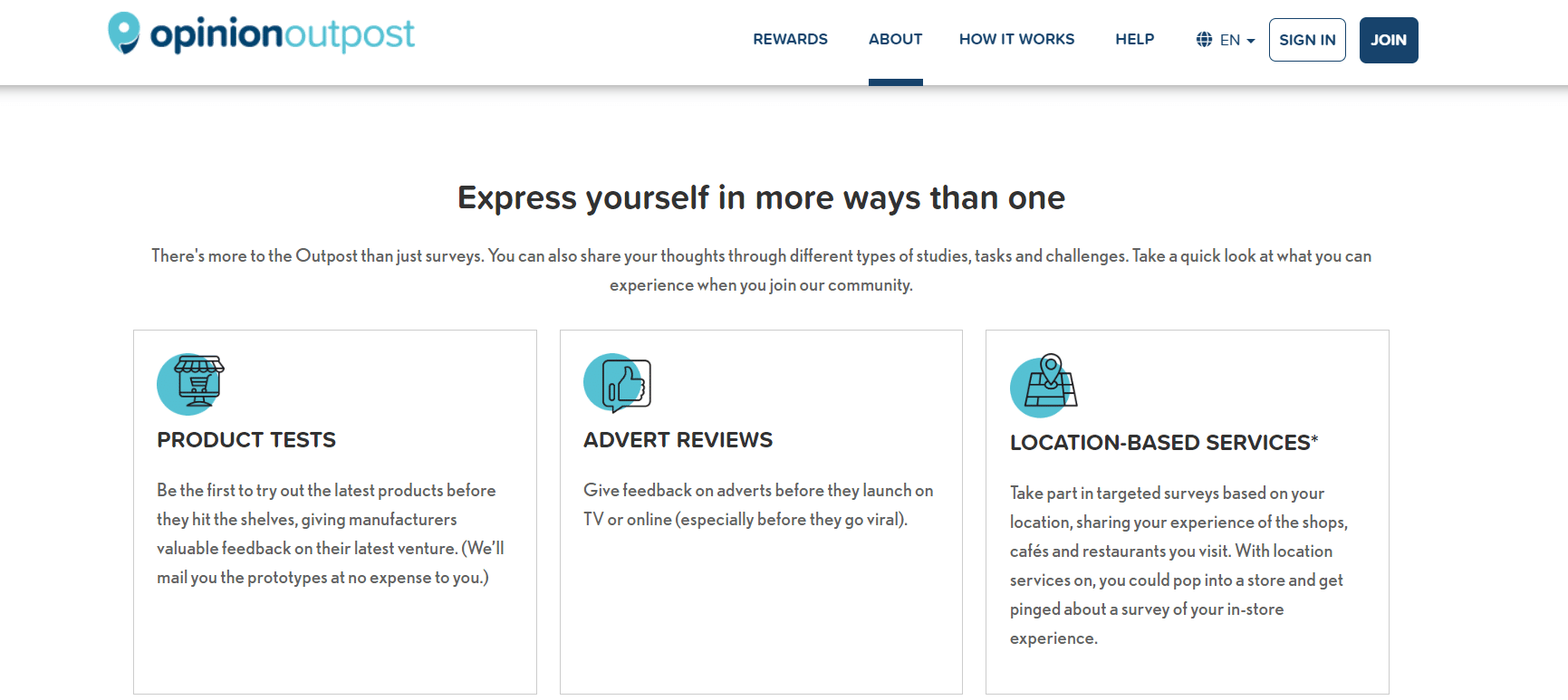 Anyone can use this wonderful site, Opinion Outpost, on mobile. But unfortunately, the site does not provide an app for its users. Well, you need not worry, as you can still use the site on your mobile.
Opinion Outpost has made it easier for its users to use the site on their mobile by optimizing its website to fit mobile screens. And the best part is that every time you need to look for surveys, you need not go to their website. Instead, you will be notified via email if any survey is available as per your skill set.
The major drawback is that not all surveys will always be mobile optimized, so you will have to scroll and adjust your screen accordingly.
How much does Opinion Outpost pay?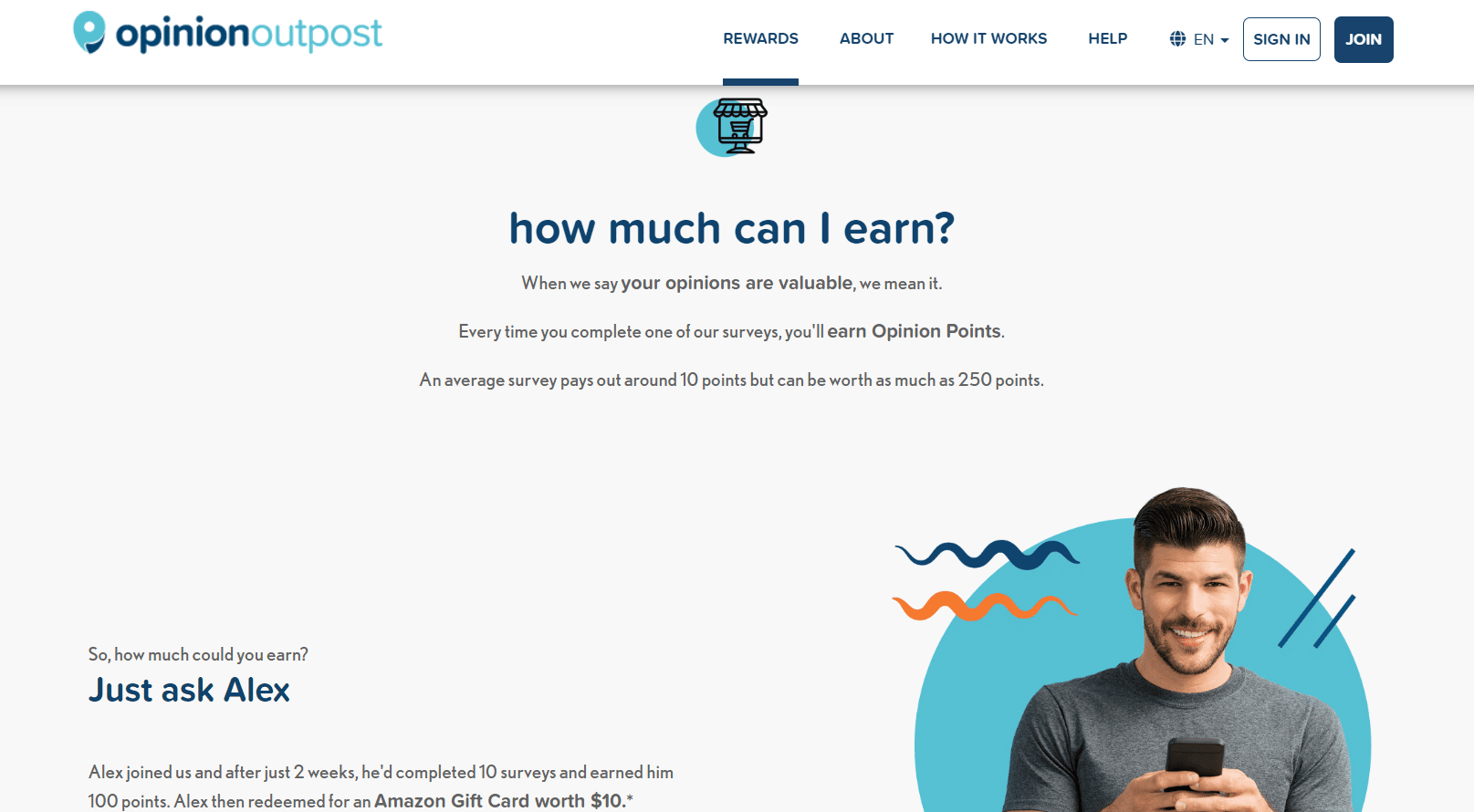 Opinion Outpost pays its members in various ways, depending on the survey or task they have completed. In general, the site will either pay its members with cash or points that can be redeemed for prizes.
The amount that Opinion Outpost pays its members depends on the length and complexity of the survey, as well as the member's geographical location. The major payment option is PayPal, it is the best platform as it can be used anywhere, and rewards can be claimed in cash. You can also redeem your points using vouchers provided by Opinion Outpost.
The pay threshold is fairly low and varies from country to country, but the good thing is that you can get your money faster. Opinion Outpost generally pays its members between $0.50 and $5.00 per completed survey. For more detailed information on the site's pay structure, check this below for a better understanding:
100 points = $5
10 points = $0.50 (average estimate per survey)
1 point = $0.05
Each survey can take around 20-30 minutes to complete. Points are awarded upon survey completion, and users can expect to receive rewards within six weeks of completing the questionnaire.
Benefits and Drawbacks of Opinion Outpost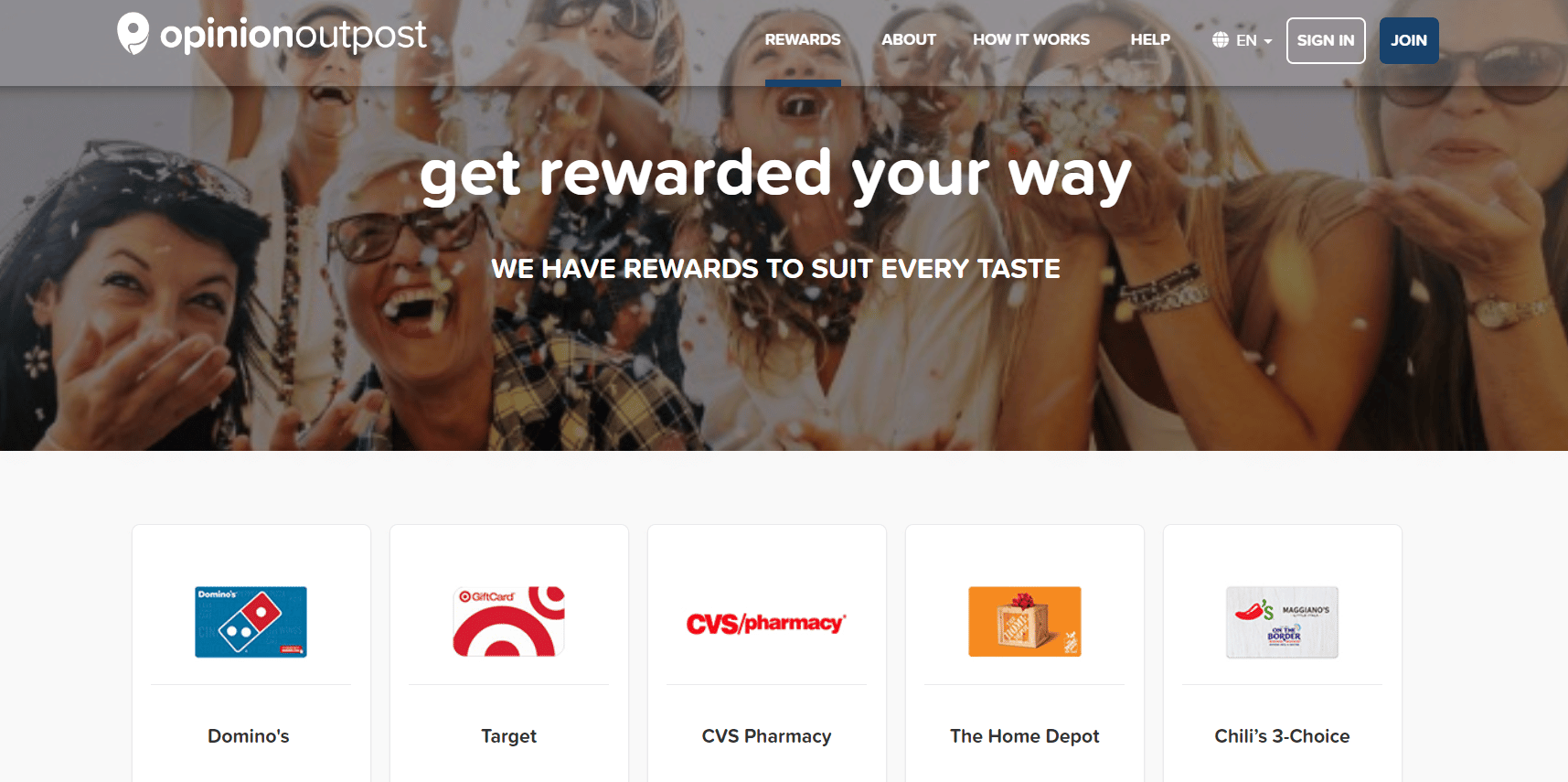 Opinion Outpost is a popular online survey site that allows members to earn money by taking surveys and completing other tasks. However, like any other site, this site too has several pros and cons which we must mention in this Opinion Outpost review.
Benefits
Opinion Outpost is a legitimate way to make money online. It's not a get-rich-quick scheme, but you can make some extra cash by taking surveys and completing other tasks on their site.
The Platform offers a great way to earn more points by referring new users. You'll get an extra five points on top of what you would have gained from surveys.
There is a minimum payout threshold. You need to earn at least $10 before requesting a payout. This may take a while if you only take surveys occasionally.
The payments are relatively fast. Once you reach the minimum payout threshold, you can request a payout and receive your money within a few weeks.
The site is transparent with users. For example, Opinion Outpost shows you how much money can be earned in each survey and what time it will take to finish. This way, users can avoid spending too much of their valuable time on low-paying or short surveys that offer less money.
The site is free to join. There's no need to pay anything to become a member and start taking surveys.
Since Opinion Outpost is in collaboration with Red Cross, it donates the income earned by it and its panel members to various welfare activities of the Red Cross. You can become a part of it by signing up and completing surveys.
Drawbacks
Don't expect to make a full-time income from the site. It is possible to make some extra cash, but it probably won't be enough to replace your current income. The earning potential is also relatively low.
The site can be opted by mostly American users and not many other countries. Other countries will have to opt for other survey sites like this to earn money.
The complaints about their customer support not being beneficial are one of the few drawbacks to this company.
It's essential to keep an eye on the surveys you receive because there is no guarantee that they will be available continuously. In addition, the number and type of invitations vary depending on your information and some popular demographics.
Opinion Outpost's website is not aesthetically eye-pleasing when compared with other platforms. In addition, the platform lags behind the competition as it does not have a mobile app.
Also Read: Is Bubble Cash Legit or Scam?

Opinion Outpost Helpdesk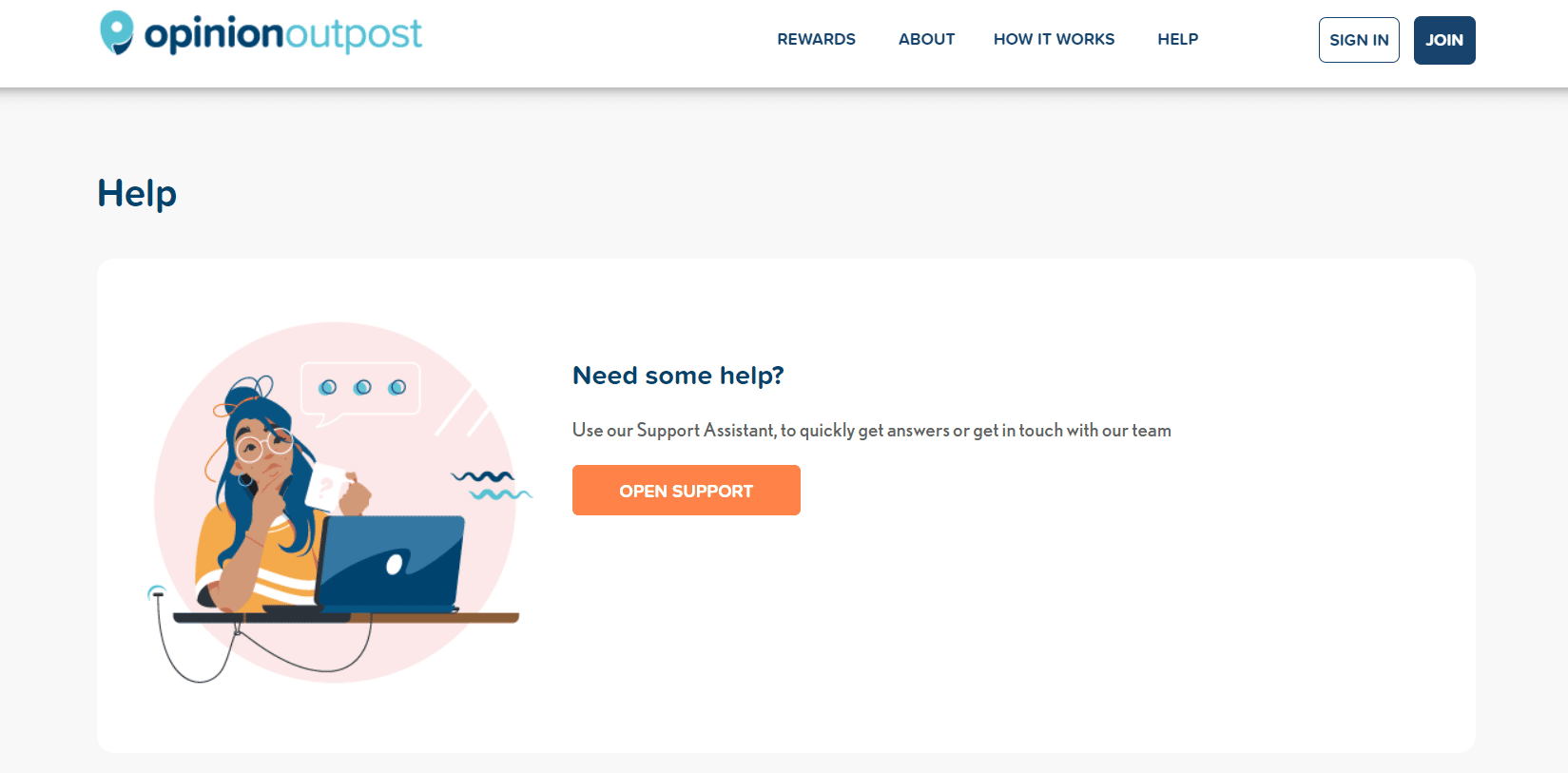 The platform has an excellent helpdesk! They're always ready to answer your questions, so don't hesitate. You can submit them through their website or Facebook page, where they are highly responsive. You can contact technical support for your account through the helpdesk at Opinion Outpost.
They have a website with FAQs, tutorials, and a customer helpline number 833-681-0436, if you need assistance! However, sometimes there might be a few customer support issues or complaints.
In this Opinion Outpost review, we can conclude that this app is legit and can help earn some extra cash. You shouldn't miss out on this! This is one of the best survey sites around that is worth signing up for. You can also make some extra money, by referring it to your friends and family members.