Faircent.com, an online peer-to-peer lending marketplace that connects borrowers who are seeking personal loans with prospective lenders has raised Rs 25 Crore (US$ 4 million) in funding from the promoters of Fusion Microfinance. The money raised with be used to strengthen Faircent.com's lending platform by investing in technology and also in expanding the management team.
About Faircent.com
The company which is headquartered in Gurgaon began it's operations in 2013 and is founded by Rajat Gandhi, Nitin Gupta and Vinay Mathews. All the founders were previously working in the Internet space and have decades of experience in this sector and have worked at companies such as MasterCard, Letsbuy (acquired by Flipkart) and Timesjobs.
The company launched online operations in March 2014. It took a small team of developers more than a year to develop a stable and robust p2p lending engine from scratch for faircent.com
How Faircent works?
Faircent connects people who want to borrow and individual lenders who want to lend. Once they are connected, they can negotiate and settle for mutually amicable interest rates and repayment terms. The site delivers fairness and transparency throughout the entire process.
Eligibility for Online Loans
The service is only available to resident Indians as RBI / SEBI guidelines make it difficult for NRI's to take part in this marketplace. It may be extended to Indians residents outside India, once RBI modifies some of its existing guidelines.
Interested Individuals need to submit comprehensive information to verify their identities as per KYC norms formulated by RBI / SEBI. Only those who pass the verification process will be allowed to register on Faircent.com as borrowers.
Once Borrowers and Lenders have been verified then they can register on the website and begin interacting with prospective clients.
Eligibility Criteria for Lenders.
To enroll as a lender on Faircent.com:
1. The person must be at least 25 years of age.
2. Must be an Income Taxing Paying Individual with minimum annual IT Returns of Rs 10 Lakh.
3. Must have a history of investments in stock markets, fixed deposits through a Demat account.
4. He must be aware of the terms and risks associated with lending money without any collateral.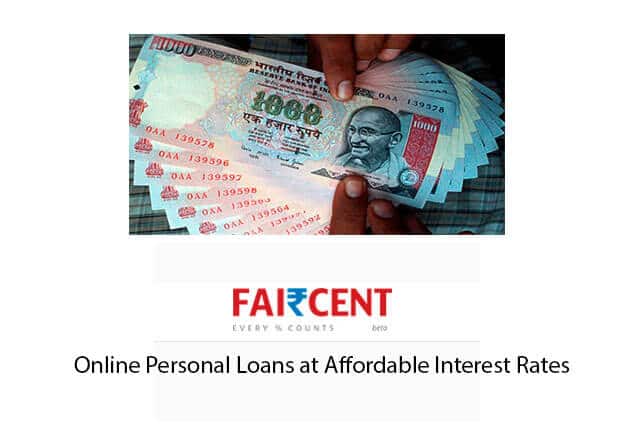 How Money is Lent Online?
Borrowers and Lenders interact on Faircent.com, without any intermediation. They can negotiate favorable interest rates and installments. Once a deal has been reached, a formal contract is then signed in which details of the financial transaction, liabilities are explicitly mentioned.
After the contract is signed, the lender transfers the amount to the borrower's account and the borrower is expected to repay the loan taken as per the agreement.
Forms of Repayment
The repayment of the loan can be done through any of the following methods. Such as :
1. Issuing post-dated cheques.
2. Online Transfer through NEFT/ IMPS/ RTGS.
The Repayments can be tracked online through the dashboard on Faircent.com
P2P Lending Revenue Model
The company has a transparent revenue model in which there are no loan processing charges. It only charges a small listing fee which is Rs 1500 for both borrowers and lenders for amounts up to Rs 1.5 Lakh.
Faircent saw more than 4000 borrowers and 1500 lenders register in 2014 and hope to ramp up in the coming months.
Advantages of Borrowing Money Online
One major advantage that entices borrowers to borrow money online is that you are not locked in for 3-5 years like conventional bank loans. You can repay the entire amount at any time and not incur any loan foreclosure charges.
To know more about the company Faircent.com and how the online lending model works, watch the video below:
Online P2P Lending Companies in India
Faircent is the latest among a host of online p2p lending companies in India. Another such website is i-lead.in that has gained considerable clients in the last few months. Globally P2P lending websites accounted for more than US$ 4 Billion in online loans in 2014. The global leaders in p2p lending are prosper.com and lendingclub.com
Faircent Reviews
Most of the borrowers are satisfied with the Interest Rates charged by the lenders and flexibility in repayment options. Most of the borrowers have expressed happiness and commended the simple application process.
As the online p2p lending model gains more acceptance among Indians, the company is definitely set to see more exciting times.