Individuals generally look for a stable income source to sustain their family and provide them a decent standard of living. However, having a family can be detrimental for your savings. According to a survey conducted by the Competition and Consumer Protection Commission (CCPC), older individuals and couples without any child in Irish society feel more financially secure than others.
Irish consumers exhibited positive performance in key behaviors that contribute to financial well-being, namely active saving and avoiding borrowing for daily expenses. However, compared to other countries, there was a noticeable lack of spending restraint among Irish consumers.
Socio-economic factors played a significant role in determining financial well-being, with home ownership, education, and income having a statistically significant and positive influence. Additionally, financial well-being was found to be higher in non-Dublin regions such as Leinster, Munster, and Connacht/Ulster compared to Dublin.
The poll revealed that one in three people are just managing to meet their financial needs.
Among the respondents, 73% of those over the age of 60 expressed satisfaction with their current financial situation. Only 42% of those between the ages of 19 and 29 felt the same way.
Couples without children who live alone reported higher levels of contentment, with two-thirds stating they were happy with their financial circumstances, compared to 58% of couples with children who felt the same. On the other hand, young adults and single parents were more likely to express dissatisfaction with their financial situations.
There are notable variations across age groups, with individuals over 60 demonstrating greater financial stability compared to those under 30. Conversely, lone parents and individuals with limited formal education exhibit the lowest levels of financial wellbeing in Ireland.
Individuals who are single parents, living with family members, or sharing a house are the least likely to possess sufficient financial reserves. Approximately one-fifth of those who live alone would be able to sustain their expenses for a month or less.
Over 75% of individuals have access to the state pension, but 9% indicated that it was their sole pension or reported having no pension plans at all. Women were found to be more dependent on their spouse or children for financial support during retirement.
A quarter of the survey participants do not compare options before purchasing a financial product, while one-third have fallen victim to financial fraud or raised concerns about unfamiliar transactions.
The majority of respondents, comprising 37%, consistently have money remaining at the end of each month, while an additional 23% have money left over on a frequent basis.
However, there are notable variations when considering different household compositions. Lone parents demonstrate the lowest likelihood, with only 22% reporting that they always have money remaining at the end of the month.
Data on Household Debt
The amount of combined debt carried by Irish households reached its highest point in 2008 and steadily declined until 2016. During this period, there was a negative trend in new lending as households were paying off existing debt more quickly than they were acquiring new loans.
Since 2016, the total outstanding debt has remained relatively stable, but considering the growing population, this suggests that the debt per household has continued to decrease. Approximately 33% of individuals perceive themselves as barely managing financially, while about 14% believe they have excessive debt.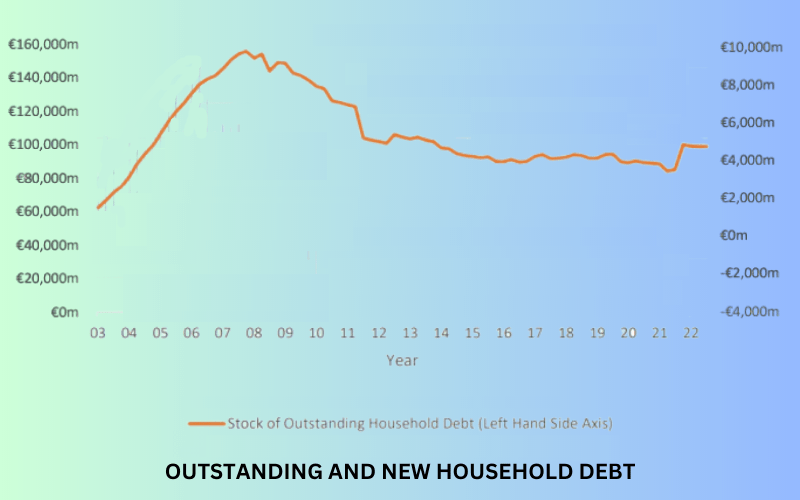 Data on Household Savings
After the financial crisis in 2008, the rates of net new saving decreased significantly as households experienced a sudden decline in disposable income. However, starting from approximately 2015, the rates of new savings gradually increased before reaching a peak when public health restrictions were imposed, leading to limited spending capacity. This phenomenon, known as forced saving, resulted in a sudden surge in savings.
Following the lifting of lockdown measures, savings rates returned to their previous levels, although the overall cumulative level of savings increased. The majority of households (86%) possess savings; however, men exhibit a greater inclination towards engaging in riskier ventures such as purchasing stocks or investing in cryptocurrencies.
Enrolling in pension schemes is a crucial way to save for the future and secure funds for retirement. In the past six years, there has been a notable increase in pension coverage, with nearly 70% of employed individuals having some form of pension plan. The implementation of automatic enrollment in pensions, scheduled to begin in 2024, aims to further boost the rate of participation.
Also Read: How to Start a Trust Fund for a Grandchild? Full Guide
Response to Financial Shock
The CCPC's inaugural Financial Wellbeing report, which surveyed 1,505 individuals from December 2022 to March of this year, also highlighted that one in eight respondents would only be able to cover their expenses for a month or less in the event of a sudden loss of income.
In general, 80% of the participants surveyed reported being able to handle a sudden and significant expense without needing to borrow money or seek assistance. However, there are some notable differences among different groups. For instance, individuals over the age of 60 showed the highest level of resilience in this regard, with 89% of them being able to cover such an expense.
On the other hand, the youngest group displayed the lowest level of financial resilience at 64%, which can be attributed to lower incomes or a lack of savings. Couples living together demonstrated the highest ability to afford such expenses, while other household compositions like house-sharing arrangements or lone parents had a lower likelihood of affording such expenses, both at 64% and 65% respectively. Additionally, respondents with only a primary education had the lowest probability of meeting such unexpected expenses, also at 65%.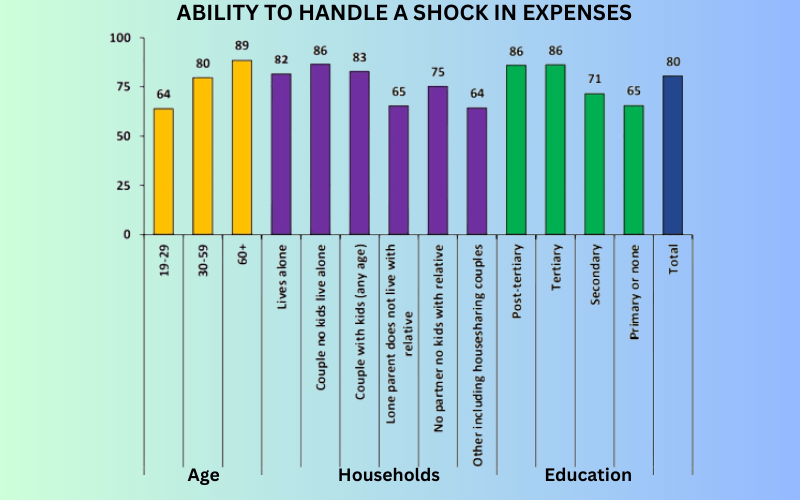 Experts commented that the survey demonstrates a population that is making wise financial choices by saving, budgeting, and seeking information from various sources before selecting a mortgage or loan. Older individuals and couples without any child in Irish society feel more financially secure than others. Couples without children who live alone reported higher levels of contentment.
Financial Wellbeing in Ireland marks the beginning of a comprehensive report series investigating various facets of financial wellbeing in Ireland. The findings from this research will provide valuable insights for the Department of Finance, guiding the creation of Ireland's inaugural national financial literacy strategy. Minister for Finance Michael McGrath is set to officially unveil the strategy during the launch of the CCPC report on Thursday. The CCPC will actively contribute to shaping the strategy as a key participant in its development.
Source: Financial Wellbeing Report