Hello Everyone!
Today, we will look at the journey of Alex Bouaziz, the owner of Deel. How he built a company worth $12 billion for remote hiring. This will be a story of passion, determination and hard work. Let's do this. 💪
Success Story of Deel – A Payroll and Compliance Company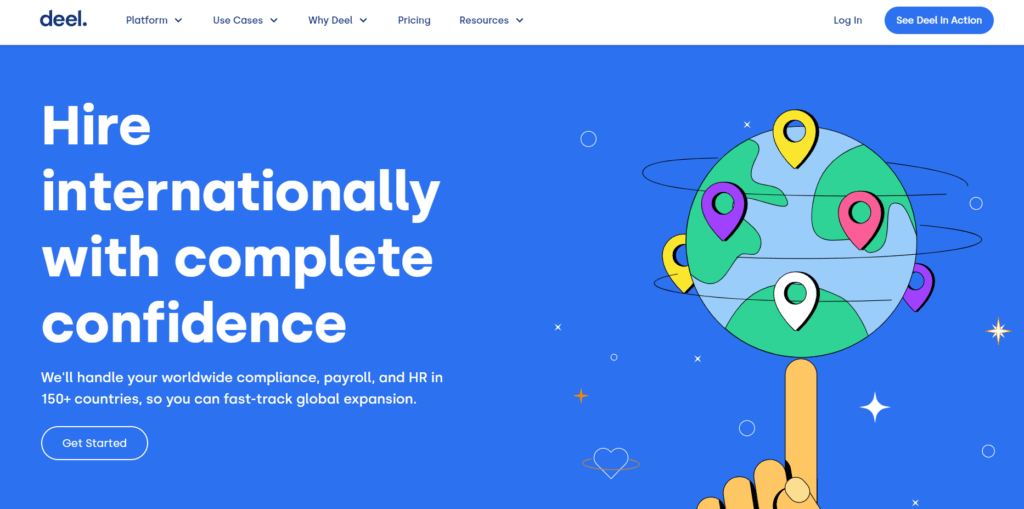 Today, we will look at the journey of Alex Bouaziz, the owner of Deel. How he built a company worth $5.5 billion for remote hiring. This will be a story of passion, determination and hard work. Let's do this. 💪
Deel is a California-based online platform that helps companies to hire remotely from all over the world, managing compliance, payroll, and HR. Though it is based in San Francisco, it works in more than 150 countries, helping in the growth and expansion of the companies. There are three plans currently available on the website for contractors:
Hire contractors: At the specified price per month for each contract, you can hire from 150+ countries.
Add Deel Premium: You can avail legal costs coverage by paying the required price for each contractor per month.
Add Deel Shield: At a quoted price, contractors can be classified and hired in your place.
Note: The price of the lowest plan starts from $49, and will be specified by the company while hiring its services.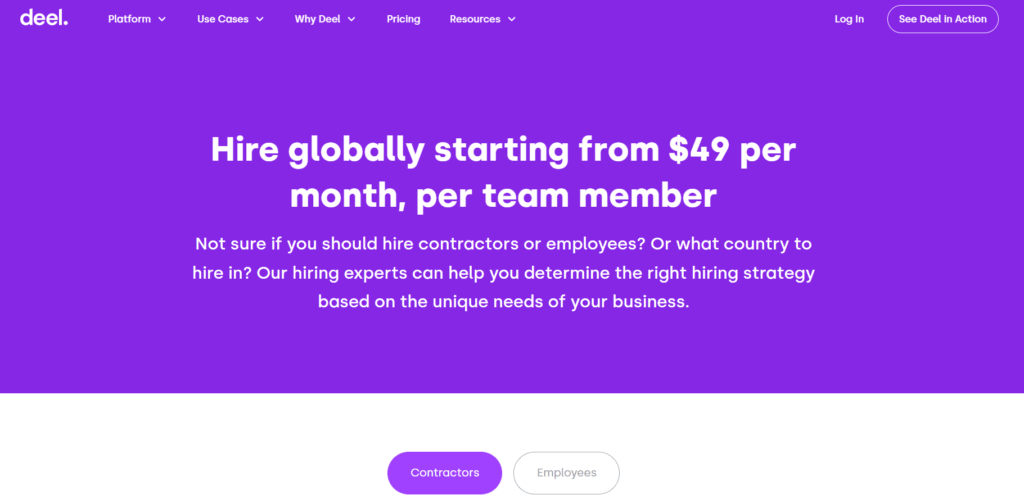 You can also hire employees from countries where you don't have any unit, or conduct global payroll in countries with your own units.
Deel is comprised of several tools for other employees and their companies, for various purposes such as payroll, tax compliance, contract building, invoice and insurance for health and other aspects of employment.
Since remote work has gained popularity, especially after the COVID-19 pandemic, Deel has become an essential tool for hiring and managing skilled workers throughout the world. It determines the best model according to your needs and remains unbiased with regards to your aims and goals.
There are 8,000 customers of Deel all over the world, including big companies like Dropbox, Airtable, Shopify, etc.
Though Alex Bouaziz, one of the founders, is actually from France, he has lived in different countries including Israel, U.K., U.S., and Spain. His co-founder and friend, Shuo Wangs, is from Beijing. Both the founders had become familiar with talented people from various locations on Earth and wanted to recruit them remotely in their own businesses. However, it was too costly to hire such people. This was how the idea for Deel came into existence – both wanted to solve the problem of expensive recruitment, especially from other countries. Their own understanding of the pain of being a remote worker made them compassionate towards other individuals and companies and this is what started Deel!
Alex Bouaziz and Shuo Wangs, founders and friends, initially designed Deel as a platform dedicated to receivables management for independent influencers. However, the same strategy didn't work well in the fintech market that valued brand name and conviction. The duo didn't stop there – they quickly turned around and gave priority to client satisfaction and management, the clients being big companies that deal with influencers. This is how Deel finally came into existence. They now gave importance to their customers, who were the companies that wanted to bring influencers and creators from the entire world and make them participate in permanent and casual engagements.
The main job of the operations team is to travel to different locations all around the globe and form Employer of Records (EORs) to reduce the burden on the companies and ease their work. These are based on the market conditions, rules and regulations set by the plans of scaling, operational and management team. Also, collaboration is done with several regional legal entities. They are looked after by payroll managers, and employee experience specialists manage the complete EOR employee lifecycle for each client and the pool of recruits linked to them.
Very soon Deel launched its own entities throughout the world and many of them were given as contracts to reputed partners. At present, it is present in more than 150 countries and accepts payroll in more than 200 currencies.
Though Alex trusts someone with experience and considerable knowledge to look after the engineering side of Deel, he is willing to give opportunities to juniors and freshers regarding business management, operations or sales. He doesn't want to put the infrastructure of the company in jeopardy. There are review sessions, where employees are given templates to fill and give their opinions about everything necessary. These reviews are then used to improve on relevant areas. Also, focus is given on unity and bonding of the team, by allotting half an hour each week for entertainment purpose.
The team of Deel, that had less than 10 members when it was taken to Y Combinator, now has over 1,300 employees from all over the globe. "It was a very small team," Bouaziz stated. "So it was me, then we had three engineers and one person on content marketing. And that team actually was more or less the team plus one more person that we had until 2021." Y Combinator's Continuity's Ali Rowghani, who is a part of Deel's board and looks after the funding, is of the opinion that Deel was already ahead of others in terms of remote work before the pandemic and that "it will be long after."
"The way people work is fundamentally changing… the [Deel] team is uniquely equipped to remove the obstacles of remote work so companies hire the best talent in the world, instead of only those nearest to them," he said in a written statement.
Though the pandemic raised online and remote hiring possibilities, however business was good even before it. Japanese companies have been following this approach all over the world already. The real problem was lack of proper outlook and infrastructure required.
Alex now aims to become independent and separate Deel from Y Combinator and scale it individually. For this purpose, two areas are the most important: infrastructure and customer. Improving by taking customer feedback has proved to be successful, and this has resulted in good reputation through word of mouth. Deel's expansion has led to massive scale of recruitment as well, from the best talent pool all over the world.
The massive growth of the company can be attributed to:
Designing the Required Infrastructure: The focus here was given to content engine and SEO, which successfully converts the potential customers into certain clients. This was the foundation for a company that has reached tremendous heights now.
Scaling: Efforts were given for PR and localization, to ensure better connections with a large number of people and experimenting with different strategies for different locations.
Bouaziz structured the infrastructure in such a way that the customers always became the first priority in Deel:
MVP should be introduced first and gradually developed through iteration.
Customers should be included in the building process.
Take feedback and opinions from customers regarding products or services in demand.
Promote your brand and market it to your customers.
Guide your team through everything, small and big, and make them learn how to do various tasks.
Deel uses the following tools for integration:
For accounting purposes, like managing invoices and costs it uses tools such as Intuit, Netsuite, and Xero.
Tools like Bamboo HR are used for HR purposes like integrating new recruits into the team.
ATS tools such as Ashby are used for contracting and onboarding purposes.
Deel delivers its services on time and at a fairly rapid pace, resulting in synchronized product engineering. New features are introduced every week. The entire team is dedicated and passionate – each member with their individual skills yet working as a unit. There are regular meetings for each department as per the requirement. Alex and Shuo use their daily reports to improve the performance of the team and take Deel to greater heights.
Deel has a section devoted to a range of resources like blogs – over 300 of them that are regarding various queries. Knowledge and experience about how to conduct global recruitment and generate organic demand is shared through these. Also, partnerships and affiliate marketing are used for sales and promotion, enabling payroll providers to do their work on this platform and innovative individuals to resell Deel through appropriate networks. 
However, as easy as it sounds, in reality this was not true. Alex and Shuo faced a lot of hardships during the entire process of building and scaling Deel. Not realizing the importance of reference checks initially proved troublesome. Hiring an unfitting person can affect the company and its environment negatively.
Another thing that worked against them was working for the entire day, without any break. This was mainly due to the pressure of expanding the business when it was in its initial days. Since people from all over the world worked here, from different time zones, taking care of this aspect is very necessary for a fruitful work experience. Additionally, much time was spent to build a solid strategy for finding content that would actually bring in good results. So much efficiency, hard work and dedication ultimately paid off – reflected by the numbers.
Understand the importance of finances and funding, $14 million was raised after May 2020 by Andriessen, followed by $30 million by Spart Capital in September, 2020. Recently, San Francisco company declared that Series C funding of $156 million was raised by the Y Combinator Continuity Fund and supported by previous investors Andreessen Horowitz and Spark Capital. The funding round was also graced by Uber CEO Dara Khosrowshahi, former Stripe payments guru Lachy Groom, Jeffrey Katzenberg, Jeff Wilke, Anthony Schiller, etc.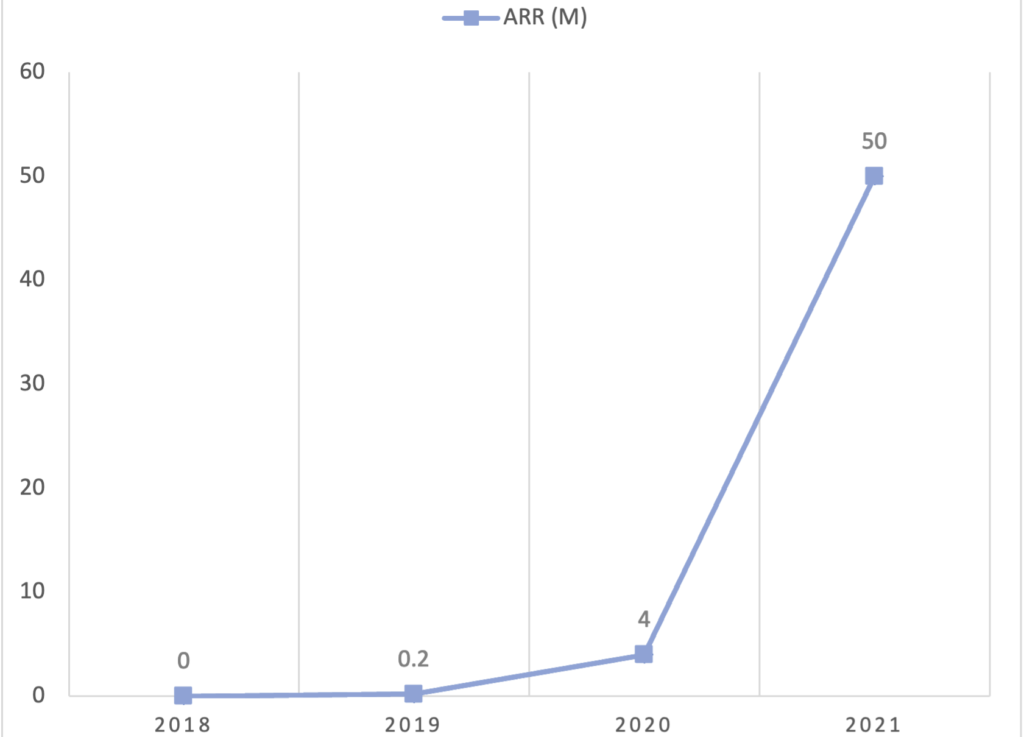 This round of funding is important as it was successfully conduced just after 7 months of a Series B financing of $30 million. This means that more than 5 times investment was grabbed by Deel in such a short span of time. Also, it gave Deel the unicorn status withing 3 years with a valuation of $1.25 billion. This comes within 7 months of the company having a valuation of $225 million. The funding was mainly due to a highly profitable year for Deel, when it enjoyed an increase in revenue by 20 times with more than 1,800 business clients, from 500 clients during the September raise.
In 2022, Deel has a valuation of $5.5 billion, with a team comprising of more than 500 individuals from all over the world. It manages and serves over 6000 companies from different nations for hiring, managing, and paying their workers and contractors. Some of the startups include the Coatue, A16Z, and Y Combinator, that result in a high ARR of more than $100 million and a growth by 12.5 times in financial year in 2021.
With the recent Series D funding of $425 Million, the company is now expected to spend more on expansion and raise the number of EORs in all corners of the world. CB Insights is of the opinion that the virtual HR software industry will witness a growth of $43 billion by 2026, facilitated by the remote-first work provided by technology platforms like Deel.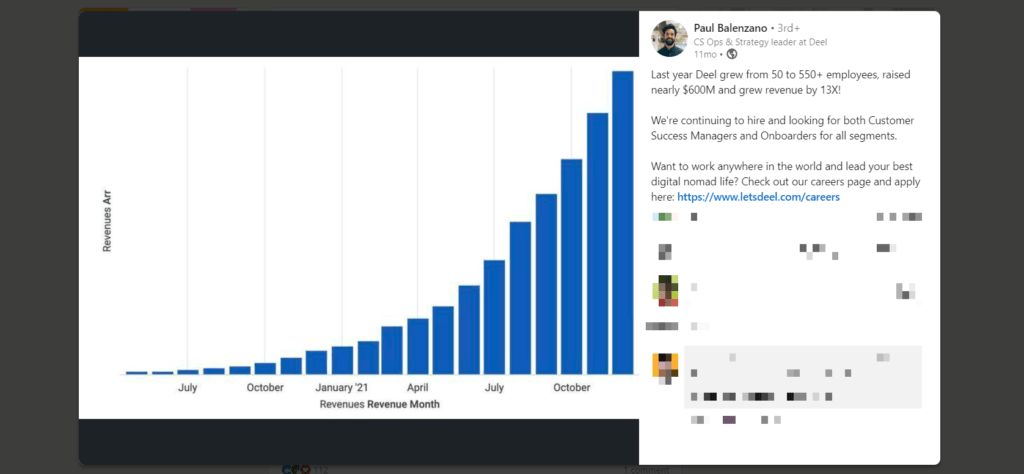 Deel now has a goal of establishing 80 units of its own in various countries, using the capital raised in the funding rounds, as a part of large-scale expansion. It also wants to expand its team and recruit more members, and increase its services. Also, Alex and Shuo wants to further create and bring out new services for both their workers and employers, such as loans on salary, better insurance benefits, etc.
The Open API product and other features in the future will raise integrations more than before and the global payroll product will allow multinational companies with units in different countries to manage payroll through Deel. The higher number of vacant positions under Rev ops and Sales headers, visible from the GTM side, is an indication of the growth of the engineering project by Shuo.
According to Alex, "But I think people are more forward about being okay with remote work. And you'll see a hybrid model, and some companies will feel they need to connect in location. You will be forced into finding a company that's suited for your personality."
This story inspired to not stop chasing your dreams. When you are faced by obstacles, use them to turn your fortune in your favour and become successful. So, always follow your passion and never give up – even after failing once, you can stand up again and taste the sweet fruits of success!
Before you go
I hope these stories were inspiring! Know someone who might dig this newsletter? Share this newsletter with a friend.
Here are a few things you can do if you enjoyed reading this newsletter:
Explore past issues or share this newsletter with a friend.
Until next week, keep minting money!
Aditya
Founder, Moneymint