Hello Everyone!
Today, we will look at the journey of Christian Owens, the owner of Paddle. How he built a company with $14+ million ARR for managing financial aspects of other companies. This will be a story of passion, determination and hard work. Let's do this. 💪
Paddle is a UK-based platform that develops tools for managing payments such as checkouts, subscriptions, financial compliance processes, pricing and billing, etc., meant for software companies, helping such commercial SaaS companies to grow and sell their products throughout the world, with less risk, lower costs and higher efficiency. It wants to promote SaaS companies and help in their expansion worldwide, so that they can make their financial infrastructure a strategic tool for growth and opportunity.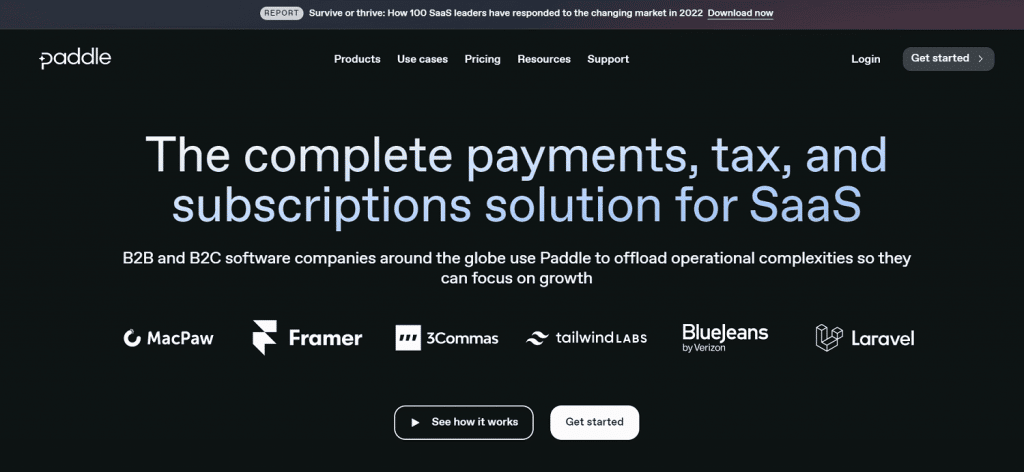 There are two ways in which you can avail Paddle's services:
Pay-as-you-go: By paying 5%+50¢ per transaction, you get access to features like global payments and billing, cross-border sales tax compliance, protection against fraud and chargebacks.
Custom pricing: Prices are charged based on ROI assessment. You can get services that suit your products, business model, and growth stage.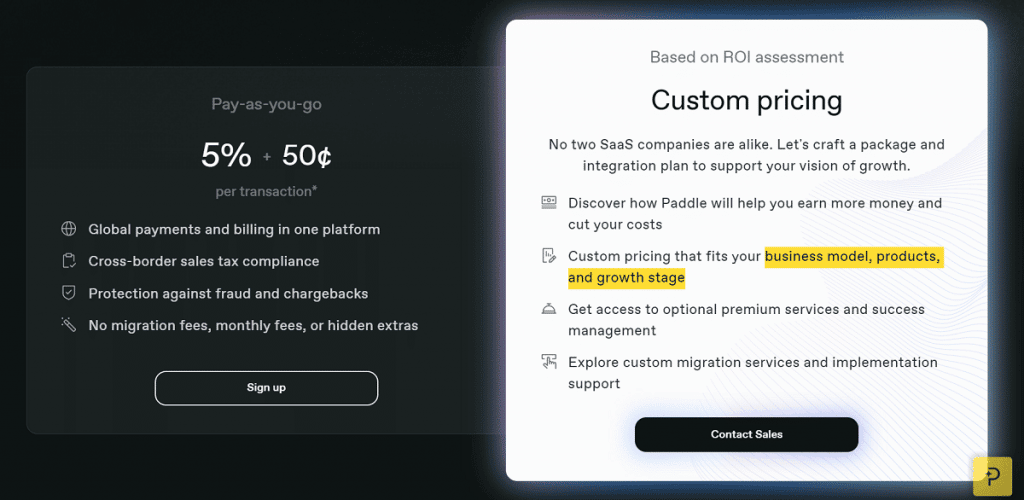 Paddle has a unique and advanced strategy for tech business. They have reliable data on what is good and what is not good for the SaaS business since they have researched on the revenue sources and patterns of many companies. The platform can also be considered as a valuable asset for the associated tech companies, helping in making strategic suggestions for them.
Christian Owens had a passion of technology and all related things from a very small age. He has been familiar with a computer from the tender age of 10. He learnt coding on his own at the age of 14 and started developing websites, with the guidance from other software developers and people associated with his favourite apps. After knowing the basic structure of such apps and how they functioned, he decided to launch a business of selling bundles of different pieces of business software – that gave rise to the site Mac Box Bundle. He also contributed 10% of the revenue as charity.
The young entrepreneur financed the business from his pocket, and managed both work and school simultaneously.  Motivated by the reach and success, he successfully persuaded his parents to let him quit school at the age of 16. He then started growing his business, reaching a revenue of $2m or $3m in the first 12-18 months. The business grew to $4M ARR by the time he was 17 years old, before he applied for the Theil fellowship.
However, soon he realised that he wasn't really creating an app or software, the thing he actually is passionate about. His work only involved managing financial stuff, and so he recruited someone for that and spent his energy for selling software across the globe. This is the reason he launched Paddle at the age of 18, to help software founders like him build great software that they love, and leave other managerial things to a subscription and commerce platform. Christian spends maximum earnings from the businesses in the businesses themselves. He has a team that has older employees than him.

Christian still lives with his parents, who are working class guys in Corby, the same location as that of his business office. His business does not interfere with his personal life, and he still lives a normal life like the others. His friends and neighbours talk about normal day-to-day things, nothing about business. He states that "there is no magic formula for business success, what you need is determination, commitment and the desire to make something really great." This mantra made him successful as well.
Though Christian started the company based on his own dreams and wants, he soon realised that after a company experiences much growth and scaling, the eternal problems of business, such as those related to international market, finance, operations also become vast and complex. This is why he decided to make Paddle applicable to every SaaS business in the world.
However, the main problem he faced was the lack of idea and knowledge of required things in this aspect. He realised his incompetency in this field and decided to recruit better, more experienced and skilled individuals than him. Hiring and forming a great and skilled team was the toughest thing he faced, especially for executive and leadership roles. Whenever he hired someone, he asked himself "can I learn from this person?" or "from the last ten people that we've hired, could I feel like the most stupid person in the room?"
Attending WWDC for the first time made him realise the potential of his business. First, he pitched and sold his product to people like him. Since he was building software for the Mac, he took suggestion from Mac and Apple developers about reaching and capturing the market. After some years he and his team became the top provider of infrastructure for e-commerce section of Mac and Apple.
Till that point of time, they only focused on individual software developers and app builders, not companies of this niche. But now they understood the necessity of concentrating on a particular industry and creating something relevant to it, one that can bring some value. Then they could sell their product to software companies of all sizes and types.
When such big and established businesses showed interest in their product and purchased it, it gave them a boost of confidence about recognizing the problem present in the software industry. This being his real first job, he took up the challenge and did tasks he had never done earlier, learning new things in the process.

For promoting the company and its product, Christian first built a website. He then had to divide the collected funds and capital between further promotions as well as paid advertising. He had to maintain a cordial and professional relation with a board as well, keeping up with the high expectations from the other team members.
He explained this with an example – "If you're hiring a senior person for example, let's say a VP Sales and you're going through this list of candidates and you're discussing a candidate with the board, you may think they're the best person you've ever seen but you get feedback of 'oh they've never done this before, they haven't managed a team this big' etc. Part of me thinks, 'shit neither have I, what makes me qualified to do that, in spite of having no experience?'."
This entire journey wasn't just a bed of roses – it had its fair share of problems as well. They have been rejected, fired, insulted, and what not by other companies. He was on the topmost pedestal at one minute, and in the next he fell deep down. Even if they disturbed Christian, he didn't give up after getting disheartened. Soon, some great thing happened, and this motivated him enough to go on and chase his passion. Christian rightly said, "It's a constant reminder that it doesn't matter whether you're particularly smart but that perseverance throughout all of these things is one of the most important traits to have."
Paddle conducted an event to get Series D funding of $200 million in April, taking its valuation to $1.4 billion and making it one of UK's unicorns. The funding round was headed by KKR, an established global investment firm, and supported by several multinational investors, such as FTV Capital, Silicon Valley Bank, Kindred, Notion 83North, etc. Overall, capital worth $293 million has been obtained from the investors of the company.

Paddle has appeared in Forbes top 30 list under 30. Being a company with more than $14 million ARR, it has a 0% churn rate. Though exact revenue isn't revealed, but it can be correctly estimated to be close to $100 million.
In May 2022, he acquired ProfitWell, a subscription metrics provider, for a whopping $200M. Christian was eyeing it since 2012, when Paddle was still a small startup.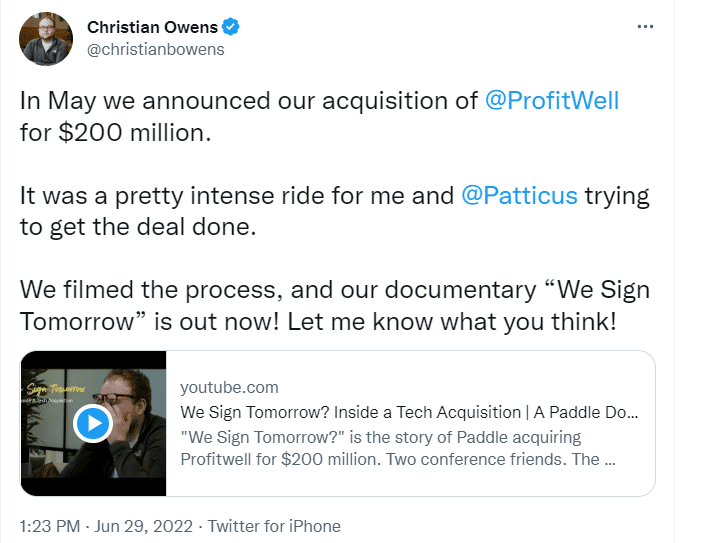 All its employees from US and Argentina have been absorbed into Paddle's team, along with its advanced and successful metrics tools. This has helped Christian to improve the existing product by a large scale.
He has also extended product offerings., including the first alternative to an In-App Purchasing (IAP) system meant for iOS developers. It would just be like a more open and reasonable App Store.
Christian has learned a lot of things on the way. As a company grows, its problems also grow with it. Funding round, planning and executing a product, making deals with customers, hiring a team – all these aspects pose different hurdles. The only thing that remains constant is the persistence to move forward and learn from them.
One important thing is building a team worthy of the company, comprised of strong leaders, people with same vision, motivated individuals. Any meeting or summit is always an opportunity for them to showcase their knowledge, skills, experience and growth. With such a strong team, there is a chance to take feedbacks and develop a culture around them. When distractions come up in the form of innovative and radiant opportunities, you should only focus on how to get there – journey is more important than the destination.
However, even after everything, the most important part of any company is its customers. Helping them and making them happy should be the major concern. When you see them grow with you, you are automatically motivated to do something even better and improve yourself. As Christian himself says, "At a conference recently, I spoke to someone who had used Paddle to successfully pivot their business when industries shut down through COVID – knowing that we helped in even a small way is a real sense of achievement."
The next target is to fit ProfitWell's teams, tools and features into Paddle. Patrick, Paddle's new chief strategy officer and Profitwell's former CEO, is working together with Christian, just like the two teams, to try and develop a system of metrics suitable for SaaS market. They are also scaling the business and expanding the team to keep up with this growth. Though there is still much to do, he is ready and excited for everything that life throws at him!
This story shows you that age cannot be an obstacle in the path of achieving your dreams. If you have enough determination, grit and passion, you will surely taste the sweet fruits of success!
Before you go
I hope these stories were inspiring! Know someone who might dig this newsletter? Share this newsletter with a friend.
Here are a few things you can do if you enjoyed reading this newsletter:
Explore past issues or share this newsletter with a friend.
Until next week, keep minting money!
Aditya
Founder, Moneymint