Hello Everyone!
In this week's newsletter, we will talk about:
Skincare Company earns an 8-figure Revenue
Platform for Airtable Extension surpasses $10K MRR
From a Failed Business to the Position of CFO
These stories show you that you can reach any height of success if you chase your dreams. So, let's begin!
1. Skincare Company earns an 8-figure Revenue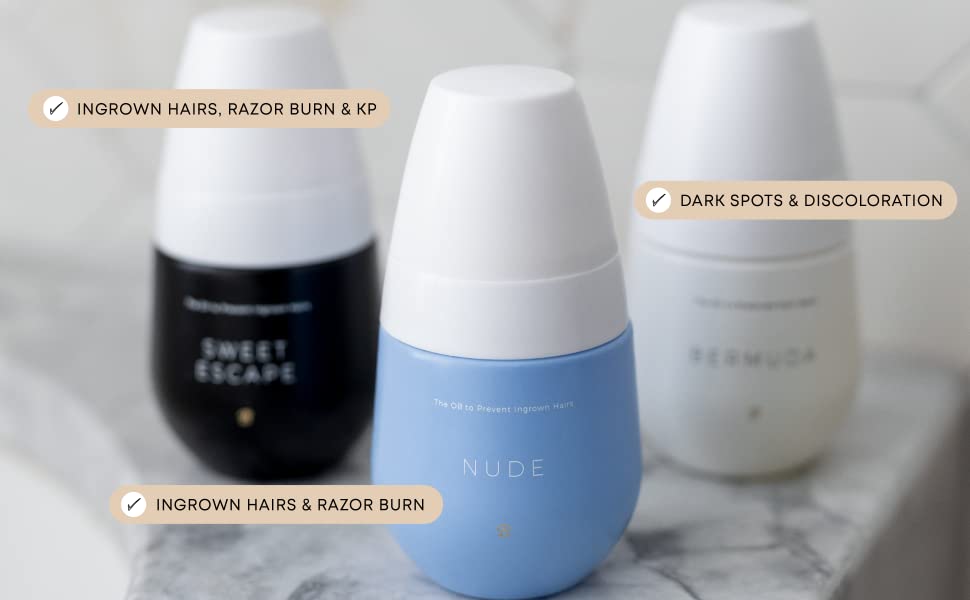 Bushbalm is a Canada-based company that sells natural skincare products for uncommon skin concerns. You can choose among the wide range of products available, based on your unique skin type and problem. There are various products available, at prices ranging from $8 to $175. You can also purchase bundles of such products at reduced prices.
David Gaylord, the CEO and co-founder, was already an employee in Shopify. He was happily earning good amount of cash when his colleague and the present COO, Tim Burns, came up with the idea of skincare products while on his honeymoon! David was inspired by the idea and decided to launch the business as a side project in 2016. The latter They started small, with just an investment of $900, just to launch some products and test the market. Though sales were little in the first year, in the following two years, the revenue reached about $150,000.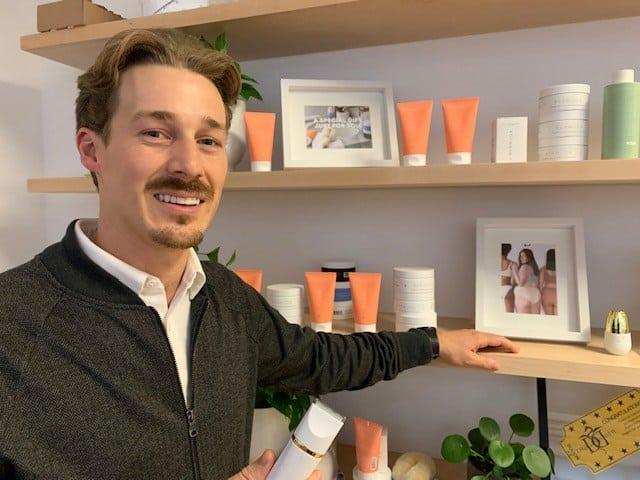 It was at this moment that they took this small business of theirs seriously. They approached a bank for credit cards and promoted their products through Facebook ads. Though, it was sometimes hard to pay the bills for everything due to the lower card limit allowed by the bank. As the business grew, they found the correct product-market fit, and knew exactly what were in demand among the customers. Taking opinions and feedback from the public also worked in their favour.
David and his team introduce new products in every quarter, attracting new customers and retaining the old ones. During the COVID-19, when everything was under lockdown, David had to personally go and arrange for everything since their business was at its peak. All this success is reflected in the numbers as well, being a company that has surpassed the 8-figure mark. Bushbalm is currently earning a sales revenue of about $10-12 million Canadian dollars. Shopify has been the major source of business.
David and Tim are now working on finding potential investors and pitching their business and products in front of them for raising more funds. They are also expanding their team for a better and improved company culture.
2. Platform for Airtable Extension surpasses $10K MRR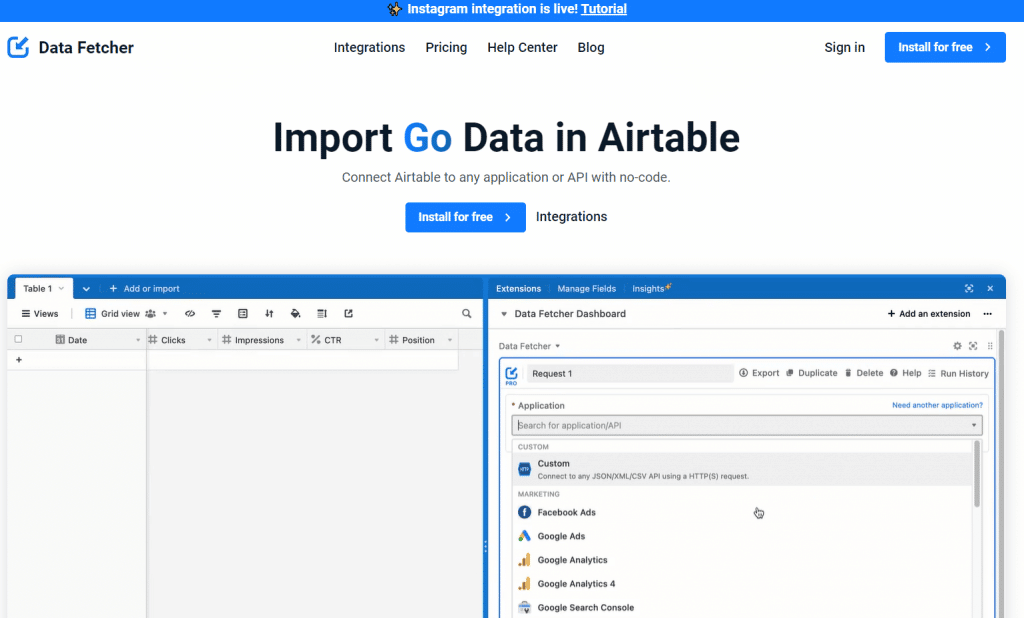 Data Fetcher is a UK-based platform that helps customers to extract and transfer data between Airtable and different tools. This extension is best-suited for businesses, marketers, developers, etc. for various projects. Being a freemium product, customers can use it for free for some small project, and if they like it, they can pay for some bigger tasks in the future. The four plans are:
Free: You can get 100 runs and 1000 records per month, 5 saved requests, 50 response fields, etc. without paying anything.
Starter: At just $24 per month, you can avail of features like 1,500 runs and 1,50,000 records per month, unlimited saved requests, 100 response fields, etc.
Pro: By paying $49 per month, features such as 5,000 runs and 5,00,000 records per month, unlimited saved requests, 150 response fields and much more.
Business: Features like 20,000 runs and 20,00,000 records per month, unlimited saved requests, 150 response fields are available at $99 per month.
Andrew 'Andy' Cloke, the founder, was a software engineer from Oxford University. He loved working with coding and software, and wanted to build his own product and work on his own terms. Following his passion, he took inspiration from an existing API data connector and thought of putting the idea in Airtable. He thus launched the product in 2020, in the extension marketplace of Airtable for external developers. Being a completely new thing in the market, it became successful in a very less amount of time.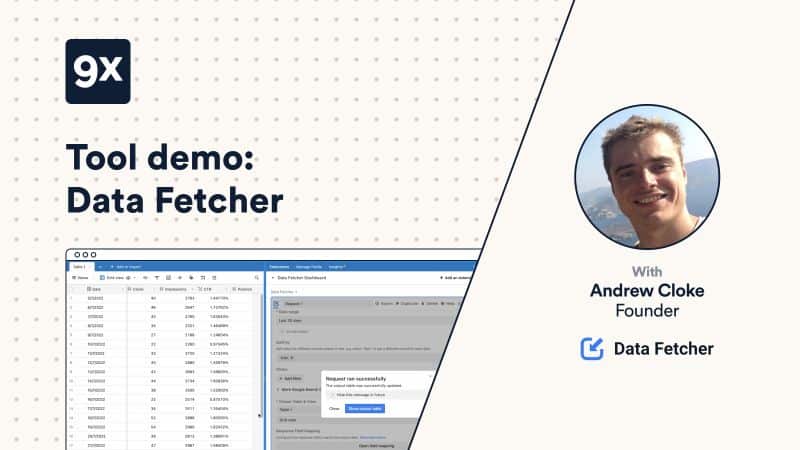 Though being early to the marketplace itself was a great advantage for its growth, he promoted his product through public communities such as Discord, Reddit, and Slack. Andy also focused on SEO channels, by writing blogs and articles, making Youtube videos, researching about market analytics, and much more. All these efforts brought him more customers than the regular traffic. 
This tremendous growth is reflected in numbers too, as 30-40% of the traffic is generated due to the SEO channels, and most of these satisfied customers stay back. Data Fetcher reached a MRR of $10K within two years, which feels like a real milestone to Andy! 70% of the revenue is due to the Airtable marketplace.
Andy is automatically motivated to keep doing this job. He is looking forward to hire more freelancers to be a part of his team, who can educate his audience about the technical aspects of Data Fetcher. He also wants to work on other general things to improve his product and make it a valuable one. His goal is to take his company to $150K ARR in this year, and looking at the way things are going – it doesn't seem to be a very difficult goal!
These two stories are prime examples of how passion and experience help you to achieve whatever you want. However, now let's look at a story of failure, and try to learn something from it.
3. From a Failed Business to the Position of CFO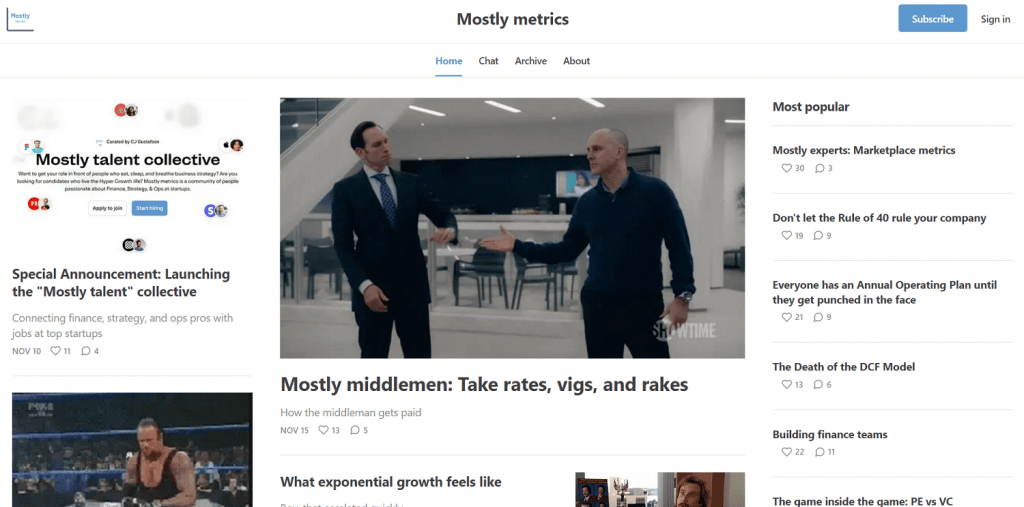 Mostly Metrics is a Boston-based weekly newsletter that covers various financial and business topics, such as metrics, forecasting, strategies, etc. The primary aim is to link similar individuals with relevant startups so that they can work for their own passion. Mostly Talent is the column meant for this, that involves many FP&A analysts, Strategy & Operations directors, Project and Product Managers, SaaS metrics experts, etc.
The author, CJ Gustafson, initially stopped his fulltime job and started a marketplace for tours and travels with his wife. They worked really hard on this for three years, giving up all their belongings to finance it. They even shifted to the basement of their parents' house just to manage everything. At the end of the pandemic, they moved to Florida to further expand their business.
In this entire journey, they lacked experience, management skills, and in the process, they lost $209,640 from the company. Instead of revenue, profit or scale, all Gustafson received were difficult lessons pertaining to business and life. However, they prepared him for the future and taught him how to proceed in life. Some of these teachings are:
Learn about different types of risks associated with business.
Collect primary data for supply-side management.
Take things slowly and build websites, apps, etc., separately., according to the market requirements.
No-coding applications can be built if you are not comfortable with coding.
To chase your passion completely, you have to take a risk by giving up your permanent and secure job.
Do not add features to the existing product if they don't make a meaningful and beneficial change.
Sales and marketing should be the primary focus of any entrepreneur.
Mostly Metrics was the end result of all the knowledge and experience Gustafson obtained from his failure. And it actually proved successful, when he got a job for the position of CFO in a tech marketplace. Without the prior involvement and skills, this wouldn't have been possible at all. The newsletter also reached 10K subscribers in November 2022.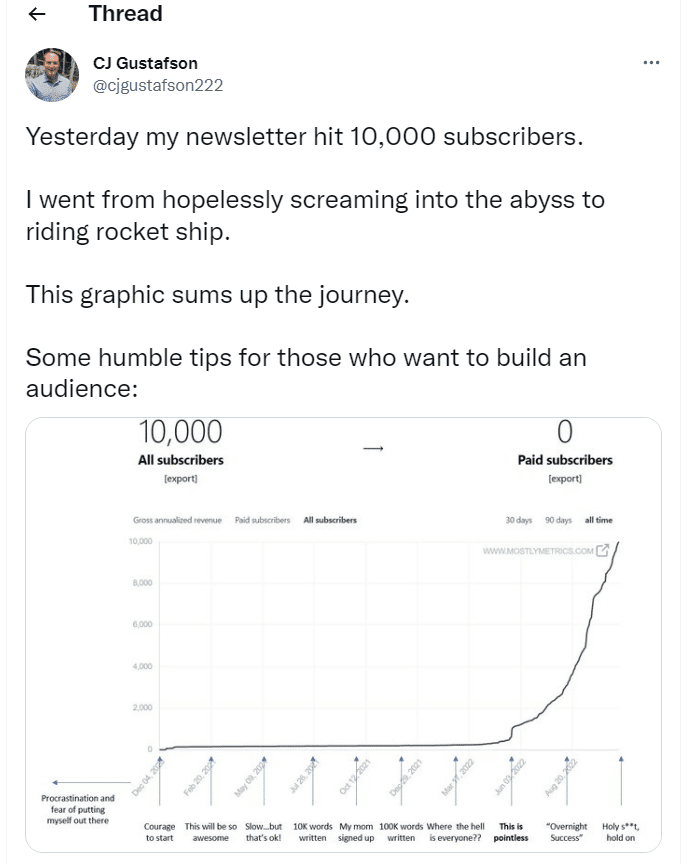 Gustafson is now happy with his job and life overall. This proves that failure is not the end of life. You can learn from it and move on, and ultimately you can taste the sweet fruits of success!
News Bites
1. Indian First Centralized Digital Currency Launched On 1st November 
The Reserve Bank of India has launched the nation's 1st digital currency pilot project.  The currency will exist only digitally, exactly like other cryptocurrencies, but the Reserve Bank of India will govern it, so it won't be decentralized (RBI). A central bank issues currency notes in digital form under the name digital rupee, also known as Central Bank Digital Currency (CBDC). It is essentially identical to banknotes, but because it is digital, it is probably simpler, quicker, and less expensive. One can view the balance in their CBDC wallet by checking their bank balance. The foundation of CBDC will be based on blockchain technology. People will be able to send it to anybody they like, and it will appear in their accounts.
Since digital currency won't be traded like actual money, it might be difficult to grasp the notion of it. For substantial settlements and payments, the digital rupee will be employed. It will be utilized as the settlement amount for both the acquisition and sale of government-issued securities, such as government bonds, according to the RBI. Additionally, the Reserve Bank has stated that it would soon be utilized for retail transactions. Two stages make up the launch process. The digital rupee has been introduced for wholesale transactions, or big transactions, for the first time during this 1st test period. 
On the first day, banks exchanged INR 275 Cr. worth of bonds using this digital form of currency. There were 24 transactions worth INR 1.4 billion in 2027 bonds, 23 transactions worth INR 1.3 billion in 2032 bonds, etc., all of which were carried out by nine participating institutions. 
India is intensifying its campaign against proprietary digital currencies by launching the Central Bank Digital Currency. This restricted roll-out was announced a day after Singapore's monetary authority announced the testing of a digital version of its local currency.
2. MoneyGram's New Feature: Buy, Sell, and Trade Cryptocurrencies Using the App
On November 1st, MoneyGram announced the debut of a new service that would allow users of the MoneyGram app to buy, trade, and retain cryptocurrencies. Customers of MoneyGram now have the option to buy, sell, and store Bitcoin (BTC), Ethereum (ETH), and Litecoin (LTC) via the company's top mobile app.
MoneyGram is at the forefront of cross-border payment technology and blockchain-enabled settlement, offering on/off-ramp solutions for digital wallets via partnerships with CoinMe, Stellar, and G-Coin, as well as cross-border settlement across Circle's USD Coin (USDC). MoneyGram also recently introduced this new feature to buy and store cryptocurrency by simply using its app.
According to Alex Holmes, the chairman and CEO of the company, the use of cryptocurrencies enhances everything that MoneyGram does. MoneyGram offers rapid access to over 120 different currencies worldwide, including dollars, euros, yen, and so on. The app views cryptocurrencies and digital currencies as an additional input and output option.
The Company's current cooperation with CoinMe, a registered cryptocurrency exchange and provider of API-driven crypto-as-a-service, makes it easy to purchase, trade, and hold cryptocurrencies via the MoneyGram app. Since 2021, MoneyGram and CoinMe have collaborated to increase the number of venues where people may buy and sell Bitcoin with cash by opening thousands of new ones around the United States. As the company considers expanding to new regions in 2023, as long as international rules permit it, MoneyGram is anticipated to increase the number of cryptocurrency currencies it offers.
Delivering cutting-edge financial solutions that unite communities across the globe is MoneyGram's aim. They are dedicated to investing in fresh growth prospects and going beyond their core offerings to improve consumer financial services globally.
3. GameStop and Immutable X Collaborates To Open an NFT Marketplace 
Immutable X serves as the official centerpiece of GameStop's carbon-neutral gaming NFT marketplace. A collaboration between the two businesses has been extended and was initially confirmed earlier this year. The video game retailer's NFT marketplace will sell NFTs of blockchain games based on Immutable. Users will be able to buy and trade NFTs that are completely gas-free and that include virtual real estate plots and trading cards from some of the top Immutable-based blockchain games, like Illuvium, Guild of Guardians, and Gods Unchained.
3 months have passed since GameStop and Immutable first announced a $100 million collaborative awards program for artists. 
Since the beginning of the year, GameStop's traditional games and accessory retail business has seen a decline, leading the company to look into alternative sources of income. After announcing a $160M loss in the first quarter of 2022, the firm continued to turn its emphasis to new potential in the gaming industry, saying in June that web3 will be essential to its future. Immutable, on the other hand, need GameStop's connections to the mainstream game business to attempt to increase its user base. On the top dApps network, the Layer 2 Ethereum scaling technology competes with others like Arbitrum and Polygon.
With the GameStop NFT Marketplace's official opening, the firm is now able to provide gamers access to millions more NFTs and more of the finest web3 games currently being produced, all while delivering the best possible gaming experience.
After GameStop announced a partnership with FTX to assist in bringing more people online in web3, the list of web3 partners expanded quite a lot. To develop its gaming NFT marketplace, the company's NFT marketplace also partnered with Loopring in March.
Before you go
I hope these stories were inspiring! Know someone who might dig this newsletter? Share this newsletter with a friend.
Here are a few things you can do if you enjoyed reading this newsletter:
Explore past issues or share this newsletter with a friend.
Until next week, keep minting money!
Aditya
Founder, Moneymint