Meritorious students from all over the world, especially from developing and under-developed countries, travel to prestigious institutions of other countries for higher studies. Such a move not only enhances academic skills for the students, but also contributes heftily towards the economy of the host nation. As surprising as it may sound, but a recent study has found that the net economic benefits gained from international students are higher in case of UK.
The Higher Education Policy Institute (HEPI) recently published a report revealing that takes into account students enrolled in various higher education courses, ranging from pathway programs to PhDs, and includes factors such as tuition fees, non-tuition fee expenditure (including living costs), and income generated from visits by friends and family.
However, it does not consider the broader contributions that international students make through employment-related taxes, which many of them pay into the UK economy in the future.
1. International students made a significant financial contribution of £37.4 billion to the UK economy in the financial year 2021-22.
2. This marks a substantial 58% increase compared to the financial year 2015-2016, from £23.6 billion.
3. The increase is also significant compared to £28.2 billion in 2018-19, representing a 33% increase in real terms.
4. Between the academic years 2021/22, first-year international students were estimated to contribute approximately £41.9 billion to the UK economy throughout their studies
5. The associated costs amounted to £4.4 billion. This implies a benefit-to-cost ratio of 9.4.
6. On an individual basis, EU domiciled students were estimated to have a net economic impact of £125,000. Non-EU students had a net impact of £96,000.
7. In simpler terms, for every 9 EU students and every 11 non-EU students, the UK economy benefits by £1 million over the duration of their studies.
8. The economic impact of international students is spread across the entire UK, with each parliamentary constituency receiving a net economic contribution of £58 million throughout the students' study period. This equates to £560 per resident.
9. International students studying in the UK's top 10 constituencies collectively contribute more than £2.6 billion to the country's economy, excluding the additional contributions from those who remain in the UK for employment after completing their studies.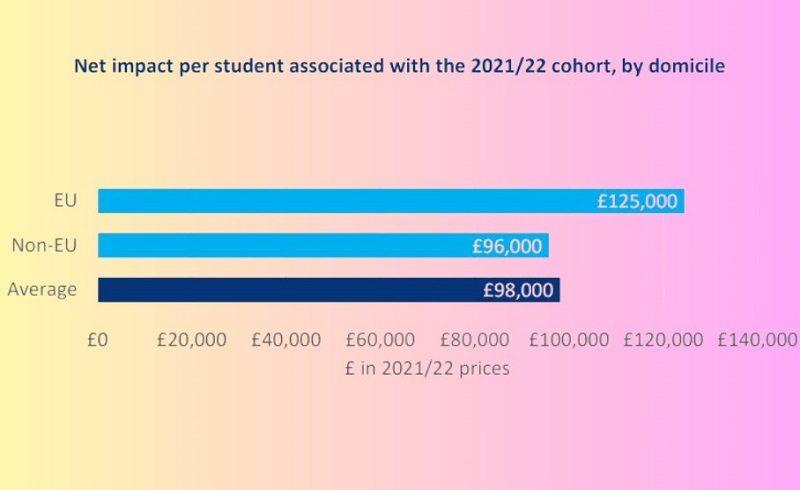 When assessing the economic benefits of international students, the analysis considers various factors. These include:
Tuition fee income generated by international students
Subsequent indirect and induced effects of universities' spending
Income associated with non-tuition fee expenditure and the subsequent effects throughout the wider economy.
Income from friends and family visiting international students
Tax revenue generated from international students during or after their studies
The substantial increase in the number of international students is attributable to factors such as the global recognition of UK qualifications, English-language instruction, and the popularity of one-year Master's courses among international students. Furthermore, the presence of international students fosters long-term investment, business, trade links, and soft diplomatic power for the UK, along with cultural and societal impacts stemming from a more diverse population.
While Oxford and Cambridge perform admirably, they only rank within the top 20 in contrast to numerous other higher education rankings. International students are enrolled in universities throughout the UK, and the economic advantages they bring are distributed across the entire nation.
In line with government policy and recognizing the financial and academic value provided by international students, student numbers have been on the rise in recent years.
In 2019, the UK government published an International Education Strategy that aimed to increase the value of education exports to £35 billion per year by 2030 and raise the total number of international students to 600,000 by 2030.
Perspective of Indian Students going to UK
In the 2020-21 academic year, Indian students constituted the second-largest group of international students enrolling in UK universities, with 87,045 first-year registrations. This placed them behind Chinese students, who had 99,965 enrolments, but ahead of Nigerian students with 32,945 enrolments.
However, according to more recent census data, Indians have surpassed Chinese students in terms of study visas. This change can be attributed to the introduction of the Graduate Route visa in July 2021, which offers international students the opportunity to remain and work in the UK after completing their studies.
Also Read: 51 Most Expensive Colleges in America
Recent Developments
Recently, the UK government introduced new restrictions regarding the ability of foreign students to bring their family members to the country. This decision was made in response to the annual net migration reaching 606,000. Starting from next year, only students who are pursuing postgraduate research courses will be allowed to bring their dependents.
The original plans put forth by Suella Braverman to reduce the number of foreign students in the UK were modified due to concerns that such measures would lead to increased tuition fees for British students.
The Department for Education (DfE) opposed the Home Secretary's desire for significant cuts by highlighting the fact that international students financially contribute to universities and help subsidize home fees.
According to a report, Suella Braverman also intends to shorten the duration for which students can stay in the country after completing their courses.
Additionally, the government had previously considered restricting international recruitment to only elite universities. However, the Department for Education intervened and cautioned that a decline in international students would necessitate increased funding from taxpayers or higher tuition fees for British students.
Universities have also presented similar arguments against reducing the number of foreign students. In a foreword to a report by the Higher Education Policy Institute think tank, it was stated that international students play a crucial role in enabling universities to offer a wider range of courses than would otherwise be feasible.
Moreover, they help cross-subsidize the education of home undergraduate students, which, due to recent high inflation levels, is currently financially unsustainable even in England.
Net economic benefits gained from international students are higher in case of UK. While the UK government claims to be committed to attracting the brightest and best students to the country, it is challenging to reconcile such a statement with these proposed measures.
It is expected that these policies will deter many highly accomplished and talented students from applying to the UK's world-class universities, despite the financial and academic benefits associated with the international student population.
Source: Summary Report for the Higher Education Policy Institute