European economy is going through tough times, embroiled in slowdown and inflation. Recently, economists have come to a conclusion regarding the reason for this rising cost of living. Nearly half of the inflation surge witnessed in Europe during the last two years is due to growth in corporate profits, with companies raising prices beyond the rise in costs associated with imported energy.
According to a recent report by the International Monetary Fund (IMF), approximately 45% of the inflation observed in Europe since the beginning of 2022 can be attributed to increasing corporate profit margins. This has given weight to the criticism of greedflation, which suggests that businesses are taking advantage of the cost-of-living crisis to generate unprecedented profits.
Certain economists argue that corporations have actively contributed to inflation by exploiting supply bottlenecks as an excuse to raise prices in Europe. They then use this inflation as a justification to further increase prices, leading to a cycle of rising costs for consumers.
The IMF's report highlights that inflation in the euro area reached a peak of 10.6% in October 2022, primarily due to surging import costs following Russia's invasion of Ukraine. Companies passed on more than the direct increase in costs to consumers during this time. Though inflation has slightly receded to 6.1% in May, core inflation, which is a more reliable measure of underlying price pressures, has remained persistent.
Various industries, such as oil and gas companies, supermarkets, banks, and pharmaceutical companies, have experienced astronomical rises in profit margins over the past couple of years, leading to intense scrutiny. Some argue that accusing these companies of profiteering is overly simplistic and merely an attack on businesses. However, it is evident that market monopolization in key industries has contributed to record profits, reaching levels not seen since 1950.
Also Read: Silver Lining for Russia's Economy – Economists Uplift Outlook for the Country
Some Companies with Improved Profits
Sainsbury's and Tesco together hold 43% of the UK's grocery market. In the 2022-23 financial year, Tesco reported a 5.3% increase in company sales, reaching £57.6 billion.
In Germany, Volkswagen, BMW, and Daimler have improved their profit margins by capitalizing on supply bottlenecks and strong demand. They focused on producing larger cars and expanding their electric vehicle offerings, targeting affluent customers who are less price sensitive.
The Big Three German automakers have also managed to offset some of their higher raw material costs by utilizing component manufacturers. Volkswagen, for example, reported a net profit margin of 8.1%.
On the other hand, BP recently announced a significant increase in annual profits, with their earnings more than doubling to $27.7 billion compared to $12.8 billion in 2022.
In simpler terms, European businesses have been less affected by the rising costs compared to workers during the pandemic. Unfortunately, for the average European citizen, wage increases have not kept up with inflation. This means that despite any nominal pay raises, their purchasing power has decreased.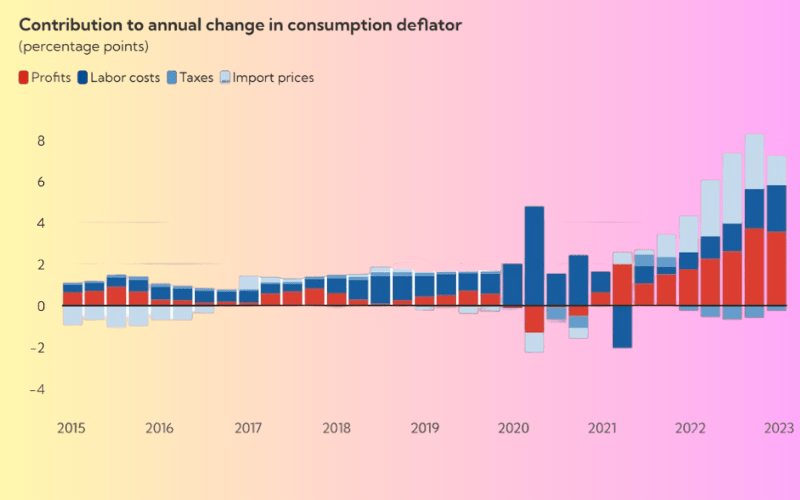 While profits have stayed slightly above pre-pandemic levels, employee compensation has fallen below the expected trend. However, as energy prices increase, labor costs are expected to contribute more to inflation in the future, although the contribution from import prices has decreased.
The delay in wage increases is understandable since wages take longer to respond to economic shocks. This is due to infrequent wage negotiations. After experiencing a decline in real wages of about 5% in 2022, workers are now advocating for higher pay. The key questions are how quickly wages will rise and whether companies will absorb the increased labor costs without raising prices further.
If nominal wages increase by approximately 4.5% over the next two years (slightly below the growth rate observed in early 2023) and labor productivity remains relatively stable, business profits would need to return to pre-pandemic levels for inflation to reach the European Central Bank's target by mid-2025. These calculations assume that commodity prices will continue to decrease as projected in the April World Economic Outlook.
However, if wages were to increase more significantly, by around 5.5%, to restore real wages to pre-pandemic levels by the end of 2024, business profits would need to decrease significantly, for inflation to reach the target, unless there is an unexpected boost in productivity.
IMF stated that workers are now demanding higher wages to compensate for their lost purchasing power. However, companies may need to accept a smaller share of profits if inflation is to stay on track and reach the European Central Bank's 2% target by 2025.
Christine Lagarde, the president of the ECB, emphasized at a banking conference in Portugal that workers are expected to regain the value of their pre-pandemic wages within the next two years. She cautioned against companies passing on the cost to consumers through higher prices, as it would prolong inflation and keep it above the ECB's target of 2%.
Nearly half of the inflation surge witnessed in Europe during the last two years is due to growth in corporate profits. Therefore, it is important for macroeconomic policies to remain strict in order to maintain expectations and control demand. This would encourage businesses to accept lower profit shares, enabling real wages to recover gradually.
Source: IMF Report