Who does not know about the famous online brand, Myntra? This is an online store where you can see clothes, accessories and much more at the most reasonable prices. They are committed to making you look beautiful anytime and anywhere. It is a user-friendly website that offers thousands of the latest designs of famous brands and even local sellers. They also have an attractive affiliate program which can ulitilse. In this Myntra Affiliate Program Review, we will cover every aspect of Myntra Affiliate Program.
Myntra Affiliate Program With 8.5% Commission
Myntra Affiliate Program can be an excellent option for bloggers, content creators, social media influencers and YouTubers. Their affiliate program is really nice and easy to join. They offer a high commission amount to their affiliates and make the payment timely. Let us learn more about their program.
What is Myntra Affiliate Program?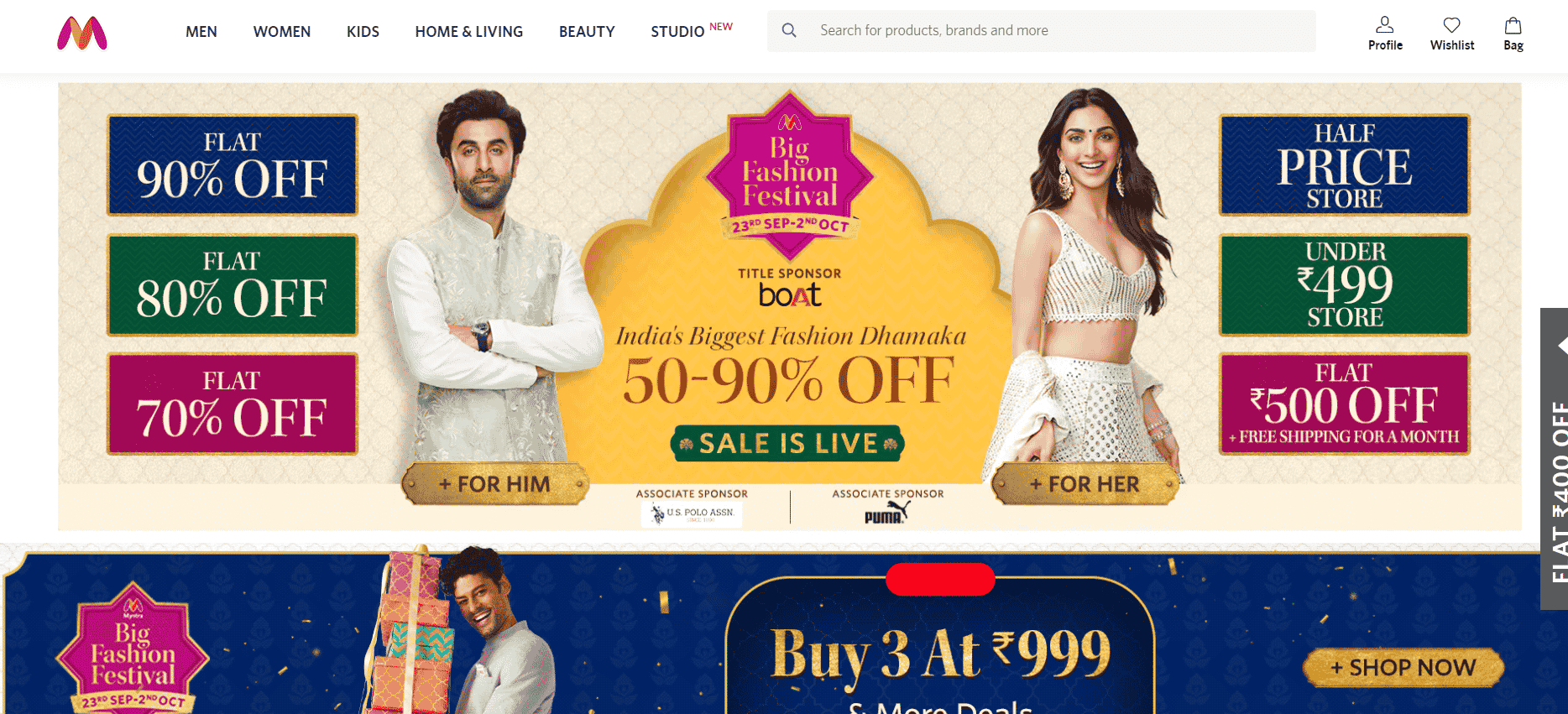 Various companies use affiliate marketing for promoting their product or services to boost sales and increase brand awareness. Myntra has also started its affiliate program, and it is a great chance for you to make money online by promoting its products on your social media platform or blogs.
For becoming an affiliate, you first need to make a Myntra affiliate account; once you get the approval, you can start selling the products. Whenever there is a successful sale from your referral link, you will get a commission from Myntra.
Myntra is one of the largest fashion and lifestyle e-commerce platforms in India. They have a vast customer base and partner with some of the biggest and top brands; their primary focus is fashion products. They launch big sales of up to 80% off, and they have sales all year long on different products. Therefore, you can benefit from all this by becoming an affiliate for them.
Myntra Affiliate Program Benefits
Here are some of the benefits; this list has been created by reading the Myntra Affiliate program review so that you get the best and most reliable information about them-
Payment – The profit withdrawal facilities provided by Myntra are simply outstanding. Once the profit is confirmed, affiliates can get the money transferred to their account as real cash; the minimum withdrawal limit is just Rs.10.
Huge earning potential – By joining their affiliate program, you can earn a good amount of money every month. There is a potential to earn around Rs.10,000 through this side hustle, and you can increase it up to Rs.20,000. The amount you earn will depend on the number of sales or transactions completed from your referral link.
Profit tracking & confirmation timelines – You can track your orders from Myntra after just 1 hour of your transaction. The missing percentage of transactions is just 10% of Myntra which means that it is completely reliable and trustworthy. However, the profit takes around 90 days to get approved.
Tools for automation – They offer exclusive tools and bots for making the entire process quick and straightforward. Affiliates who have huge followers on Facebook, WhatsApp, or Telegram groups can utilise these tools for making their money earning process seamless.
No compliance issues – The best thing is that there are no charges for signing up for the affiliate program, plus no documentation is required. You just need to download their app and sign up by putting in a few details: name, email id, password, and mobile number.
How to join Myntra Affiliate Program?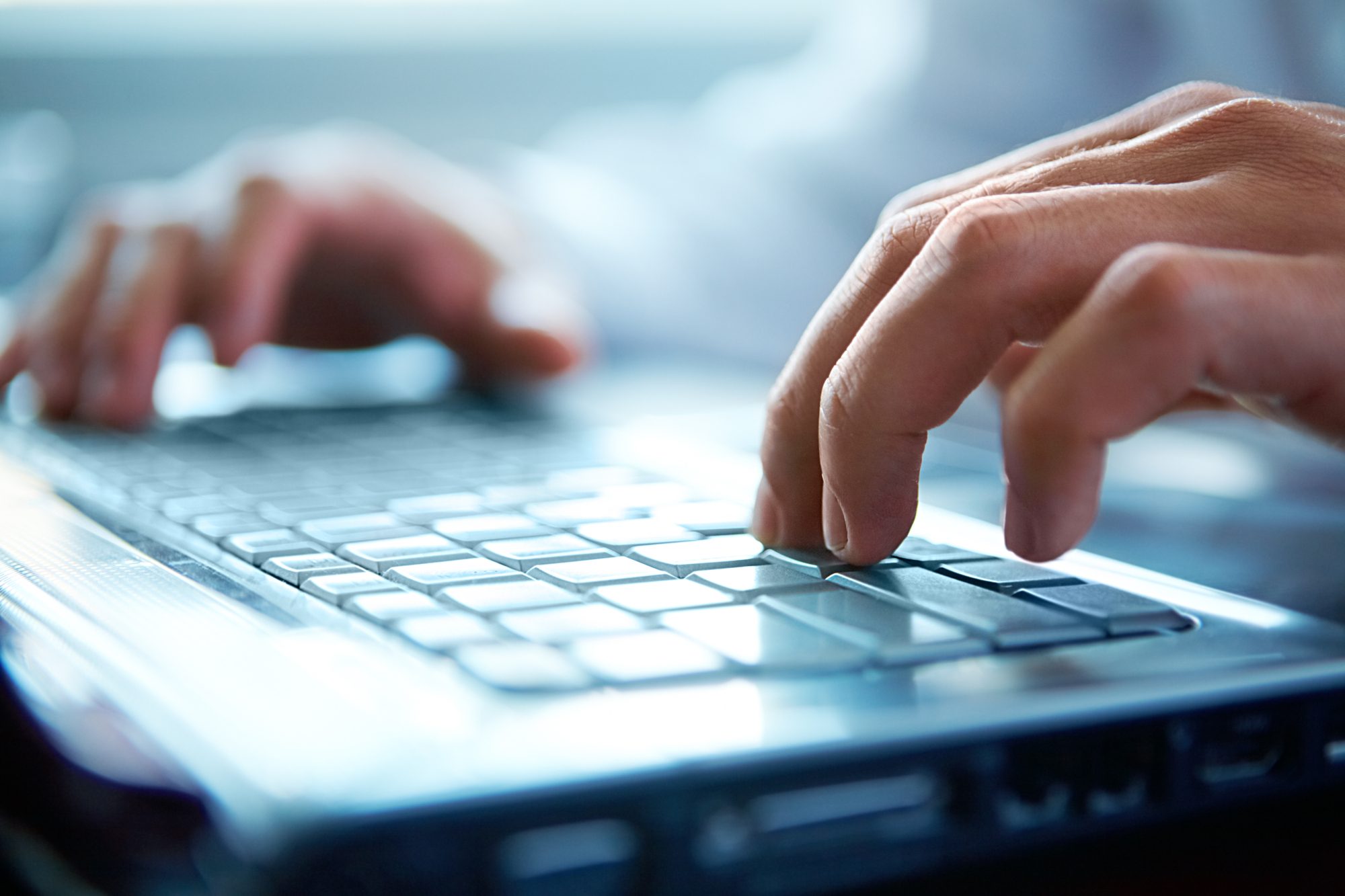 This question must be running in your mind as you must be excited to join them. Don't worry; the process is quick and has just a few easy steps. Here is how you can become an affiliate with Myntra:
The first step is to make your own website or blog and publish.
They do not have a direct affiliate program; therefore, you will have to enter them through any other affiliate networks like Earnkaro, Cuelinks, Admitad, etc. for becoming a Myntra Affiliate.
You need to apply with them by doing registration. Here you will have to submit details like name, email address, phone number, etc. Once you get approval from the affiliate network, you can apply for promoting Myntra products.
As soon as you get an approval mail or call, you can promote their products on your website and blog and make money.
Evade joining via Vcommission and Admitad, as they might decline your application if your traffic source does not fulfil their minimum requirements. But with EarnKaro and Cuelinks, you can join the Myntra affiliate program with a quick approval process. The best part is that with EarnKaro, you don't even need a website or blog.
Myntra Affiliate Program Fee Structure
Here comes the most exciting part, which is earnings. You must be keen to know their payment structure without a wait; let us dive into it. You will earn a commission on every successful sale made through your affiliate link. Unfortunately, they do not have a direct affiliate network, so you will have to join them through different platforms.
Therefore the pay structure varies; here is the list for you.
Affiliate Network
Commission
Cuelinks
New User – 7.50%

Old user 3.75%

INRDeals
Upto 9.12% Payout
EarnKaro
New user – 8%

Old user – 4%

Admitad
New user – 7%

Repeat user -3.5%

AffZip
Upto 9% Payout
Vcommission
New user- 4.50%

Repeat user – 2%

Viglink
New user- 6.5%

Repeat user 3%

Zingoy
8.50% for New Users

4.25% for Existing Users
Also Read: Top 20 Online Shopping Sites for Discounted Products in India

Best Myntra Affiliates for becoming a Myntra Affiliate
You know that you cannot join Myntra directly; hence you need another network for becoming a Myntra Affiliate. Here is the list of some of the best networks and Myntra alternatives-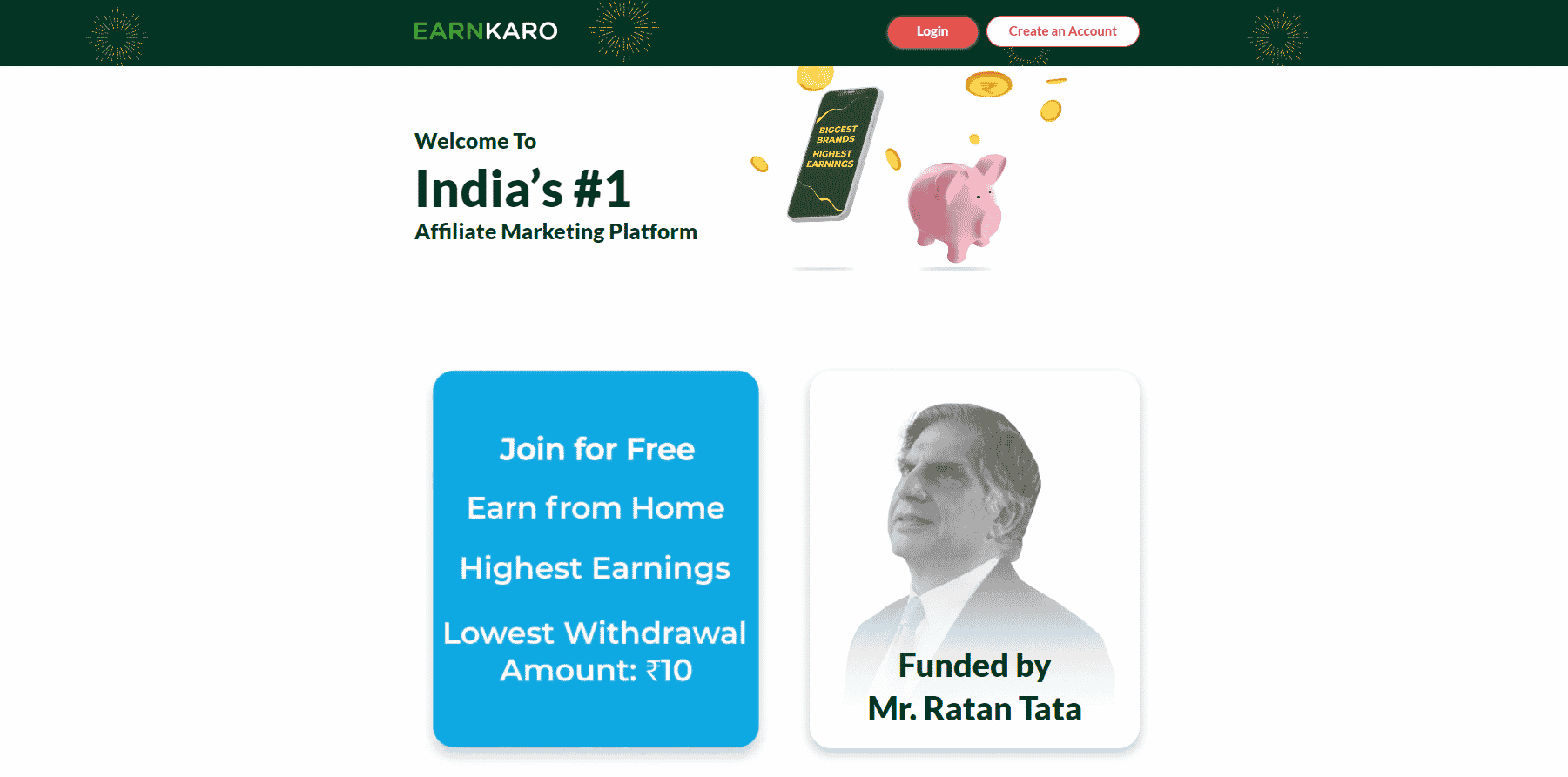 Anyone who wants to become an affiliate can join EarnKaro; all you need to do is create an account with them. Not only you can join Myntra but various other reputed platforms such as Flipkart, Udemy, Amazon, Shopclues, AJIO, Mamaearth and many more.
You can join various affiliate programs with them without any hassle. If you want to join Myntra Affiliate Program, you need not create any blog or website; you can also share your referral link on Whatsapp or other social media platforms.
If a new user purchases through your link, you will get a commission of 8%, and if a repeated customer places an order, you will get a flat 4% commission.
The minimum withdrawal amount from EarnKaro is just Rs.10. They have their own authorised app and website. The highlighting part is that it enables you to trace your affiliate links, referrals, commission particulars anywhere you want. You don't need any authorisation to join any type of affiliate program with EarnKaro.
Highlights
Profit Earnings are not calculated or given in case the user pays through Myntra Credits.
The profit you get is calculated excluding GST and other administrative charges.
Profit Earnings are not given on transactions done through the Myntra app.
Missing profit tickets are accepted.
Profit Earnings are Not applicable in case the buyer exchanges or returns the order.
Myntra profit link cookie time is just 30 mins.
Profit track within 24 hours and validates within the next 90 days.
It is essential to raise a missing profit ticket within 10 days of the order date if you are unable to track your profit
You can send any profit-related queries to EarnKaro at support@earnkaro.com.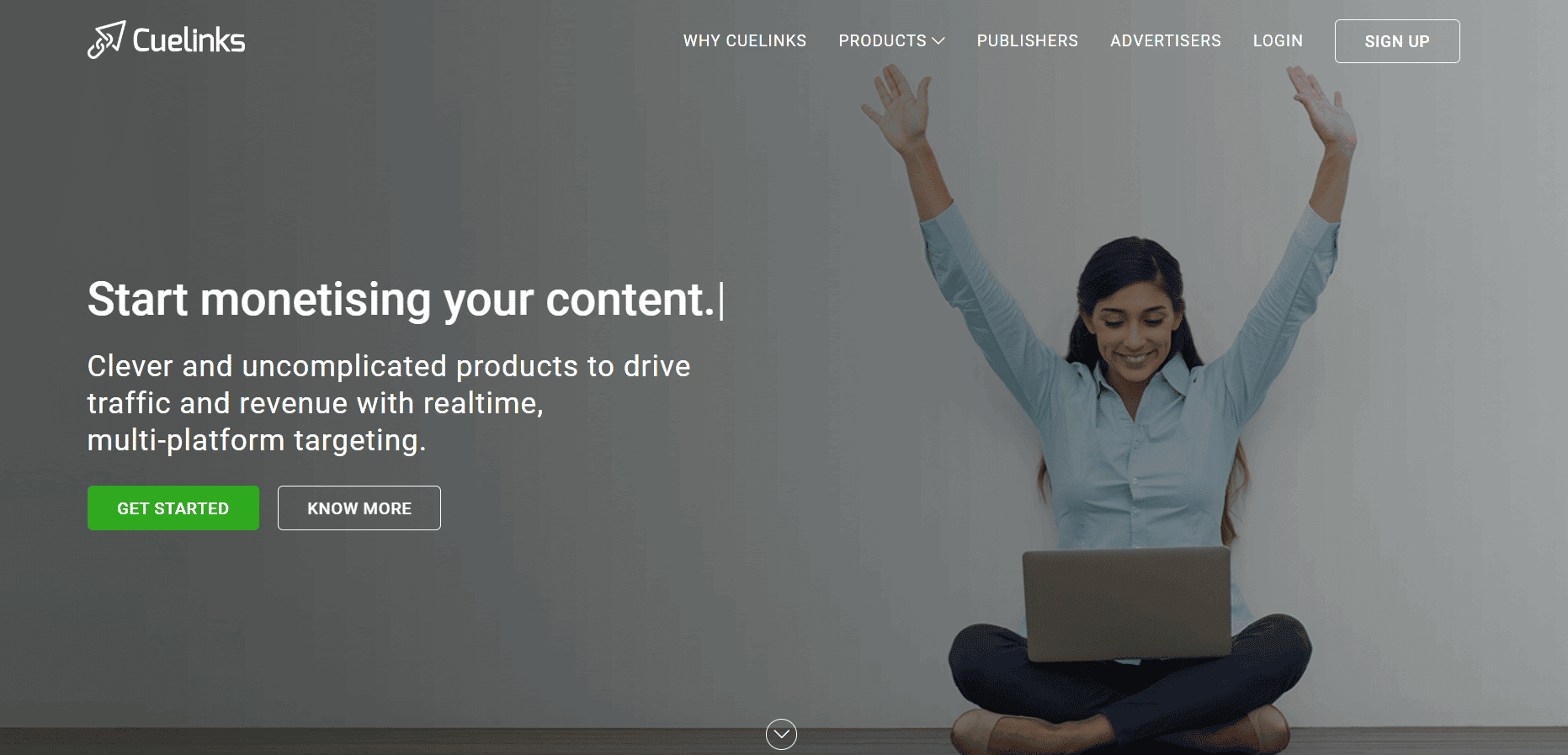 This is another great alternative to Myntra Affiliate Program, and you can also join Myntra through this platform. With CueLinks, you can promote various leading brands such as Snapdeal, Flipkart, Hosting, Amazon, boAt and many others. All you need to do is signup on their website, and they will send the approval within 24 to 48 hrs.
As soon as you get the approval, you can promote the products and make money. They pay 7.50% commission for new users and 3.75% for every repeated user purchase on Myntra through your affiliate link. Many people prefer CueLinks because you can advertise CueLinks Affiliate Links on your WhatsApp, through messages, and even on social media platforms as well.
For promoting Myntra products through CueLinks, you will have to create an account on CueLinks and, after that, tap on Campaign Explorer and search Myntra. Here you can create an affiliate link for Myntra or any other product without any trouble.
The minimum withdrawal limit of Cuelinks is Rs.500; this means you can transfer your earnings to your bank account once you earn at least Rs.500.
There are a few things that you need to know if you join the Myntra Affiliate Program through CueLinks-
Quick approval.
You can track the transaction on both mobile & desktop.
The profit link and transaction gets updated immediately.
You cannot track the transactions done through the Myntra app.
Cookies duration: 7 days
You can do real-time sale tracking.
Coupon & Cashback is not allowed.
Affiliates get no commission if the user pays through their Myntra credit.
Multiple conversions are allowed.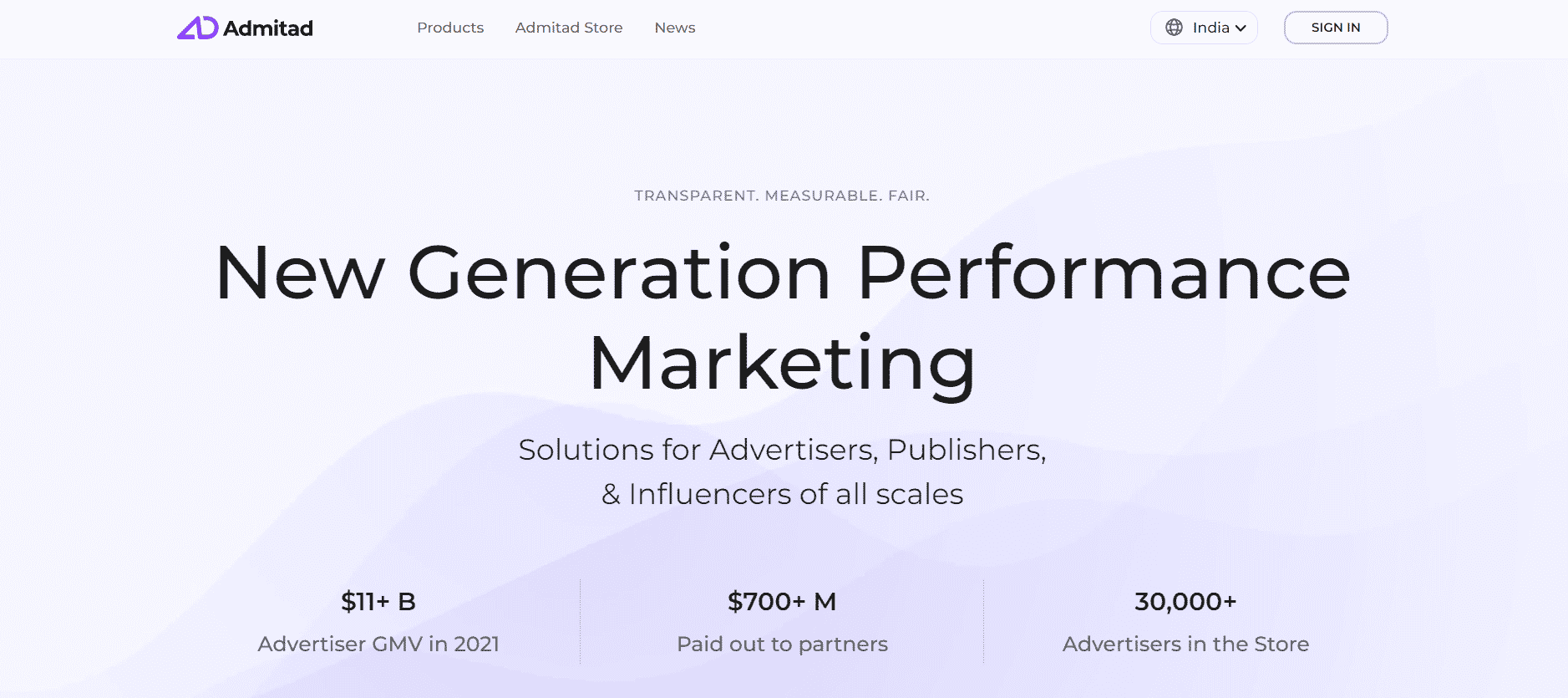 If you want to promote Myntra products, you can do that through Admitad. They pay a good amount of commission: 7% for new users and 3.5% for every repeated user purchase. But, you will have to wait for approval from them after completing your registration.
All you need to do is sign up on Admitad and apply for the Myntra affiliate program; as soon as the approval comes, you can start promoting products and earning money. They have a minimum withdrawal limit of Rs.1000 which means that you can at least Rs.1000 to withdraw the money or transfer it into your bank account.
Highlights
Approval is required for promoting the products.
Cookie duration: 30 days
Commission: They pay 7% for new user & 3.5% for old user
Traffic source that is not allowed: API traffic, SEM, Toolbar, Adult, incentive, brand bidding and Popup
Validation time: 78 days
Allowed traffic sources: Cashback, social media & YouTube and email.
Tracking time: Instant
Deeplink available.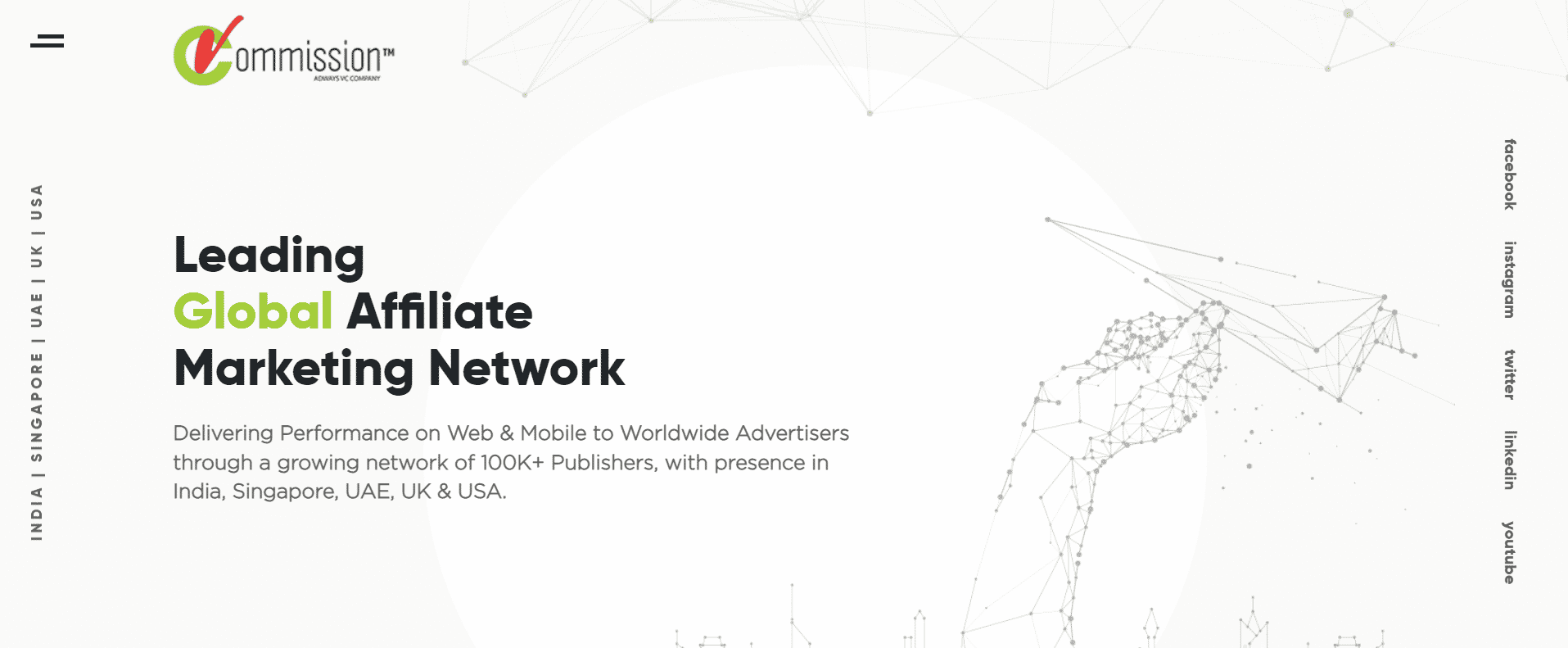 It is one of the leading affiliate websites; you can start Myntra Affiliate Program through them. Like Admitad, you will have to wait for approval to promote the products. Once you get the approval, you can create profit links and share them on social media.
You can join more than 1500 affiliate programs through Vcommission. You will be glad to know that they pay 4.5% per sale for every new user and 2% commission for every repeated user buy from your link. Users can also utilise its API service to import coupons & deals and publish them on the website.
This platform is relatively different from others because they will ask for your traffic details, and if the threshold does not meet the minimum requirement, you will not be able to join Vcommission.
Highlights:
The minimum withdrawal limit is Rs.1000.
Approval is required to start promoting.
Cookie duration is 30 days.
Deeplink available.
Validation time is 60 days.
Allowed traffic sources are Cashback, Email and Social media.
The tracking time is 24 hours.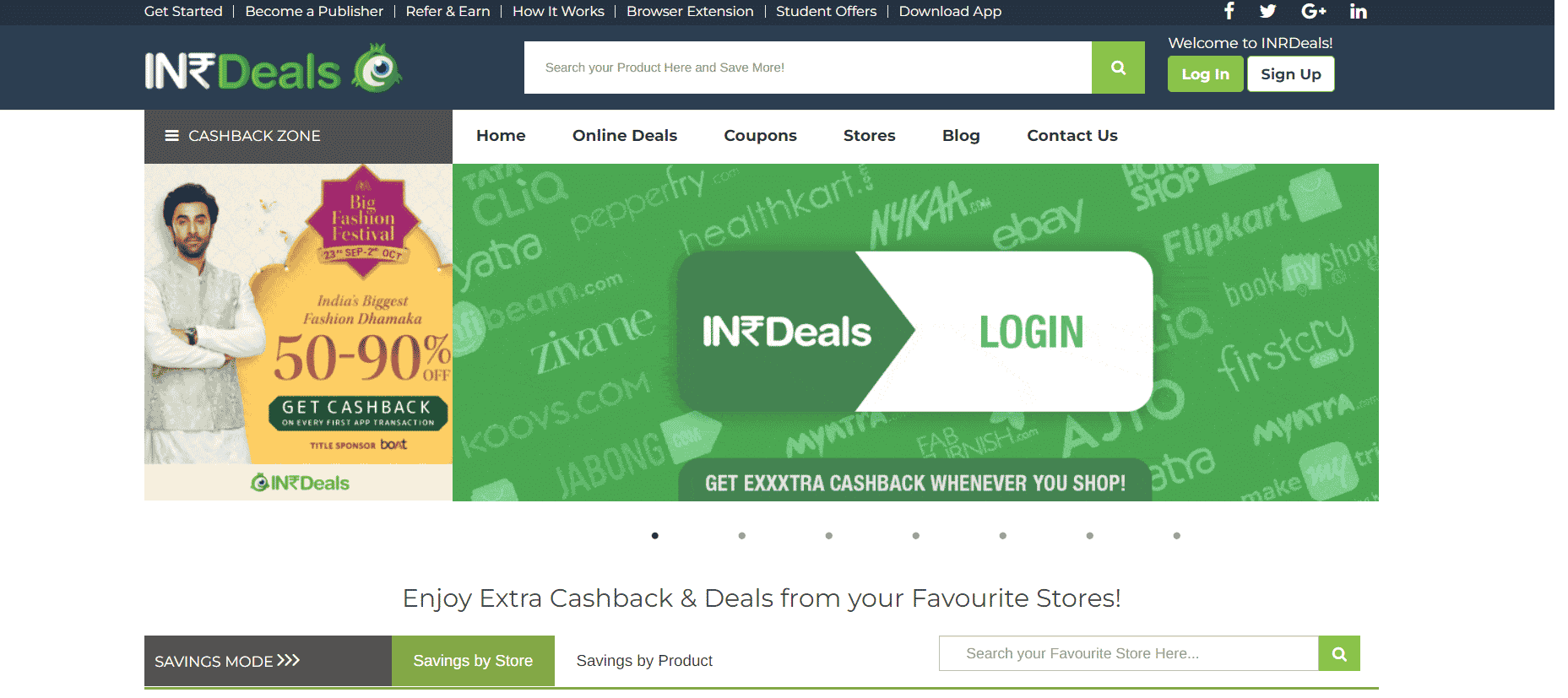 If you want to join the Myntra Affiliate program, you can do it through this incredible platform. They have their own referral and affiliate program as well. So all you need to do is simply register yourself and start promoting profit links on your social media and Telegram Channels.
The best part about them is that they render their users with Telegram BOT as well, which makes the entire process even more accessible. Their commission structure is also pretty exciting. They offer a 6.3% commission if a new user purchases products through Myntra Website. In addition, you get a 3.15% commission if existing users buy anything from your link.
Here is some good news for you; you will also get a commission of 3.15% if the user purchases products through the Myntra App. If you want, you can promote the Myntra Affiliate link on your YouTube Channel as well.
Highlights:
INRDeals renders users with 30 days cookie duration.
Profit confirms within 45-60 days.
Tracking time is 24 hours.
They also have a referral program, which means that you can earn money by referring this platform to your friends.
Apart from Myntra, you can use this platform for joining various other affiliates such as Amazon, Flipkart, Jabong, Godaddy and many more.
These are some of the best platforms you can choose from to become a Myntra Affiliate. You can select any as per your requirements, but do not forget to check their cookie duration, tracking time, commission, and other significant features before joining.
Myntra Affiliate API
It is essential for you to know that there is no such service called Myntra Affiliate API anymore, and you cannot use it. If you want, you can use the API key of Admitad, Cuelinks or other platforms, as that will help you promote products of Myntra easily. Various coupon sites also use API services of Vcommission and Admitad for importing Myntra products.
Also Read: Tanishq Digital Gold Scheme

Why should you join Myntra Affiliate Program?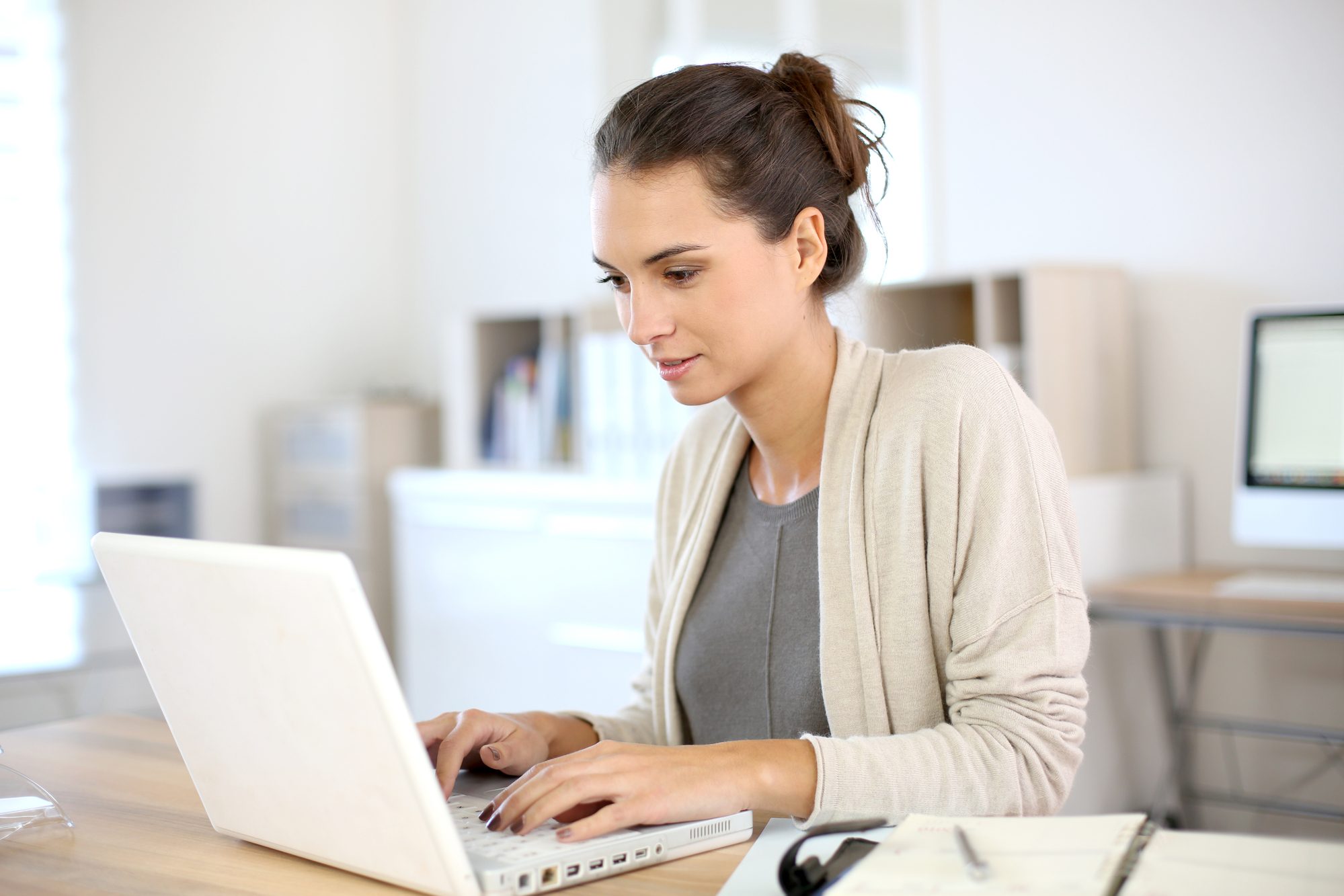 There are various reasons to become an affiliate with Myntra Affiliate:
The first reason is that you will get a commission of around 8% on every successful sale, plus you can also earn more by referring it to your friends and family. So the commission percentage is pretty good, and you can earn really well.
Secondly, Myntra is a well-known and reliable e-commerce platform in India; numerous shoppers regularly use it to buy fashion products. Therefore, this program can be helpful, especially for Instagram influencers, as it can help increase their online income tremendously.
Myntra Conversion Flow
Here is a step by step process of Myntra affiliate conversion.
1. User visits the store through any third-party tracking link
2. They purchase the product by paying online or through COD
3. The purchase is traced within 24 to 48 hours. It is counted to affiliates' accounts, and the status would occur as Pending.
4. Mostly, the sale is confirmed within 45 to 60 days. Once the sale is confirmed, the status will automatically change from Pending to Verified.
5. If the user returns/cancels the product, the transaction will become invalid, and the transaction status will change to Rejected.
Note: It has been observed that in a few cases, the sale tracking works after the shipment has been made. It might take up to 48 hours to update the transaction in your Dashboard.
Add-ons you get with Myntra Campaign
You get the following add-ons when you use Myntra.
Myntra Banner Ad Generator
CPA + CPV Hybrid Payout Support
Publisher logo on Merchant Website
Plug & Play auto-updating Banner ads
Search Bar Widget Integration
Deeplink to Short Link Converter
On the Fly Affiliate Link Generator
Merchant API for Custom Integration
Access to Latest Merchant Coupons
Access to Merchant Google Analytics
Deal Feeds for Latest Deals & offers
Wordpress Plugin for auto Integration
Affiliate Link via Browser Extension
JS-based Auto Affiliate Link
In the table given below, we have summarized all the information about Myntra Affiliate Program.
| | |
| --- | --- |
| Payout | Up to 8% Profit |
| Type of Campaign | Cost Per Sale (CPS) |
| Relationship History | 5 years |
| Joining Fee | FREE |
| Payment Duration | 6-8 Days |
| Requirement for Payment | Only Bank Details |
| Mode of Payment | NEFT |
| Exclusive Coupons | Yes |
| Reporting | Online |
| Tracking Time | 1 hour of the transaction |
| Profit Confirmation | 90 days |
| Minimum Withdrawal | Rs. 10 |
| Deep linking possible | Yes |
| Earning through Referral Program | 10% |
| Missing Percentage | 10% on average |
FAQs
Q1. How can I create a Myntra affiliate account?
Ans. Creating an account is pretty easy but cannot be done directly through Myntra. However, you can register for their affiliate program through numerous other Myntra affiliate alternatives like CueLink, EarnKaro, Admitad, etc.
Q2. How much is the earning with the Myntra Affiliate program?
Ans. They have no cap on the maximum earnings, and for every successful sale, you get an 8.50% commission.
Q3. Who can join their affiliate program?
Ans. Any individual who owns a blog or a YouTube channel can join their affiliate program. If you join it through EarnKaro, CueLinks or Zingoy, you will not require any approval, but you need to show your traffic source. But, if you join them through Vcommission, VigLink or Admitad, then you will need approval; as soon as they approve, you can begin promoting Myntra and make money.
Q4. How can I sell on Myntra?
Ans. You need to follow a few steps for selling products on Myntra. First, you need to visit Myntra's website; after that, tap on the icon 'Register Now' and fill out the application form for seller registration; make sure to fill in the correct details. Once you fill in all the details, click on submit.