A dime is the smallest circulating coin issued by the US Mint. Though it might sound strange, numerous dimes in the coin market are available that are old and rare with unique characteristics. These are valued in millions today, with just a few remaining in circulation. Their prices vary as per their rarity and availability. In this article, you will learn about most valuable dimes worth millions.
History of Dime
The first dimes created in the US Mint building were struck in 1796 and pictured Lady Liberty. From 1916 to 1945, designers put wings on Lady Liberty, and many people thought of it as Mercury. The picture of the dime was changed in 1946 when they imprinted President Roosevelt's image on it.
There are just a few dimes left of that era, and they are in good mint condition. However, even in the dimes in good condition, there is discoloration, and it is not the same as when it was minted; this is pretty normal and expected. These coins are not cleaned using chemicals or any other material, as they might lose their value and natural color. What dimes are worth money?
Most Valuable Dimes are in excellent condition, and various other factors contribute towards their high value, such as limited quantities issues, production error and excellent rating by the coin certification organizations. Two major organizations certify coins: the Professional Coin Grading Service (PCGS) and the Numismatic Guaranty Corporation (NGC).
They give the grading on a scale of 1 to 70, in which above 65 is considered a good condition. If we state as per their language, coins above 60 are considered mint state coins that are worth millions. Do you also know about the most valuable dimes? Let's check them out.
20 Most Valuable Dimes Worth Millions of Dollars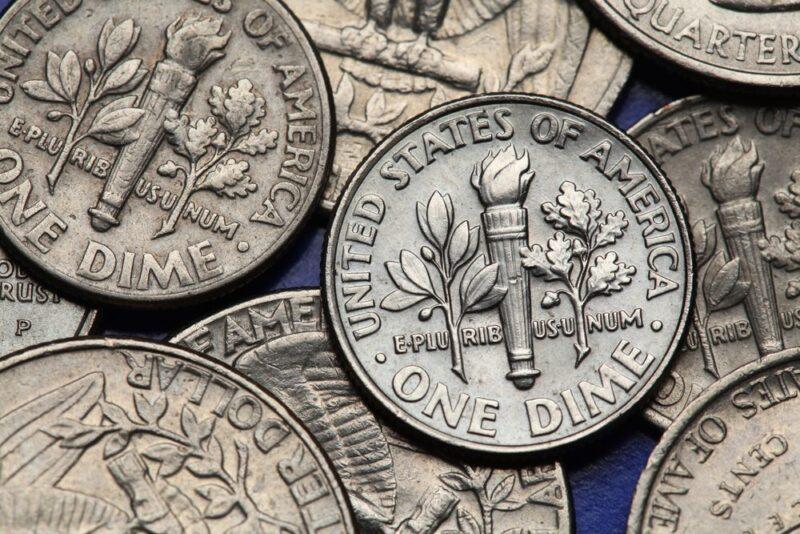 In 1792, George Washington ordered to issue of the first run of dimes, and you will be amazed to know that it was made on a borrowed press that was kept in the owner's basement. It is interesting to note that the dimes at that time were made of silver, but later they were made of copper because of the shortage of silver. But, in 1965, the rule was changed, and all the coins were made by mixing copper and nickel. Let us now check out the most valuable dimes.
1. 1894-S Barber Dime
This valuable dime comes with an exciting story. As per the history, in 1984, San Francisco Minting, while doing accounting, found a discrepancy of $2.40. Therefore, Superintendent John Daggett of San Francisco had 24 proof dimes bearing the 1894 date and "S" mintmark struck to balance the books.
He gave these 1894-S dimes to his friends and three to his daughter. But, his daughter spent one of them on a dish of ice cream and kept two. In today's time, there are just 9 such dimes in the market, and in total, their worth is around $1,997,500. Some of the reasons for their high value is that they have been graded as PR66 by PCGS, which means they are in excellent condition and the other reason is that they are made of silver.
Every piece of dime has a weight of 0.08038 troy ounces, which is 2.50 g and has a diameter of 0.70472 inches. It is among the dimes worth millions.
2. 1968 No-S Roosevelt Dime Proof
It was in 1968 when the first time the mintmark went wrong on some of the Roosevelt dimes. Therefore, most valuable dimes that were minted in San Francisco had their S missing on them.
You will be amazed to know that there are just 12 such coins in existence today in the market. The worst part is that the coins in good condition are even less. Thus, there is a massive demand for these dimes in the market, making its price even higher.
In fact, there was a 1968 dime for auction in May 2015, its grade was PR68, and there was good competition among collectors to own it. 13 bidders tried to buy it, but in the end, it was sold for $31,300, including the buyers' premium. No you know what dimes are worth money.
3. 1975 Roosevelt Dime No S Proof PGCS PR68
1975 was an exception as most of the proofs were struck in Philadelphia. These Roosevelt dimes that were minted in 1975 are the most valuable dimes ever to be sold. There are just two such coins that exist in the market, which raises the value; you will be amazed to know that the most recent sale of one such coin was done for $456,000 at Heritage auctions in 2019. After a couple of months, they resold the coin through an agent for $516,000.
These most valuable dimes were created in San Francisco; the original owner bought five dime-proof sets and observed that two coins had an S missing on them. She then sent these coins for review to the magazine Coin World. After that, she sent them to ANACS; this organization authenticates coins. They certified one of the coins and started searching for more such coins.
There were around 2,845,450 proof sets created that year. Most of the coins of that year cost around $2.81, but because of this exception, their value is high. Initially, the owner sold them for $38,550 for the set. He then sent it to PCGS, and they graded it PR68, which means they are in good condition. These two coins are not made of silver; they are made of copper and nickel.
4. 1955 Roosevelt Dime PCGS MS68
This piece is in average condition, and as per the USA coin book, its worth is just $2.12, but it has reached a whopping price because of its rarity. This coin is similar to the 1968 coin and has the same mint state designated by PCGS, i.e. 68.
The other similarities between these coins are Roosevelt's portrait and extending down his face, plus they have pretty same iridescence on the obverse, with copper, magenta and blue tones.
If you own one or can find a 1955 dime with an MS68 rating, you can get thousands of dollars, as many collectors want to see this one in their collection. One of the coins came for auction in September 2020, and it was valued at $9,300, which is very high.
5. 1965 Silver Roosevelt Dime
If you are looking for dimes worth millions or whose value might reach millions shortly, this is a must-have in your collection. A coin with the date 1965, described as "MS68 full torch", was sold for $8,625 when it came to auction in January 2006. This dime was certified by the Numismatic Guaranty Company (NGC) as well.
There are various reasons for such high value of these dimes; one is that Roosevelt stopped minting silver coins after 1965. Instead, they started creating coins of clad metal, and this is one exception to them. These 1965 and 1964 silver coins were struck simultaneously; mistakenly, the workers used a silver planchet to create these 1965 dimes.
The surprising part is that there are no mint marks on these most valuable dimes; thus, it is impossible to gauge where they were created. However, this rarity makes them unique, which is why every collector wishes to own them.
Also Read: 10 Best Stablecoins For Investment in 2023
6. 1982 Roosevelt Dime No P Mint Standard MS65
It was in 1980 when Philadelphia Mint started applying mintmarks to dimes. But, at the start of the 80s, mint marks were hand-punched onto working dies; that was a tough and time-consuming job as they had to do it individually on every coin.
Similar to the no-S 1975 dimes, in this case, the "P", indicating it was minted in Philadelphia, is missing. Many of these dimes without the mint marks were shipped to Ohio.
The remaining were distributed as change at the Cedar Point amusement park in Sandusky, Ohio. Although these coins do not hold as high value as others in the list, they are rare, which is why they are still worth more than their face value.
They were graded MS65 by PCGS, which means they are in average condition. There are just a few minor marks on the surface; if you dime any of these coins, it could be worth nearly $300. You never know; its value could go up to thousands of dollars soon. This answers what dimes are worth money.
7. 1797 Draped Bust Dimes
You need to know that it was in 1797 when the US started to mint the dimes. This information is not certain, but it is said that they were designed by Gilbert Stuart and engraved by Robert Scot. These draped bust most valuable dimes hold great value in the market, not just because they were the first minted coins but also because they are rare coins. There were just 25,261 dimes minted, and now there are just fractions left in the market.
You will be amazed to know that initially, there were just 13 stars on the coin, but later in the year, the mint produced coins with 16 stars. But no one has the information on how many coins contained 13 or 16 stars. In May 2015, 1979, draped bust dimes with 16 stars were sold for $199,750, and the most valuable coin with 13 stars reached the price of $402,500 at an auction in 2008.
8. 1798 MS66 Draped Bust Dime with Small 8
If you are wondering what dimes are worth money, this one is the answer for you. After Robert Scot's design in 1797, the Philadelphia mint was re-designed, and 27,550 draped bust dimes were created. The major change in these dimes was that a heraldic eagle was created on the coin's reverse. It also has four berries on the branch the eagle holds in its claw.
They were made of silver and have become rare, and nowadays, you can buy them for thousands of dollars depending on their condition. Initially, when the USA started minting dimes, the workers created coin dies individually and engraved the date on the die by hand on every coin, which was a laborious job.
This die had a numeral 8 in that die which other coins created in the same year do not have. Because of this rarity, this coin's worth is 253,000 as it was sold in July 2008. It has been graded as MS66 by NGC.
9. 1871 CC MS65 Liberty Seated Dime
There were just 20,100 liberty seated dimes worth millions created in 1871 by the Carson City mint. Christian Gobrecht designed the obverse and reverse of these coins; small changes in the dimes were done over a couple of years, because of which there are four varieties of these dimes. Because of this rarity, the value of these dimes is high; in 2014, they came to an auction at Heritage Auctions and were sold for $270, 250.
It has a unique design, and if you get a chance to see them, you will observe they have a very different color from other dimes. They have a beautiful pinkish-silver tone with the United States of America engraved, and on the other side, you will see One Dime written. As per the experts, there is just one such coin with MS65 grading worldwide that increases its value today and in for coming years.
10. 1873 CC No Arrows Liberty Seated Dime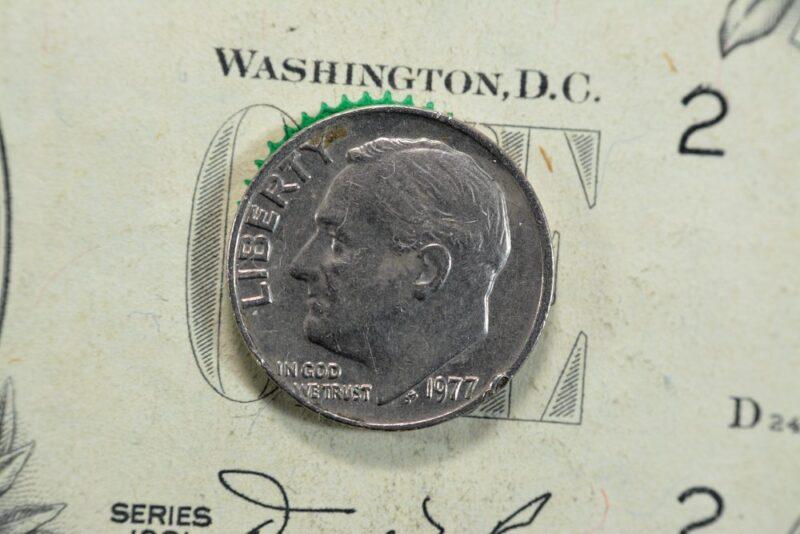 Beautifully designed Liberty seated dimes with reeded edges were created at Carson City, Nevada. Initially, the design was to include pointed arrows on each side of the date. They had a diameter of 0.70472 inches (17.90 mm) and weighed 0.07973 troy ounces (2.48 g), but as the price of silver increased, they decided to reduce the weight of the most valuable dimes.
Thus, they changed the design and removed the arrows; 12,400 dimes were created but were melted almost immediately. Therefore, very few were circulated in the market, and just one such dime exists, making it rare and expensive. Apart from being rare, its condition is also pretty good; it has been graded as MS65 by PCGS.
In 2012 at an auction at Stack's Bowers, it was sold for $1,880,000. Given its uniqueness, beauty and rarity, its price will increase more in the coming years. This answers what dimes are worth money.
Also Read: 16 Most Valuable Kennedy Half Dollars
11. 1803 Draped Bust Dime
This coin is 200 years old and is commendable that it is still in good condition. Designer Robert Scot created the design of these beautiful dimes at the end of the 18th century. Initially, when coins started to mint then, people were not much concerned about collecting coins as a hobby; instead, they were concerned with fulfilling their basic needs with them. But, luckily there was someone who collected this coin before it came into circulation.
This coin has a heraldic eagle on the reverse and came into circulation for the shortest time in the US coinage. The Philadelphia came into mintage in 1803 and created a total of 33,040 dimes, but very few of them survived. NGC graded the coin MS64; hence the condition of this coin is good, thus holding a great value. In July 2008, at Heritage Auctions, this coin was sold for $322,000.
12. 1938 S MS68 + FB Mercury Dime
Adolph Alexander Weinman designed these silver mercury dimes in 1916; the coin's weight was 0.08038 troy ounces (2.50 g) and 0.70472 inches (17.90 mm) in diameter. Although, there is nothing much special about 1938-S dimes, as US Mint in San Francisco created 8,09,000 of these dimes. They can be easily found at $2 to $45, but the unusual thing about these dimes is that this coin was not circulated and is in great condition.
The PCGS graded it as MS68+, which means it is in excellent condition or just like a new coin created. In 2019, at Legend Rare Coin auctions, one collector was ready to pay a whopping $364,500. It is among the most valuable dimes.
13. 1800 Draped Bust Dime
This is a very old coin, but the good thing is that it is in very good condition, which is another reason for it being expensive. This lovely coin was designed in 1796 by Robert Scot, and the Philadelphia mint created 21,760 silver coins that year. The good news is that, as per the numismatists, 100 of such coins still exist in the market, which means that the probability of getting these coins is relatively higher than others in the list.
One can easily get the standard and most valuable dimes for around $845 to $46,000, but there are a few coins whose value is relatively higher because of their excellent condition. The reason why this coin is so expensive is that it is extremely well-struck and perfectly preserved. Thus, if you wish to collect an old coin in excellent condition, then you cannot miss this one.
At the Heritage Auctions in 2014, this coin was sold for 352,500 as it was graded as MS66 by PCGS. A coin that is more than 200 years old and in an excellent state is a must-have for a coin collector.
14. 1822 proof Capped Bust Dime
Most Capped bust dime proofs were created by the US Mint and were designed by John Reich from 1809 until 1837. The weight of each dime was 0.08681 troy ounces (2.70 g), a diameter of 0.74803 inches (19 mm) and comprised a high silver content of 89.2% with just 10.8% copper. These proof coins feature extremely fine details and contain all the elements of a full strike.
You can find these standard coins for $1315 to $28,550, but as per the experts, there are just 2 to 5 specimens of CAM Capped bust dime minted in 1822, which is why their prices are high.
This rare coin with amazing iridescent toning around in excellent condition makes it one of the dimes worth millions. At Heritage Auctions in 2014, this dime was sold for $440,625 as it was graded as PR-66 by PCGS, and today its value would be around half a million.
15. 1804 Draped Bust Dime 14 Stars Reverse
In 1804, the US Mint just created 8,264 silver draped bust dimes. The unique thing about these dimes is that some of them have 13 stars on the reverse, while others have 14 stars on the reverse between the heraldic eagle and the ring of clouds.
As per the reports, there are still 75 coins with 13 stars and 20 coins with 14 stars in the market, which is a high probability of buying these dimes. Except for the difference in the stars on the coin, everything is the same, such as both have reeded edges; weight is 0.08681 troy ounces (2.70 g) and diameter of 0.77953 inches (19.80 mm).
The value of these coins ranges from $2500 to $96500, but some of the coins have a high value because of their excellent condition. At Heritage Auctions in July 2008, one of such coins was sold for $632,500 and graded as AU-58 by NGC.
Also Read: 18 Pricey Modern Quarters Worth Money
16. 1796 Draped Bust Dime
You might not know that the dime was first struck in 1796, which was the initial stage in US Mint federal coin production. But, the interesting thing is that numismatists do not consider this coin a Proof coin, but they agree that they were made differently compared to the other coins that were created afterwards.
The details of these coins are pretty sharp, which implies that these most valuable dimes were struck from a fresh set of dies, and some special handling and preparation were involved in creating these coins.
The Philadelphia Mint produced these mints; they just created 22,135 such dimes with a small edge on the reverse of it. Although it was the initial stage of coin production yet there were no imperfections on that planchet which lessened the beauty of this coin. Depending on the condition, the price of these coins varies from $2400 to $45500.
As per the numismatists, there are around 1000 such coins in the market. But there is one coin in very good condition and has all the details of a specially struck coin, which is why its value is around $1 million today. It was last sold in July 2014 at Heritage Auctions for $881,250 and was graded MS-67 by PCGS. As it is in such good condition with no imperfections, this dime is called a Specimen Strike.
17. 1916-D Mercury Dime
This dime is rare and famous, like the 1909-S VDB Lincoln cent. This coin also deserves an honourable mention because it is beautifully designed and popular with collectors. There were 484,000 such dimes created, but just a few of them exist in the market today, or we can say that pretty less to meet the demand of the collectors.
The unique thing about these dimes is that the US started to mint mercury dimes in 1916; its low mintage and high demand have increased this coin's value and made it extremely scarce.
Many people dream of owning this coin, but it is difficult to own it because of its high price and limited number. This coin is struck pretty well and has excellent colour toning on both obverse and reverse.
These dimes worth millions with regular grades can be found at $1000, but in good condition, can be purchased at $5000 to $10,000. In fact, a coin with MS-67 grading by PCGS was sold for $195,500 at Heritage Auctions in August 2010.
18. 1792 MS68 Bust Half Dime
This coin seems pretty different from other coins in terms of design and making. It is not known who designed these coins created in Philadelphia in 1792. Only 1500 such coins were created on a single set of dies, making them rare and exclusive.
They are made up of both silver and copper; the proportion is 89.2%: 10.8% ratio. The coin weighs 0.04340 troy ounces (1.35 g), and its diameter is 0.68898 inches (17.50 mm).
Of 1500 coins, 250 are available for trade, but only a few are in good condition. One of the most valuable dimes that were graded MS68 was sold at an auction in 2013 for a huge price of $1,145,625. It is one of those dimes worth millions.
19. Carson City Liberty Seated Dimes from the 1870s
It has been observed that collectors are crazy about the coins that have a "CC" mintmark on them. As the name suggests, these coins were minted at the Carson City Mint in Nevada.
Collectors consider every coin with a CC mark rare and unique, increasing its demand and value. These coins were struck from 1871 to 1874 and are very beautifully designed, and their colour is also relatively different from others.
All the coins minted during this period were given a grade of Good-4. Among the most expensive dimes are the 1873-CC dimes; a total of 12,400 Coins were minted, but just one exists in the market now, thus making it rare and increasing its value. In one of the auctions lately, it was sold for a huge amount of $1,840,000. So, if you want this in your collection, there is a big amount that you will have to pay to own it.
20. 1945 S Micro S Full Band Mercury Dime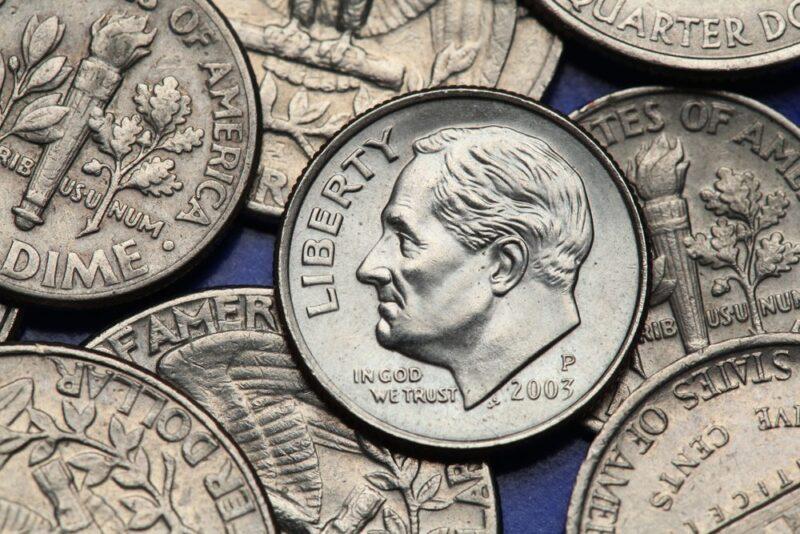 There is a major reason for this dime being on the list of the most valuable dimes, one of the significant grounds is that it is the only dime to have the micro S mint mark on the reverse side of the coin. Although there are numerous 1945 S dimes in the market that you can easily get, only a few of them have been graded by NGC for their mint condition.
Also, it is said that dimes for 1945 were struck in San Francisco; they were not struck in the right. Hence, just a few dimes are available in good condition. But, the one in good mint condition was sold in an auction in 2019 for $25,850.
Also Read: 51 Most Expensive Colleges in America
These are a few dimes worth millions. You will have to pay a lot to include them in your collection. The first struck dimes were in 1796; therefore, they hold a special value and place in the collection. The value of the coins varies because of the condition, rarity, uniqueness, errors and availability in the market.
So, if you get a chance to buy any of them, grab the opportunity as their value is increasing constantly so you can sell them for millions in the near future. You could be in the money if you're lucky enough to have any such dime.