Are you looking to sell your products on Meesho? Meesho is the leading platform for connecting suppliers and resellers. With this amazing platform, you can sell your products on multiple social media channels. You may consider using Meesho platform for better and greater customer outreach. The best part is that they take care of all the logistics so that you can focus on building your products. In this article, we will learn all about Meesho Supplier Panel Login.
Meesho Seller Panel is a powerful tool that gives Meesho sellers the ability to track their sales and performance and access exclusive deals and discounts. Through the Meesho Seller Panel, you can also connect with other Meesho sellers and exchange tips and advice. Whether you are just starting or an experienced seller, Meesho is a valuable platform that can help you grow your business.
Meesho Supplier Panel Login – A Complete Guide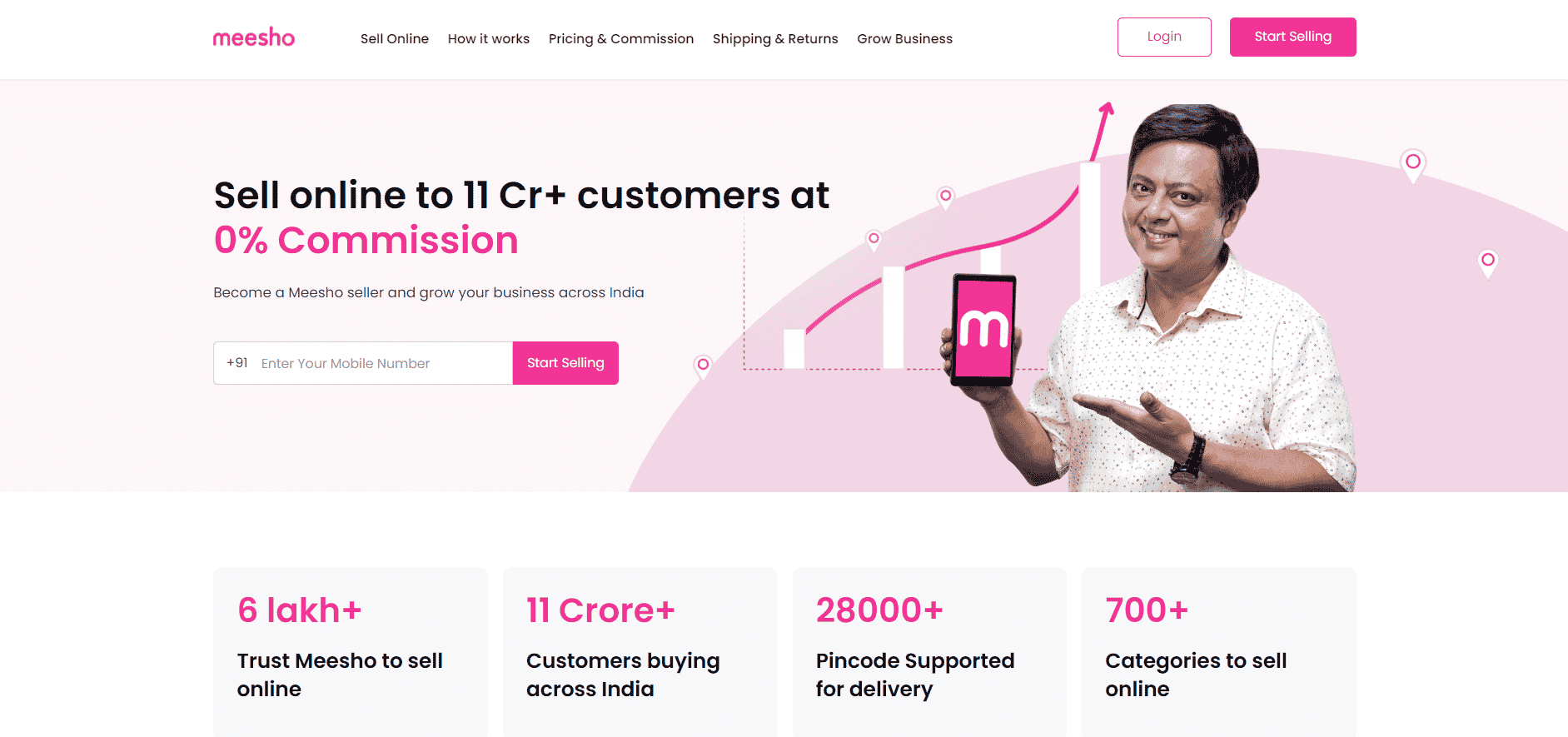 You must be wondering how to start selling with Meesho! If you want to be a Meesho supplier, you will have to login into a panel called Meesho Supplier Panel to manage your account and view your order history. This panel is designed to give you quick and easy access to all the essential information you need as a supplier.
You can view your current orders, update your contact information, and manage your account settings seamlessly on this panel. You can also add new products and pricing information, plus it facilitates you to track your sales and performance.
This panel is a great way to stay organized and keep track of your business. It gives you an option to update your contact information and specify your preferences related to shipping. You need to enter your email address and password to login to the platform.
Contacting a supplier through the Meesho app is easy and inexpensive. At the same time, you may also use this platform for procuring products at cheaper prices and earning commission on the sale. In this Meesho Supplier Panel Login guide, let us first learn more about Meesho Seller account.
Requirements for Meesho Seller Account
If you are interested in becoming a Meesho seller, there are a few requirements you will have to meet-
Firstly, you must be at least 18 years old and have a valid government-issued ID and GST Number registered to your name.
You will also need a bank account in India to receive payments.
Finally, it would be best if you have an android mobile where you can download Meesho Seller Panel app and create an account. Once you have done all of this, you are ready to start selling.
How to register in Meesho Seller Panel
If you want to start selling products online, Meesho is a great platform. It is pretty effortless to register on Meesho Seller Panel. Here are some steps that will guide you on how you can do it:
Go to the Meesho website and click on the 'Sell on Meesho' button.
Enter your details, like the name, email address, and mobile number, on the next page and choose a password.
You will be asked for other personal details like a valid government ID proof such as a PAN card or AADHAR card number, GST number and your Bank account details which you need to put in correctly.
Once you have entered all the required information, click on the 'Register' button.
Meesho will then send you an OTP (one-time password) to your registered mobile number. Enter this OTP on the next screen and click on 'Verify'.
Now, you will be automatically redirected to the seller dashboard where you can start adding products and categories.
After adding your list of products, you can contact the Meesho seller with the username and password.
How to register in Meesho Supplier Panel Login
If you are a supplier, you can register for Meesho Supplier Panel by following these simple steps:
Visit the official Meesho website and click on the 'Suppliers' tab.
Once you open the page, you will find a 'Become a supplier' button on the right corner of the screen.
After you click the button, you will be given a blank form where you need to fill in your personal details like name, email ID and address along with GST details. Select your city with a pin code from the dropdown menu.
After filling out the form successfully and making the selections, click on the 'Register Now' button.
Once your registration is complete, you will be able to log in with your Meesho Supplier Panel Login.
You must ensure that you must have a valid GST number before filling up the form and proceeding with registration. Once the form is submitted with all these necessary details, the authorities from Meesho will send you an email and give you a call within 7 days.
How to register as Meesho Reseller via app?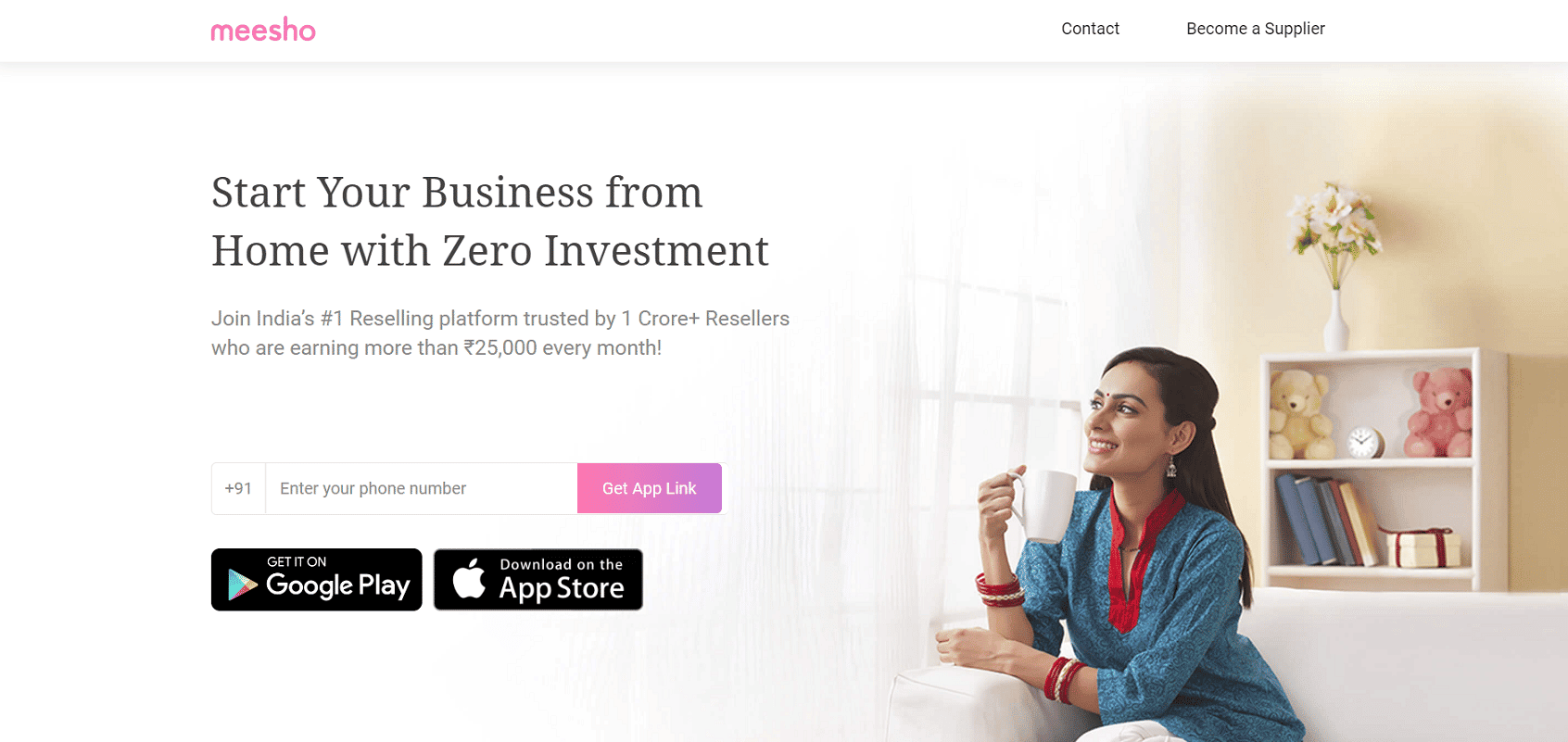 You can easily register yourself as a reseller on Meesho using a smartphone and start your small business without any investment. This is the next thing we will cover in this Meesho Supplier Panel Login guide. Simply download the 'Meesho' app from the Android Play Store or Apple App store. Register yourself as a Meesho reseller with these simple steps.
First, you need to download the Meesho app on your phone.
After opening the app, click the 'Continue' button. It will open a new page.
On this page, you need to enter your mobile number. Once you submit your mobile number, an OTP will be sent to you via SMS for verification.
After you put in the OTP number, your verification is complete, and you will be redirected to a new page, which you can skip.
After this, you will have to create your profile.
Next, you need to put in your personal details like age, gender, service/occupation etc. and click on 'Continue'.
Once you fill in these details, save them.
In this profile section, you are required to add your bank details and GST number. After that click on 'Submit'. Once submitted, you will be given a dialogue box where you will be charged Rs.1 for verification.
You will also find other options on the profile section that you can fill and submit if you wish.
Why makes Meesho better than other platforms?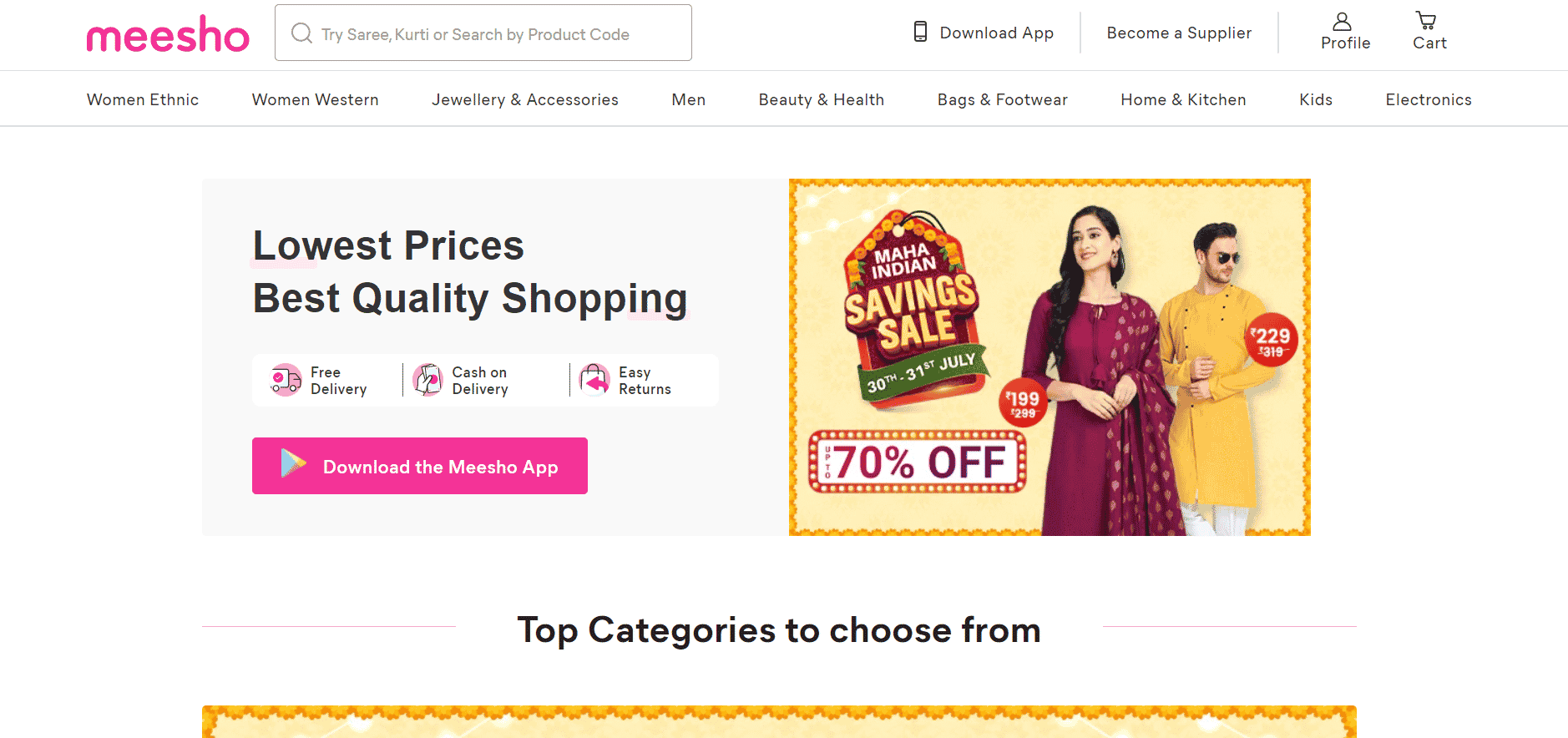 Meesho is a platform that facilitates every individual to start and grow their own online business. It also provides users with access to a wide range of marketing tools and resources to help grow business. With Meesho, you can sell products from leading brands like Jumia, Alibaba, Taobao, and Meesho-exclusive products.
There are various reasons to opt for Meesho. Here are some of the reasons stated below:
Meesho is India's leading social e-commerce platform, with over 10 million registered users.
Meesho enables women entrepreneurs to start and grow their businesses by providing access to a wide range of products, services, and training.
Registering and logging into Meesho is quite convenient and simple, with a few simple steps.
These days Meesho is helping small sellers by helping them with delivery support so that they can only focus on the selling part.
Also, the website makes sure that there are lower returns so that the sellers earn more profit from their hard work.
The portal provides a wide range of products at wholesale prices, as well as marketing tools and training to help them build and grow their businesses.
Meesho also offers a wide range of payment options, making it easier for sellers to get paid for their sales on time.
What percentage of commission does Meesho charge from its suppliers?
Meesho is a platform that connects suppliers with customers. Suppliers can earn more money by selling products and services through this site. It doesn't take any commission, which means it is an incredible opportunity for both parties. One will not have to worry about dealing directly with clients.
Suppliers have an opportunity to flourish. Suppliers can advertise their products on various social media pages like Facebook and attract more visibility for themselves. This will be an easy way to get more sales and make their business bigger.
Also Read: Meesho Products List
Is Meesho a legit company?
Meesho is an innovative, user-friendly and secure platform that helps individuals & small businesses to create their online stores using popular social media sites. Lakhs of people earn from Meesho as resellers or suppliers who sell genuine products.
Meesho is the go-to app for all those looking to start their business and sell their products on social media. Founded by two IIT graduates, Meesho has become a trusted way of creating an online store with popular sites like Facebook or Instagram. Lakhs of people can make money by reselling and supplying genuine items through this online platform.
Who created Meesho company?
Meesho is a Bengaluru-based e-commerce company founded by Vidit Aatrey and Sanjeev Barnwal in December 2015. They saw the need for an affordable way to start their own business on small budgets with no technical skills required.
How to get more suppliers on Meesho?
If you are looking to get more suppliers on Meesho, there are a few things you can do:
Make sure that your account is verified and has a good reputation on the platform.
Reach out to potential suppliers and request their services.
Offer incentives for them to work with you, such as discounts or exclusive deals.
By following these steps, you will be able to attract more high-quality suppliers to Meesho.
Once you are registered, you will be provided with all the tools and resources you need to get started selling right away. Now you know all about Meesho Supplier Panel Login. Have you tried selling on Meesho yet? Log in now and start making money!
Hope you found this blog helpful and interesting. Stay with us for more such blogs. Happy reading!