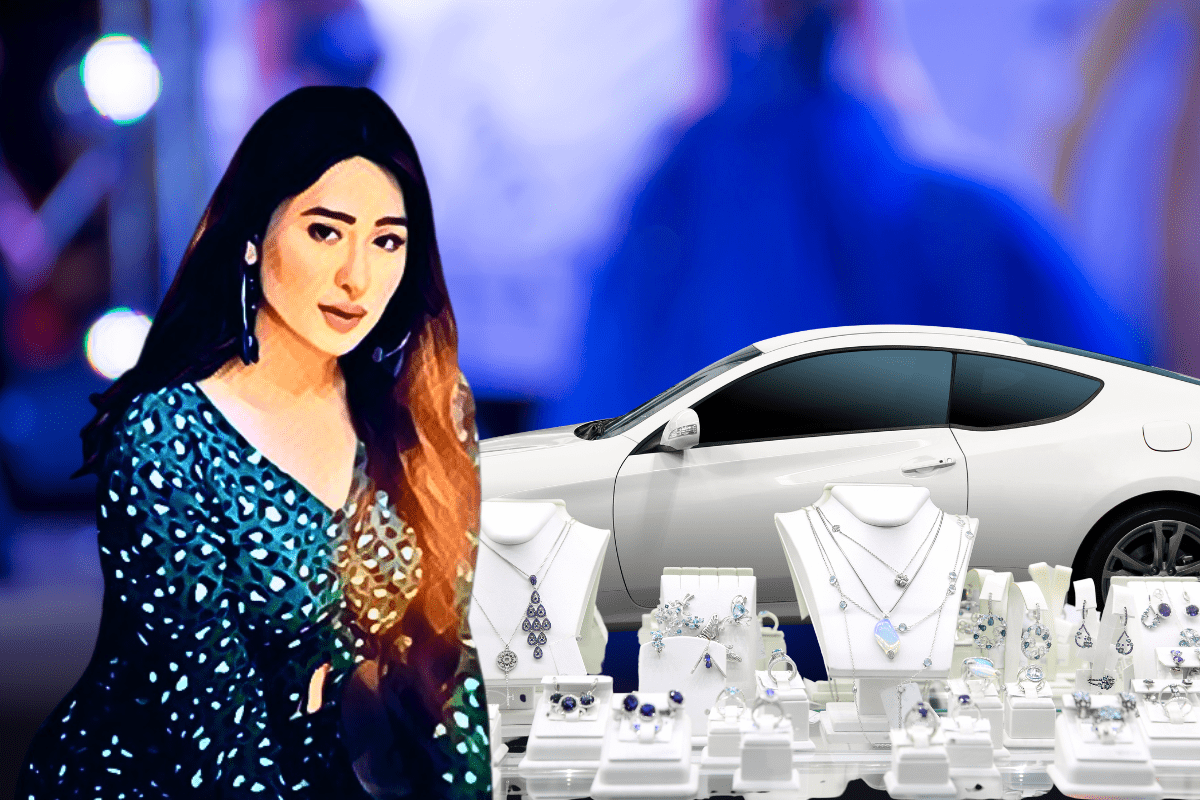 Since her participation in Bigg Boss 13, Mahira Sharma has reached new heights in the world of entertainment. She has gained widespread recognition and financial success for her contributions to acting and modelling. In this article, we will look at Mahira Sharma net worth, her monthly income, and other valuable assets.
Mahira Sharma Wiki
Mahira Sharma is a widely recognized Indian actress and model renowned for her work in Hindi-language films and television shows. She's not only showcased her talent in various reality TV programs but has also been a part of more than 50 music videos, showcasing her versatility as a performer.
Birth Date and Age
November 25, 1997; 25 years
Birthplace
Jammu and Kashmir, India
Residence
Mumbai, Maharashtra
Education
University of Mumbai, Maharashtra
Debut

TV Show: Y.A.R.O ka Tashan (2016)
OTT: Bajao (2023)
Film: Lehmberginni (2023)

Most Popular Appearances

Tarak Maheta Ka Ooltah Chasma
Bigg Boss 13
Lehenga

Accolades
Most Fashionable Bigg Boss 13 contestant, Dada Saheb Phalke International Film Festival (2020)
Mahira Sharma Net Worth, M

onthly Income

, Assets
With her charismatic personality and captivating on-screen presence, Mahira Sharma has become a household name. She started her career in the glamour world at a young age, gradually gaining recognition for her work. Her journey is a testament to her dedication and passion for acting.
| | |
| --- | --- |
| Net Worth | $4.5 million |
| Monthly Income | Rs. 12 lakhs |
| Yearly Income | Rs. 3 crores |
| Wealth | Rs. 38 crores |
| Miscellaneous Assets and their Valuation | Rs. 2.28 crores |
Source: Mahira Sharma Net Worth
Mahira Sharma's Personal Life
Mahira Sharma, born on November 25, 1997, in Jammu and Kashmir, hails from a Brahmin family. Her mother, Sania Sharma, is known, while her father's identity remains undisclosed. She has a brother named Akash Sharma, who is carving his path as an entrepreneur. Mahira, often referred to as Mau and Mahi, pursued her early education in a convent school and later earned a Bachelor of Arts degree from the University of Mumbai. Post-education, she made the move to Mumbai to pursue a career in acting and modeling.
In the romantic realm, Mahira was previously linked to actor Abhishek Sharma, recognized for his role as Hrithik Roshan's younger brother in the film 'Kaho Na Pyar Hai.' Allegedly, their relationship ended before Mahira entered the Bigg Boss 13 house.
During her stint on Bigg Boss 13, Mahira's camaraderie with fellow contestant Paras Chhabra fueled speculations about a romantic involvement. This speculation turned into reality after their exit from the show, as they started dating and were frequently seen together. However, the couple faced challenges in their relationship, leading to their decision to part ways in 2023.
Her Career
Mahira embarked on her professional journey as a model, gracing fashion events before catching the attention of the Punjabi entertainment industry. Transitioning into the world of Punjabi music, she featured in numerous album songs as an artist. Her foray into television began with the acting debut in Y.A.R.O ka Tashan in 2016, where she portrayed the character of Shilpi. Mahira also made memorable guest appearances in comedic TV shows like Partners Problem Ho Gayi Double and Tarak Maheta Ka Ooltah Chasma.
Notably, she played the role of Manisha in the romantic comedy Kundali Bhagya on Zee TV. The drama series Naagin 3 saw Mahira in the character of Jamini. Beyond television, she appeared as a judge on MTV's Date to Remember in 2018 and ventured into the reality show realm by participating in Bigg Boss Season 13 in 2019, ultimately securing the fifth runner-up position.
Mahira Sharma has left her mark in the Punjabi music scene, featuring in music videos for various songs, including Nikk's Relation, Love You Oye, Lehenga, Drive Long, Zindagi, Koka, Qafira, and Gal Karke. The music video for Lehanga, performed by Jass Manak, has garnered an impressive 1.5 billion views on YouTube, making it one of the most-watched videos. Her acting skills were further showcased in the 2021 release Kade Haan Kade Naa, where she portrayed the character of Sanjana Singh.
Mahira Sharma, renowned for her stunning presence in the Hindi TV industry, boasts a substantial fan base across various social media platforms. With an impressive 7.8 million followers on Instagram and 84.5k on Twitter, she stands as a beloved figure among her admirers. Notably, she holds the title of being one of India's most popular TikTokers, captivating a significant and enthusiastic fan following in that realm as well.
The versatile artist made her OTT debut in the web series titled Bajaao, where she took on the lead role opposite the renowned rapper Raftaar. Additionally, she made her mark in the Punjabi film industry with her debut project Lehmberginni, that had a couple of shooting locations in London.
Mahira Sharma Net Worth
Mahira Sharma has earned an estimated net worth of approximately $4.5 million, equivalent to Rs. 38 crores. With notable achievements in the television industry, she has now solidified her position as one of the leading Bollywood actresses. The substantial increase in her net worth over the recent years underscores her remarkable dedication and success.
Also Read: Paras Chhabra Net Worth – Monthly Income, House
Mahira Sharma Income and Salary
Mahira Sharma has carved a successful niche for herself in the Indian entertainment industry, earning an impressive annual income exceeding Rs. 3 crores. With a substantial portion of her earnings stemming from television shows and music videos, the actress has become a prominent figure in the field, having started her journey at a young age. For a YouTube song video, her fee ranges from Rs. 40 lakhs to Rs. 55 lakhs. If it's a Punjabi movie, she charges a flat fee of Rs. 1 crore.
Mahira commands a fee of Rs. 60 thousand per episode for her contributions to music videos, TV serials, and shows, solidifying her status as one of India's top TV stars. In addition to her on-screen ventures, Mahira Sharma diversifies her earnings through sponsorships and brand endorsements. With her stature as a leading actress in Bollywood, she attracts collaborations with renowned companies like Fitness Formula, further contributing to her financial success. On a monthly basis, Mahira Sharma salary surpasses Rs. 12 lakhs, showcasing the lucrative nature of her career.
House Owned by Her
Mahira Sharma enjoys a lavish lifestyle, residing with her family in a stunning apartment located in Mumbai, Maharashtra, India.
Mahira Sharma Assets
Mahira Sharma has got a number of fancy cars in her collection, including a sleek Mercedes Benz valued at Rs. 73.50 lakhs, a classy Audi priced at Rs. 43.85 lakhs, and a top-notch BMW X6 with a hefty price tag of Rs. 1.11 crores.
Her Achievements
In 2020, Mahira Sharma was honored with the Most Fashionable Bigg Boss 13 contestant award at the Dada Saheb Phalke International Film Festival.
Philanthropy Done by Her
Aside from her accomplishments in acting, Mahira is recognized for her philanthropic endeavors, particularly her dedication to supporting underprivileged children.
Also Read: Millind Gaba Net Worth – Annual Salary, Assets
Controversy Surrounding Mahira Sharma
In 2020, allegations were made against Mahira Sharma for falsely claiming to have won an award at the Dadasaheb Phalke International Film Festival. The event organizers accused her of deception. In response, Mahira Sharma took to social media to address the charges and provide clarification.
Mahira Sharma net worth reflects her successful career in the entertainment industry. Her remarkable achievements highlight her popularity and influence among audiences.