Link Intime is India's largest registry service provider and share transfer agent for Initial Public Offerings (IPO's). The company which is headquartered in Mumbai also has branches in Ahmedabad, Coimbatore, Kolkatta, New Delhi, Pune, and Vadodara. It has won recognition over the years for having handled the most number of public issues in the last 7, out of 10 years. It's closest competitors are Karvy Computershare which has the largest number of shareholders and Sharepro Services, another Mumbai headquartered share registrar.
The company was started in the late '80s and since then gone through many mergers and acquisitions to form the current entity called Link Intime India Pvt Ltd. The company's registry services are used by over 1.5 crore investors as of 2016 and it hopes to reach 2 crore investors by 2017-18.
List of recent IPO's handled by Link Intime
Quick Heal Technologies,
Precision Camshafts,
Snowman Logistics,
Dr. Lal Pathlabs,
Alkem Laboratories,
Teamlease Servies,
Cafe Coffee Day
Inox Wind
S H Kelkar
To determine the IPO allotment status of these IPO's on Link Intime's website visit
Looking for information on Link Group? Visit here
Now, view your IPO allotment status on your mobile!
In a bid to give real-time 24×7 access to information, Link Intime announced the launch of 2 mobile applications last year. Through these mobile applications both investors and clients can stay updated on the status of their share allotment as well as view information about shareholders. The app called bLink is for retail investors who can link their Demat accounts to know share allotment status immediately.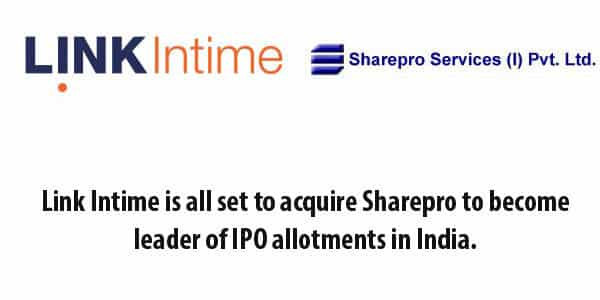 Link Intime gears up for the acquisition of Sharepro
Sharepro, a registry service provider, whose promoters were banned by SEBI last week for taking part in fraudulent share transfer activity is now under the scanner of Link Intime which wants to acquire its client base.
Sharepro was accused of diverting dividends issued to shareholders to bank accounts of entities linked to the promoters of Sharepro who then used the money to earn short term returns before it was transferred back to the original shareholders. SEBI launched an investigation when it received complaints from retail shareholders about the inordinate delays in the crediting of dividends issued by companies.
Sharepro has close to 280 companies who are using it for registry and share transfer services. Most of these corporate investors are anxious to know who their new registrar would be. Given Link Intime's impeccable reputation crafted over decades, they can rest assured that they are now in safe hands.