With the advent of so many banks and non-banking institutions, it is difficult to choose one that satisfies all your needs and provides the best features. This is where we introduce Lili Bank, the innovative mobile banking app designed to simplify your financial life. With its user-friendly interface and comprehensive range of features, the bank puts the power of banking in the palm of your hand. You can open an account in minutes and enjoy benefits such as instant money transfers, budgeting tools, expense tracking, and customizable spending categories. In this article, we will explore Lili Bank App and its features for you to experience seamless banking on the go.
What is Lili Bank?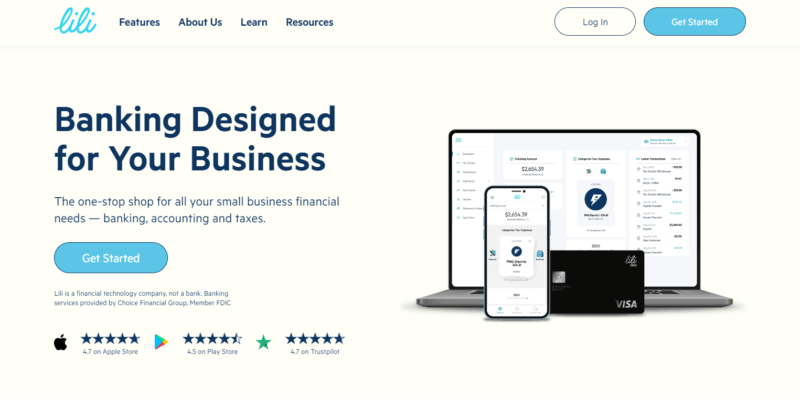 Lili bank is a banking company that was built for helping businesses and not just any business but the small ones while also helping freelancers to grow their businesses. Built to help save time and money, Lili Bank is one of a kind. Be it tax-related matters, invoicing or expense management, or other business-related aspects this bank is there to help you with all of it as they are a customer-driven banking company.
The bank promises its customers that there will be no credit check, no paperwork, no hidden fees, and no minimum deposit and that they can open accounts and proceed ahead in 3 minutes.
From Monday to Friday 9 am to 7 pm you have a dedicated support team, a message or call away willing to help you with any problem that you might encounter. Services of Lili bank can be used via an app that has received very strong ratings not only on Play Store or App Store but also on Trustpilot.
Also, there are no monthly charges that you need to pay to use their standard version while you also have a Pro account option available. In addition to the normal banking services and tools the company also offers tax optimizing options, and DIY accounting with tools like invoicing software and more.
Lili Bank App, Features, Account

We live in 2023 where even traditional banks have gotten themselves up to speed with technology or have seen themselves go out of business. Today you don't see many banks surviving out there without having an app. While you also have newer banks that exist online only and don't have any physical outlets like the traditional banks. These online banks all need an app to survive or else there wouldn't be a way for them to operate and that is why we have the Lili bank app that the users of Lili bank can use to avail of their financial services.
On the Google Play store, the app has more than 500k downloads and more than 10,000 people who have rated it because of this it has clocked a total rating of 4.5 stars.
The app is just 31 MB in size and so shouldn't take up much of your device space. While it appears to be a small compact app it has got powerful tools like invoicing software, accounting, and tax tools as well as business banking cramped up in it so that you don't need to have another app or go for a different company for different purposes as Lili bank app takes care of all your requirements.
With 5,759 people rating the app on the App Store for Apple devices here Lili's app has a 4.7-star rating. As mentioned above the app comes with multiple tools to take care of various money-related aspects and that is why they call themselves an all-in-one mobile banking app.
On Apple devices, it is a larger file that is 105.1 MB in size, however, it is an app that takes your security and data privacy concerns very seriously. This app is created by Lili Financial Services LTD.
It's not just the app through which you can use the services of Lili bank as you can also create an account or log in via the website. Trustpilot users on the platform gave Lili a 4.7-star rating. Also, the bank is an FDIC member which is another reason to trust this bank as your funds are insured by the head of the agencies in this case if the bank has to ever shut down. Let us learn more about Lili Banking.
Lili Banking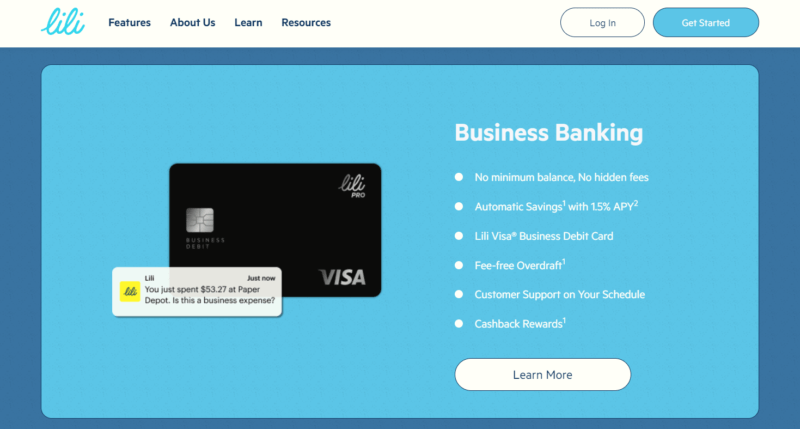 So, we have established that Lili is an all-purpose bank that has no physical stores but exists online only. The platform offers you various tools to take care of your business and money and also doesn't charge you any hidden fees. You also have the option of using free service or signing up for a Pro account which also gets you a savings account. While the Fintech company exists for helping freelancers and small businesses, what services exactly does Lili banking have to offer?
1. Account Choice
We already know that the app is free to use. However, people wanting to have a Pro account which comes with added tools and features are also available for those willing to pay a fee for the same. Since the normal account cones with no fee or hidden charges, it minimizes the banking cost that the solo entrepreneur or freelancer has to bear.
2. Various Tools
Profit and loss or income and expense form an important part of any business. Now since the Lili bank app belongs to a bank that is built to help small businesses it only makes sense that the app offers tools to measure these aspects. With the bank app of Lili, you get tools to track your business income and expenses and you can also categorize the expenses and view financial reports by using graphs.
3. Direct Deposits
While deposits have a limit with Lili's app the app offers quick direct deposits to its users. Traditional banks take time to make deposits, however, with Lili the deposits take place quickly and smoothly giving you access to your money as quickly as possible.
4. Tax Tools
With Lili's app, it's not just the banking features that you are getting access to, but the app also comes with automatic tax-saving tools that are useful for solo entrepreneurs or freelancers who usually have to look after their taxes. When you use this tool a small percentage of your income is kept away in a tax bucket, this automated process can come in very handy and that is what makes Lili's app very useful.
5. Debit Card
When you sign up for a Lili bank account you also get a VISA-branded debit card with it which might take two weeks to arrive but is instantly usable online once you have made an account. This card can be linked with various third-party payment apps like Google Pay, Venmo, and many more.
That's not all that Lili bank has to offer but it sure is more than enough to build a good and strong case for why you should be using their services.
Lili Mobile Banking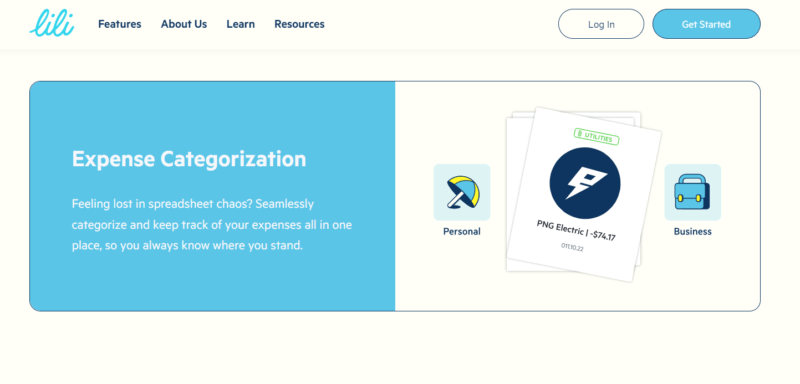 Lili was launched in 2019 and when the Pandemic struck in 2020, people lost their jobs and made the switch to freelancing which helped Lili grow further. In the seed round and Series A funding the company had already raised 25 million dollars and the company CEO had made her way to the list of Entrepreneur's 100 most powerful female founders of 2020. We all saw the features that this bank offered to its customers but as we said that's not all of it as there is more to share.
While traditionally it was just banks who then had to go and get themselves an app, with Lily the core accept of their whole business is the app. Lili mobile banking services cover a whole host of features that traditional banks and their apps offer but the only difference is that while the app is secondary for traditional banks, for Lili it is their first, only, and most important aspect.
The app also allows users to access their accounts as well as route numbers. Another mobile banking feature available to Lili users is initiating deposits and transfers.
Again, it's not limited to just this and there's more that can be done. You can categorize transactions and pay bills as a part of Lili's mobile banking features. You can also review transaction history or deposit paper checks.
The Lili bank app also allows you to modify debit card usage settings and allows you to generate expense reports as a part of its mobile banking feature. You can also use the app to locate local ATMs which is again a simple but very useful feature of the app.
Also, it's not just the mobile banking features of Lili that are attractive but also the promotion plan they have in place is great which allows you to earn up to 500 dollars in rewards by inviting up to 10 friends to use the platform who then spend 250 dollars using their Lili card in the first 45 days.
You also won't be paying any maintenance fee, overdraft fee, returned item fee, stop payment fee, deposit item returned fee, inactive fee, or find transfer fee. And so you don't just have good Lili mobile banking facilities but other benefits as well that you can look at and consider when considering using this app. Let us learn more about Lili Bank account.
Lili Bank Account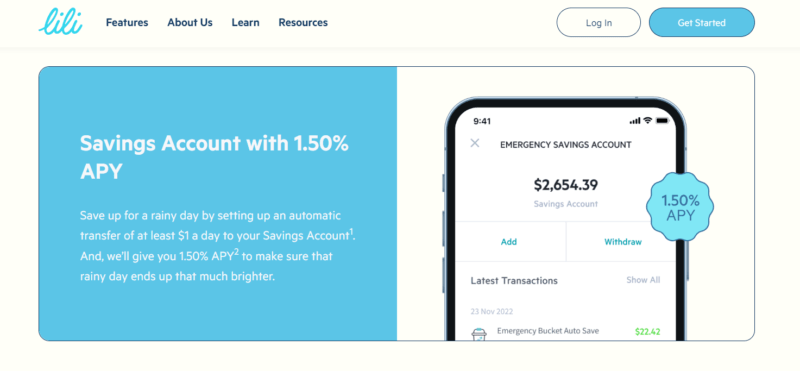 By now we must have made a good case for Lili bank or else you might not have stayed with us until this point while still reading this article. However, you also don't seem entirely convinced about having a Lili bank account, or else you wouldn't be hooked on the article still looking for reasons that could further convince you to go ahead and get an account with this bank. For a situation like this, we had been saving some information for the last which we will now look at.
As you know having a Lili account costs nothing, however, a Pro account is available for a fee of 4.99 dollars a month which shouldn't be much considering that you get an app that will also help you save money while also helping you with taxes and stuff which would anyway require you to spend money that you are now saving.
Also, you get the option to have a savings account when you sign up for a Pro account and this savings account has an APY of 1.5% which may seem like very less but in reality, it is just another bonus to the long list of positives seen throughout the article.
Also, to earn this APY there are no minimum balance requirements to be met. You also pay no maintenance fee for a free account but the pro account commands a 9-dollar fee because of the added benefits offered. You also get access to close to 40,000 ATMs where you can go ahead and get a fee-free withdrawal.
Using the Lili bank app, you can deposit 200 dollars a day and 1,000 dollars a month to your account from an external bank account. Direct deposits can be worth as much as 25,000 dollars for a single deposit or you can opt for deposits worth 50,000 dollars per month. Check deposits up to 2,000 per check, 2 checks a day, 6 checks a month, or 6,000 dollars maximum are accepted as well.
If you ever have to use an out-of-network ATM for a withdrawal, then you only pay a 2.5-dollar charge for the same and if this takes place outside the US then the fee doubles up to 5 dollars.
When you compare the savings account of Lili bank and other traditional banks you stand to make up to 60 more dollars in interest in a year. The figure grows to almost 200 dollars in three years and over 10 years the figures have a difference of nearly 650 dollars. Now you know about Lili bank account.
Lili Bank Detailed Analysis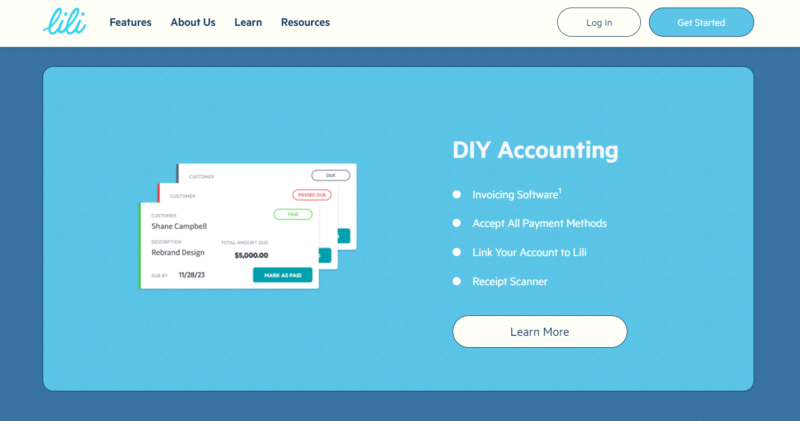 So now that we have looked at the features of the Lili bank app it is about time, we put them up to standard check and come up with a list that addresses the strong points and the shortcomings of the app so that we can make a call whether or not you should go for this bank and the app.
Stand Out Features
Without a doubt, the first and probably the best thing about getting a Lili bank account is the fact that you get one for free. And it's not just the free account that you need to be excited about but also the fact that there are no maintenance charges to be paid, no minimum opening deposit required, and unlimited fee-free deposits that you can make. You also get to make mobile check deposits, are given access to free expense management tools, and are allowed to do free ACH transfers.
You are also spared from paying various charges like overdraft fees, stop payment fees, and more with this bank. You also don't have to pay a foreign exchange rate adjustment fee.
When you have an account with this bank you don't only have access to almost 40,000 ATMs but also have the privilege of unlimited fee-free withdrawals while not forgetting the locate an ATM feature that you can always use to find a Lili ATM to avoid paying the extra charge for using an out of network ATM.
Also, the ATMs don't support cash deposits, but you can get them done at participating Green Dot locations which give you access to more than 90,000 location options for deposits; however, you pay 4.95 dollars per deposit.
Lili banking app comes with a host of tools that don't just look after your banking requirements but help with other stuff too. The app does you to categorize your expenses which is a handy feature for future reference as well as taxation purposes.
You can also add receipts to transactions and get various reports and get insights on your expenditures. The Tax bucket features help you put away money for taxes while also telling you how much amount you need to save. The app also lets you set aside funds for emergencies which is again an underrated but very useful feature.
Shortcomings
While the Lili bank app promises to be a good option for solo entrepreneurs and freelancers it still leaves out a lot of business-related features from its offerings which its competitors offer.
You don't get checkbooks, you can't link multiple business debit cards via their app, you cannot send or receive wire transfers, and the app also can't accommodate a joint account. Other than all this the app also doesn't include integration with various tried party tools including but not limited to point-of-sale systems and more.
The customer support team is available to help you via phone or email only within the weekday time frame of 9 am to 7 pm ET time. On weekdays and outside of this time frame you have no option but to resort to the email support option only and so you might want to consider a bank that offers 24/7 assistance.
So, as you see the strengths comfortably outweigh the shortcomings which is another reason why we think Lili bank might be a good bank to get an account with but if you still haven't been able to make a decision then look out for the pros and cons.
Also Read: Is Keeper Tax legit? Is it Trustworthy?
Lili bank Pros and Cons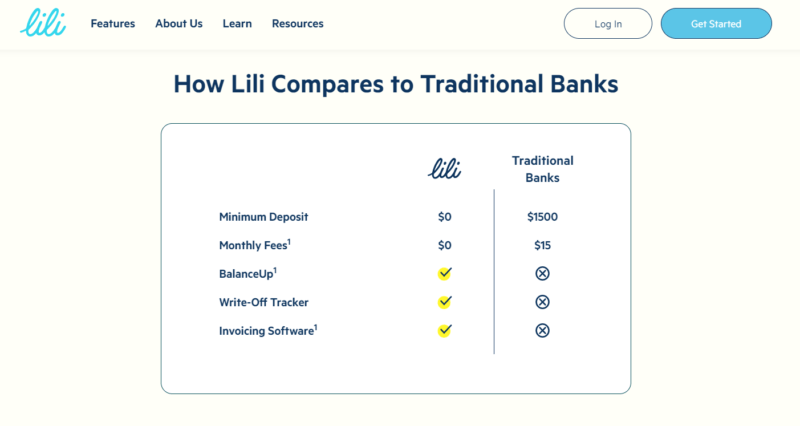 It's free to use and offers great tools to users. On the other hand, the customer may have limited access to customer support, we know all this but possibly what more decisive points can be come up with to help you make a full and final decision? Let us go over some Lili bank app pros and cons.
Pros
Out of so many banking apps and financial apps and tools that exist in the market, you may not even be able to come up with a handful of names that might be useful for or cater specially to freelancers and small businesses.
Lili bank app is not only focused on a niche but caters to a usually overlooked niche which makes them that much nicer. Also, with an account in this bank, you can separate personal and business spending in the same account itself so there is no need to get multiple accounts.
Sign in up for a Pro account gets you the option to open a savings account where you can earn 1.5% APY you can also get cashback rewards from this account. You can use the Lili mobile banking feature to pay bills online. Also, your direct deposits can now come two days earlier than usual which is again a welcomed move.
Cons
Since we are dealing with an online bank this means that there are no physical outlets where you can pay a visit for any matter whatsoever. Any and every issue of yours can only be dealt with online.
The Pro account comes with certain added benefits but then they also require you to pay a 4.99-dollar charge monthly which may not seem much, but it is still money going out of your pocket. There are limits on the number of monthly mobile check deposits and other such stuff which might tie your hands in some tough situations.
So that's all about the Lili bank app and Lily bank, a bank for which I hope we have been able to put across a fair but favorable review after thorough consideration. Lili Bank might have some similar offerings to other banks while also offering newer and more unique features which surely will benefit the user. All in all, we would suggest getting a Lili bank account for anyone who is a freelancer or runs a small business as we have seen it to be more than a decent option that fares well as an all-purpose online bank.