In a world engulfed by economic and financial crisis, it is difficult to make a sound financial decision, especially with regards to savings and investment. A recent survey highlighted the financial regret of American families of not having enough savings for retirement.
Although debt levels and interest rates are rising continuously, Americans still express more remorse over inadequate savings than excessive debt. A larger number of individuals regret not saving enough for retirement early on, not having sufficient emergency savings, or not setting aside enough for their child's education.
In contrast, a small fraction, approximately 5 percent, expressed that their most significant remorse was related to accumulating excessive student loan debt.
Additionally, 3 percent of respondents cited not saving enough for their children's education as their main regret, while an equal percentage regretted purchasing a home beyond their means.
Interestingly, a notable portion, 20 percent, claimed to have no financial regrets whatsoever.
Although the Federal Reserve had paused its interest rate hikes in June, there is a possibility of two more rate increases later in the year. Starting to save for the future early, as opposed to delaying, allows your retirement fund to benefit from compound interest, wherein interest payments augment your savings each year.
According to the recent Bankrate survey, approximately 74 percent of adults in the United States have experienced some form of financial regret.
The most common financial regret of American families include not starting to save for retirement early enough, cited by 21 percent of respondents, followed by taking on excessive credit card debt (15 percent), and failing to save adequately for emergency expenses (14 percent).
In light of this, a combined 39 percent of Americans express regret for not saving enough, whether it pertains to retirement, emergency funds, or their children's education.
Surprisingly, this percentage is higher than the 24 percent of individuals who regret taking on debt.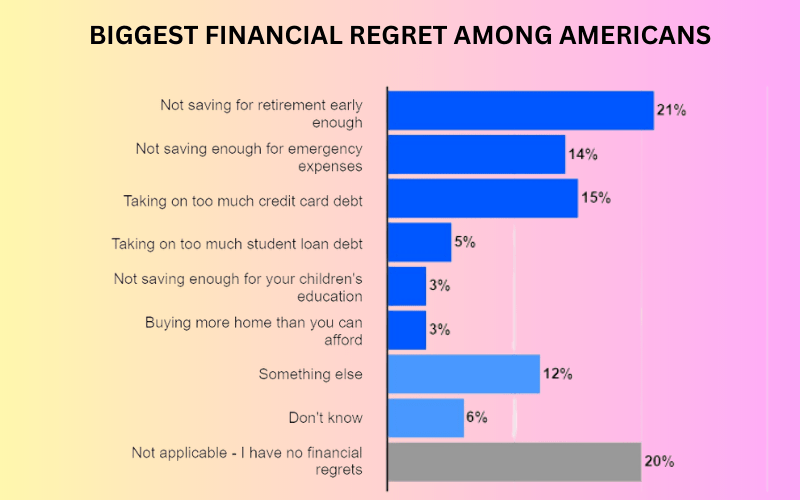 The majority of baby boomers, who are nearing retirement age, express the highest level of regret for not starting to save earlier in their lives. Conversely, younger generations, who are not yet concerned about retirement, tend to regret not having sufficient emergency savings.
Approximately 34 percent of baby boomers feel this remorse, compared to 26 percent of Generation X, 11 percent of millennials, and just 5 percent of Generation Z.
Roughly 21 percent of Generation Z individuals admit that their biggest financial regret is not saving enough for unexpected expenses, followed by 17 percent of millennials, 13 percent of Generation X, and 9 percent of baby boomers.
Regarding credit card debt, less than one-fifth of people across all age groups express regret for taking on excessive amounts.
Specifically, 18 percent of Generation X, 16 percent of millennials, 15 percent of baby boomers, and 11 percent of Generation Z share this sentiment.
Financial regret of American families has been a growing source of stress in the past year.
Nearly half (48 percent) report that their stress levels regarding their most significant financial regret have increased since June 2022.
Only a small percentage (12 percent) of these individuals say that their stress levels have decreased during the same period.
The majority (40 percent) state that their stress levels related to their financial regret have remained relatively stable over the past year.
Younger Americans, particularly Gen Zers and millennials, also commonly experience increased stress due to financial regrets.
Approximately 60 percent of Gen Zers and 57 percent of millennials with financial regrets report that their stress levels have risen.
In comparison, 45 percent of Gen Xers and 38 percent of baby boomers feel the same way.
Among baby boomers and Gen Xers, 48 percent and 44 percent, respectively, state that their stress levels regarding their biggest financial regret have remained unchanged since June 2022.
In contrast, only 33 percent of millennials and 26 percent of Gen Zers share this sentiment.
Individuals who regret not saving enough for emergencies are the most likely, with 56 percent, to express an increase in stress over the past year.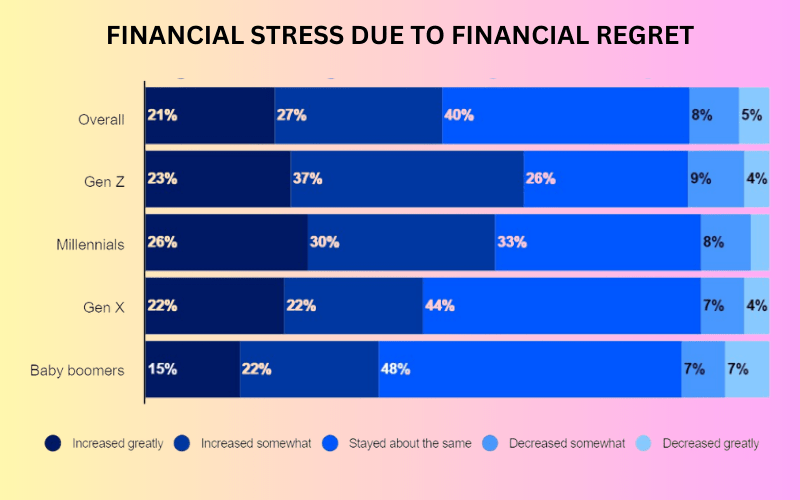 Also Read: Survey Highlights Causes of Financial Stress among Young Canadians
How to Start Saving for Retirement?
Here are some effective strategies to begin saving for retirement at an early stage:
Start prioritizing saving for the future as soon as possible, even if you're in your 20s or just starting your career. Aim to save around 10 percent of your income for retirement, but don't worry if that amount isn't feasible initially. Any amount you can save regularly will benefit from compound interest and grow over time.
Incorporate retirement savings into your budget. The 50/30/20 rule is a popular budgeting guideline, where 20 percent of your income is allocated for savings. Consider dedicating half of that 20 percent to your retirement plan. Making retirement savings a consistent part of your monthly budget early on establishes a valuable habit for the future.
Explore different retirement savings options available to you. From employer-sponsored 401(k) plans and traditional IRAs to post-tax Roth IRAs and various investment opportunities, assess the plans that suit your budget and goals. Diversifying your retirement savings across multiple options can be beneficial.
If you find yourself starting in your 30s or beyond, aim to save aggressively, ideally at least 15 percent of your income. As you approach your 40s, consider increasing your savings even further.
Keep in mind that it's never too late to save for retirement. While it may be challenging, starting late is still better than not saving for retirement at all.
Source: Bankrate Survey