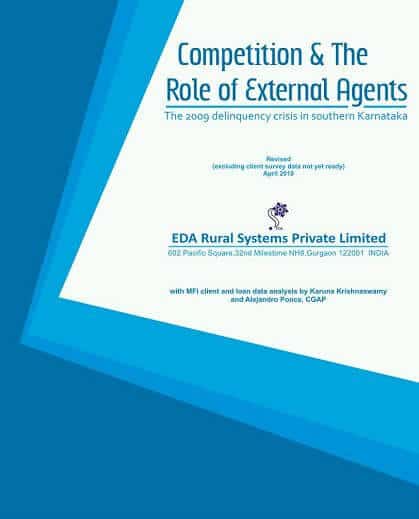 Report on Competition and the Role of External Agents in the 2009 Delinquency Crisis among Microfinance Institutions in Southern Karnataka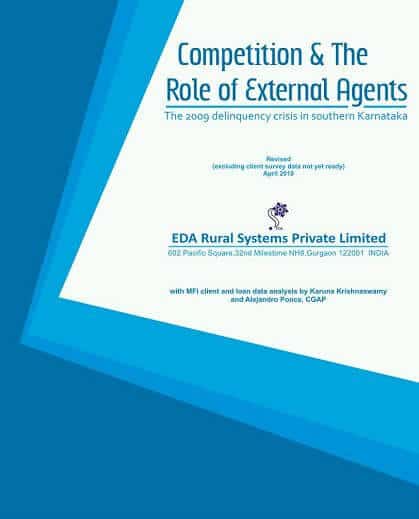 Association Of Karnataka Microfinance Institutions(Akmi) Report On Delinquency Crisis In Microfinance In Southern Karnataka
Download at the link below :
Karnataka Microfinance Report August 2010- PDF – 39 Pages – 650 KB
Preface
This is the report of a study of the delinquency crisis that broke out in the southern districts of the Indian state of Karnataka in the first half of 2009. It is based on a combination of qualitative research and analysis of the limited amount of client data presently available from some of the leading MFIs affected by the crisis and complemented by analysis of MFI level information.
Focus group discussions (FGDs) were conducted in each of the affected areas (1-2 groups for each of the major MFIs operating in the area). In areas where clients refused to gather in groups for an FGD, short individual interviews were conducted instead. The team also conducted FGDs with branch staff, separately for each MFI in all the four affected areas.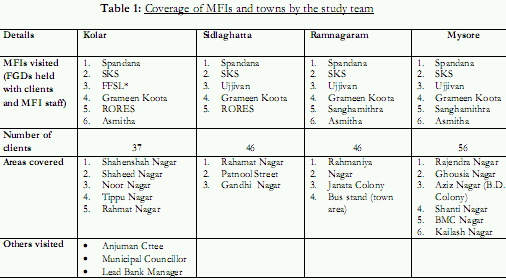 The study team would like to thank the management and operational staff of all MFIs that cooperated in the study (see table above). We would also like to thank the leadership of the Association of Karnataka Microfinance Institutions (AKMI) – Mr. Vivekanand Salimath, Mr. Samit Ghosh, Mr. Suresh Krishna – for asking us to undertake the study and CGAP for their support and cooperation in conducting the work.
Thanks are also due to Mr. Krishna Morab, Secretary of AKMI for his support in coordinating the work with the MFIs. Unfortunately, BSS, a notable participant in the microfinance industry in Karnataka, refused to participate in the study.
As indicated in the report, a field survey of 800 MFI clients has been completed in the affected areas and also in two control locations and analysis is currently in progress. The results of the survey are expected to add substance to (or modify) the findings of this study and will be included in a revised report.
Table of Contents
Preface i
Summary & Conclusions: Competition & the Religion Conundrum
1.Karnataka & the state of Microfinance
1.1 Karnataka MFIs match the growth of the largest MFIs in India…
1.2 …and their performance is good too
2. What triggered the crisis
2.1 Kolar – of proxy borrowing, suicides and rampaging youth
2.2 Sidlaghatta – crisis in the silk industry fuels a spill-over from Kolar
2.3 Ramanagaram – religion masks business rivalry and the silk industry crisis
2.4 Mysore – communal riots, economic distress, and delinquency
3. How important are multiple lending and over-indebtedness?
4. The Kolar Anjuman – basking in the attention
5.  Further issues emerging from discussions with microfinance clients
5.1 Unwise practices in the microfinance business
5.2 Genuine repayment problems on account of business losses
5.3 Staff behavior and the zero delinquency syndrome
5.4 Break down of group solidarity as a loan guarantee mechanism
5.5 The gender bogey
5.6 Stoppage of MFI credit – a constraint for enterprises
5.7 Willingness to repay – can the lending cycle be resumed
6. The staff perspective
6.1 The community issue – incitement by Muslim leaders
6.2 AKMI's interactions
6.3 Competition, multiple lending, and unsuitable business practices
6.4 Efforts to recover dues & re-organize lending – the refinancing conundrum
7. Views of the Lead Bank Manager, Kolar
8. Summary of the situation
Some information on MFIs operating in the affected areas