The Jupiter App, also referred to as Neo Bank, is an entirely digital bank. The bank has upgraded its App to accommodate more users, giving everyone access to a quick, individualized, and seamless banking experience. This online retail bank is the first and only jointly created banking experience in India geared for millennials. In this article, we will learn all about Jupiter Money including Jupiter Account charges.
Jupiter Money Account Charges, Features, Debit Card
Jupiter bank India is a mobile banking application with just one objective: to give you a banking experience that moves with you. It can help you comprehend banking language, present you with a range of cutting-edge services that can assist you in understanding your resources, and provide you with lots of insightful information depending on your expenditure. Before we learn about Jupiter account charges, let us learn about its features.
Features of Jupiter App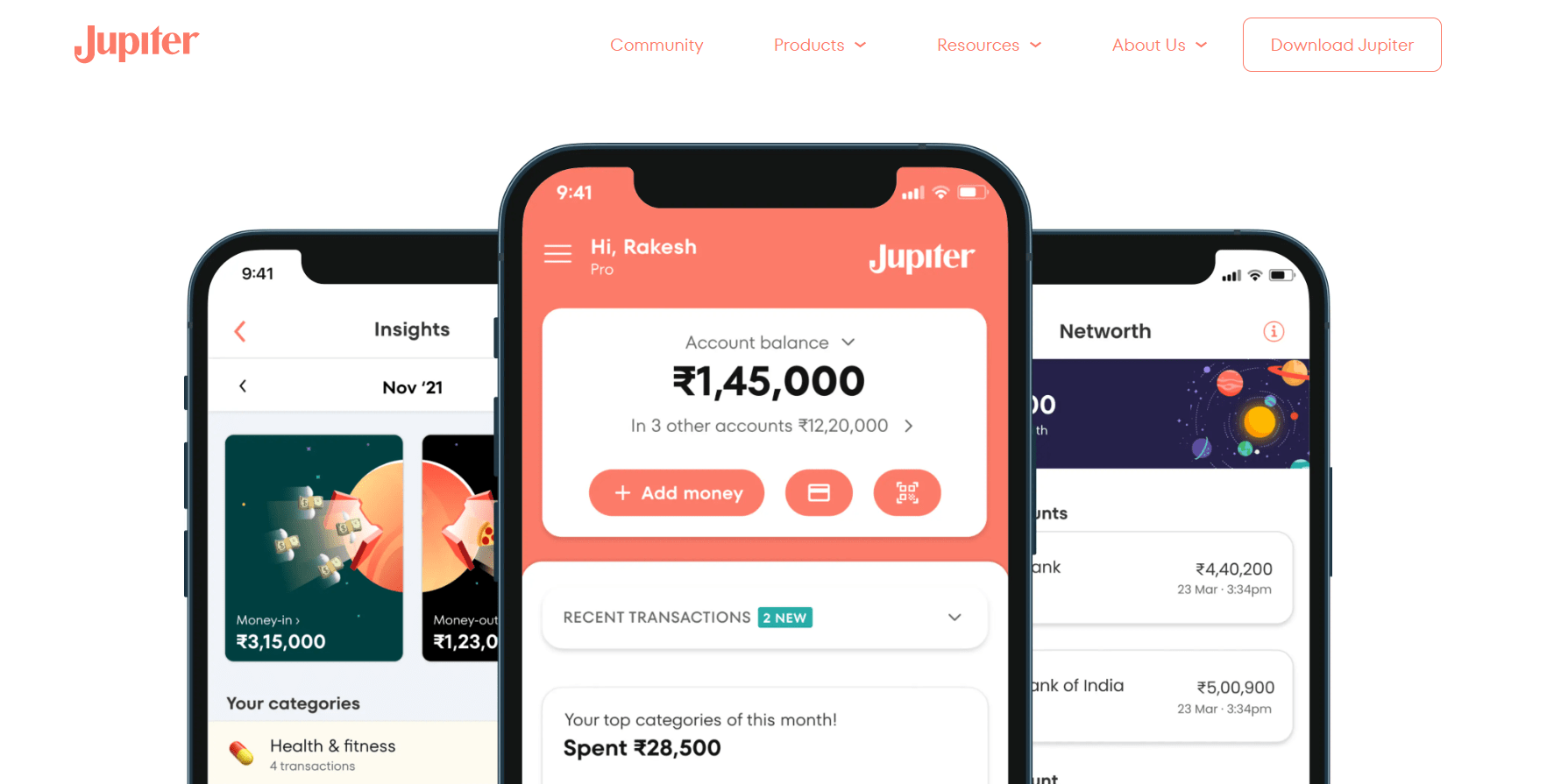 Let us check out some of the features of Jupiter app.
Banking while traveling is easy. Using the Jupiter app, you may access your bank account from anywhere.
No balance on the account. There's no need for you to maintain a minimum balance with Jupiter.
The return is assured. When you use the smart debit card from Jupiter to make a purchase, including a UPI transaction, you will receive 1% cashback.
A debit card is offered without charge. Jupiter offers a free debit card for life. There won't be any charges, not even for replacing damaged or missing cards.
There are no unstated costs. There are no additional levies or hidden charges with Jupiter- it promises an entirely transparent banking experience.
Real-time insights regarding spending habits. Jupiter is a cost tracker that provides you with up-to-date details regarding your spending patterns.
Consumer support is accessible twenty-four hours a day, seven days a week. You can obtain assistance with your issues via Jupiter's online customer support at any time of the day.
Advantages of Jupiter App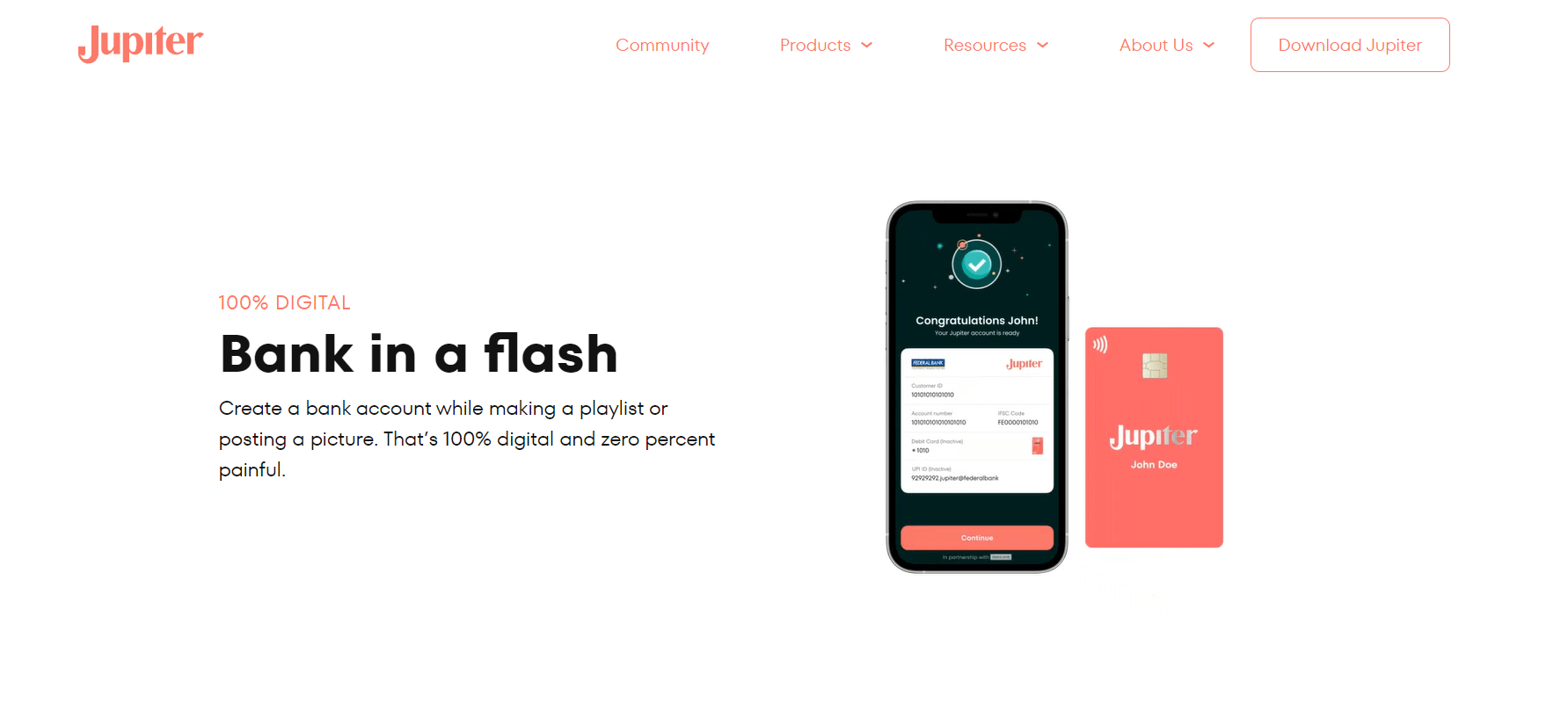 Jupiter App provides users with many faculties some of which are as follows.
Completely Digital: Open a bank account when creating a playlist or sharing a photo. There's no pain involved because everything is digital.
Genuine Rewards: There are real-time prizes available. You cannot find immediate rewards like this anywhere else. On buys made with a debit card and UPI, you will get 1% back.
Speedy Assistance: A quick response is provided when banking urgently! Find fast solutions to your 3am queries, from lost card anxiety to personalize spend analytics.
Incredibly Clear: With this account, there are no hidden fees and no minimum balance requirements. Say goodbye to shady bank fees and hidden costs. There is no necessary minimum balance. Use any ATM to withdraw money. Transparency in fees is crucial.
Opening a Bank account with Jupiter Money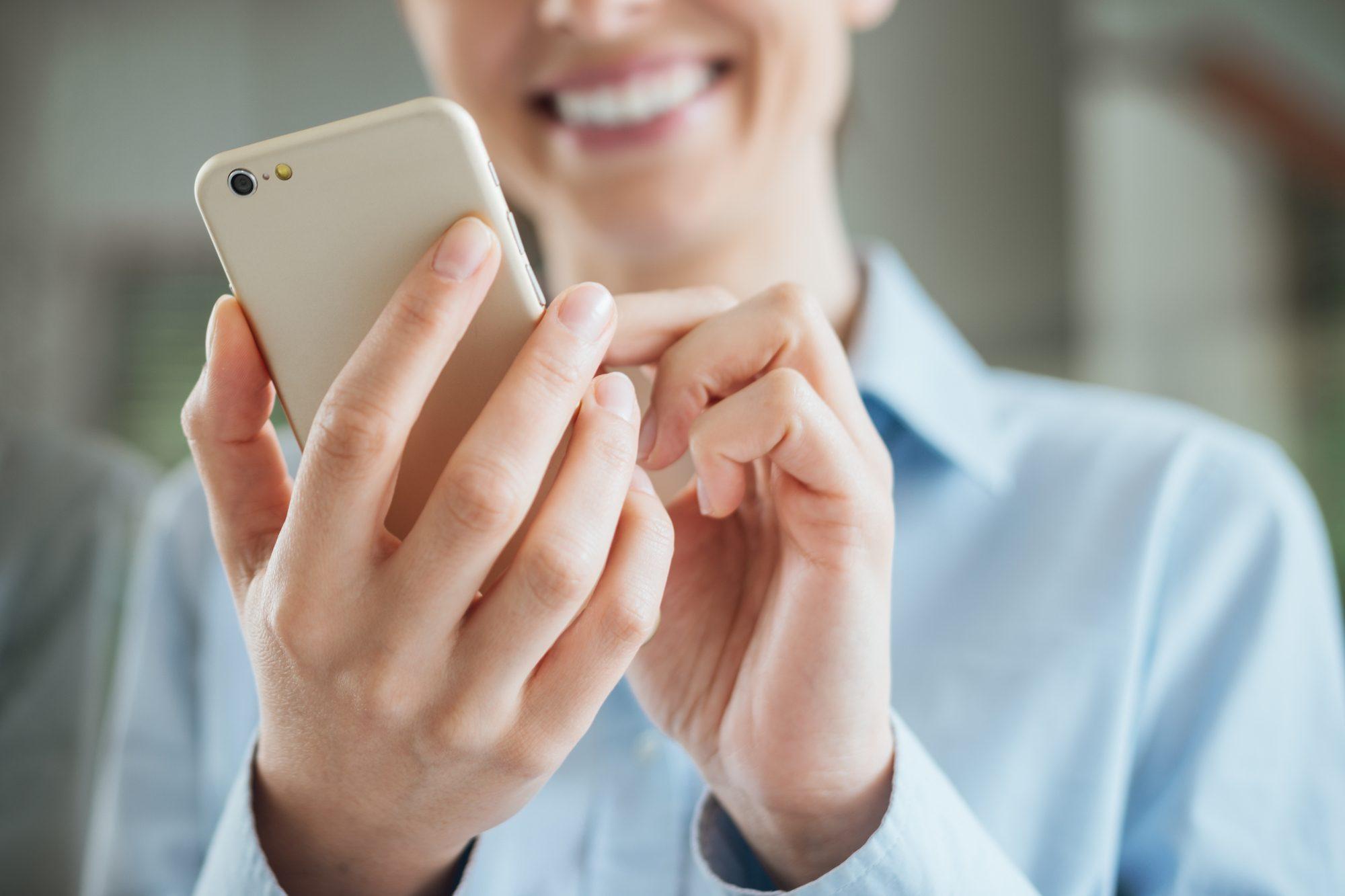 Currently, Jupiter is just in the early access phase. On the Jupiter website, you can register for its waitlist. The first thing you will need to do is to download the app from Play Store or App Store. Register with Jupiter by providing your mobile number. After that, enter your PAN card number to access your account. You can use a permanent account number (PAN) card for your identity and age to be verified.
You must submit your Aadhar card number to complete the KYC verification process; a code will be sent to your mobile device. Enter your home address, email address etc. After that tap on Proceed to access the Jupiter platform. You will now have access to the dashboard of your savings account. Now you can utilize your card to make purchases online to earn cashback. You can get more information about this Jupiter Money official website.
Documents required to Open a Jupiter Money Account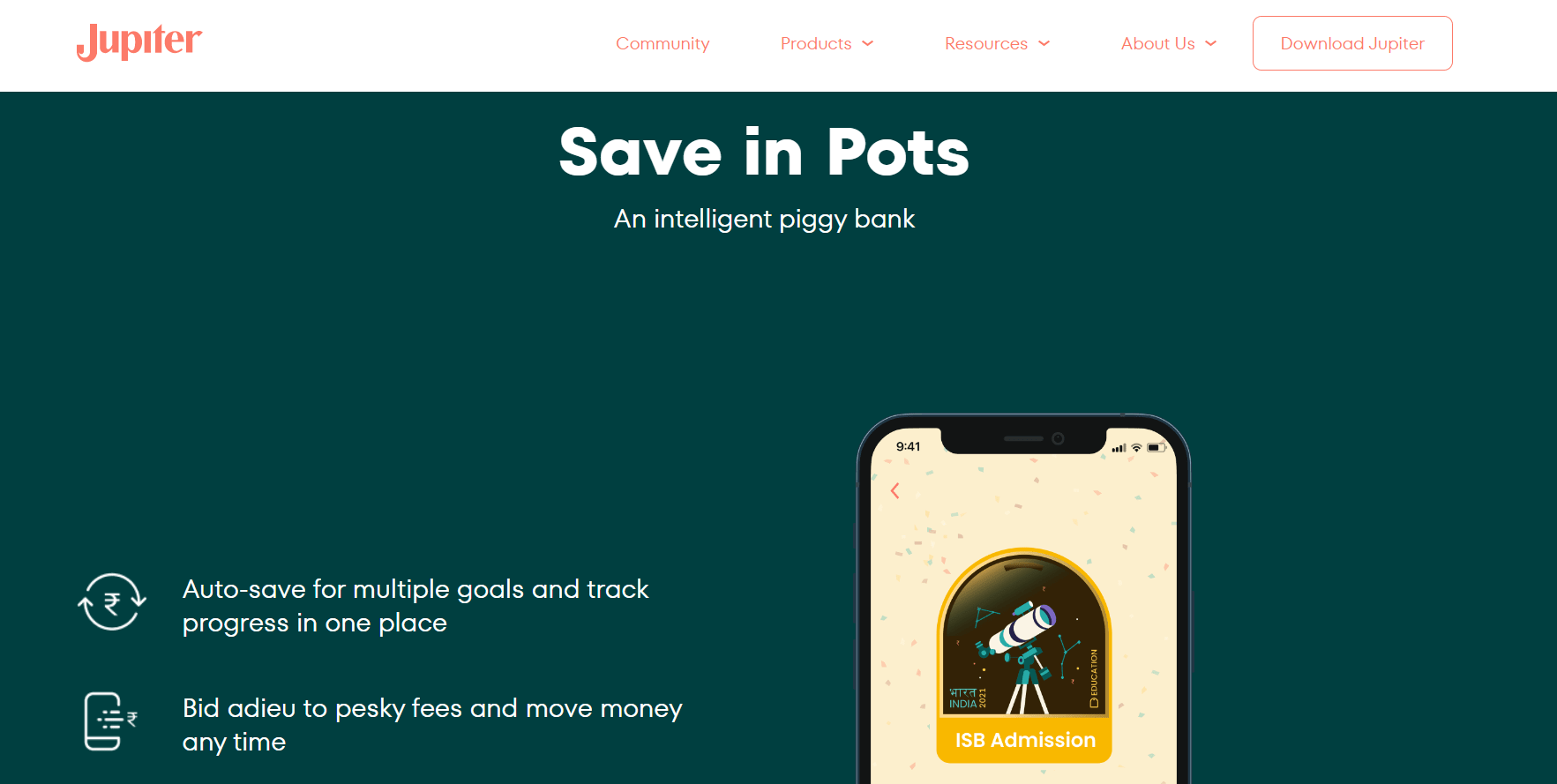 The following list includes some paperwork required to start a Jupiter account opening process.
Proof of age and identity can be provided through a driver's license, passport, permanent account number (PAN) card, Aadhar card, or voter identification.
Aadhar cards, electricity or telecom bills, or a passport are examples of proof of address.
A recent set of passport-size photos
When opening a senior savings account, seniors must present age verification.
Parents or guardians must submit paperwork with the minor's birth certificate when opening a kid or minor savings account.
Also Read: Fi Money Customer Care Number and Email

Jupiter Money Bank Charges and Interest rates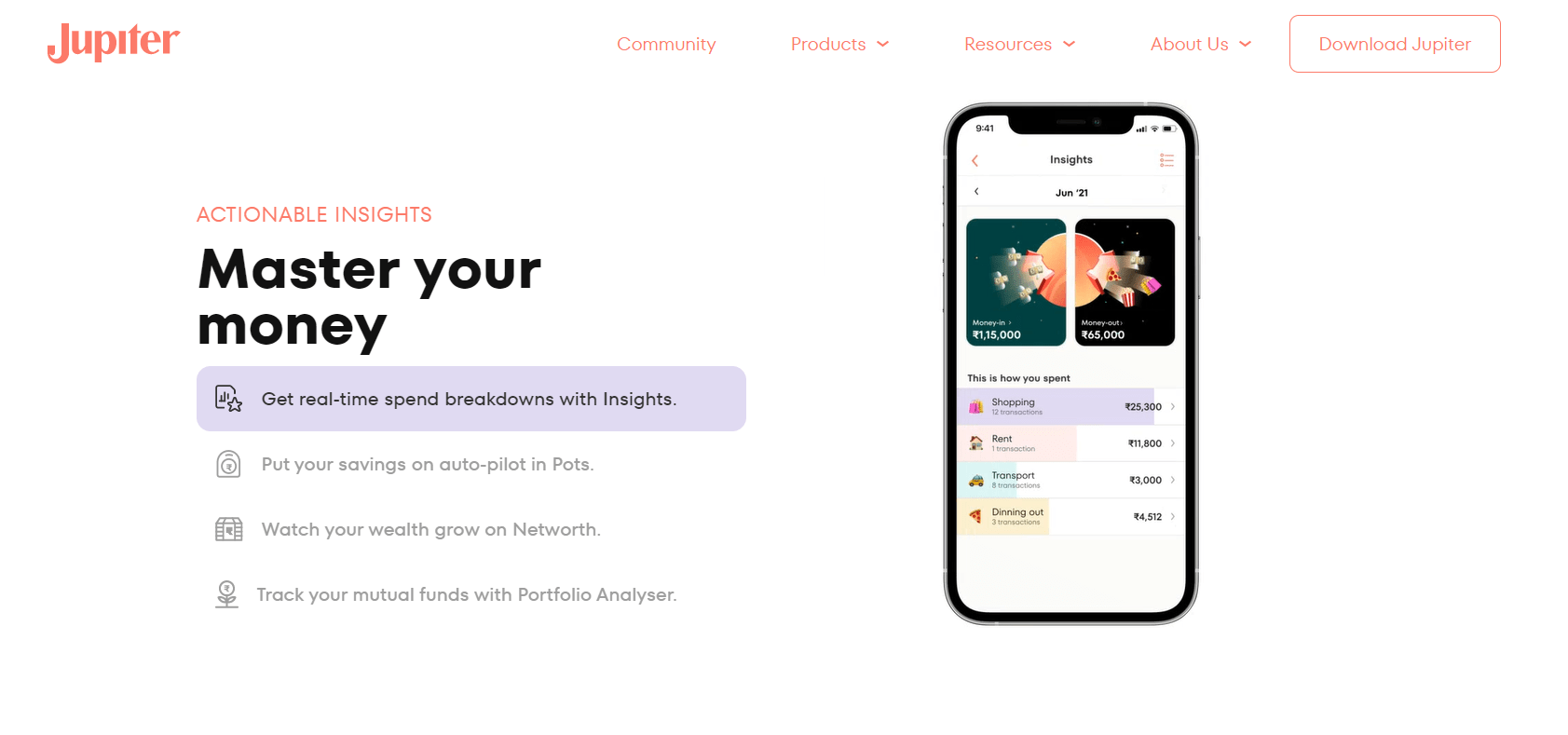 Given below are all fees and charges including Jupiter account charges of Jupiter Money.
For a checkbook
On the initial 5-leaf checkbook, there are no fees.
Additional requests will incur a fee of 3 cents per leaf and a 60-cent per kit courier fee.
Only Verified (FKYC Completed) members can access the checkbook feature.
Demand draft
You get one free of charge every year; you will be charged after that.
Fifty rupees for a draft between 5,001 and 10,000 rupees
Four rupees per ₹1,000. For drafts between 10,000 and 1,000 rupees, subject to a minimum of 50.
Charges against the debit of a bank account
Thirty rupees for checks up to 5,000 rupees
Fifty rupees for a draft between 5,001 and 10,000 rupees.
₹4 per ₹1,000. For drafts between 10,000 and 1,000 rupees, subject to a minimum of 50.
For drafts worth more than 1, 00,001 rupees, there is a 4 per 1000 rupee fee, up to a limit of 10,000 rupees.
Demand draft for payment in cash
100 for drafts up to ten thousand rupees (including GST).
₹8 per ₹1,000. For drafts from 10,000 to 49,999 rupees, subject to a minimum of 100 rupees (including GST).
The first five transactions each year are free. You will be charged after that.
Charges at the branch, RTGS
20 rupees per transaction for amounts between 2 and 5 lacs.
45 rupees for any trade over Rs. 5 lakhs.
Charges at the branch, NEFT
Up to 10,000 rupees for each, 2 rupees.
Four rupees for any transaction between 10,0001 and 1 lac
Fourteen rupees for each transaction between 1,000,000 and 2 lacs
20 rupees per transaction for amounts more significant than 2 lac
Branch visit fees for any mentioned below.
Confirmation of the address.
A photo as proof.
Balance Reassurance
Verification of signatures.
Cheque
Services for electronic clearance (ECS).
Demand the cancellation of Draft (D.D.).
Financial Statement.
Note: Five visits are free each year.
Each additional request will cost 100 rupees. There is Rs.100 fees if you don't follow standing orders for recurrent deposits or mutual fund SIPs. Only the initial return each month will incur fees.
Account deletion Charges
If you ask to close your account within six months, you will have to pay a charge of Rs. 100.
You will have to pay Rs.300 if you request to delete your account after six months but before the 12th month.
Note: There are no fees if the account is canceled within 14 days of the initial deposit.
Jupiter Money Debit Card charges
There is no fee for the first physical debit card
There is no replacement cost if a card is damaged or misplaced.
Zero yearly debit card charges
Zero fees for using an ATM from a Federal bank
Expenses for using an ATM other than one belonging to Federal Bank
The initial five transactions each month are free.
Twenty rupees for cash withdrawal and 10 rupees for a balance check or mini statement are charged after five transactions.
You are charged one hundred rupees plus 3.5 percent in forex fees for each cash withdrawal from any ATM outside India. You will be charged Rs.25 for using ATM outside of India that offers a balance check or mini statement. 3.5% in foreign exchange fees, on overseas debit card transactions, cross-currency fees
Transaction decline fee
ATM fees are not applied at Federal Bank.
At any other ATM, it costs Rs. 25 each time.
 Due to inadequate funds, shops charge a transaction refusal fee, but there is no fee for it here. Now you know all about Jupiter account charges.
Founders of Jupiter Money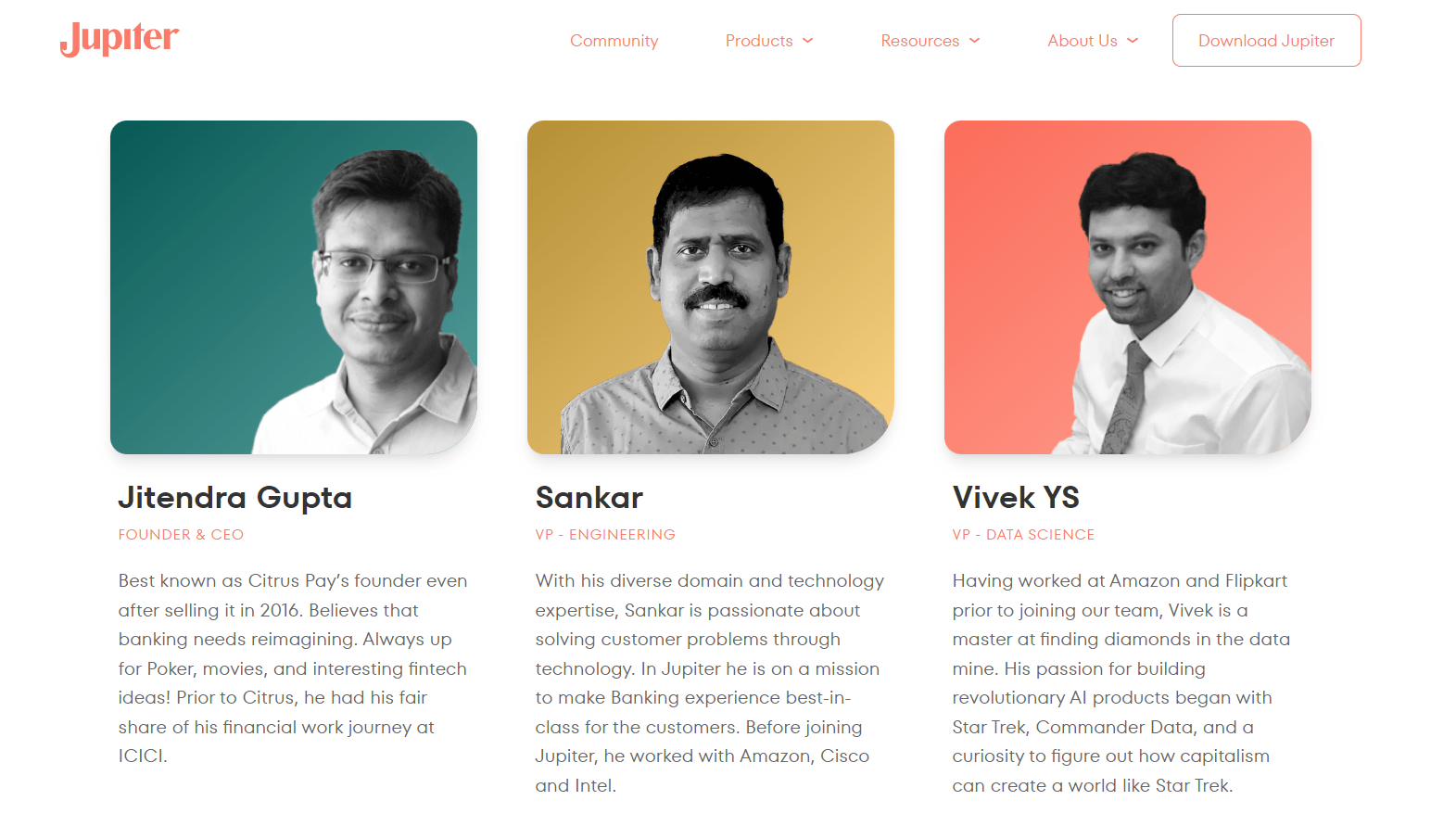 Jitendra Gupta, the company's CEO, founded Citrus Pay, which he sold in 2016 for $130 million. Anupam Bagchi, a noteworthy man, connected to the Jupiter Money Project who most recently held positions at Standard Chartered and Axis Bank, is also a part of this platform.
Anupam served as the Vice President of the Digital Banking division at Axis Bank. You can sign up for the shortlist to receive early access to Jupiter Bank when it launches and an increased cashback rate for the first three months.
Some fundamentals regarding Jupiter Money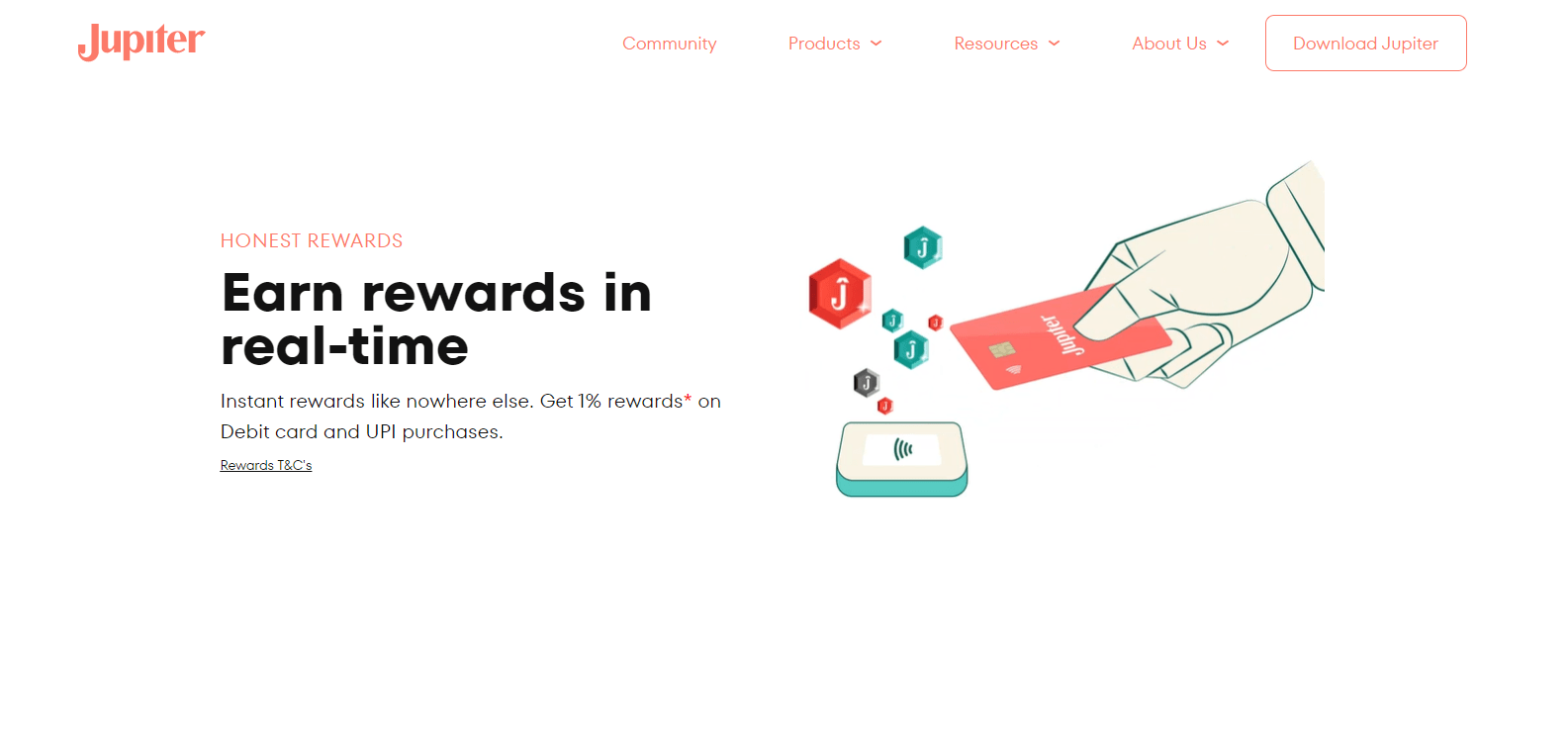 Jupiter, by itself, is not a bank, and it does not have a banking license from the RBI. Instead, it is reliant on the institutional foundation and infrastructure of the Federal Bank. Federal Bank seems to be the Bank of choice for any new Neo bank in India. Perhaps their laws are simple to understand and have minimal commission rates.
This suggests that the money you add to your Jupiter bank India account is managed and deposited at Federal Bank. Additionally, the RBI guarantees that your funds are safely kept at Federal Bank, and the RBI ensures up to 5 lakh INR. Your debit card payments to merchants are governed by, issued, and settled by VISA. Your complaints, chargebacks, and other issues are all handled by VISA.
Jupiter Moneyoffers a debit card and an ATM card, enabling you to make cash withdrawals, transact with nearby merchants, and make online purchases. You'll also get a PayWave card, like an ICICI debit card, that lets you set transaction caps. You will have control over the card, including the ability to block it, establish a transaction cap, freeze it when necessary, and more.
Jupiter Money Apps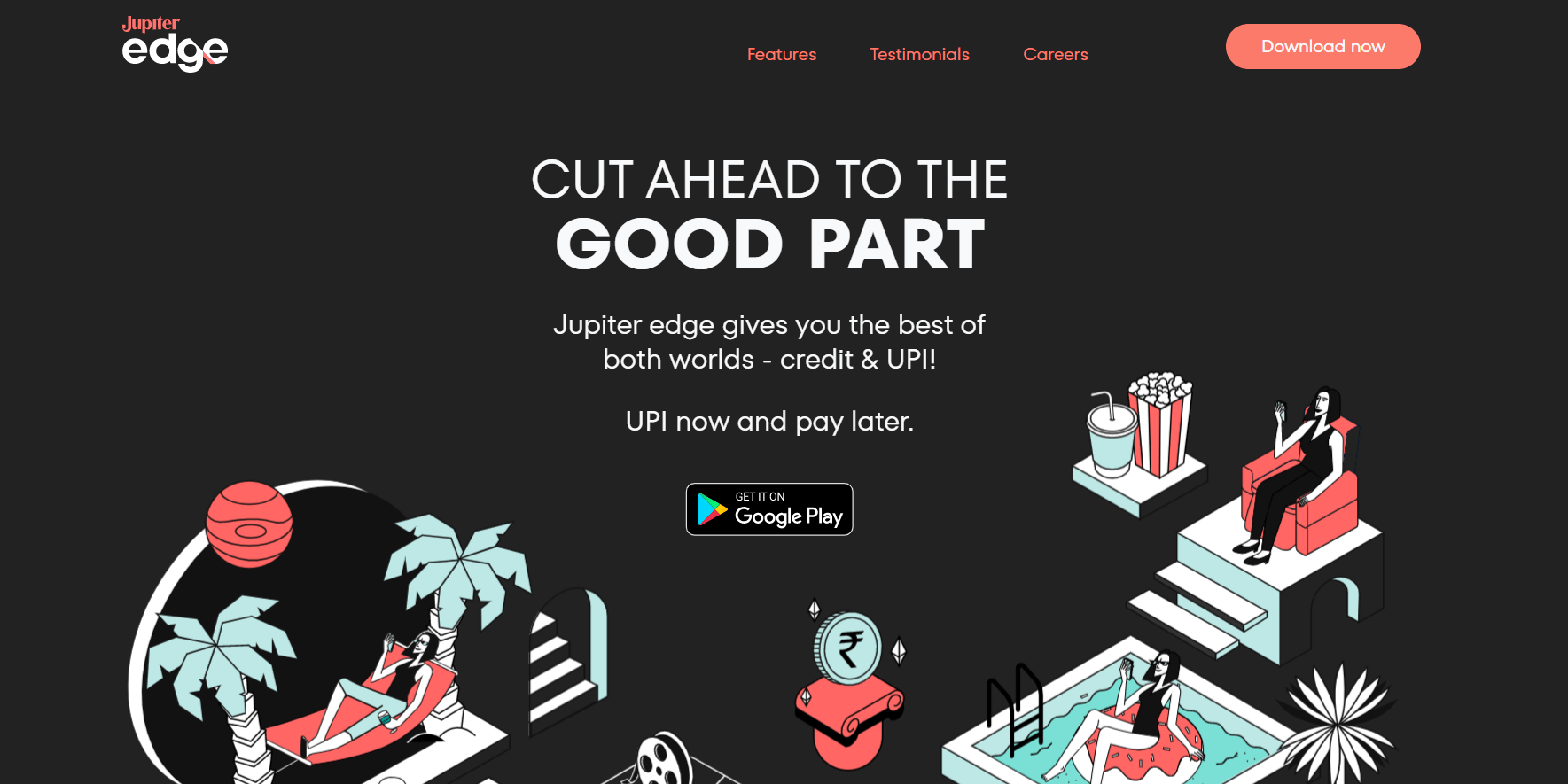 The first is Edge App, while the second is Mutual Funds Portfolio Analyzer. You can use UPI payments as a credit line and the Edge App to settle the account afterwards. In other words, you can avoid using cash by purchasing a cup of coffee from a store and paying for it with your Edge UPI credit line.
You can manage all your funds in one place with the Mutual Funds Portfolio Analyzer. You will be glad to know that Jupiter's A.I. offers a free portfolio analysis. It can also show you which funds provide you with the best returns, where you're losing money, which funds are discounted, and which are more erratic.
This capability is present in many financial programs; for instance, CRED, INDMoney, and ETMoney just added a mutual fund portfolio analyzer. Going back to Jupiter Bank, they plan to introduce several additional features over the following months. Given below are some other points that you should remember at all cost.
Small transactions won't need an OTP/Pin due to friction charge 2FA.
No fee is applied to any transaction.
It might be possible to improve innovative savings alternatives comparable to ICICI's iWish.
Purchase online using virtual cards.
Integration with IFTTT.
Set goals for yourself, automate your savings and reward yourself when you save money.
Filing taxes with an app.
There is still more. Your crazy Jupiter ideas can be posted in the Jupiter community. The team behind it is committed, as I already mentioned. This community-based project thus has a fair chance of becoming a terrific banking app created by and for the next generation. One of the participants made a unique debit card unpacking offer, which they accepted and are currently working on.
Also Read: INDMoney review: Everything you need to know

Is Jupiter Money worth it?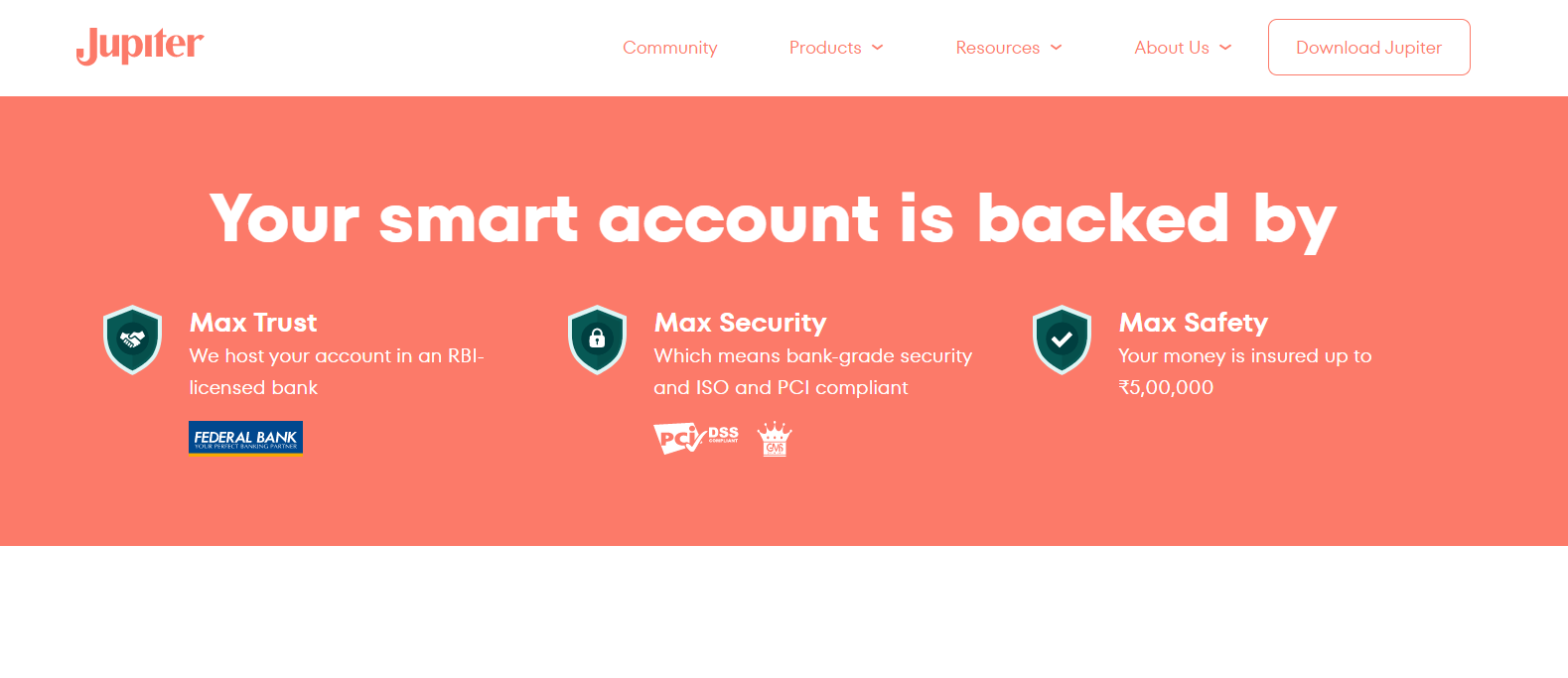 Jupiter Money is a fantastic choice. There aren't any fees, not even for signing up. You must understand that it is not a bank and should not be treated as one. You can securely use Jupiter account charges as intermediary savings account for day-to-day transactions.
Utilizing Jupiter and its debit card can help you keep your savings account balance intact. The cost tracker will also help you identify areas where you are overpaying and suggest ways to avoid them. On the other hand, Jupiter isn't the first such platform. Fi Money already offers a Neo banking service in India.
The company introduced the 'Mission Invite' program, which enables current customers to invite friends to win users' trust. If you don't know any Jupiter users, you can join this program by contacting the existing community and asking for access.
Switching Jupiter Basic Savings Account to a Jupiter Pro Salary Account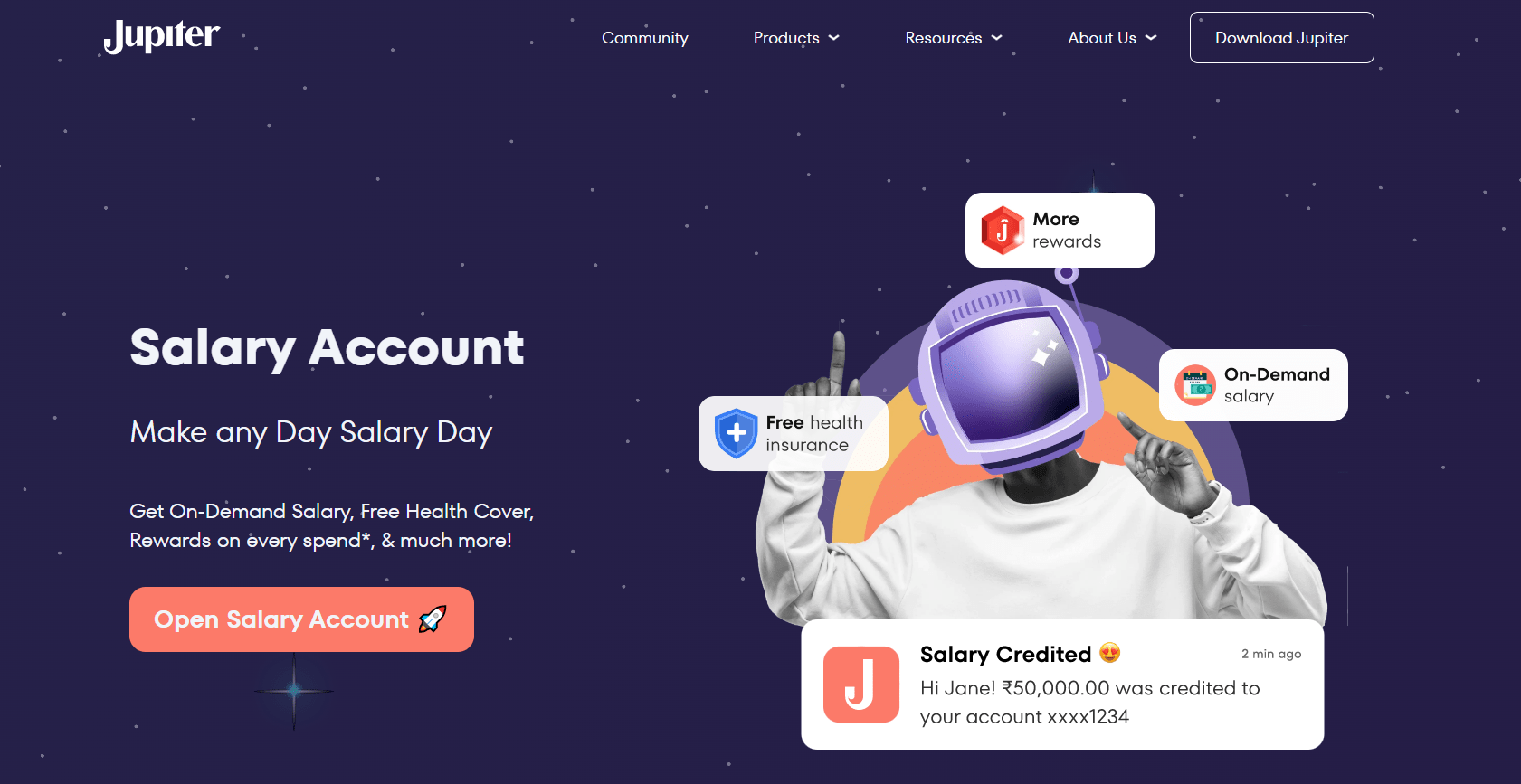 It is a simple process and it only requires three simple steps.
Complete the eKYC process using physical or video verification methods.
After completing your eKYC, enter your company's name and confirm your work email address.
Send your H.R. your Jupiter account information, and make sure you receive your next paycheck on Jupiter within 60 days.
You'll instantly be promoted to a Jupiter Pro Salary Account once your salary has been credited to your Jupiter account. Do check Jupiter account charges before making the switch.
Note: Be sure you get your income (minimum Rs. 25000) in your Jupiter account each month if you want to keep your Jupiter Pro Salary Account active. If not, your status will be lowered from Jupiter Pro to verify.
Types of Jupiter Account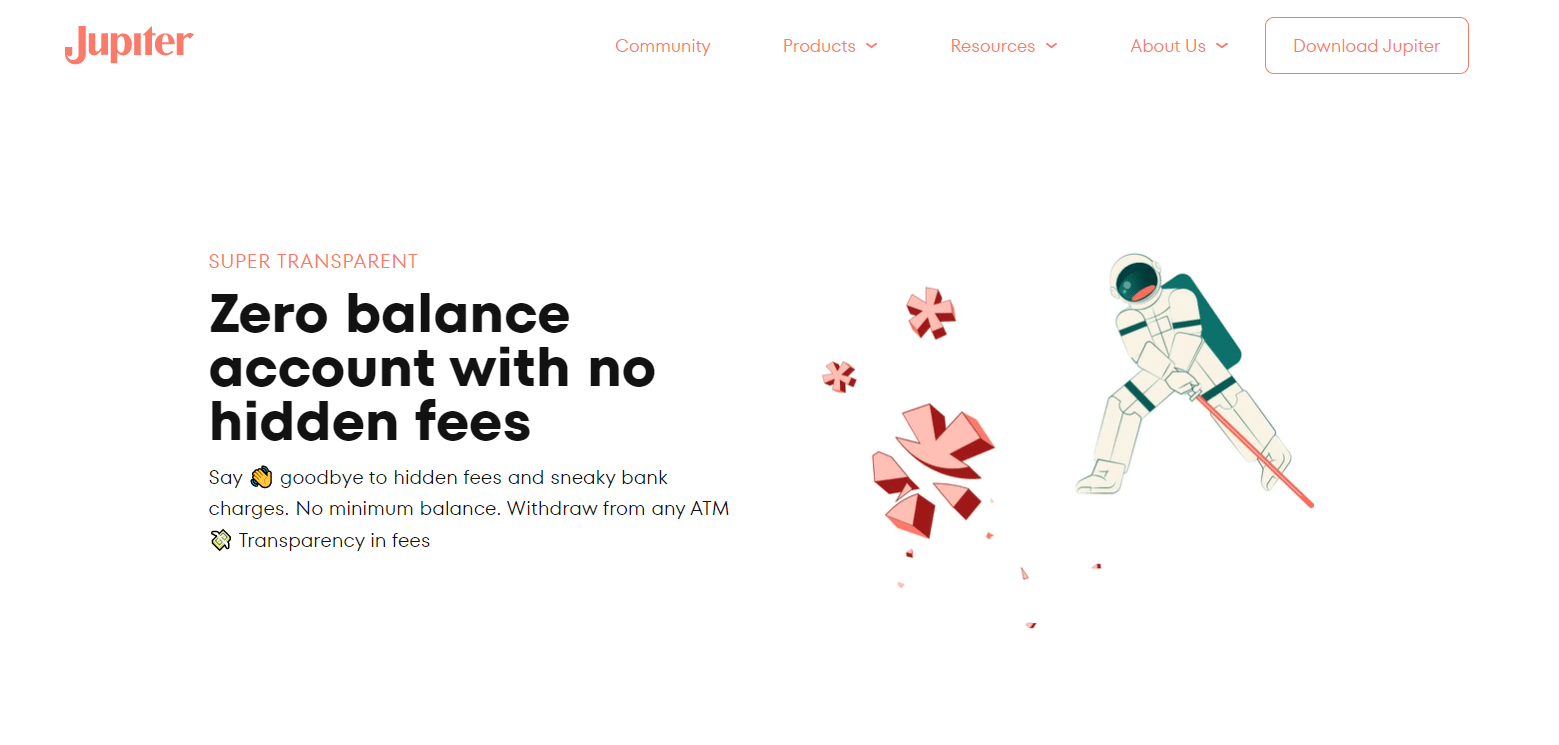 There are 3 types of Jupiter Account and they are as follows:
Jupiter Basic: A basic savings account has a one-year validity period and various advantages.
Jupiter Verified: A verified savings account has more features and benefits than a basic account and is permanent.
Jupiter Pro Account: A pro salary account includes free health insurance and the highest rewards on Jupiter, up to Rs. 600.