The upcoming banking system is primarily digital banking. After the pandemic, the whole world adopted a new style of handling everything sitting at home. Banks had to adapt to this change as well. Now, no one wants to be in long queues in banks to do tasks that can be quickly and easily done online. Today, there are many apps that make online banking easier. Jupiter Money is one of them and they even offer debit cards to their users. In this article, we will learn all about Jupiter debit card charges and benefits.
Jupiter Debit Card Charges and Benefits
Jupiter is a type of Neo Bank that offers multiple advanced features in the banking sector. It helps you manage your money in a better way. It lets you create a bank account, make fast transactions and save money. But before we learn about Jupiter debit card charges, let us understand neo banks.
What are Neo Banks?
The banks of the digital era are called Neo Banks. They don't have any physical appearance. They exist only online. Neo Banks mainly target tech-savvy individuals as all operations are done digitally. Jupiter is also one such Neo bank.
What is Jupiter?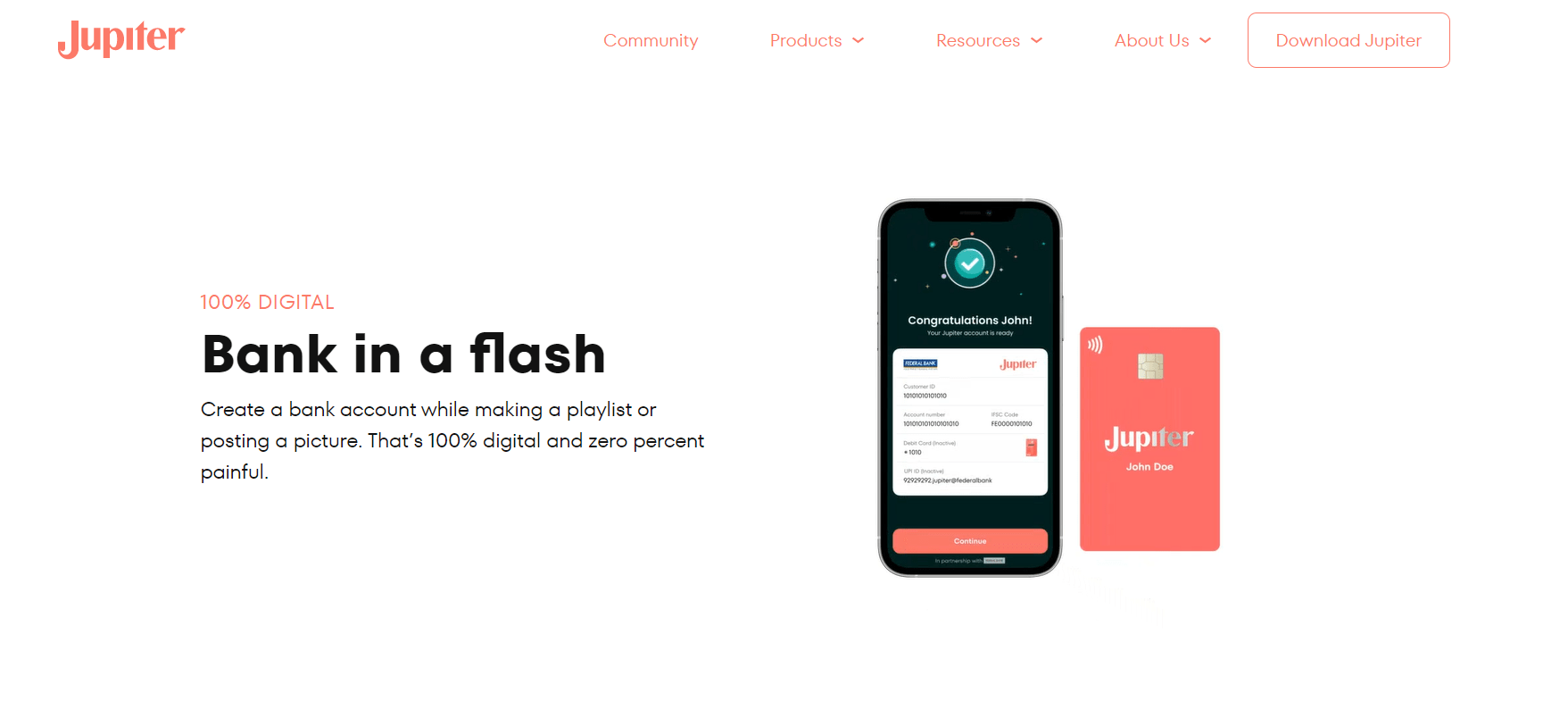 Jupiter is not a bank per se rather it utilizes the infrastructure of the Federal Bank. Federal Bank is the first one to digitalize all its branches in India. So, for new Neo Banks, the Federal bank always remains the prime choice. Basically, for the customer, the interface is Jupiter, but Federal Bank does the actual money keeping.
The CEO of Jupiter is Jitendra Gupta. He was the one who founded Citrus Pay. Citrus pay was sold for $130 Mn in 2016. Another significant personality associated with Jupiter is Anupam Bagchi. He has experience working at Axis bank and Standard Chartered Bank. He used to see the Digital Banking section in Axis Bank as Vice-President.
Jupiter Debit Card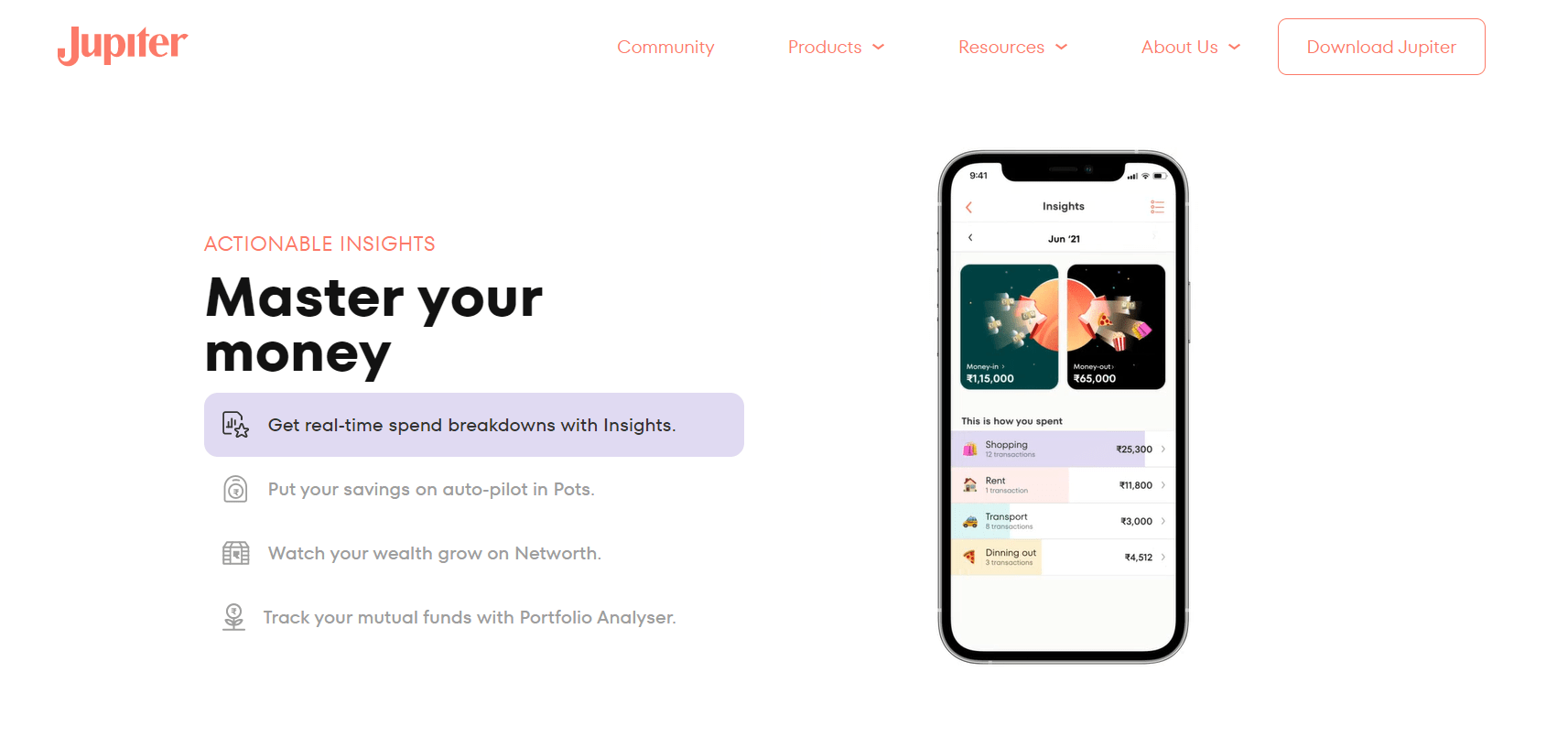 Jupiter offers an ATM plus Debit Card. It can be used to do online shopping, transact at shops, and withdraw money. Like all debit cards, the Jupiter debit card can also be controlled by the user; that is, it can be blocked anytime, and the best part is that the transaction limits can also be set.
Jupiter Debit card is VISA controlled. All issues related to the card, like cashbacks, will be taken care of by VISA. According to DICGC guidelines, RBI provides up to Rs. 5 Lakhs insurance. So, your money is safe.
Jupiter Debit Card Charges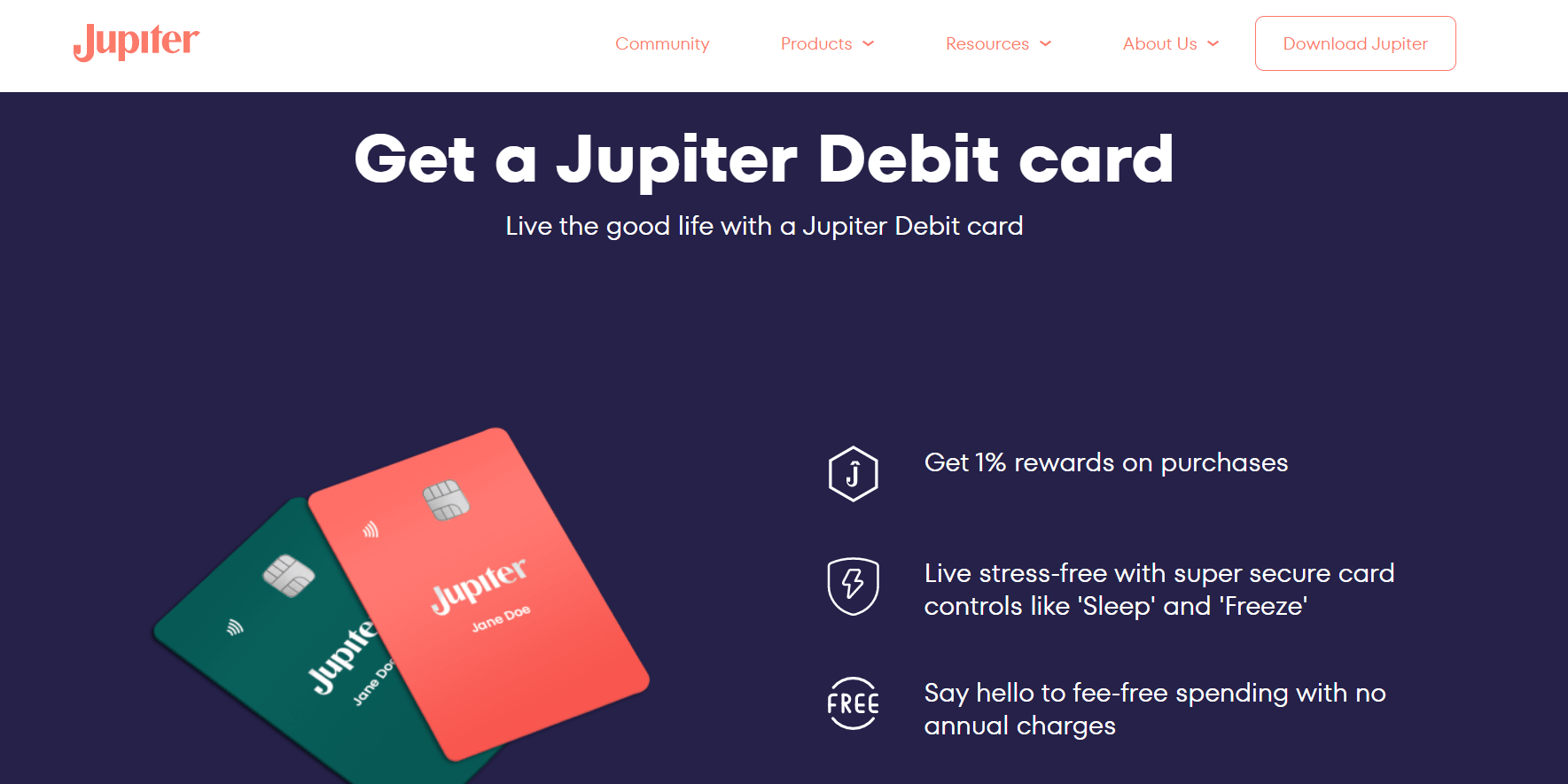 There are absolutely no charges for a Jupiter debit card. Various fees or charges included in other banks, like joining fees, renewal fees, or annual fees, are all free of cost in Jupiter. That means there are no hidden costs involved with the Jupiter debit card. Jupiter Debit card can also be used for transactions using Federal bank ATMs. There is no transaction fee for using Federal Bank ATMs.
But if Jupiter Debit card is used on any other ATM (other than Federal Bank), then the first five monthly transactions are free. Rs. 21 are charged for cash withdrawals after that, and Rs.10 is charged for a mini bank statement or balance check per transaction after five transactions per month.
All the charges have been discussed in the previous section, but there are some more Jupiter debit card charges that you might want to know about.
IMPS: The charges involved for IMPS are free for the first five transactions. From the fifth one, Rs. 5 is charged for transferring Rs. 1000 to Rs. 100000. Similarly, Rs. 15 is charged for Rs. 100000 to Rs. 200000 and for transferring above Rs. 2 lakh, Rs. 17 is charged.
Account Closure: Request for account closure can be initiated from any branch. Charges for account closure within six months of opening are just Rs. 100. If you want to close it after six months, but before a year, the charges will be Rs. 300. After a year of usage, if you wish to close the account, no charges will be taken.
Jupiter Debit Card Benefits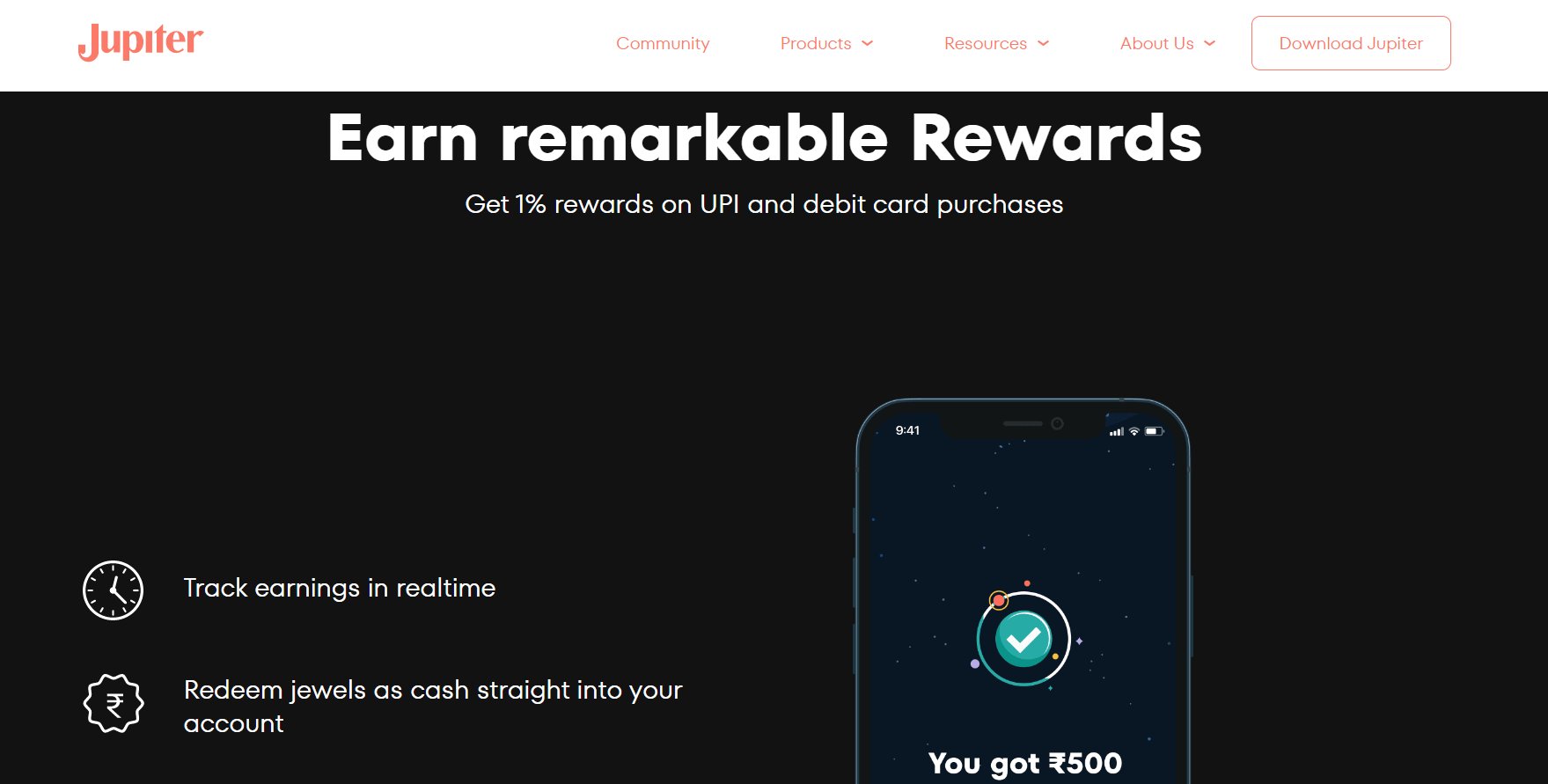 Here are some of the Jupiter debit card benefits that you must know before you apply for it.
Suitable and convenient banking: Jupiter account can be accessed anywhere and anytime using the Jupiter app.
Zero balance account: No need to maintain a minimum balance.
Cashback Guaranteed: Assured cashback of 1% can be earned on every purchase made by Jupiter smart debit card or every purchase done by its UPI.
Free Debit card: Debit cards can be availed for absolutely free from Jupiter. Even replacements for old and lost ones are done for free.
No secret charges: No hidden charges are involved in Jupiter banking. The banking experience provided by it is entirely transparent.
Real-time tracker: It keeps a check on your expenses and your spending habits.
Round-the-clock customer support: Jupiter provides 24×7 customer support.
Reward System: 1% cashback (up to Rs. 150 per month) is rewarded for transactions done using the Jupiter Debit card, and you can avail of 1% cashback for making payments using Jupiter UPI on Amazon, Uber, Flipkart, Zomato, Swiggy and Dunzo. For both cases, the minimum transaction value should be Rs. 100 to avail of the cashback.
Also Read: Jupiter Money Review: Features, Fees, Usability

Jupiter Account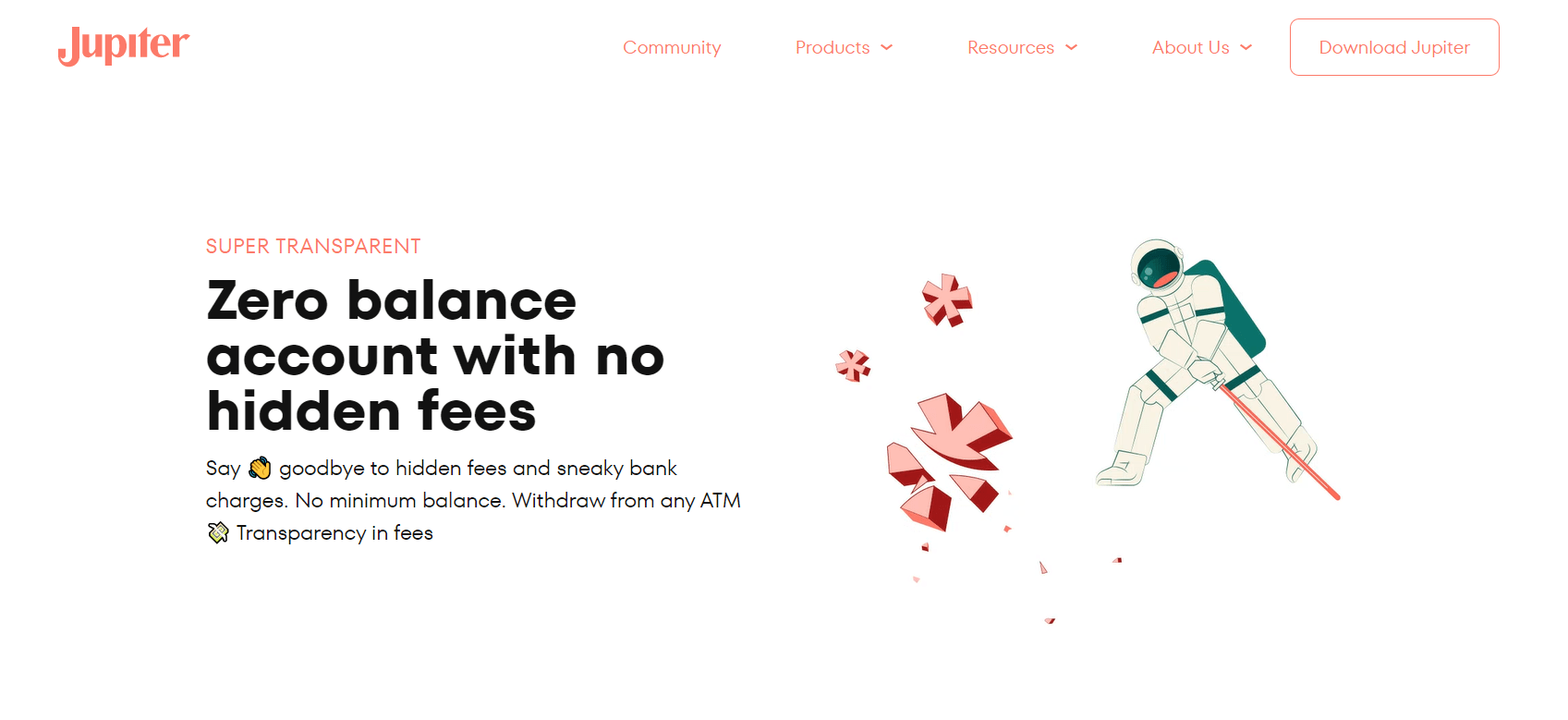 The interface of the Jupiter account has been designed very efficiently. Its design has been done keeping in mind the ease of the customer. The interface is very user-friendly, which makes Jupiter the most popular among customers.
One major reason for such a friendly interface may be the founders of Jupiter Money. Both founders have banking backgrounds and are not new in this field. So, they know the needs and demands of today's customers.
Features of Jupiter
Here is a list of some of the new features introduced by the Jupiter platform to make its usage easier and quick.
POTS Feature: This feature acts as a digital piggy bank. All you need to do is set a monetary goal and track its progress.
Insights Feature: This feature keeps an account of your expenses category-wise. It simply shows how much money has been spent on subcategories like food, clothes, rent, health and fitness, bills etc. This feature solves many problems, and one can limit spending by regularly checking this section.
Mutual Funds portfolio analyzer: It is a place where you can track your funds. The funds which seem not suitable could be sold quickly, and the ones reaping benefits can be tracked.
Bullet App: It is a pay later app launched by Jupiter that allows users to use UPI payments as a credit line. You can pay the actual amount later like you pay your credit card bill.
We hope enjoyed learning about Jupiter Debit Card charges. Jupiter Debit card allows you to transact anywhere and has no hidden charges. It is an excellent card as it is free of cost, plus it gives you cashback on every transaction you make using the card.