FI Money is one of the very first Neobanks launched in India that not only aids in saving money but also in multiplying and managing it. Since managing finances can be a daunting task, especially for students, this platform has caught the attention of many aspiring young individuals in terms of innovative financial solutions. One question that often comes to peoples' minds – is Fi money for students? Designed to empower students with effective money management tools, the app offers a range of features tailored to meet their unique needs. In this article, we will delve into the platform's offerings, exploring its benefits, functionalities, and overall user experience. Join us as we discover how FI Money can transform the financial journey for students and pave the way for a better financial future.
Is FI Money for Students? Full Review
You will be glad to know that customers that have their bank accounts in Federal Bank, HDFC, ICICI Bank, IndusInd Bank and Axis Bank can also operate their account by using the Fi Money app and will also be able to track their transactions as well. Let us learn more about the app.
What is Fi Money app?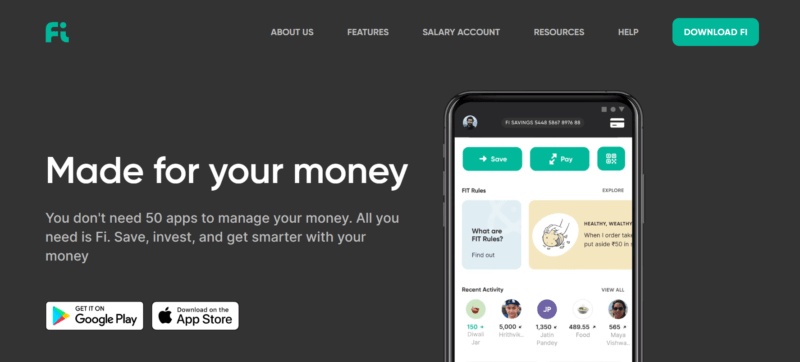 Neobanks like Fi aim to improve banking services by making them more mobile and intelligent. With Fi bank, you can also start no-balance savings account for free. As a result, unlike traditional banks, you are not required to hold and manage the minimal amount. Its innovative features advise you to manage your finances carefully.
Fi and Federal Bank have partnered-therefore when you open an account with this app, you are given an account number and IFSC Code of Federal Bank. Fi.Money offers you a Banking 2.0 infrastructure where you can save, grow, and arrange your money in light of this digital generation.
If you are unfamiliar with Neobanks, you need to know that they are a form of a digital bank (virtual, online) that lacks a physical presence. You would never need to visit a Neobank branch as all its services are available online.
Fi.Money is a Neobank Fintech firm; with the help of the Fi app, all kinds of money transfers are possible. It also permits peer-to-peer transactions. With the Fi app, you can also conduct international transactions. In fact, you can receive exciting benefits when you use a Fi debit card to purchase.
Is FI Money for Students? Yes, this app is built for youngsters. It has all the modern features, and it is made for the digital world.
Things to know about Fi Money
Now we already know the answer to is FI Money for students, let us learn more about it. Fi is a fully featured financial app with many unique, innovative features that make it easier to manage your money. Here are some of its unique characteristics-
1. Smart jar
This fund-saving technique in Fi.Money helps you save money by saving a tiny sum from each small and large subscription to your Smart Jar. You will also receive 5.1 % interest on the total amount of money you save in Smart Jar.
2. Smart Jar instantly
This feature automatically sets aside a portion of every purchase for your future and is crucial for saving money.
A personal assistant (FI. Money app) will be provided to you.
You gain knowledge about banking in a way you've never had.
You'll be able to organize your finances.
Refundable terms with an interest rate of up to 5.1 percent.
Your efforts to save money are rewarded.
3. Cashbacks & Rewards
Every time you use your Fi debit card to make a purchase, you receive cashback and fi coins. You can exchange fi coins for gift cards from various retailers, including Amazon, Flipkart, and others.
You can obtain good discounts on brand deals by redeeming Fi coins. If you register an account using someone else's Fi.nite (referral code), you'll receive a cashback of between Rs. 200 and Rs. 300 on your initial Rs. 3000 deposits.
4. Support for International Transactions
When you open a savings account with FI Bank India, you will have a VISA platinum debit card mailed to your door. All overseas transactions are supported with this card. You can use this card to withdraw cash from international ATMs if you'd like.
5. UPI Assistance
In India, UPI is now the most popular method of money transmission. With this app, you can perform instant money transfers on any bank's UPI. Thus, all you need to do is input a UPI ID or scan a QR code to make a payment. is FI Money for students? Yes and this UPI assistance is one reason for it.
6. Fi Charges and Fees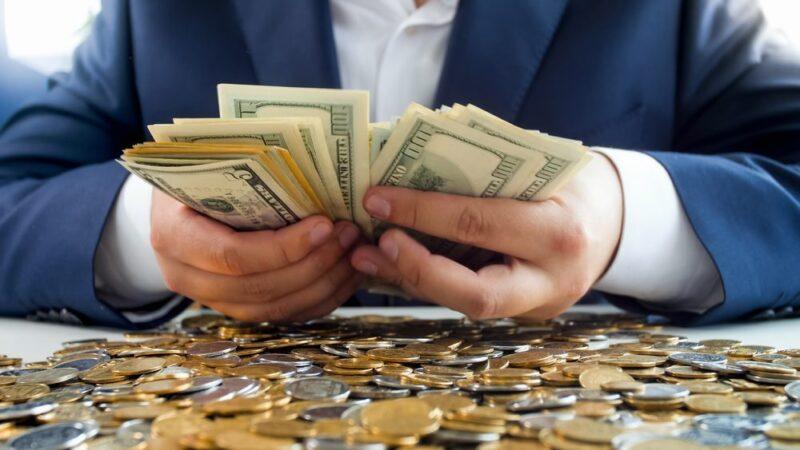 Here are all the fees and charges that you will have to pay to use Fi.Money.
Zero minimum balance charges.
Fi Savings Account has an interest rate of 3% yearly.
The best part is that there are no yearly maintenance fees, sometimes known as 0 (Zero) AMC
ATM fees abroad are Rs.100 per transaction.
5% or Rs.10 is charged (whichever is higher) off the entire transaction amount for POS transactions.
Payments using NEFT, RTGS, and UPI/IMPS are free.
Fi Money App Advantages
Here are some benefits of Fi.Money:
Zero paperwork: You can open an account with Fi.Money without submitting any physical papers, plus you need not go to the bank branch or wait in line at a bank. You can create an account online easily by finishing the video KYC in just a few easy steps.
Zero hidden fees: Fi ultimately offers an internet banking infrastructure. As a result, they don't impose any additional fees. Hence, the lack of physical branches allows them to charge less.
No-cost debit card: When you open a savings account with Fi, Federal Bank sends you a platinum VISA debit card. The most noteworthy thing about this card is that you need not pay any yearly maintenance fees for this card. The second Fi Debit card is also provided free of charge if the first one is misplaced.
A smart AI helper: A built-in AI assistant manages the records of your spending and savings inside the Fi app.
No cost checkbook: Two checkbooks are delivered to the provided address. You can ask for one or two checkbooks as per your requirements.
Fi Money App Disadvantages
Here are some drawbacks of Fi.Money app.
Your overall amount will reflect your purchases or savings within 24 to 48 hours.
You only receive an interest rate of 5.1% on the money you save using its Fi Jar feature.
Fi performs various tasks that make banking simple, acting as if it were a personal assistant. Fi is an excellent option for online banking because it features a simple user interface, nominal fees, and comes with ATM withdrawal capabilities.
Fi strives to uphold the highest standards of secrecy, safety, and security when using funds or information.
Some Important Questions about Fi Money:
1. How to terminate your Fi Money account?
If you wish to terminate your Fi Money Saving Bank Account, you can do so at any time by giving the bank a written notification at least 30 days before closing the account.
2. Would there be a minimum balance requirement?
No and the best part is that there are no extra costs for low balance. But if you genuinely want to experience everything Fi offers, you should consider investing, save, or transacting. Now you know why young people prefer this app and why the answer to is FI Money for students is yes.
3. Platinum Visa Debit Card from Fi Money
When a person opens a Fi Savings Account, they are given a complimentary VISA Platinum Debit Card. No costs for issuance apply, and there are no yearly maintenance fees for cards.
4. ATM Fi Money transactions
Any ATM in India will accept your Fi Visa Debit Card. Any ATM owned by Federal Bank offers free withdrawals. You receive five free transactions per month at some other ATMs. After that, each transaction costs
5. ATM fees from other nations for Fi Money
You can use your Fi Debit Card anywhere that accepts VISA. When you use an overseas ATM to withdraw money, Fi money will levy some amount of fee on any non-financial transactions, such as requesting a Mini Statement.
6. Replacement of Multiple Cards with Fi Money
Please avoid losing your Fi Visa Debit Card since a new card will set you back at 250 rupees.
What paperwork is needed for a Fi Money Savings Account?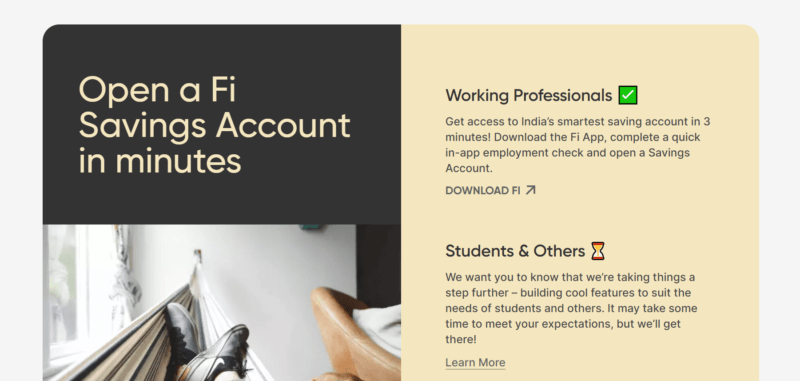 When opening a FI Money Savings Account, the following documentation is necessary:
Evidence of address
Two passport-size pictures
Aadhaar Card
ID card for voters
Driver's license
NREGA job card with a government official's signature (if any).
Fi Money Referral Campaign
You can also make money through the refer-a-friend campaign of Fi Money. Both your referral code and your invite link can be sent to others to make money.
Get the Fi Money application.
You can let your friends use your invite link or referral code.
Ask your buddy to register or complete the KYC.
As your friend downloads the app and add a minimum of ₹3,000 into their Fi Savings Account within 7 days of opening the account. You will earn one of Fi's Money-Plants.
The Money-Plant reward provides you with two options: you can select between ₹200 or more in a Smart Deposit or 5000+ Fi-Coins. You need to keep in mind that all rewards are subject to change over time. Therefore, read the referral program everytime you think of referring the app to your friends or relative.
One of the newest trends in the financial industry is neo-banking. They are becoming increasingly popular in India, particularly among young people. One such well-liked neo-bank in India is Fi Money.
There is one question that a lot of people have been asking, is Fi money for students? Fi is a Neobank, as we mentioned earlier. A financial service without a physical location is known as a Neo bank.
Fi is NOT a regular as it is Neobank.Fi Money will serve as a middleman between you and Federal Bank while your funds are deposited with the Federal bank.
Also Read: Jupiter Debit Card Charges and Benefits

Fi Money: How Does It Work?
You can access a digital savings account using Fi Money. You cannot open a current account, but that may change in the future. It would start as a balance-less account. Your Federal Bank account is opened via Fi Money. To open a savings account, you would require a re-KYC if you currently have a Federal Bank account.
You receive the same interest rate on your Fi Money savings account as the Federal Bank. Additionally, you will receive a Fi Money debit card at your address.
Fi Money Saving Options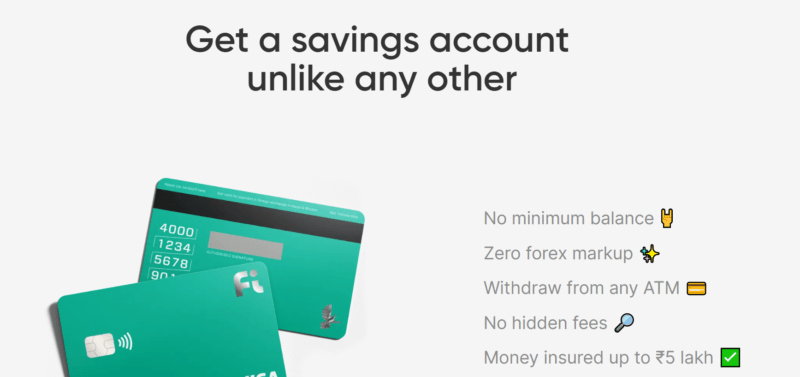 Given below are some of the saving options you get in Fi Money.
1. Fi Fixed Deposits
You have options for fixed deposits with Fi Money. The Federal Bank also oversees and organizes fixed deposits. One outstanding feature is the ability to change the name of your fixed deposit to reflect the purpose for which it was created.
Additionally, you have the freedom to withdraw your fixed deposits whenever you want. There is no fine or fee for early withdrawal. The fixed deposit interest rates would range from 2 to 5.6 percent. The time frame can vary from one to ten years.
2. Money Plant Fi
A good rewards program is in place with Fi Money. This is very different from how the other conventional banks operate.
For each transaction you do, you receive Fi Coins. You will receive a money plant as payment for your efforts. You will receive additional benefits from it as you expand it more. Each flower can be clicked to receive a reward in the form of Fi coins.
These Fi coins can be exchanged for gift cards for various online retail stores. You might also think of a few unique opportunities for earning more Fi coins and other goodies at certain seasonal times.
3. Save Fi
A method of making wise deposits is Fi Save. These can be for the precise objectives you have in mind, which could be short-term or long-term. Consider that you are looking for a New Year's gift for a loved one. By putting aside a small sum of money regularly, you can start saving money for it.
You can pick from an option of pre-made smart deposit choices or opt for a customized one based on your preferences. Please be aware that these smart deposits are not the same as fixed or other types of deposits. You are permitted to take money out of your accounts whenever you like. Still wondering is FI Money for students? Yes and yes.
4. Rules for Financial Savings
FIT is the name of the Autobot that Fi Money uses. You can design your own rules to automate your cost-cutting and receive reminders on when to spend or save money. You can set a few activities inside your Fi account using the FIT rules.
For instance, one regulation would be automatically depositing Rs. 100 each Sunday. Or suggestions like saving Rs. 50 for each online purchase. The rules can be altered, or you can make your own.
As seen by the examples above, you can provide rules for a few transactions or operations, or they can be time-based. This should be a great alternative if you are disorganized or tend to overlook crucial financial decisions.
5. Debit card for Fi
Fi Money offers debit cards entirely distinct from those issued by conventional banks. One of the major Fi Debit card benefits is that you can make international payments without additional fees.
Additionally, you'll have access to various advantages with Federal Bank debit cards. You can also benefit from a variety of other VISA card advantages. The debit card is free with your Fi Money account, and you can freeze the card or limit the number of transactions.
A few carefully selected unique offers would also be active on your debit card. The exclusive offers from FI Money offer exceptional discounts on e-commerce services and other retailers.
Fi Money Alternatives
Here are some common alternatives to Fi Money.
Jupiter: Along with rebates and prizes, it provides you with a bank account with no fees and limits. Jupiter is Fi Money's main rival, and Federal Bank and the Neobank collaborated on its establishment. A VISA card is available without registration or yearly fees. On debit card/UPI and overseas transactions, you receive 1% and 5% cashback, respectively.
NiyoXDigital: For the first year, NiyoX digital's debit card would be free. They pay frequent incentives to its users, and another benefit is that all transactions are free. If you wish to avoid paying the debit card's yearly fees, you can choose a certain minimum balance.
Finin: You can enjoy more experience saving or depositing your money with Finin, a Neobank powered by AI. The State Bank of Mauritius is how the bank provides you with its services. It is mainly intended for college students, millennials, and working people. One of the better options for individuals looking to invest in Neobank is its customizable investment alternatives.
Jupiter vs. Fi Money: A Comparison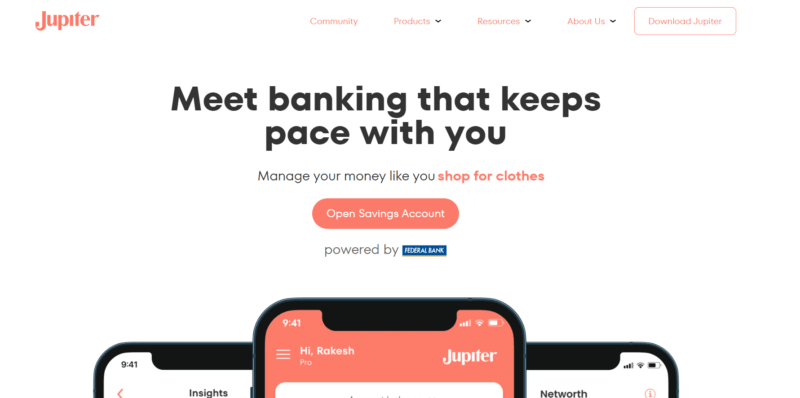 Jupiter Money is Fi Money's main rival. Thus, it would be appropriate to compare the two to determine the better choice. The two Neobanks were established in 2021 and have since shown respectable growth.
The same bank, the Federal Bank, oversees each of them. They appear to have a lot in common regarding their marketing strategies. One issue is that you cannot simultaneously have a Jupiter and Fi account.
You can best contact Fi Bank India customer support and ask about migrating your Fi account to Jupiter or vice versa. You can choose between a primary and full membership- you must update your Aadhaar and PAN information because Jupiter does not offer video KYC.
There must be a Rs. 3000 minimum initial deposit. The Fi account has no limits of any kind and has absolutely no limitations. You can deposit any money and withdraw as much as you like. You will receive annual interest at a rate of 2.5%.
If you're sick of the digital banking services provided by traditional banks, Fi Money is a terrific option that offers an excellent digital banking experience. Thanks to the insightful understanding of many facets of your financial management, you should have more knowledge.
The fact that it is only accessible to those who are salaried; it is one of its drawbacks. Does this answer the query many have been asking? Is Fi money for students? Of course, we would anticipate that it would gradually become accessible to everyone.
Also Read: Jupiter Money Review: Features, Fees, Usability

FAQs
Here are some questions that customers ask regarding Fi.Money.
1. What Fees Apply to Fi Money Bank?
You won't be charged anything by Fi Money for any of the services. The money you deposit offers you a 2.5 percent interest rate. There is no charge or fee for the debit card.
2. Have they got a Fi Money Credit Card as well?
Fi Money does not yet provide a credit card. You have the option of opening fixed deposits, modest deposits, and a free debit card.
3. Like Jupiter, does Fi money give a direct 1% refund on debit card/UPI transactions?
Fi Money does not offer you any cashback on purchases. The saving features of Fi Money offer the best returns.
4. How can a Fi Money account be closed?
Contact the Fi Money customer care department. They could advise you on how to terminate your Fi Money account.
In conclusion, FI Money offers valuable features and benefits that cater to the needs of students. Its comprehensive services make it a viable option for those seeking a student-oriented financial solution. With its user-friendly interface and student-focused perks, FI Money is a helpful banking aid for students.