We all have some idea of what a casino is. We have seen casinos in movies and TV shows as places where people go to change their fortune and win big. In the world of smartphones, you can do just that while sitting in your home. Casino games are some of the most popular games online. There are many apps that let you play casino games online and earn money. One such app is Blackout Bingo. You might be thinking Is Blackout Bingo Legit? In this article, we will answer that. We will also discuss Blackout Bingo real money and Blackout Bingo Android app.
Is Blackout Bingo Legit? Can you win Real Money?
There are many apps that promise free money in exchange for your valuable time and some developers take advantage of it. The Internet is littered with fake apps that just waste your time. So being skeptical is only natural. The same goes for the app Blackout Bingo. This game is super fun but is it legit? Can you really make money from it? Let us find out.
What is Bingo?
Bingo is a number-matching game that was invented in 1929. The game is usually played using a number card and a host who draws the number. As the host calls the numbers at random, the players then mark the numbers on their card if it matches. To win the game you either create a certain pattern, get the whole card marked, or do as per the particular rules.
The game is played with different rules and regulations around the world. The US and UK both have different Bingo games going with the former having a 75-ball bingo and the latter having a 90-ball bingo.
Bingo cards also vary. One of the common card patterns is where the word Bingo is written on top and under each letter you have 5 numbers while the middle space is left empty. This space is considered a number that has been already marked which leaves the card with 25 numbers that are unmarked at the beginning of the game. The numbers are either called by an announcer or in a more modern setup you have an electronic random number generator that calls out numbers randomly.
U-Pick'Em bingo, Shotgun Bingo, Quick Shot bingo, Bonanza bingo, Facebook bingo, Horse racing bingo are some game forms and shows based on Bingo.
Is Blackout Bingo Legit or Scam?

The game is safe and trustable. There is no need to worry about its legitimate status. To honor the rules and regulations the game is rated 17+ on the App store and is not allowed to be played as a gambling game in the states of Illinois, Indiana, Louisiana, Nevada, Michigan, New York, Oregon, South Dakota, Wisconsin, and Washington.
It has a rating of 4.5 in the App Store which only adds to its legitimacy as Apple doesn't allow dubious apps in their store. If you don't have any addiction to gambling, gaming, or money problems then you can proceed to play the game without any worries. Also, while winning a cash prize is possible, you should not get lost chasing it and end up losing money instead.
About Blackout Bingo
Blackout Bingo is a bingo game developed by Big Run Studios that was created in 2019 in Oakland. This team is also responsible for other games like Word Star, Big Cooking, Big Run Solitaire and Big Hearts. Blackout Bingo was formerly known as Blackout Blitz. The game is free to download and play for Apple and Android users. The game is doing well ever since its launch and is ranked number 3 on the list of casino games on the App store.
This game can be played for free or you can deposit money and play tournaments that have cash prizes. You can play cash reward games using in-game currency as well but collecting that amount of in-game currency takes a lot of time so beware.
Blackout Bingo PayPal
We have established that the Blackout Bingo app is legit but yet since money is involved it is only natural that people will still have doubts about the money and cash prize situation. A team that studied the app claims that players earned a combined total of more than 70,000 dollars per hour on this app. Some articles claim that you can win up to 1,000 dollars in the app in a matter of a few minutes.
There are paid tournaments where you get real cash as a prize and some non-cash tournaments also pay you real money when you win the match. This money can be withdrawn using the Blackout Bingo PayPal facility or even Apple Pay for that matter. These two apps also allow you to deposit money in the app when you want to play cash games.
The game also has events from time to time where the cash prizes are huge. There are multiple reviews out there written by various people who claim to have hit the jackpot and have so far won big rewards like 30,000 dollars, 40,000 dollars and so on. You also get various in-game gifts and bonuses as you keep progressing in the game. With time you get faster and earn boosts and other power-ups that improve your speed and performance which in turn helps you win more games.
Also Read: Is Bingo Clash Legit? Is it a Scam?

Blackout Bingo Rules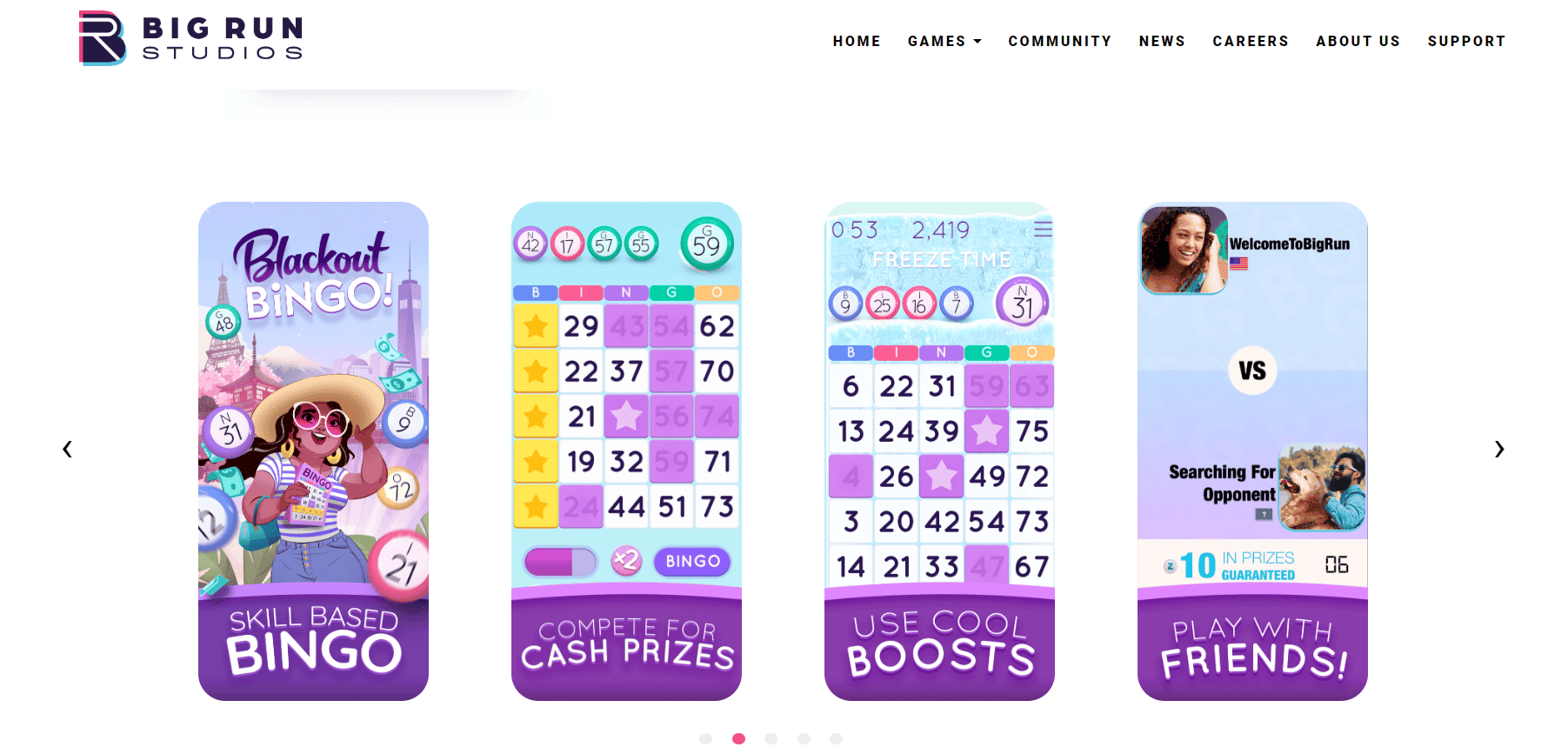 Now that you know the answer to Is Blackout Bingo Legit? It is time to start learning about the game and how to play it. First, download the game and install it on your device.
In the beginning, the game will pair you with a player of a similar level so there is no need to be worried about facing a pro right from the start. And, as is always the case, to win the game all you have to do is score more points than your opponent. Each number matched and reaching bingo will get you points. You get in-game tickets or real cash based on what game mode you are playing.
Try not to use any hacks or cheat in any way as you may get banned if caught doing so. Progressing in a game like this can be tough and requires patience. You might have to wait a lot of time before you collect as many tickets as needed to play a cash game.
You can go on YouTube or Google and find a lot of tricks, tips, strategies, ways, etc. to get better at the game or you could play daily and practice your moves. All of this helps you become a better player and earn more rewards.
Blackout Bingo Real Money
You can check various platforms, the app website, or review articles and you will find that everywhere it is mentioned that Blackout Bingo real money payout indeed exists. People might think is Blackout Bingo legit and do they even pay the money but it indeed is true that you can earn money and lots of it by playing this game. You can withdraw the money using PayPal and Apple Pay platforms as many users have done themselves.
You can start with 1 dollar games where two players bet 0.60 dollars each. Here, the winner takes a dollar and the remaining 0.20 dollars goes to the game. So here you make 0.40 dollars a game provided you win it. Losing the game means no money for you and you lose 0.60 dollars you bet. Similarly, take the game to 10 dollar level. Now you bet 6 dollars each and the winner takes 10 dollars leaving two dollars for the app, meaning a profit or loss of 4 dollars is possible per game.
Sometimes games like Blackout Bingo real money can get the better of you. You need to understand that even after the best of efforts you are only a human and failure will take place. There will be games you win and there will be games you lose. Set realistic targets and play responsibly. If you think you might easily go off track because of the money involved then it is better to stick to in-game cash games and play for fun rather than the cash prize.
Blackout Bingo Android App
Android and iOS devices each have some advantages and disadvantages over each other. In this case, iOS devices have an upper hand as the Blackout Bingo game is not available on the Play Store. However, this does not mean that Android users cannot have the game or play it.
For iOS users, all they have to do is head to the App store and search for the app and there it is on top of the search results. They just need to climb on download and wait for the game to install. This is not the case in Android as there is no dedicated Blackout Bingo Android app.
To get the Blackout Bingo Android app you need to have an Android device that belongs to the Samsung Galaxy series. Galaxy series is a series of Samsung phones which have Galaxy Store on them. In this store, you will easy find Blackout Bingo Android app. Search for the game, download it and start playing.
If you don't have a Galaxy series phone then relax, there is another way to get this wonderful game on Android. We have already established that is Blackout Bingo legit or not. It means that you shouldn't worry about the source from where you download this game. All you need to do is find Blackout Bingo apk file online. Although be cautious, as sometimes these files can be harmful, so do your research and download the apk of this game from a reputed site. This is another way to get the Blackout Bingo Android app.
Also Read: Solitaire Cash App Review – Is It Legit or Scam?

Pros and Cons of Blackout Bingo
Before you dream about making money on Blackout Bingo, it is important to understand what sets this game apart and what are its drawbacks. We have listed some of the pros and cons of this game below.
Pros
When you engage with this app you will come to know that they have a nice support team that is available to help you and listen to your problems and solve them if you come across any.
The best thing to be about the app is the fact that you get real-life prizes and cash which is surely a good USP.
The game is fun to play and makes you sharper and faster as it is a skill base game.
The game is easy to download and play which attracts new users to it.
The game is free to download and to play if you wish to stay away from cash prize games.
The game is available to players around the world except where gambling laws prevent its existence.
The game also has a promo code program that many players will find to be a useful option.
Cons
The game is said to have some glitches because of which player progress has been reset for some players.
The game might charge a fee for being inactive which is a deal breaker.
If you want to withdraw a sum of fewer than 10 dollars then for that you might have to pay a fee of 1.5 dollars.
To play the game there is an age restriction in place meaning you have to be above 17 years of age to be able to play the game.
We have now answered is Blackout Bingo legit? The answer is a resounding yes. It is incredible how far technology has come that we can now sit at our homes, play games we enjoy and earn money from it. Although one must do everything in moderation. The same goes for playing this game.